Homemade crusty Italian bread is the perfect comforting side dish to most any meal.
This easy fresh bread goes great with your Italian dishes as well as your fancy feast celebration meals.
Rustic and hearty these whole grain loaves of bread are sure to be welcome at every meal you serve.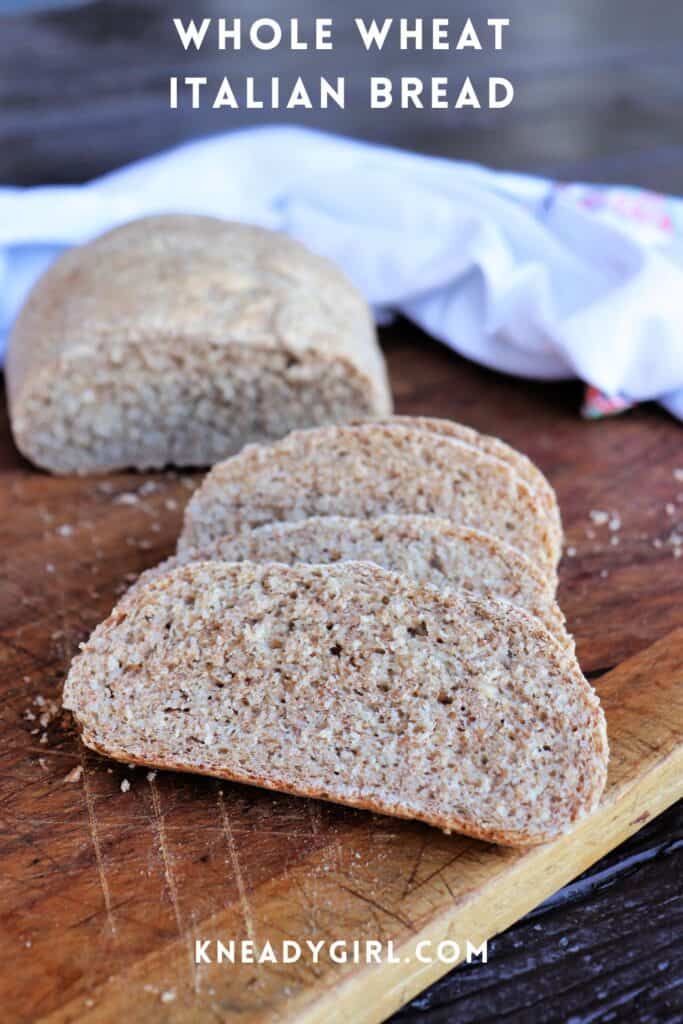 Difficulty Level: Intermediate
If you have some bread baking experience under your belt and would like to try some baking with whole-wheat flour this is a great recipe to try.
Baking with whole wheat flour is just slightly different than breads with 100% all purpose or white bread flour.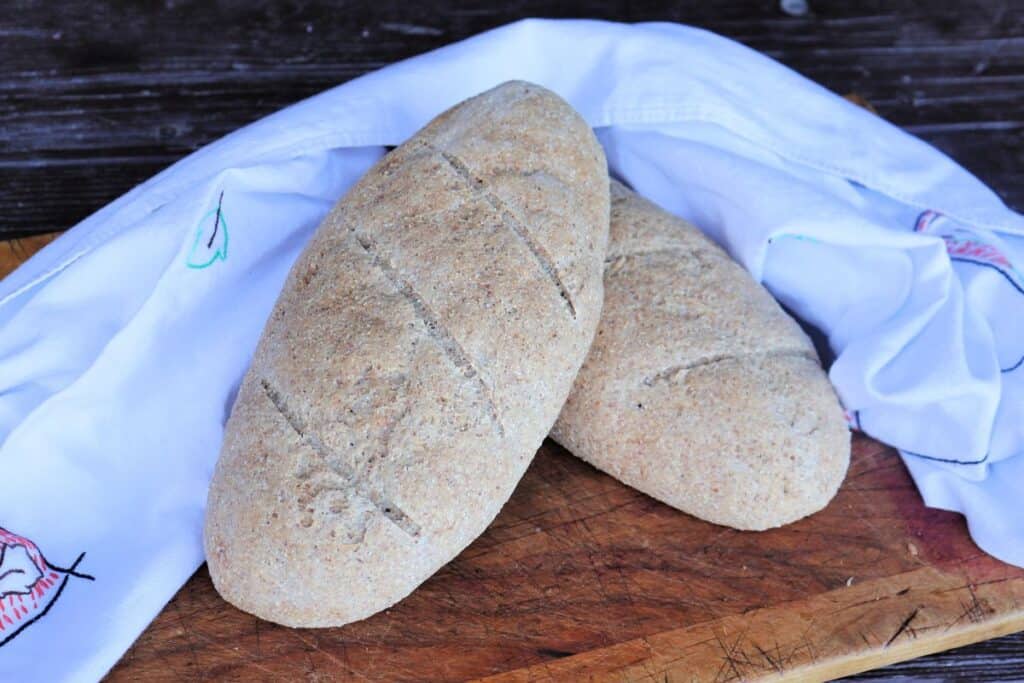 The great thing about these wider, oblong loaves is that they hold together very well even if you haven't quite perfected kneading whole grains.
While a beginner could make these loaves it is definitely helpful to have some kneading experience under your belt to have the best success with this recipe.
Sponge Technique
This recipe uses a sponge technique, which is just letting a bit of the flour soak with the water and yeast before finishing the rest of the bread.
In my experience, this is a great way to make whole grains, as the soaking helps make the bread a bit smoother, which is helpful for folks who like it a little less grainy.
This does mean you have to allow the dough to rise a total of three times but this just sitting and hands-off time.
Flour Choices
To keep this a rustic Italian bread, I used a mixture of whole wheat flour and bread flour. The bit of bread flour keeps it a little lighter and more likely to be embraced by more folks.
You could use 100% whole wheat flour, if desired, add the flour slowly as it will absorb more water than the bread flour and you may need less.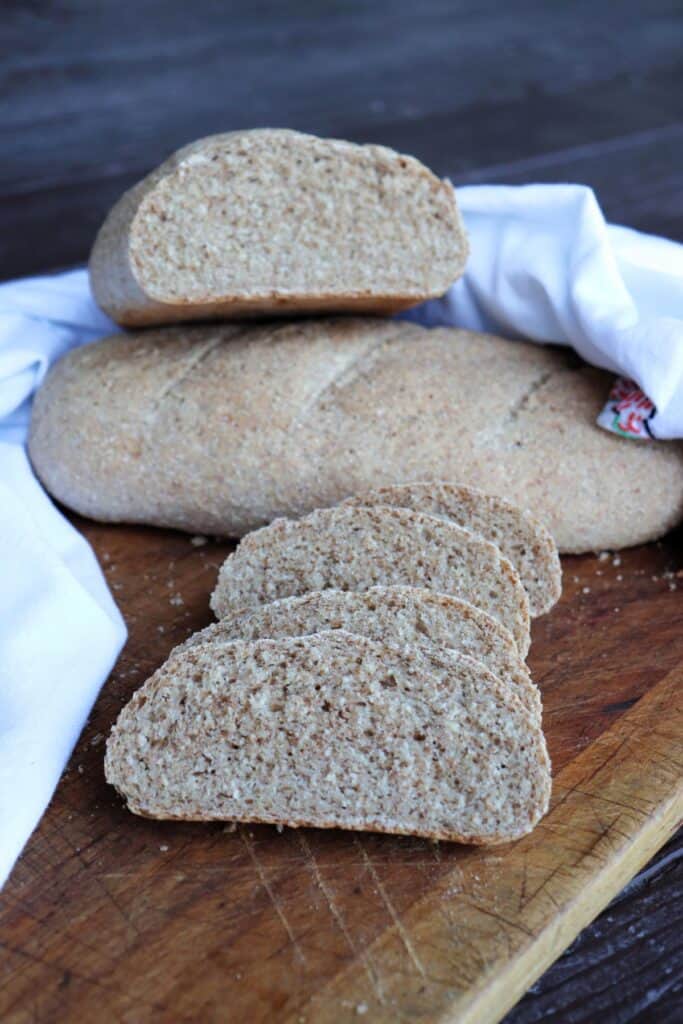 There is a commercially available white whole wheat flour – I did not that test that in this recipe but imagine it would work out just fine.
If you don't have bread flour on hand, unbleached all-purpose flour would work as a substitute.
Make It Even Crustier
Do you want a very crusty loaf of bread? Add some moisture to the oven while baking.
One of the easiest ways to add the moisture is to put some water in spray bottle and spray down the oven walls after you put the bread in the oven and close the door quickly.
Like french bread, you can also use a pastry brush to brush some cold tap water onto the dough before baking.
Bread Shape
A wide oblong loaf of bread is the shape of the white flour Italian bread of my youth and so the shape I always go with here.
It's not the only choice, however, you could do long thin batards or round loaves. You could also bake in regular bread pans if desired.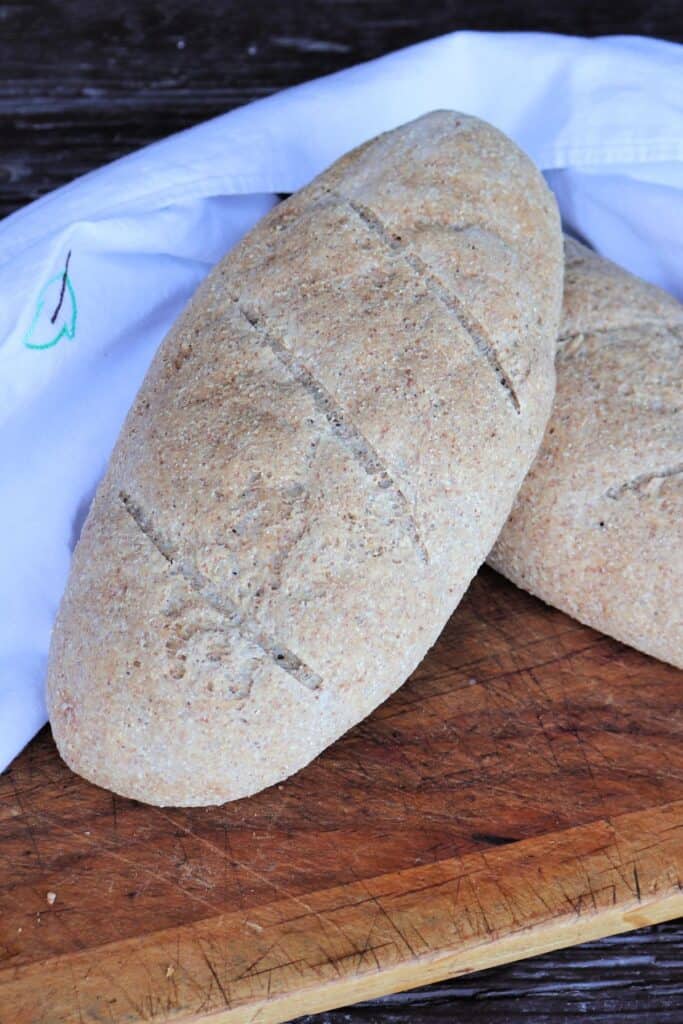 Make buns or rolls by dividing the dough into 12 or 24 and shaping small.
Watch the baking time – larger loaves will likely need more time, rolls will likely need about 10 or 15 minutes less.
How to Serve
The great thing about homemade bread is that there isn't really a wrong way to serve it.
Serve slices with butter, a little bit of extra virgin olive oil, and roasted peppers as an appetizer.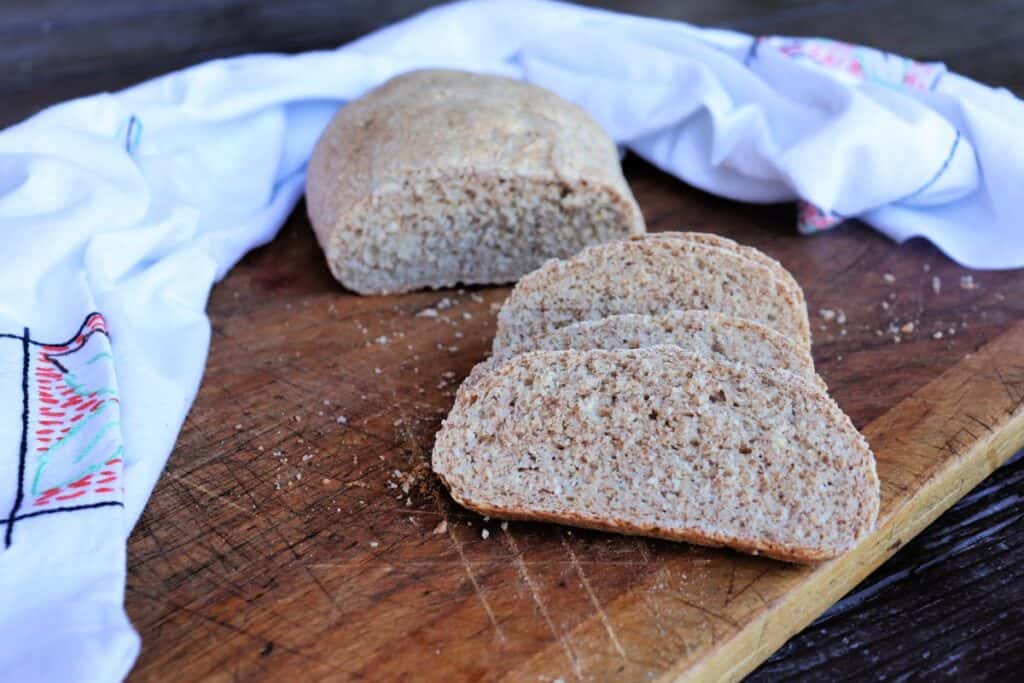 It's the perfect bread to serve alongside hearty one dish meals like creamy chicken noodle soup or with light salads to round out a meal.
We definitely use it for sandwiches and basic toast in our house.
How to Store
Keep leftovers in an airtight container and they will stay fresh for up to 4 days.
For longer term storage, wrap loaves in plastic wrap or store in freezer bags and freeze. You can also use a sharp serrated knife and slice the bread before freezing.
Use up any frozen bread within 6 months for best flavor.
Thaw frozen bread at room temperature prior to serving.
Looking for more whole wheat bread recipes?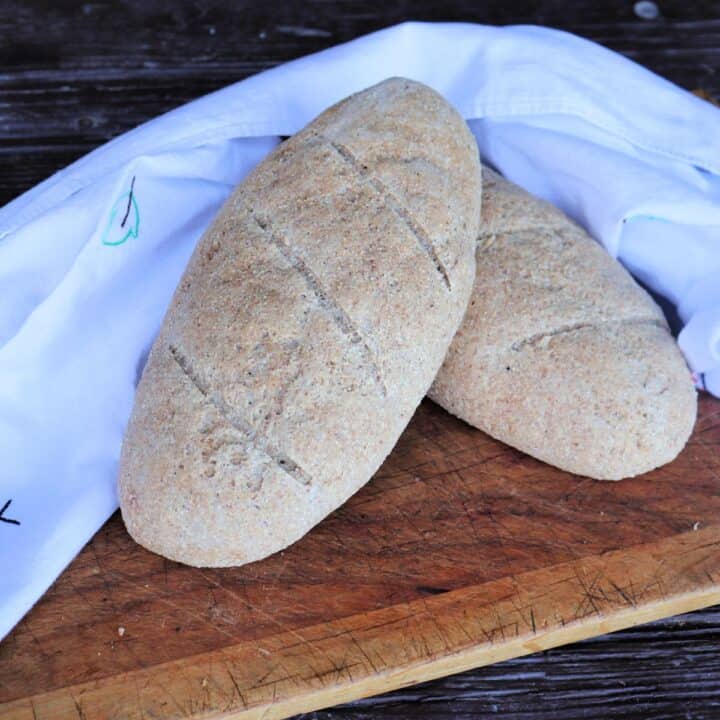 Whole Wheat Italian Bread Recipe
Rise Time:
2 hours
15 minutes
Total Time:
3 hours
40 minutes
Use this easy recipe to make whole wheat homemade Italian bread full for amazing sandwiches and more!
Ingredients
Sponge
1 Tablespoon Dry, Active Yeast
1 Tablespoon Sugar
2 Cups Warm Water
1 1/2 Cups Whole Wheat Flour
Remaining Bread Dough Ingredients
1 1/2 Cups Whole Wheat Flour
2 Cups Bread Flour
2 Tablespoons Olive Oil
1 Tablespoon Salt
Instructions
In a large mixing bowl, combine yeast, sugar, and water. Let sit until foamy about 5-10 minutes.
Using a wooden spoon, stir in the whole wheat flour until completely combined.
Cover the bowl with a clean towel and place somewhere warm. Allow to rest and rise for 45 minutes.
Stir in the remaining whole wheat flour, salt, and olive oil until well combined.
Add bread flour 1/2 cup at a time and stir until a soft dough begins to form.
If using a stand mixer and dough hook, mix on a medium speed until the dough begins to clean the sides of the bowl.
Turn out onto a lightly floured surface and knead until the dough is soft and elastic - it will always be slightly sticky.
Grease a large bowl and place the dough inside turning to coat. Cover the bowl with a tea towel and let rise until doubled in a warm place, approximately 45-60 minutes.
Meanwhile, grease a large cookie sheet or line with parchment paper.
Punch down the dough and turn out onto a lightly floured board. Knead just slightly.
Divide the dough into 2 equal pieces.
Knead and form each piece into a long, oblong shape.
Place each loaf on the prepared baking sheet.
Cover the sheet with a towel and let dough rise for another 30 minutes.
Meanwhile, preheat the oven to 375 degrees Fahrenheit.
Before baking, slash the tops of each loaf with a sharp razor blade two to three times.
Bake the loaves in the preheated oven for 35-40 minutes or until golden brown and sound hollow when tapped with a knuckle.
Immediately remove from the baking sheet to cool on a wire rack.
Nutrition Information:
Yield:

32
Serving Size:

1 slice
Amount Per Serving:
Calories:

79
Total Fat:

1g
Saturated Fat:

0g
Trans Fat:

0g
Unsaturated Fat:

1g
Cholesterol:

0mg
Sodium:

199mg
Carbohydrates:

15g
Fiber:

2g
Sugar:

0g
Protein:

3g
I try but cannot guarantee this nutritional information is 100% accurate.