Homemade french bread is a bit of kitchen magic sure to be enjoyed and praised while being super simple for the baker to pull together.
This easy french bread recipe contains simple ingredients combined in the time tested method of kneading and making bread for homemade perfection that skips all the fuss.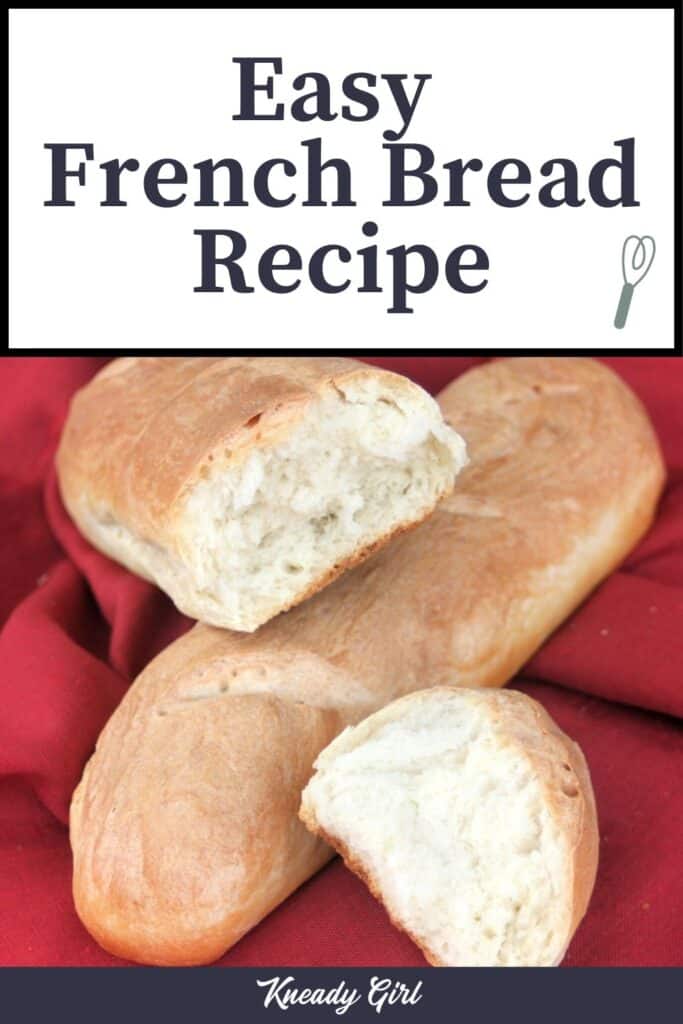 The only real change in the method is the shaping and addition of moisture during baking that provides the crusty bread texture that so many of us enjoy.
These loaves are perfect for slicing and as the base for baked appetizers or alongside a tray of savory dips and spreads. Depending on size, they can also be used for sandwiches, like pulled pork and more.
The most basic of kitchen equipment and pantry supplies make this a crusty french bread recipe for anybody to make and impress families and guests.
Basic but Flavorful
A basic bread contains only a few ingredients and french bread is no different. The ingredients are simple and yet when combined turn into something flavorful and comforting in a magical way.
A bit of the bread just torn from the loaf is truly a great but simple snack. Add a little homemade jam or nut butter for breakfast.
However, it's basic and simple enough that it can serve as a sturdy platform for so many other dishes and uses.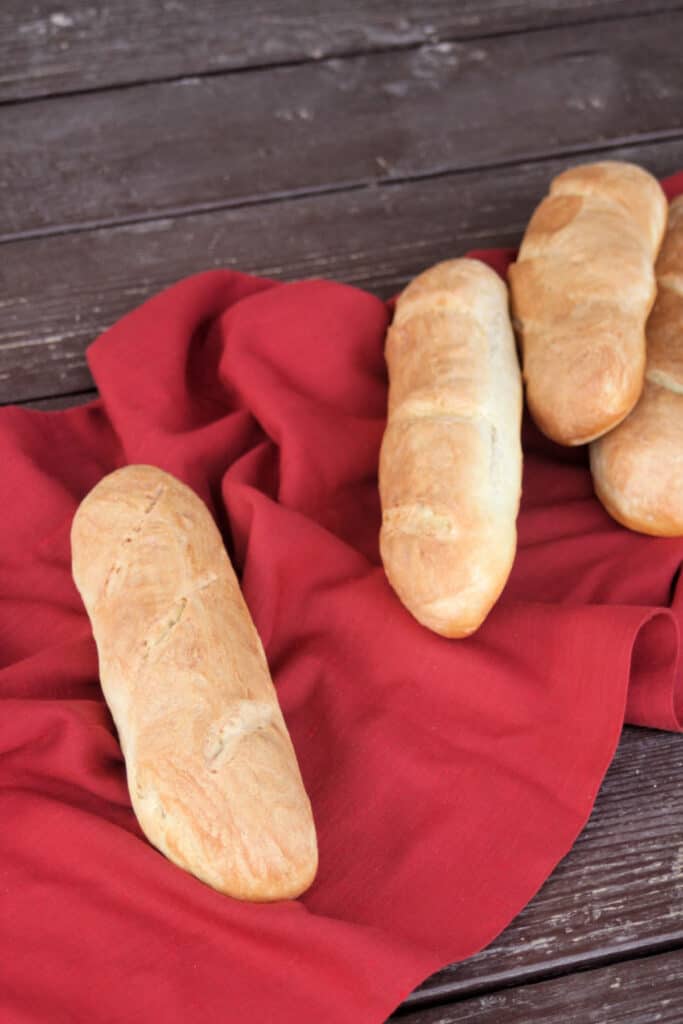 No Special Equipment Required
Nothing about this bread requires any kind of special equipment either, making it easy for even the most casual bread baker to pull together.
Yes, you can buy special baguette pans for perfectly formed loaves. No, it is not even remotely necessary. A regular old cookie sheet works more than fine.
An electric stand mixer with a dough hook makes the dough come together quickly, however; it can be made with just a bowl, a wooden spoon, and your hands just like people did for thousands of years before electricity.
Crispy Crust
The texture of a crispy crust and spongy interior is generally the thing bakers and eaters are after in a french bread loaf. When it is squeezed, it should be obvious that the exterior is tough but the insides squeeze easily.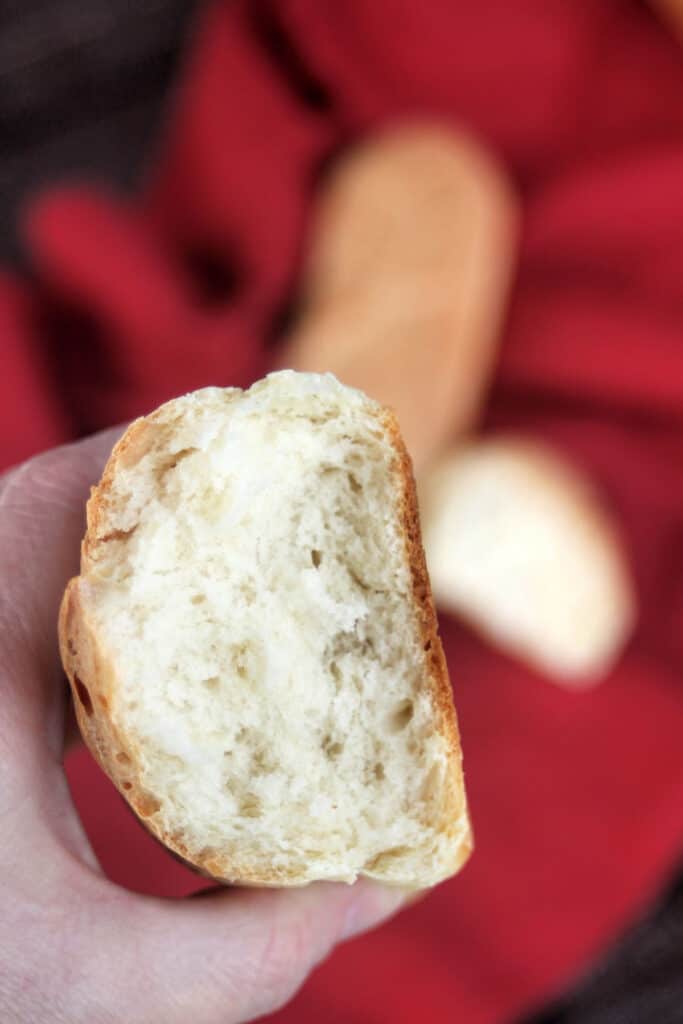 To make that crispy crust happen while keeping the interior soft is achieved through the addition of steam and moisture during the baking process.
The easiest way to achieve that moisture is by filling a spray bottle with tap water. Then spray down the sides of the oven with the water and close the door quickly. Place the baking sheet into the oven, then spray the oven again with water and leave the door closed.
Shaping
The recipe makes four shorter loaves. French bread and baguettes are traditionally quite long and this dough could be formed longer and make less loaves if desired.
However, it is much easier to store shorter loaves in regular plastic bags most of us already have at home.
Like length the width too can be adjusted. Make them skinnier or wider as desired and to match your planned use of them.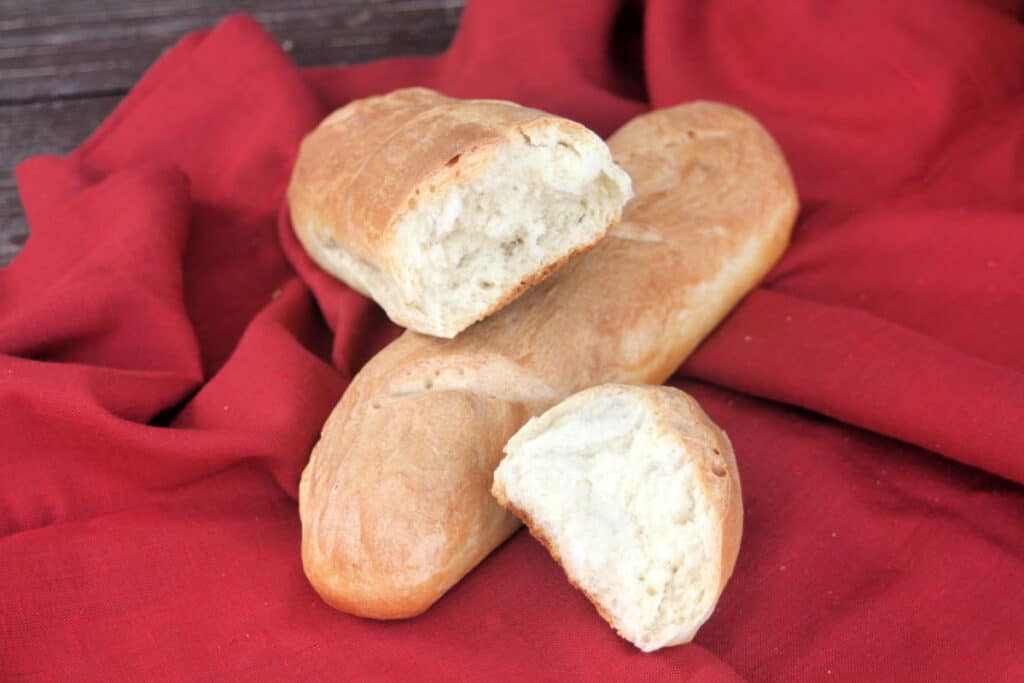 For example, if you're serving them with soup, you might want the loaves to be a little wider for dipping into broth. If you're serving them as crostini for a large party, skinnier loaves might make better coin shapes for the platter.
Baking Time
Time will vary greatly based on the shape and length of the loaves. Do start checking for doneness at about 20 minutes. The loaves will be a golden brown and sound hollow when tapped with your knuckle when done.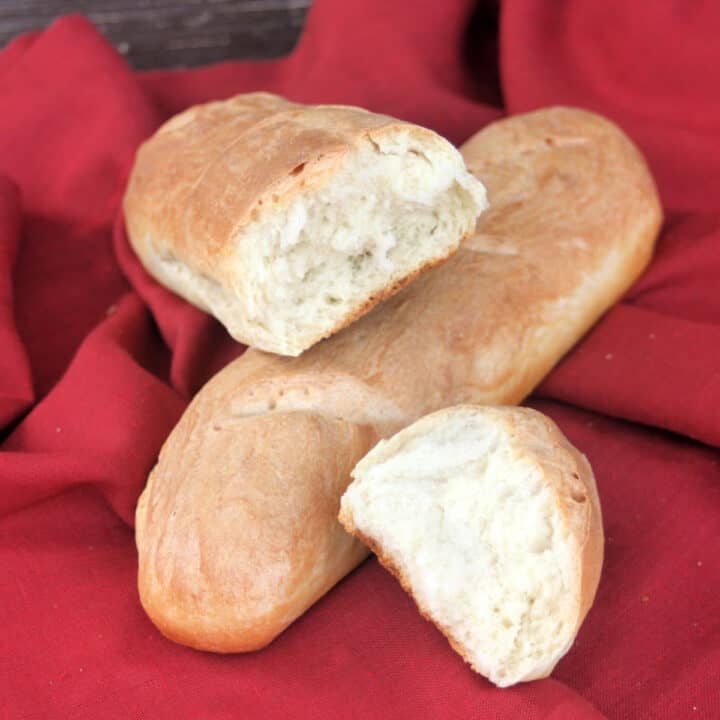 Easy French Bread
Rising Time:
1 hour
30 minutes
Total Time:
2 hours
15 minutes
Make this crusty and easy french bread recipe for sandwiches, to serve with soup, form a base for appetizers and so much more.
Ingredients
2 Cups Warm Water
1 Tablespoon Dry, Active Yeast
2 Tablespoons Sugar
1 Tablespoon Salt
6 Cups Flour
Instructions
In a large bowl, combine the water, yeast, and sugar. Give it a quick whisk and let sit aside until foamy, 5-10 minutes.
Add 2 cups of flour to the water mixture and stir well. Add the sat and another 2 cups of flour. Mix and continue adding flour until the dough is formed.
Turn the dough out onto a lightly floured board and knead until the dough is smooth and elastic.
Lightly grease a large bowl. Put the dough into the bowl and turn to coat with the oil.
Cover with a towel and let the dough rise until doubled, about an hour.
Lightly grease a cookie sheet.
Punch down the dough to deflate it. Turn out to a floured surface and knead just slightly.
Divide the dough into fourths. For best results, weigh the dough on a kitchen scale so that each portion of the dough of the dough weighs the same.
On the floured surface, knead and roll the dough with your hands into a log shape about 8" long.
Place the baguettes onto the prepared baking sheet leaving a few inches in between each loaf.
Using a pastry brush, brush the loaves with cold tap water. With a razor blade or very sharp knife, cut slits diagonally into the tops of each loaf.
Cover with a towel and let rise until doubled, about 30-45 minutes.
Meanwhile preheat the oven to 400 degrees Fahrenheit.
Spray the hot oven with water and close the door.
Place the cookie sheet into the oven and again spray the oven walls with water, shutting the door quickly.
Bake in the preheated oven for 20-25 minutes or until the loaves are golden brown and sound hollow when tapped.
Remove from the baking sheet immediately to cool completely on wire racks.

Recommended Products
As an Amazon Associate and member of other affiliate programs, I earn from qualifying purchases.
Nutrition Information:
Yield:

36 slices
Serving Size:

1 slice
Amount Per Serving:
Calories:

80
Total Fat:

0g
Saturated Fat:

0g
Trans Fat:

0g
Unsaturated Fat:

0g
Cholesterol:

0mg
Sodium:

177mg
Carbohydrates:

17g
Fiber:

1g
Sugar:

1g
Protein:

2g
I try but cannot guarantee this nutritional information is 100% accurate.