Remember those pigs in a blanket from childhood? Those hot dogs wrapped in refrigerated crescent dough? Such amazing comfort food and yet not always the healthiest choice.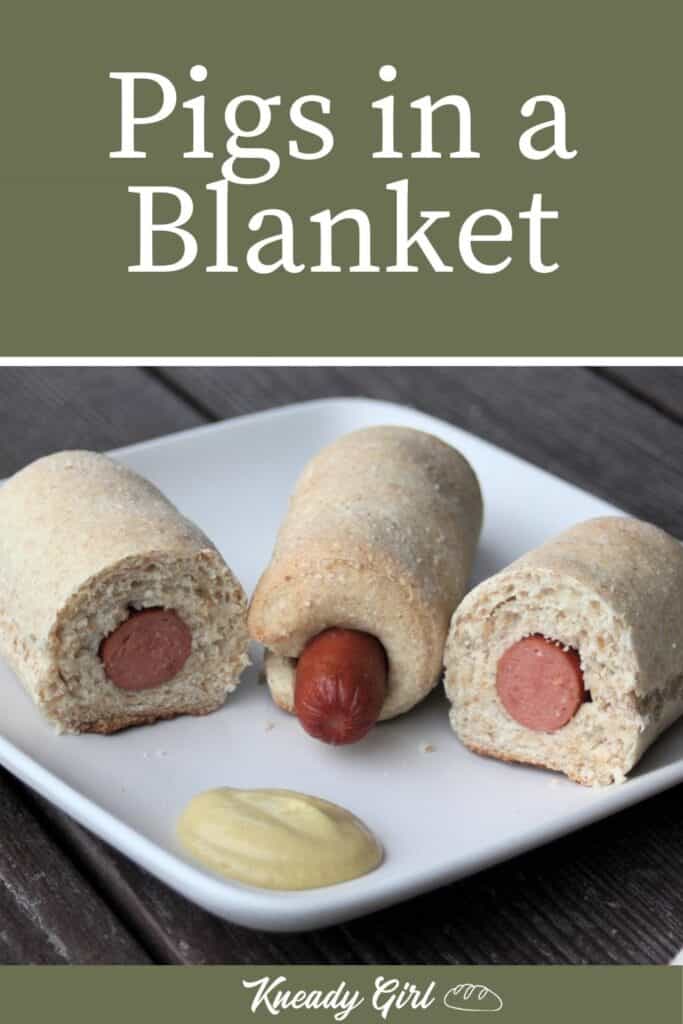 My homemade pigs in a blanket dough recipe elevates the treat into something you can feel better about. We'll skip the processed can dough and make our own with whole wheat flour.
Basic Bread Dough
There's nothing fancy at all about the dough for this recipe. It's an extremely basic bread dough but does the job of wrapping a hot dog deliciously and easily at that.
I did incorporate some whole wheat flour into the recipe – you could use more or less as desired. You could also skip the whole wheat flour and use only all purpose flour as desired.
How Much Dough Wrap?
Most traditionally, pigs in a blanket leave the ends of the hot sticking out from the dough.
That is absolutely possible with this recipe.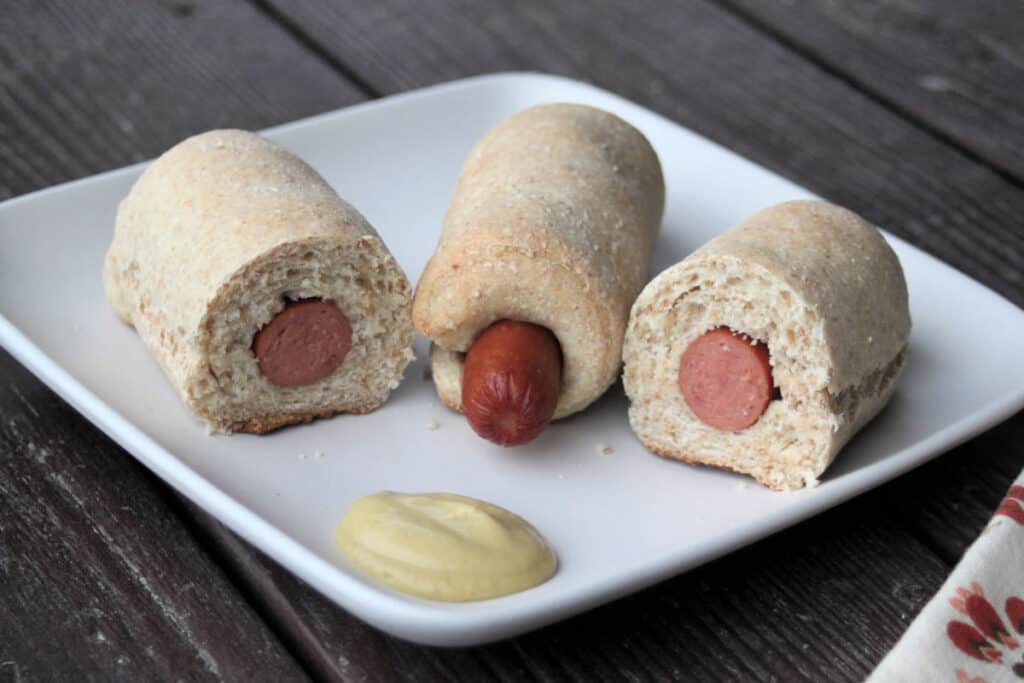 However, with this dough, you could also wrap the dough the entire way around the hot dog – almost baking the hot dog inside its very own bun.
Your choice. Do some of each and let those you serve choose which they want.
Hot Dog Choices
Us your favorite here. Whatever you would normally eat would work just fine.
Vegetarians can feel free to use some kind plant based alternative.
Skip the hot dog and use a kind of flavorful kielbasa or smoked sausage instead if desired.
Optional Additons
The recipe is delicious just as written but there are some ways to switch it up if desired:
Add up to 1 cup shredded cheese to the bread dough.
Place a strip of cheese on the dough with the hot dog and roll both up inside the dough.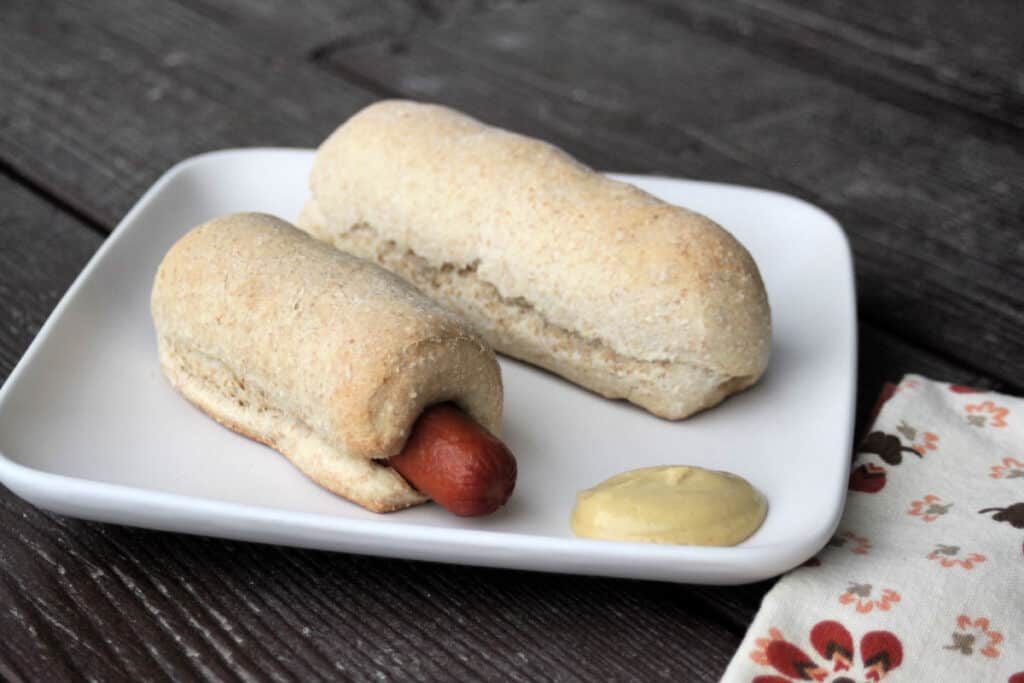 How to Serve
Put them on a platter still warm from the oven and serve any way you would normally serve hot dogs. We tend to eat ours with ketchup and mustard.
Serve the hot dogs alongside side dishes of baked beans or sauerkraut for an easy meal.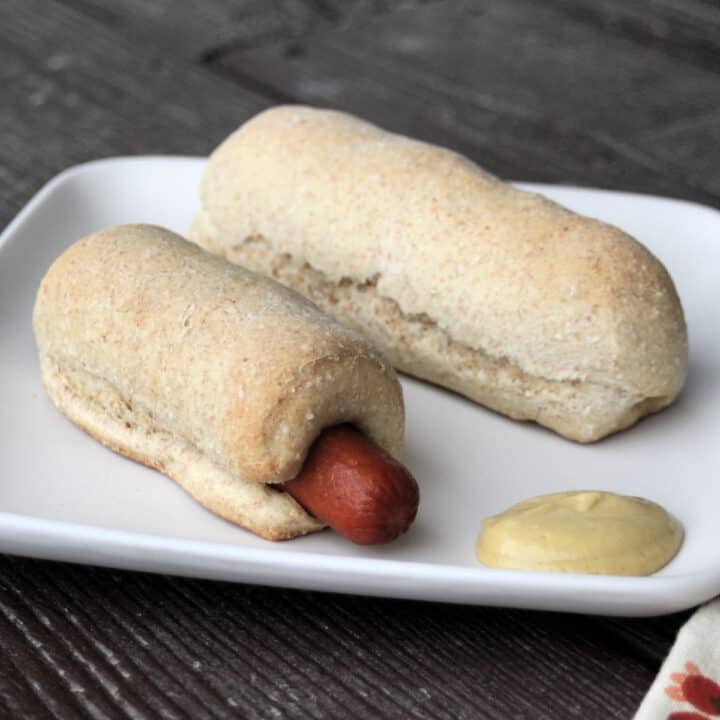 Homemade Pigs in a Blanket
Rising Time:
1 hour
30 minutes
Total Time:
2 hours
30 minutes
Homemade pigs in a blanket from a whole grain infused dough give you all the comfort you remember from childhood in a slightly healthier package.
Ingredients
2 Cups Warm Water (110 to 115 degrees Fahrenheit)
1 Tablespoon Dry, Active Yeast
2 Tablespoons Sugar
1 Tablespoon Salt
1 1/2 Cups Whole Wheat Flour
4 Cups Unbleached All-Purpose Flour
12 Hot Dogs
Instructions
In a large bowl, combine the water, yeast, and sugar. Give it a quick whisk and let sit aside until foamy, 5-10 minutes.
Add the whole wheat flour to the water mixture and stir well. Add the salt and 2 cups of flour. Mix and continue adding flour until the dough is formed.
Turn the dough out onto a lightly floured board and knead until the dough is smooth and elastic.
Lightly grease a large bowl. Put the dough into the bowl and turn to coat with the oil.
Cover with a towel and let the dough rise until doubled, about an hour.
Lightly grease a cookie sheet.
Punch down the dough to deflate it. Turn out to a floured surface and knead just slightly.
Divide the dough into 12 even pieces. For best results, weigh the dough on a kitchen scale so that each portion of the dough weighs roughly the same.
On a floured surface, roll the dough portions into rectangular shapes long enough to wrap the length of your hot dog.
Place the hot dog on one long end of the dough and roll the dough tightly around. Tuck the ends under the hot dog and place seem side down onto prepared baking sheet.
Repeat for remaining hot dogs.
Cover the baking sheet with a tea towel and let rise about 30 minutes.
Meanwhile preheat the oven to 400 degrees Fahrenheit.
When the dough has risen, place the baking sheet into the preheated oven. Bake for 20 minutes or until the dough is golden brown and crispy on the bottom.
Remove from the oven and place the pigs in a blanket directly onto wire racks to cool & serve.

Notes
If you do not cover the hot dogs completely, leaving the ends exposed as is traditional, you will have more than enough dough to do about 18 or so hot dogs. If you have extra dough, you can bake it on another cookie sheet like buns or freeze it for later.
Recommended Products
As an Amazon Associate and member of other affiliate programs, I earn from qualifying purchases.
Nutrition Information:
Yield:

12
Serving Size:

1
Amount Per Serving:
Calories:

369
Total Fat:

15g
Saturated Fat:

6g
Trans Fat:

0g
Unsaturated Fat:

7g
Cholesterol:

28mg
Sodium:

941mg
Carbohydrates:

46g
Fiber:

3g
Sugar:

3g
Protein:

12g
I try but cannot guarantee this nutritional information is 100% accurate.