These loaves of honey wheat brown bread are the perfect savory solution for snacks, party trays and more.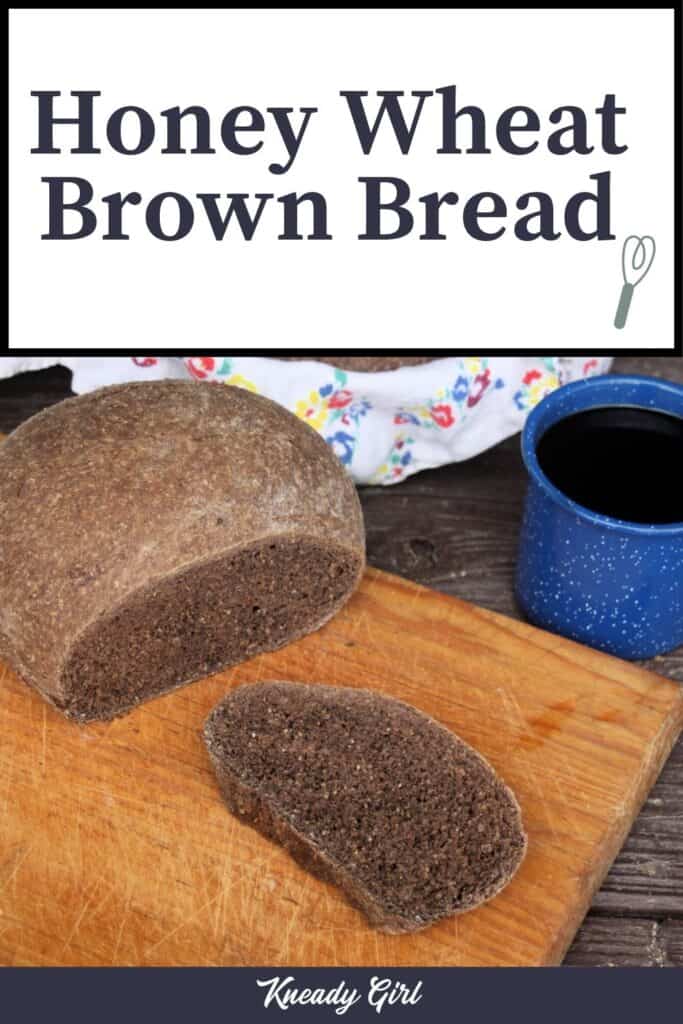 Use this brown bread recipe to pair with sharp cheeses, strong cured meats, and more for a flavorful spread that is sure to impress.
Not Overly Sweet
The honey in this dark brown bread serves as a way to balance the bitterness of the cocoa powder and coffee.
This is not a sweet, breakfast style bread. Though one could add more honey, as desired to make it sweeter.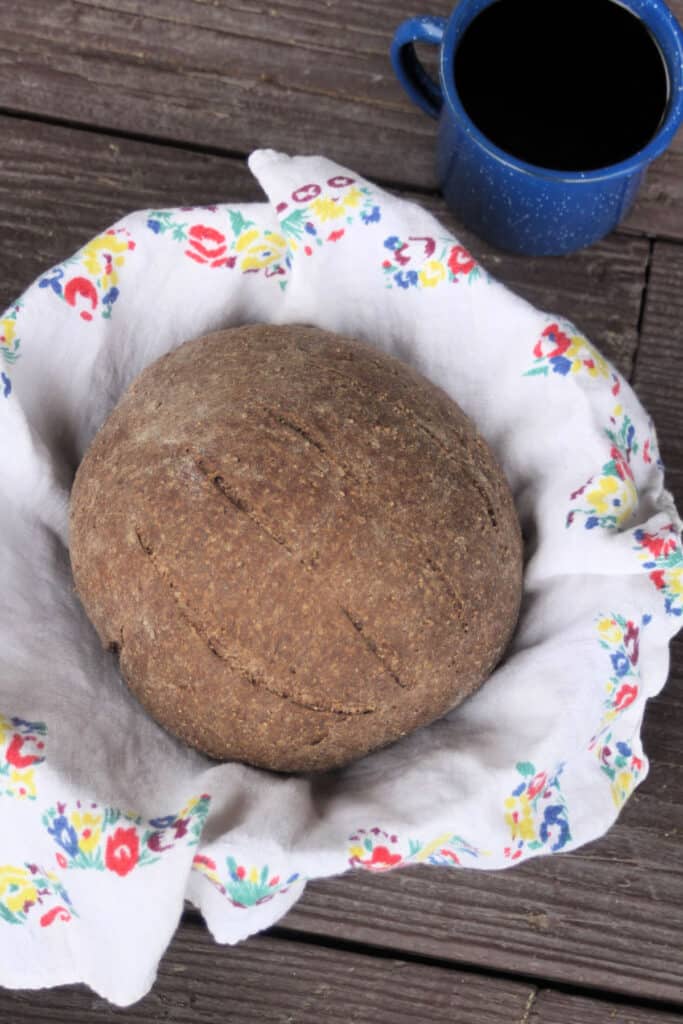 Specialty Ingredients
Black cocoa powder gives the loaves their incredible darkness. Regular cocoa powder will work though the darkness will not be as intense. Regular cocoa powder is easier to find in most grocery stores, but black cocoa is worth ordering and keeping in the pantry.
Grainy & Dark
This is a very grainy, dark, and dense loaf of bread. It is not the type of bread most folks would use for peanut butter and jelly sandwiches – though for those of use who like dark and dense it works wonderfully.
Instead this is the kind of bread one would serve with salami or something else strongly flavored.
It is quite nice as a snack slathered in butter, too alongside a salad or soup.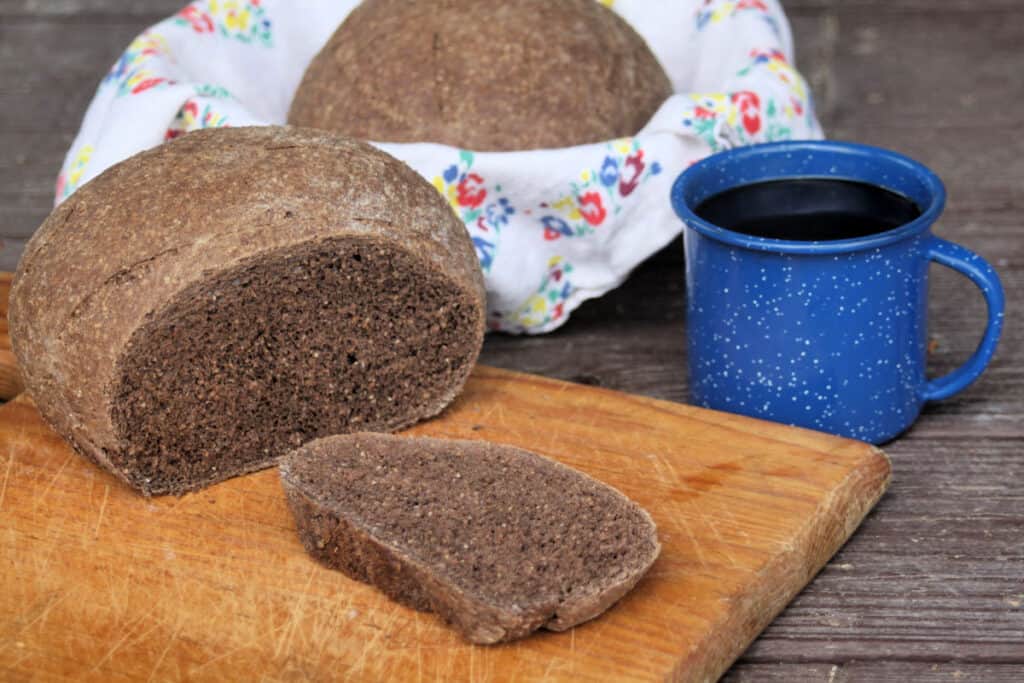 Complex Flavors
There are a lot of flavorful ingredients here. Chocolate and coffee are often only paired in sweet recipes. And while both do have intensely strong flavors on their own, you are only left with a hint of them in the bread.
Instead of tasting the coffee and chocolate themselves one is left only with their dark, bitter richness alongside the whole grain.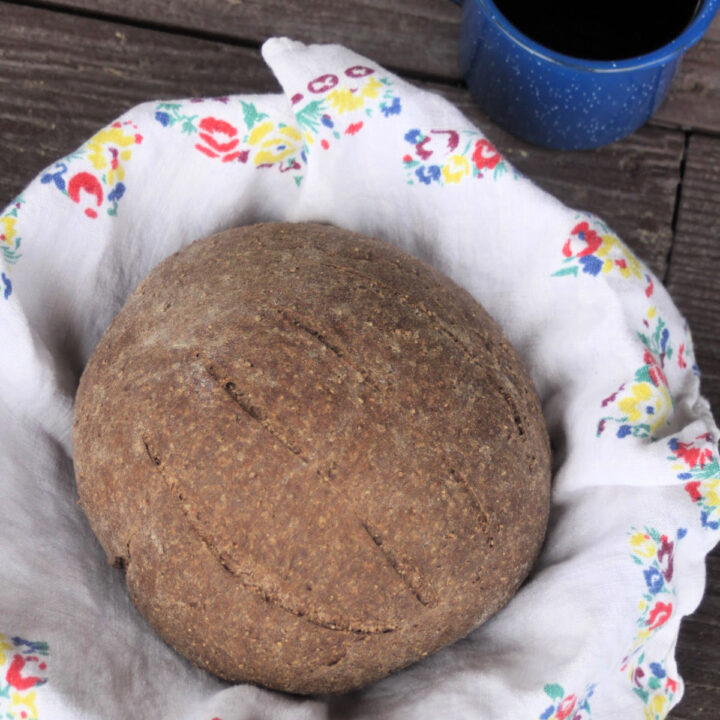 Honey Wheat Brown Bread
Rising Time:
1 hour
30 minutes
Total Time:
2 hours
35 minutes
Dark, grainy, and with just a hint of bitterness this dense whole grain bread is perfect for sharp cheeses and strong cured meats.
Ingredients
1 Tablespoon Dry, Active Yeast
1 Tablespoon Sugar
1/2 Cup Warm Water (approximately 110 to 115 degrees Fahrenheit)
1 1/2 Cups Warm Coffee (approximately 110 to 115 degrees Fahrenheit)
1/4 Cup Black Cocoa Powder
2 Cups Whole Wheat Flour
3 Cups Bread Flour
1/3 Cup Honey
1 Tablespoon Salt
Instructions
In a large bowl, mix together the yeast, sugar, and water. Let sit until foamy about 5 minutes.
Add the coffee, cocoa powder, honey, salt and whole wheat flour. Mix well.
Mix in 1 1/2 Cups of bread flour and slowly continue adding more until a dough begins to form.
Turn the dough out onto a floured board and knead until a soft, elastic dough forms. It will be a dense dough.
Lightly oil a bowl and turn the dough inside to coat. Cover the bowl with a towel and allow to rise for 45 minutes to an hour. It will not exactly double.
Punch down the dough and knead slightly. Divide in half and form loaves. Let round loaves rise on greased baking sheets or in towel lined bowls. Alternatively, place into greased bread pans. Cover with a towel.
Allow the bread to rise another 30 to 45 minutes. Again, it will not exactly double.
Meanwhile, preheat the oven to 375 degrees Fahrenheit.
Score loaves if desired before placing in the oven.
Bake in the preheated oven for 40 to 45 minutes. The bread will be dark and crusty as well as sound hollow when tapped with a knuckle when done.
Remove from the oven and pans immediately to cool on wire racks.
Recommended Products
As an Amazon Associate and member of other affiliate programs, I earn from qualifying purchases.
Nutrition Information:
Yield:

24
Serving Size:

1 slice
Amount Per Serving:
Calories:

117
Total Fat:

1g
Saturated Fat:

0g
Trans Fat:

0g
Unsaturated Fat:

0g
Cholesterol:

0mg
Sodium:

266mg
Carbohydrates:

25g
Fiber:

2g
Sugar:

4g
Protein:

4g
I try but cannot guarantee this nutritional information is 100% accurate.