These loaves of honey wheat brown bread are the perfect savory solution for snacks, party trays and more.
Use this honey wheat bread to pair with sharp cheeses, strong cured meats, and more for a flavorful spread that is sure to impress.
This feels like an old-world rustic bread. It's dark and grainy and richly flavored – it is not the fluffy white bread of grocery stores at all. That's either a huge plus or gigantic no depending on your own personal preference.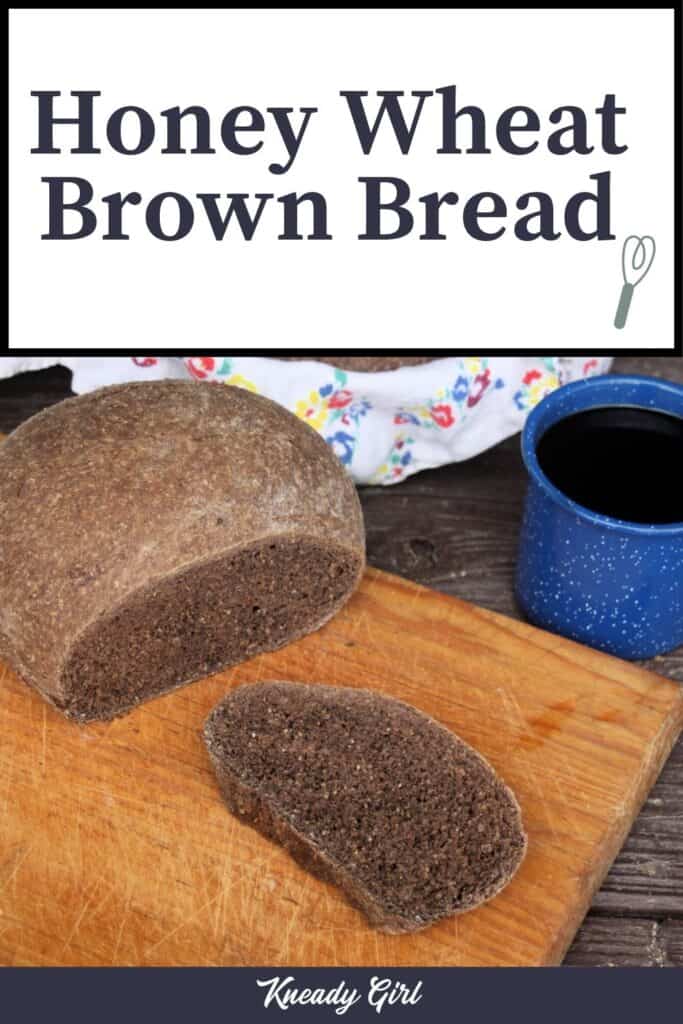 Not Overly Sweet
The honey in this dark brown bread serves as a way to balance the bitterness of the cocoa powder and coffee. It does not heavily sweeten the bread, there is some sweetness to be sure but it is not overly so.
This is not a sweet, breakfast style bread. Though one could add more honey, as desired to make it sweeter. For best result, I wouldn't go less than 1/3 cup of honey otherwise it might just be too bitter.
Use brown sugar instead of honey to keep it vegan, if desired. Maple syrup would also likely work but I haven't tested it yet.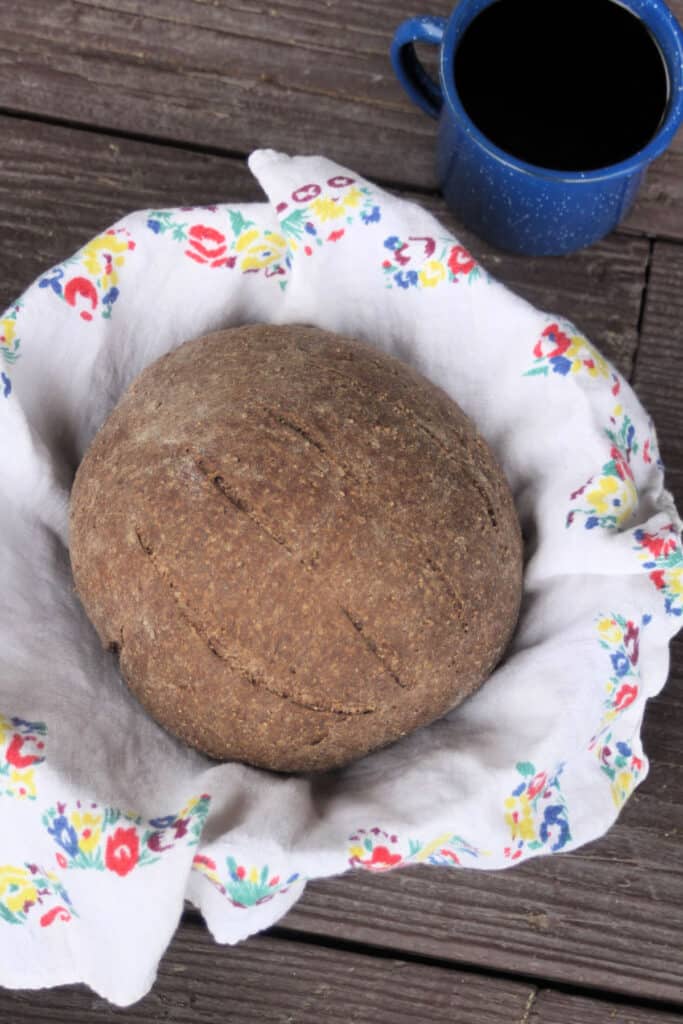 Difficulty Level: Intermediate
There's not a whole lot going on here but it is probably best for a baker who's had some experience working with whole grain bread doughs in the past.
Whole grain breads are just a bit different in how they absorb water and the texture as the dough is kneaded. It's for this reason that I recommend a little bread baking experience before tackling this recipe.
Substitution Ideas
Black cocoa powder gives the loaves their deep color and incredible darkness. Regular cocoa powder will work though the darkness will not be as intense. Regular unsweetened cocoa powder is easier to find in most grocery stores, but black cocoa is worth ordering and keeping in the pantry.
Don't like whole wheat? Substitute rye flour instead.
Graham flour which is a kind of wheat flour, just milled differently, would also likely work.
Skip the whole grain entirely and use 100% bread flour.
All purpose flour could be used instead of bread flour. The texture will be slightly different but will still work
Any switching of flours can change how much flour to use as each absorbs water differently, just knead and add flour slowly to test for proper amount.
Don't have coffee around and don't want to make another pot? Simply use all water and mix 1 Tablespoon of Espresso Powder into 1 1/2 cups of lukewarm water. Instant coffee would also work, make it a very strong cup of coffee based on the brand you have in the pantry.
Loaf Shape
I've made this recipe in a number of different shapes. Big round loaves tend to be my favorite but that is not the only option.
Baking it in a standard loaf pan works and makes it super easy for sandwich making later.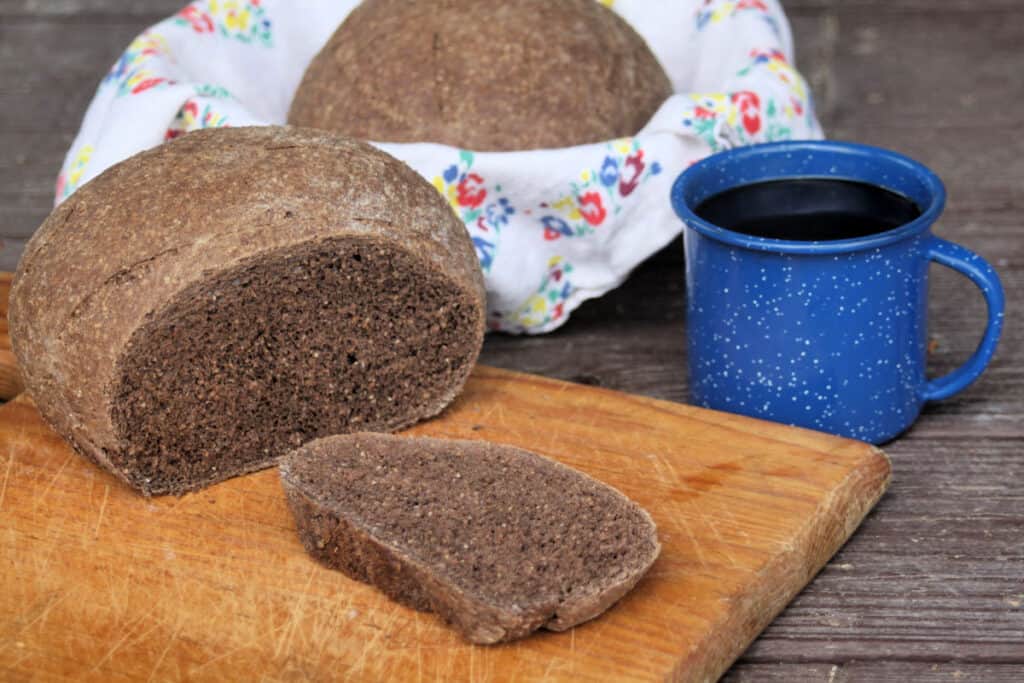 Make smaller loaves in various shapes for sharing. You could also shape them into rolls to be baked on a cookie sheet.
Make long thin loaves to slice and serve with meat and cheese trays.
Different loaf shapes will cook at different times, just begin checking for doneness after 30 minutes or so.
Complex Flavors
The main ingredients here are quite flavorful and complex. Chocolate and coffee are often only paired in sweet recipes. And while both do have intensely strong flavors on their own, you are only left with a hint of them in the bread.
Instead of tasting the coffee and chocolate themselves one is left only with a rich deep flavor. A dark, bitter richness alongside the whole grain that is sure to please all the whole grain lovers.
For folks that like dark and slightly bitter and whole grain this is a comfort food of the highest proportion, especially when paired with comforting soups or casseroles.
How To Serve
This is a very grainy, dark, and dense loaf of whole wheat bread. It is not the type of bread most folks would use for peanut butter and jelly sandwiches – though for those of use who like dark and dense it works wonderfully.
Do use a very sharp knife to get even slices no matter the loaf shape.
Instead this is the kind of bread one would serve with salami or something else strongly flavored.
This is a great recipe to serve alongside cooked and heavily seasoned sausages. My husband loves it this way with a little bit of mustard.
It is quite nice as a side dish slathered in fresh butter alongside a salad or soup.
Do toast it and spread it thick with plain cream cheese for a very filling breakfast.
How to Freeze
Like most homemade bread, leftovers can easily be frozen.
Simply wrap baked and cooled loaves in plastic wrap or store in freezer bags. You can also freeze the slices in an airtight container to pull out just a few slices as needed.
Use up a frozen loaf of bread within 6 months for best flavor.
Want more whole grain bread recipes? Here are a couple of my favorites: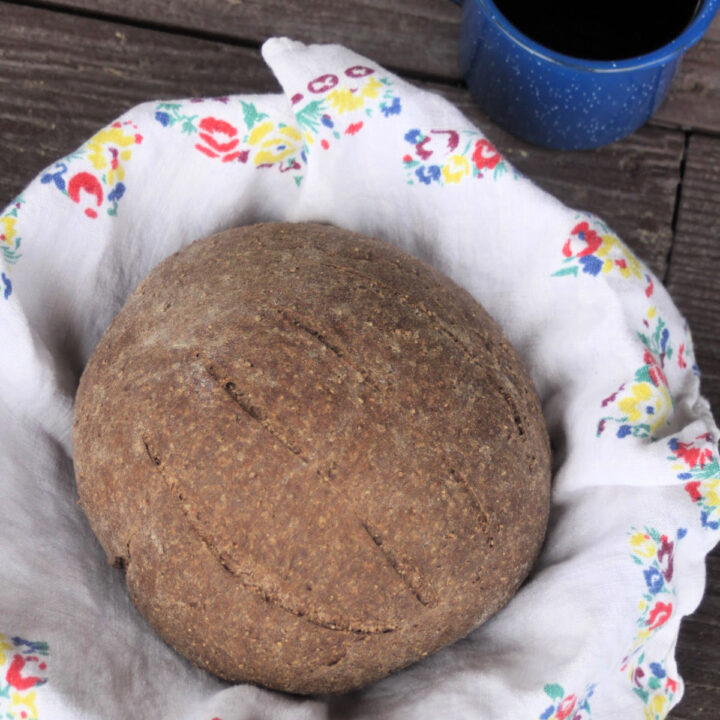 Honey Wheat Brown Bread
Rising Time:
1 hour
30 minutes
Total Time:
2 hours
35 minutes
Dark, grainy, and with just a hint of bitterness this dense whole grain bread is perfect for sharp cheeses and strong cured meats.
Ingredients
1 Tablespoon Active Dry Yeast
1 Tablespoon Sugar
1/2 Cup Warm Water (approximately 110 to 115 degrees Fahrenheit)
1 1/2 Cups Warm Coffee (approximately 110 to 115 degrees Fahrenheit)
1/4 Cup Black Cocoa Powder
2 Cups Whole Wheat Flour
3 Cups Bread Flour
1/3 Cup Honey
1 Tablespoon Salt
Instructions
In a large bowl, mix together the yeast, sugar, and water. Let sit until foamy about 5 minutes.
Add the coffee, cocoa powder, honey, salt and whole wheat flour. Mix well.
Using a wooden spoon or a dough hook on a stand mixer, add 1 1/2 Cups of the bread flour. Slowly continue adding more until a dough begins to form.
Turn the dough out onto a floured board and knead until a soft, elastic dough forms. It will be a dense dough.
Lightly oil a bowl and turn the dough inside to coat. Cover the bowl with a towel and allow to rise for 45 minutes to an hour in a warm place. It will not exactly double.
Punch down the dough and and give it a quick knead on a floured work surface.
Divide in half and form loaves. Let round loaves rise on greased baking sheet or in towel lined bowls. Alternatively, place into greased bread pans. Cover with a towel and place in a warm spot.
Allow the bread to rise a second time, for another 30 to 45 minutes. Again, it will not exactly double.
Meanwhile, preheat the oven to 375 degrees Fahrenheit.
Score loaves if desired before placing in the oven.
Bake in the preheated oven for 40 to 45 minutes. The bread will be dark golden brown and crusty as well as sound hollow when tapped with a knuckle when done.
Remove from the oven and pans immediately to cool on wire rack.
Nutrition Information:
Yield:

24
Serving Size:

1
Amount Per Serving:
Calories:

117
Total Fat:

1g
Saturated Fat:

0g
Trans Fat:

0g
Unsaturated Fat:

0g
Cholesterol:

0mg
Sodium:

266mg
Carbohydrates:

25g
Fiber:

2g
Sugar:

4g
Protein:

4g
I try but cannot guarantee this nutritional information is 100% accurate.