Make this sauerkraut bread for a delicious and hearty sandwich bread perfect for cured meats and more.
Full of simple and flavorful ingredients sauerkraut rye bread is sure to become a favorite for Reubens and more.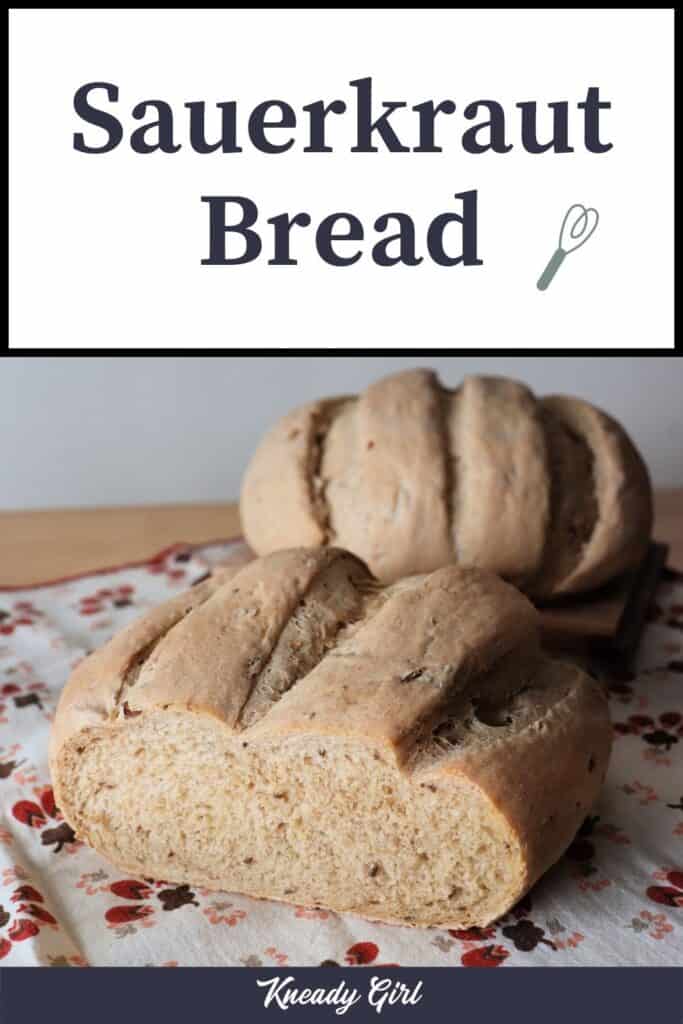 Sauerkraut
The recipe includes sauerkraut in the bread dough. Yes, I know cooking sauerkraut kills the probiotics. The sauerkraut provides an amazing flavor to the finished bread.
The flavor is not so strong, however; that someone will instantly know sauerkraut is in the bread if they weren't told ahead of time.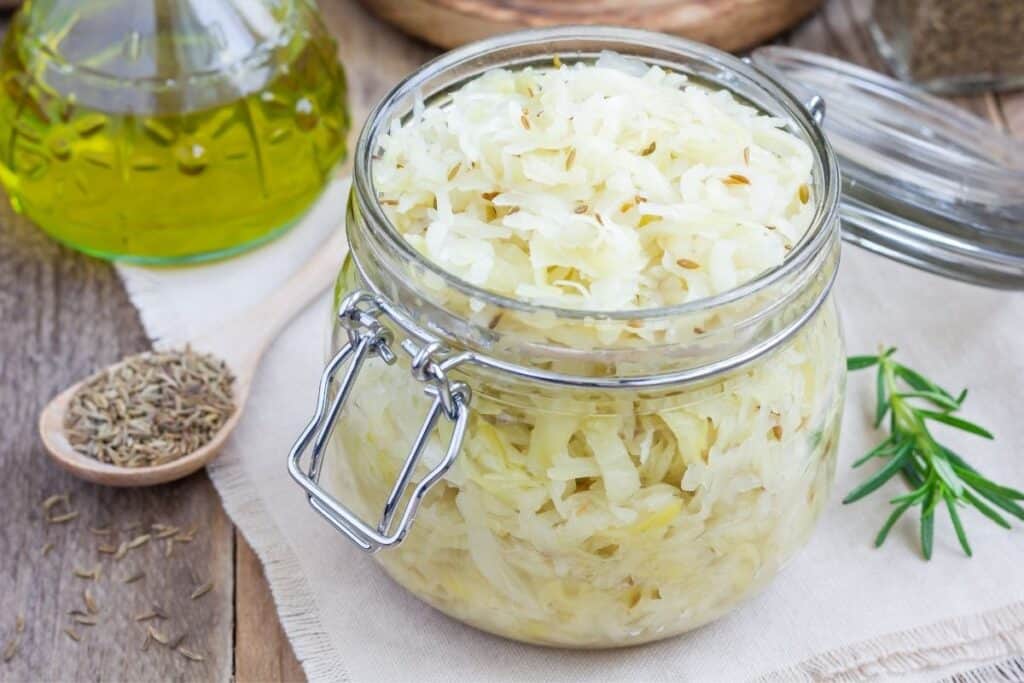 I used a raw, refrigerated sauerkraut made by a local Hutterite colony in this recipe. I'm sure any homemade or other refrigerated sauerkraut would work. The canned variety would also likely work but it's never been my favorite for flavor.
Do drain and chop the sauerkraut before adding it to the bread dough. Too much extra brine is likely to through off the flour to water ratio and be quite salty.
Rye Flour
I used a medium rye flour in the recipe. Simply because that was what I had on hand. Dark or light rye would also likely work. Even pumpernickel would probably work – but beware that you might need more or less bread flour because of how water is absorbed.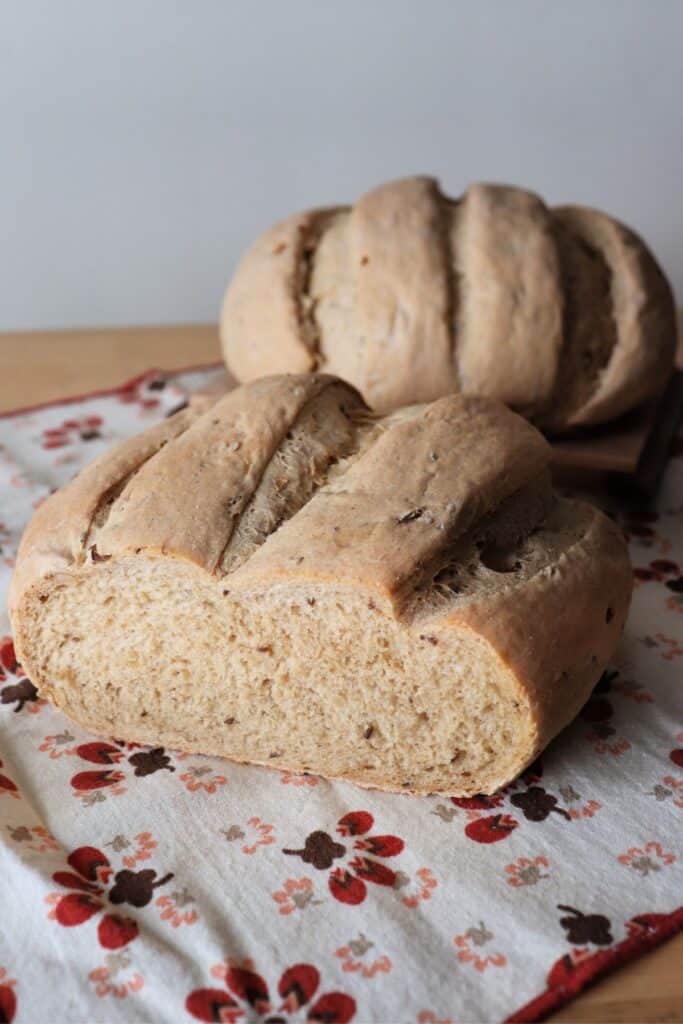 Seeds
Caraway seeds are quite traditional in rye breads. They're also quite flavorful with sauerkraut in my opinion.
Dill seeds too are traditional in rye and a wonderful complement to sauerkraut.
It's for that reason that I used a combination of both seeds in the bread.
However, you could easily skip the seeds all together or use just one based on preference. There's really no right or wrong here.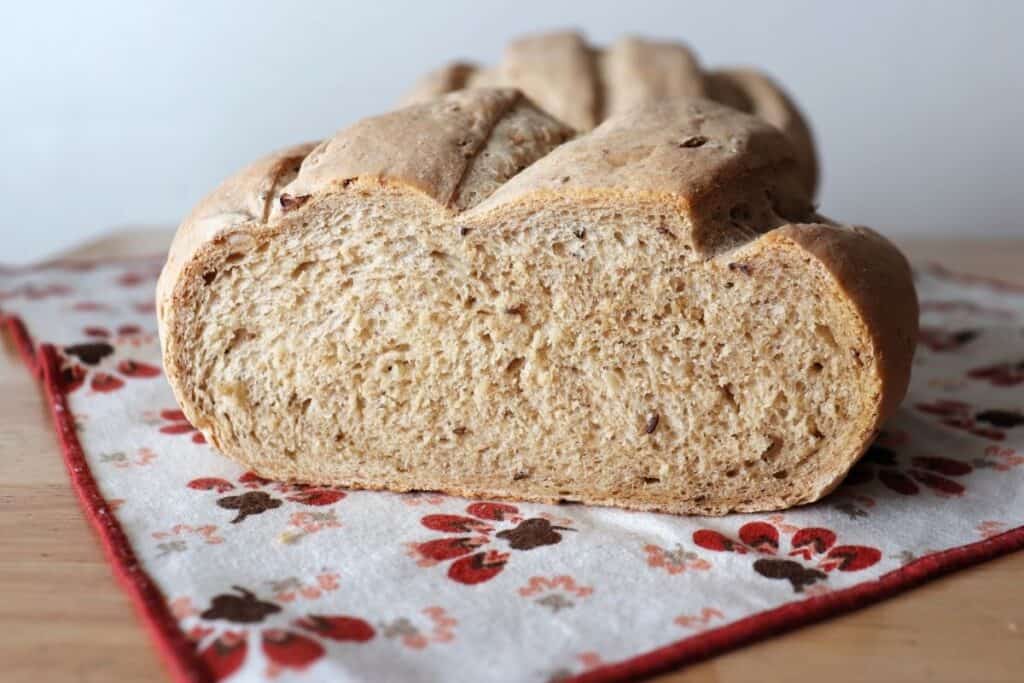 Sponge Method
This recipe uses the sponge method of allowing the whole grain flour, some water, and yeast sit for a while before proceeding. In this case, the sponge needs to ferment for 3 1/2 hours.
This makes the time to make this bread obviously quite long. This isn't very difficult and it's hands on time but don't rush it. This pre-ferment of the sponge gives extra flavor and texture to the final loaf.
Bread Shape
I went for round loaves here just because it was what I fancied. Feel free to bake in loaf pans if desired.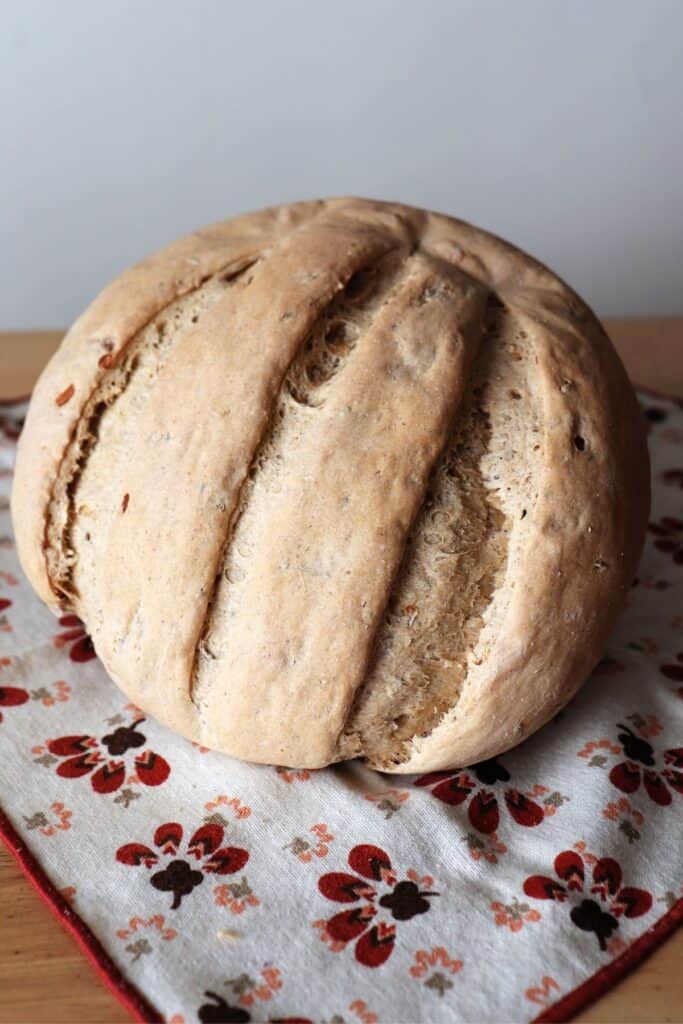 How to Use Sauerkraut Bread
This bread is ideal for homemade Reuben sandwiches. It's just an extra layer of flavor that makes everything pop quite well. We've used it for everything from tuna sandwiches to grilled cheese in our home with great success.
I wouldn't use it for a peanut butter and jelly sandwich or french toast but definitely recommend it for any of strong, savory sandwich filling.
Freeze Extras
For longer term storage, wrapped the cooled loaf in plastic wrap and freeze. Or slice and place the slices into a freezer bag and freeze.
Use up frozen bread within 6 months for best flavor. Let frozen bread thaw on the counter prior to serving.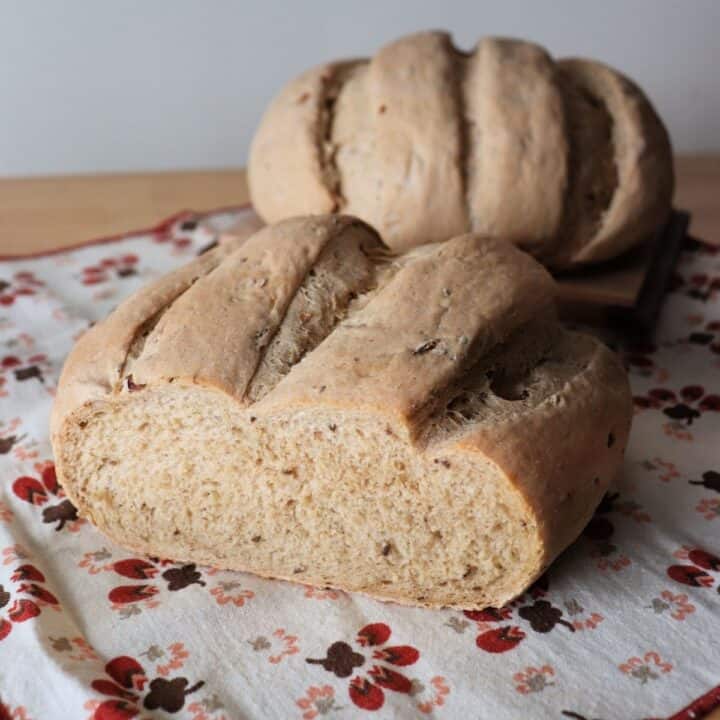 Sauerkraut Bread
Rising Time:
5 hours
30 minutes
Total Time:
6 hours
35 minutes
Hearty and tangy sauerkraut bread is a perfect savory sandwich loaf bread.
Ingredients
Rye Sponge
1 Cup Warm Water
1 Tablespoon Molasses
1 Tablespoon Dry, Active Yeast
1 Cup Medium Rye Flour
Remaining Bread Dough
1 Cup Warm Water
1/2 Cup Sauerkraut, drained & chopped
1 Tablespoon Caraway Seeds or Dill Seeds, or a mixture of both
1 teaspoon Salt
4 Cups Bread Flour
Instructions
Make the Sponge
In a large mixing bowl, combine the yeast, molasses, and warm water. Stir gently just to combine.
Let sit for about 10 minutes or until foamy.
Stir in the rye flour completely.
Cover the bowl with a tea towel and let ferment for 3 1/2 hours.
Finishing the Bread Dough
Add the water, chopped sauerkraut and seeds to the sponge. Stir well.
Stir in 1 cup of bread flour and add the salt, mixing well.
Add another 2 cups of bread flour and continue to mix until it begins to form a soft, together ball of dough. You may need to add another cup or so of bread flour.
Knead the dough until it is soft and elastic. It might still be a bit sticky.
Place the dough into a greased bowl and turn to coat.
Cover the bowl with a towel and let rise until doubled about 1 hour.
Punch down the dough and knead slightly.
Divide the dough into 2 equal halves and form round loaves.
Place the loaves onto a greased baking sheet or let rise in baskets to bake on a stone later.
Cover the baking sheet with a towel and let rise again for 45 minutes.
Preheat the oven to 400 degrees Fahrenheit.
Slash the dough if desired with a razor before placing into the preheated oven.
Bake for 40 minutes or until golden and sounds hollow when tapped with a knuckle.
Remove from baking sheet to cool completely on wire racks.



Recommended Products
As an Amazon Associate and member of other affiliate programs, I earn from qualifying purchases.
Nutrition Information:
Yield:

24
Serving Size:

1 slice
Amount Per Serving:
Calories:

103
Total Fat:

1g
Saturated Fat:

0g
Trans Fat:

0g
Unsaturated Fat:

0g
Cholesterol:

0mg
Sodium:

116mg
Carbohydrates:

21g
Fiber:

1g
Sugar:

1g
Protein:

3g
I try but cannot guarantee this nutritional information is 100% accurate.
Other Rye Breads