Whether you're making a Reuben or simply prefer something darker with your morning eggs, this rye bread recipe is sure to please.
Hearty and slightly dense but not as heavy as a rock, this homemade rye bread will please the whole grain fans but not likely completely turn away the folks that lean towards softer loaves.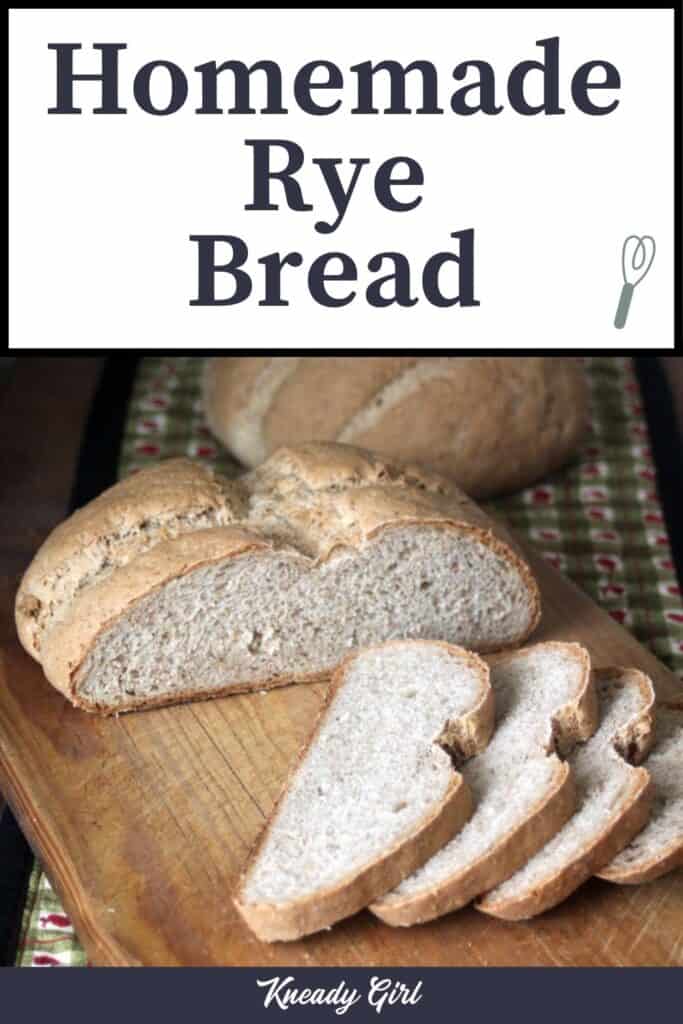 Dark or Light Rye
There are dark and light rye flours. The difference has to do with how much of the bran and germ is removed from the flour. Pumpernickel flour is supposed to leave all that bran and germ in tact.
Dark rye flour will result in a denser bread with more rye flavor. Light rye will be lighter in color and taste. Use whatever you prefer. If you're new to rye bread, start with the light and work up to the dark, perhaps.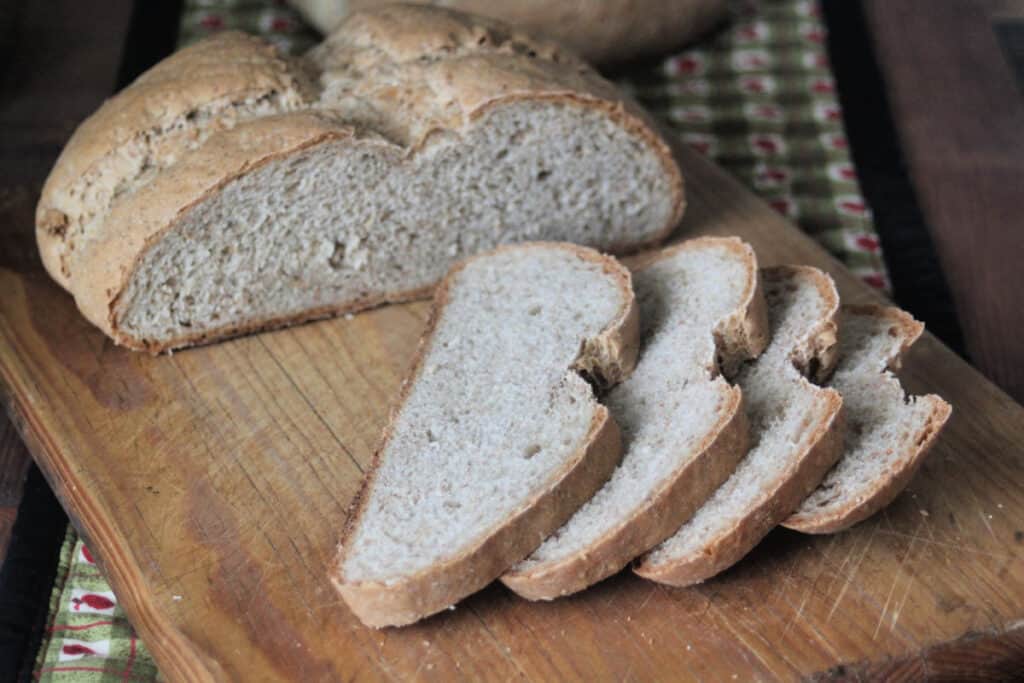 Many dark rye breads actually get their darker color from the addition of molasses and cocoa powder. Those ingredients also add a slightly darker, bitter flavor. I often skip the cocoa powder simply because the color doesn't matter all that much to me. Maple syrup or honey will also work instead of molasses if there isn't any in the pantry.
Difficulty Level: Intermediate
Rye flour has much less gluten than wheat flour. For that reason, rye breads do tend to be denser. It also makes getting a nice loaf to form slightly more difficult. To improve texture and success, this rye bread recipe mixes rye flour with wheat flour for more gluten and a texture more folks will enjoy while also helping beginners increase their skill level in working with new and different flours.
Caraway Seeds?
I believe that many folks who are not fans of rye bread are truly not fans of caraway seeds more than the rye flour. I could, of course, be wrong but with that in mind this bread can easily be made with or without the caraway seeds.
I've grown to enjoy caraway seeds but for many it is an acquired taste. If you're inclined to use this bread for peanut butter and jelly sandwiches, skip the caraway seeds. If you're going to use it for savory sandwiches and enjoy the flavor be sure to add them.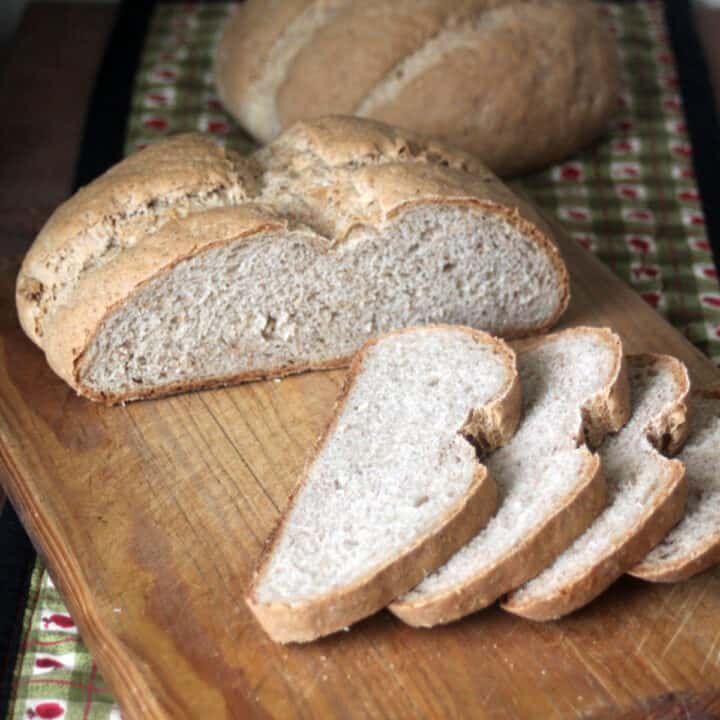 Rye Bread
Rise Time:
2 hours
15 minutes
Total Time:
3 hours
15 minutes
Use this easy homemade rye bread recipe as an everyday sandwich or toast bread that is delightful in savory sandwiches, with peanut butter, or simply slathered in butter for a filling snack.
Ingredients
1 Tablespoon Dry Active yeast
2 Cups Warm Water
1 teaspoon Molasses
1 Tablespoon Salt
1/2 Cup Wheat Bran
1 Cup Dark Rye Flour
4 1/2 Cups Unbleached All-Purpose Flour
1 Tablespoon Caraway Seeds, optional
Instructions
Dissolve yeast in warm water. Let sit until foamy. About 5 minutes.
Add the molasses and salt to the yeast mixture, whisk together.
Mix the wheat bran and rye flour into the water. Mixing until incorporated.
Add 2 Cups of the unbleached flour and incorporate. Add more flour as necessary until a dough begins to form.
Turn the dough out onto a floured surface and knead until smooth and elastic.
Oil a bowl and turn the dough around inside the bowl to coat. Cover with a tea towel.
Let rise until doubled about 90 minutes.
Sprinkle cornmeal onto a baking sheet (or simply oil it well).
Punch down the dough and turn out onto the floured surface.
Knead the dough a few times. Then split in half. (Use a kitchen scale to get the loaves to the same weight.)
Knead the halves and form each into a round loaf.
Place loaves on the baking sheet leaving a good bit of room between them.
Let rise until doubled about 45 minutes.
Preheat the oven 400 degrees Fahrenheit.
Slash the bread with the sharp razor.
Bake the loaves in the preheated oven for 40 minutes. They'll sound hollow when tapped.
Remove from pan immediately and cool on wire racks.
Recommended Products
As an Amazon Associate and member of other affiliate programs, I earn from qualifying purchases.
Nutrition Information:
Yield:

24 slices
Serving Size:

1 slice
Amount Per Serving:
Calories:

109
Total Fat:

0g
Saturated Fat:

0g
Trans Fat:

0g
Unsaturated Fat:

0g
Cholesterol:

0mg
Sodium:

266mg
Carbohydrates:

23g
Fiber:

3g
Sugar:

0g
Protein:

4g
I try but cannot guarantee this nutritional information is 100% accurate.