This flavorful blueberry jam with balsamic vinegar is a delightful spread for toast, bagels with cream cheese, and cheese and crackers.
Canning blueberry jam is an easy and rewarding preservation project and this one avoids being overly sweet with the addition of just a bit of honey.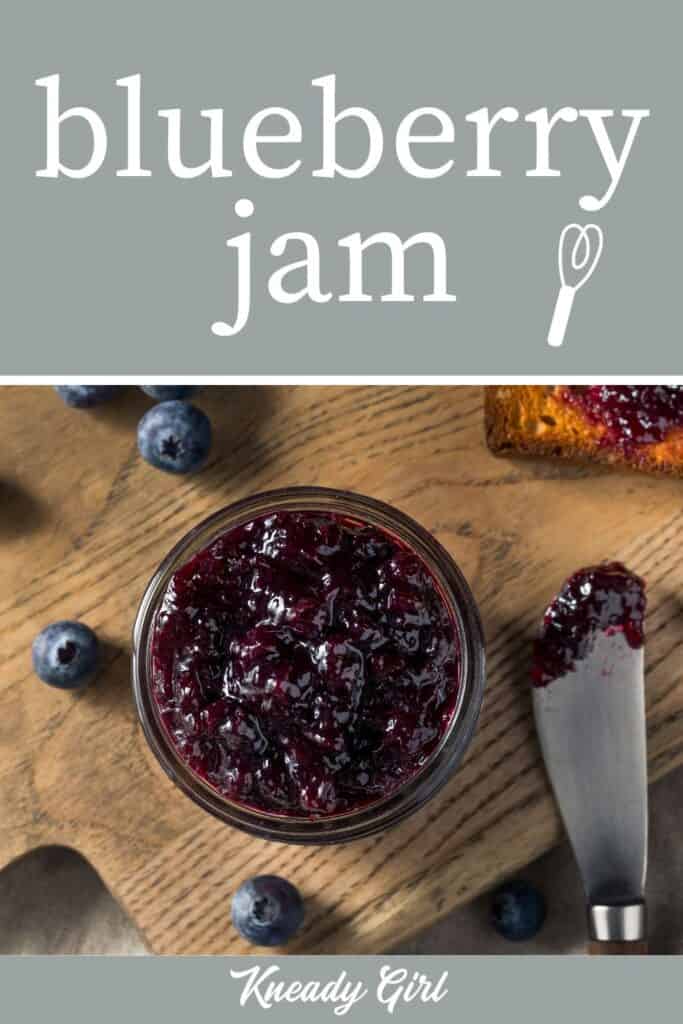 Skip the Fuss
One of the great things about this jam is the utter ease of it. It's not very fancy and yet the final result is something quite special.
Specialty Ingredients
Pomona's Pectin is the only specialty ingredient in this recipe. It is a wonderful, natural pectin for making lower and no-sugar jams. I've found it to always be successful in setting jams even when using honey. It is different than other pectin brands. Do follow the instructions for best results.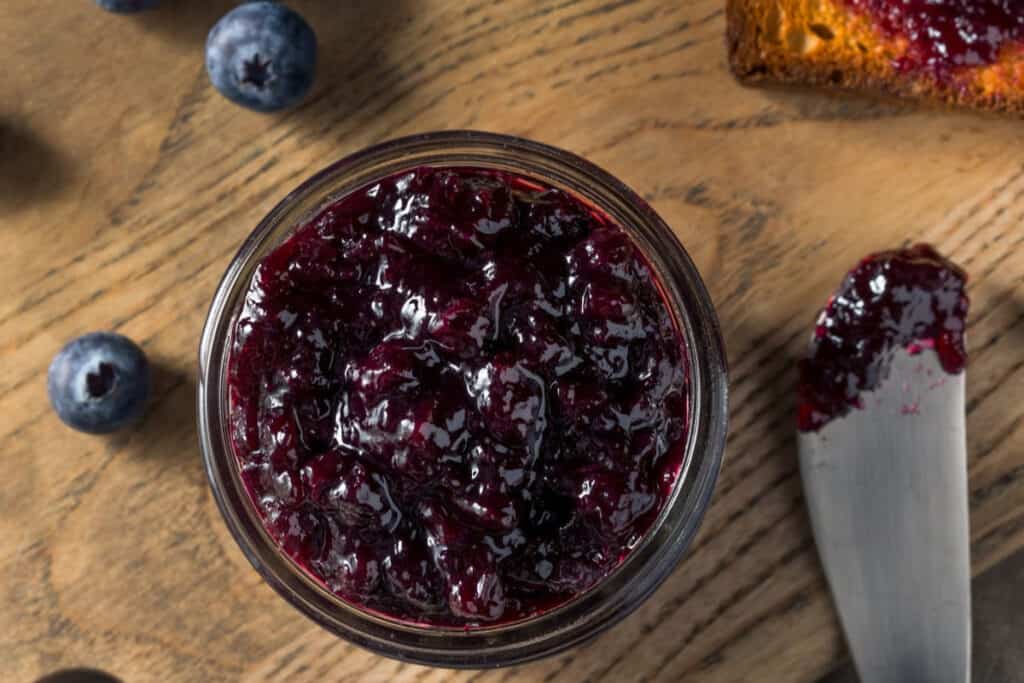 Mix Berries for a Twist
Don't have blueberries or not enough? Mix berries for a delicious jam. Quarter strawberries to make the 4 cups. Add raspberries or mulberries. Truly use whatever berries you have on in a mix for a truly unique and homemade jar of goodness.
Flavorful Jam
The balsamic vinegar adds a flavorful twist to the final jam but doesn't at all make it taste like salad dressing. This is definitely a jam that you want to slather onto a good slice of toast.
While it will work in your peanut butter sandwich. Try slathering onto to cream cheese and bagels. Serve it with cheese and crackers as a fun appetizer.
Amazing Food Gift
Homemade jams always make for wonderful gifts and this one especially so it's uniqueness. Give jars to friends with homemade bread as a basket they are sure to enjoy any time of year.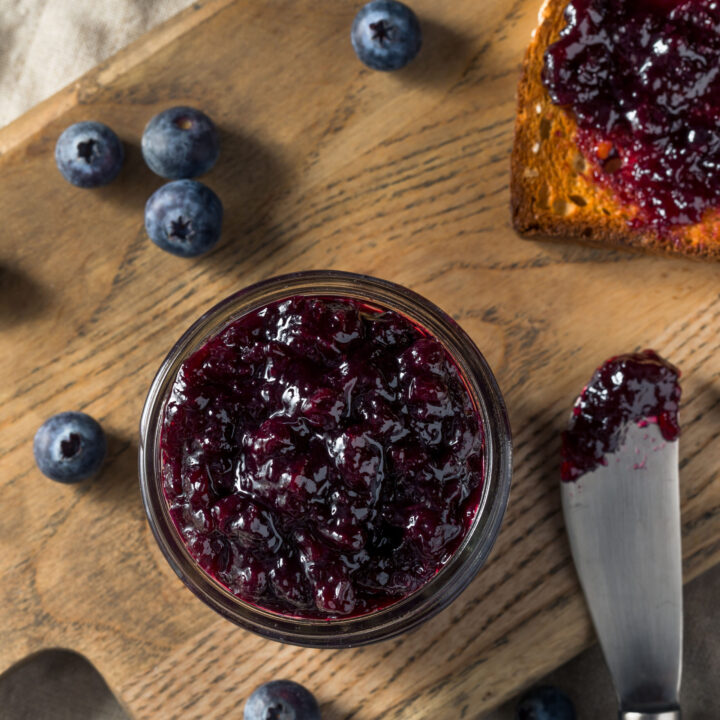 Blueberry Jam with Balsamic Vinegar
A lightly sweet and full of flavorful berries with just a hint of balsamic vinegar, this jam is sure to please.
Ingredients
4 Cups Blueberries
1/3 Cup Balsamic Vinegar
1 Cup Honey
2 teaspoons Pomona's Pectin
2 teaspoons Pomona's Calcium Water
Instructions
Get jars ready, start the boiling water canner.
In a small bowl combine, the pectin and honey. set aside.
In a pot, combine berries, vinegar, and calcium water. Mash berries and bring to a boil.
Boil for 2 minutes more.
Then add the honey, pectin mixture. Boil for 2 more minutes. Remove from heat.
Pour into jars, leaving 1/4" headspace. Wipe rim, place lids, and screw on rings.
Process in boiling water bath for 10 minutes, adjusting for elevation.
Remove from canner. Allow to cool. Check seals. Remove rings to store in pantry.
Notes
All home canned goods should be used up within 1 year.
Recommended Products
As an Amazon Associate and member of other affiliate programs, I earn from qualifying purchases.
Nutrition Information:
Yield:

96
Serving Size:

1 Tablespoon
Amount Per Serving:
Calories:

12
Total Fat:

0g
Saturated Fat:

0g
Trans Fat:

0g
Unsaturated Fat:

0g
Cholesterol:

0mg
Sodium:

0mg
Carbohydrates:

3g
Fiber:

0g
Sugar:

3g
Protein:

0g
I try but cannot guarantee this nutritional information is 100% accurate.