Cranberry wild rice bread is a hearty and lightly whole grain bread perfect for toast and more.
This homemade bread is lightly sweet and full of texture that is satisfying and delightful for keeping and sharing with loved ones.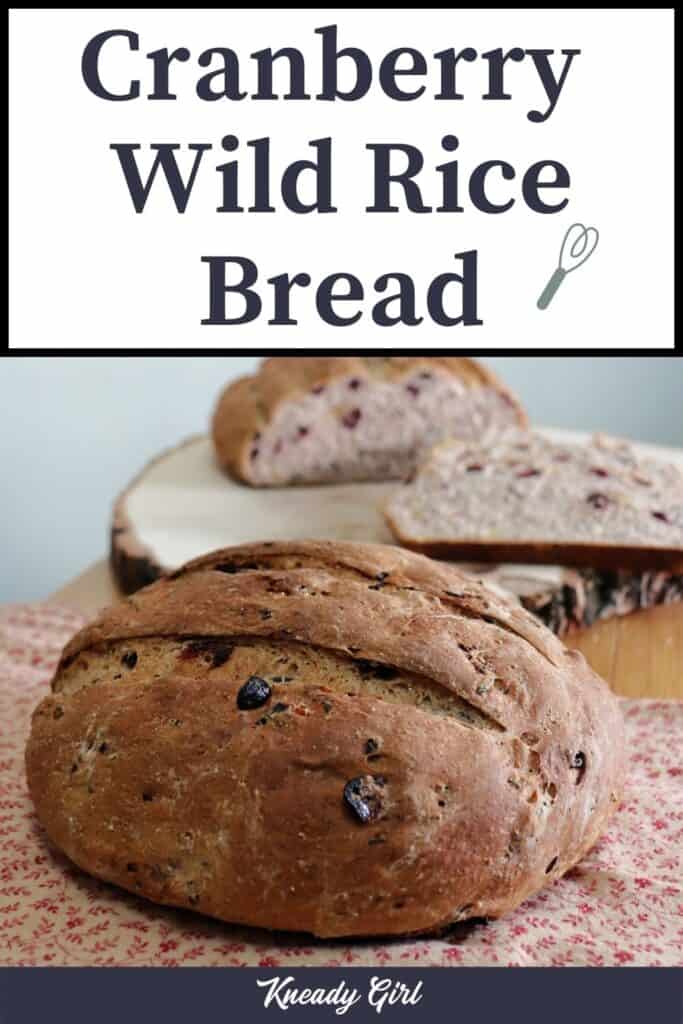 Lightly Whole Grain
There is just 2 cups of whole grain flour in these loaves, mixed with regular white bread flour. This is enough to give it some heartiness without making it too heavy.
I used a mixture of medium rye and whole-wheat flour. Feel free to mix it up according to your own tastes and what is hand.
Should you use all bread flour, you may need to add more than the recipe states as rye and whole wheat flours tend to absorb more water.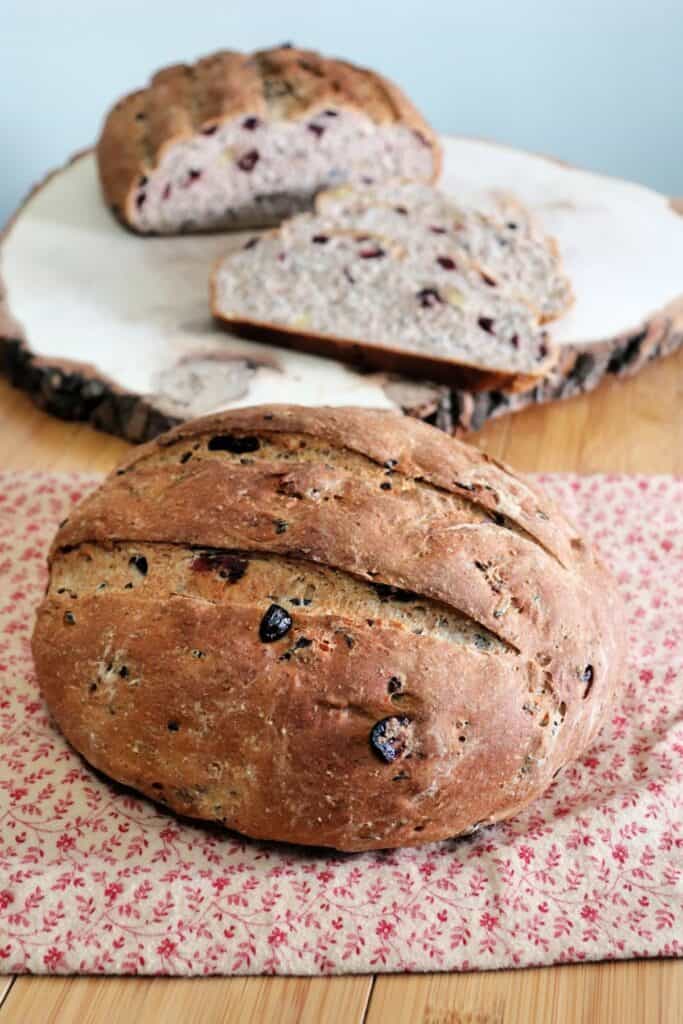 Fruit & Nuts
Obviously the original recipe uses dried cranberries. However, most any dried fruit can be substituted. Consider using dried sour cherries, raisins, dried apples, etc. Use whatever you have on hand or even a mixture for tasty loaves.
I use walnuts most often in this bread, simply because I generally have some on hand. Feel free to use any other nut you prefer or have around. Also, skip the nuts if it's simply not your favorite.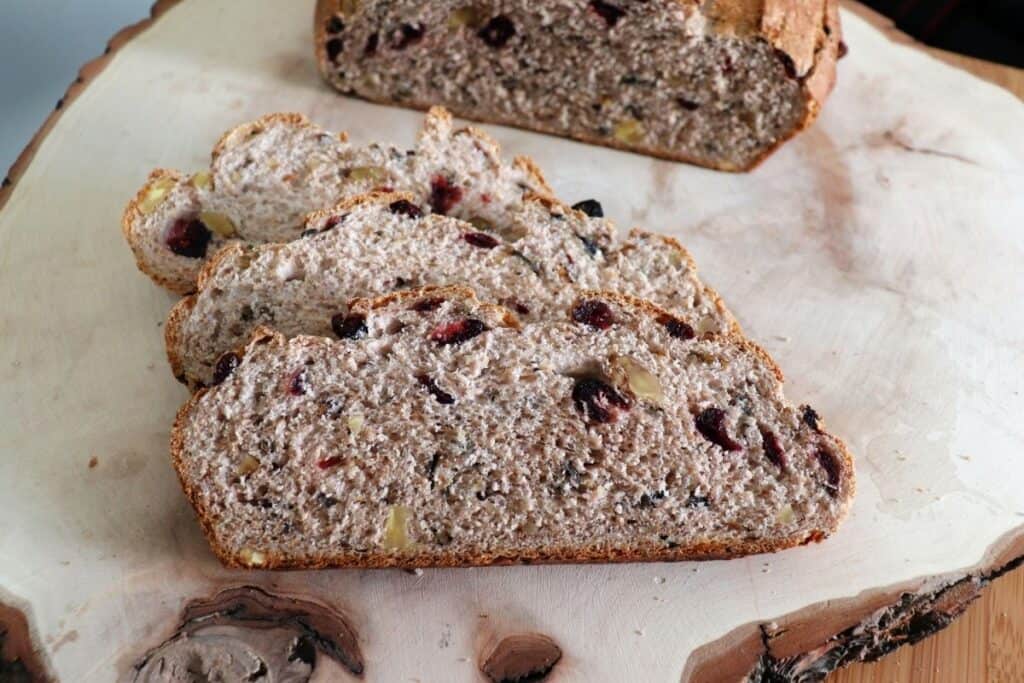 Difficulty Level : Intermediate
This is a great recipe for beginner bread baker to increase skills. There's just a bit of whole grain flour to experiment with while also getting the hang of making a rustic large loaf instead of something done in an average loaf pan.
A Bit of Fat
A little olive oil gives the bread just a hint of flavor and fat that is quite delightful.
Don't want to use olive oil, use melted butter or melted margarine instead.
Wild Rice
Cooked wild rice is needed for the recipe. I generally just make extra rice when I'm cooking it for dinner and save the leftovers for bread baking another day.
If you want to cook it special for this recipe. Combine 1/3 of a cup of wild rice with 1 1/3 cups water in a small saucepan and cover. Boil over medium-low heat until tender and water is absorbed, about an hour.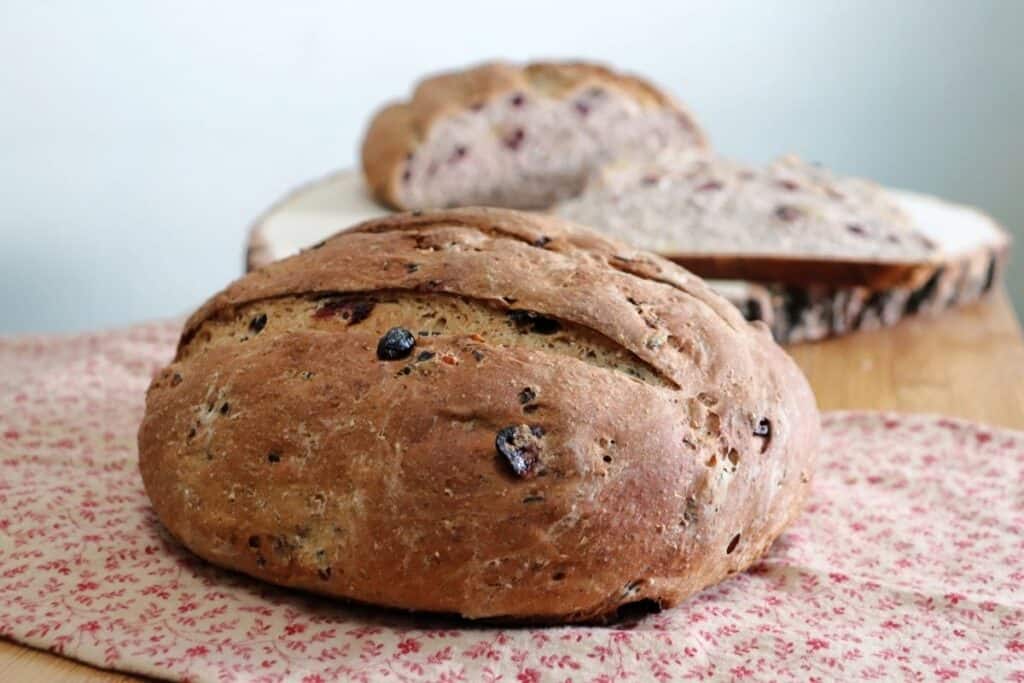 Other rice or a wild rice blend could be substituted for straight wild rice., if desired. The resulting color and texture might be a little different but no less wonderful.
How to Serve
This is a good bread for toast and slathering in nut butter or even a cranberry butter, if you have it. However, it can be so much more.
Try making grilled cheese sandwiches with it. Serve cold chicken salad on it.
Use it for making french toast for your Sunday brunch.
How to Freeze
These loaves of bread freeze delightfully. Let baked loaves cool completely on a wire rack.
Once cool place the loaves into air tight bags and freeze until needed.
Alternatively, slice the cooled loaves and place slices into bags and freeze. This way you can just remove a couple slices at a time, if desired.
Use up frozen bread within 6 months for best flavor and to prevent freezer burn.
Wild Rice Cranberry Bread Recipe
Total Time:
3 hours
10 minutes
Wild rice cranberry bread is lightly sweet and full of filling whole grain and dried fruit for an amazing breakfast.
Ingredients
2 Cups Warm Water
2 Tablespoons Dry Active Yeast
2 teaspoons Sugar
1/4 Cup Honey
2 Tablespoons Olive Oil
1 Tablespoon Salt
1 Cup Whole Wheat Flour
1 Cup Rye Flour
4 Cups Bread Flour
1 Cup Wild Rice, cooked
1 Cup Dried Cranberries
1 Cup Nuts, chopped (optional)
Instructions
In a large mixing bowl, combine the water, yeast, and sugar. Let sit until foamy, 5-10 minutes.
Add the honey, olive oil, rye flour, whole wheat flour, and 1 cup of the bread flour. Mix to combine.
Stir in the salt, wild rice, cranberries, and nuts, if using.
Add another 2 cups of bread flour, mixing well with a wooden spoon or dough hook attachment.
It will be a heavy, stiff dough. Turn dough out to a floured board and knead, adding more flour as necessary, until the dough is smooth and elastic.
Grease a large bowl and place dough inside, turning to coat.
Cover bowl with a lint-free towel and set in a warm place until doubled, 60-90 minutes.
Grease a baking sheet or line with a silicone baking sheet.
Punch down the dough and turn it out to a floured surface. Knead slightly.
Divide the dough in half. Knead each half and form into round or oblong loaves. Transfer dough loaves on to the prepared baking sheets.
Cover the loaves with a towel and place in a warm area to rise until doubled, about 30 minutes.
Meanwhile preheat the oven to 400 degrees Fahrenheit.
Slash the tops of the dough with a sharp razor blade.
Bake the risen loaves in the preheated oven for 30-40 minutes, until golden brown and sounds hollow when tapped with a knuckle.
Remove from baking sheets to wire cooling racks.
Nutrition Information:
Yield:

30 slices
Serving Size:

1 slice
Amount Per Serving:
Calories:

162
Total Fat:

4g
Saturated Fat:

1g
Trans Fat:

0g
Unsaturated Fat:

3g
Cholesterol:

0mg
Sodium:

226mg
Carbohydrates:

28g
Fiber:

2g
Sugar:

7g
Protein:

4g
I try but cannot guarantee this nutritional information is 100% accurate.