Coffee muffins are an ideal way to infuse your morning coffee throughout the entire meal for an extra kick to start the day.
This super fast and easy muffin recipe is sweet and full of actual coffee for a flavor that can inspire a leisurely weekend breakfast or be a grab and go treat on busy days.
It will become a favorite way to eat your coffee whilst also drinking your cup of coffee for those days when you need a little extra boost to get moving.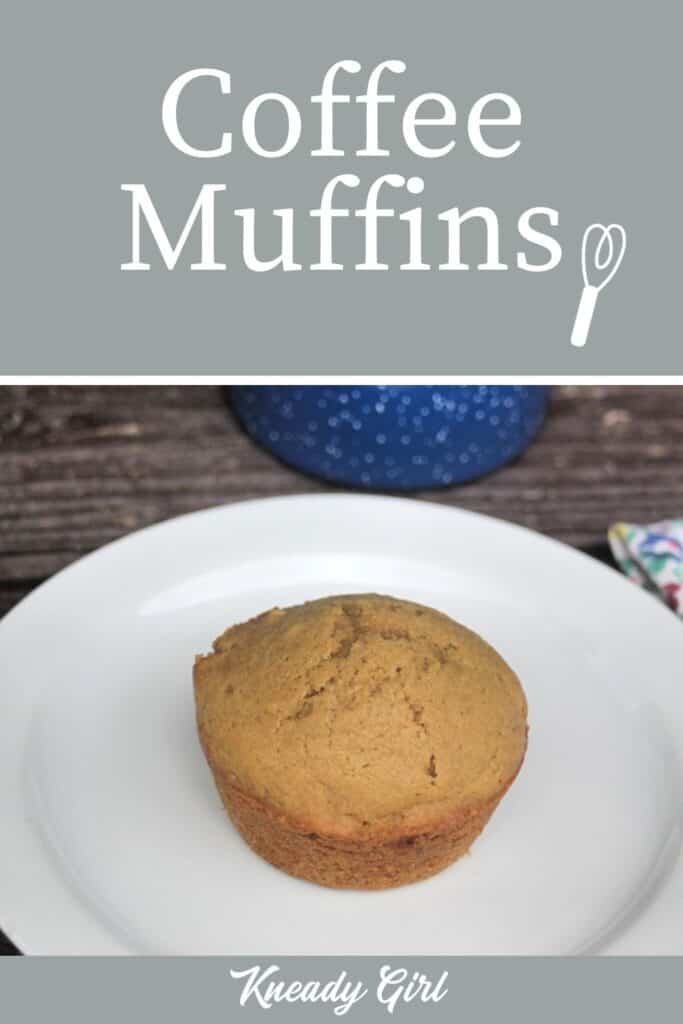 Quick & Easy
The muffin recipe uses melted butter meaning there's no need to worry about softening before getting started.
If you're using hot coffee to start the muffins, place the butter in the coffee and let it melt, adding additional heat only if necessary.
Using leftover or cold coffee will work, just melt the butter in a small saucepan instead of in the hot coffee.
Do let the melted butter and hot coffee cool a bit before continuing with the recipe. Adding an egg to hot liquid will likely cook it and well, we're not looking for poached eggs here.
Want to skip the melting of butter altogether? Substitute vegetable oil or even olive oil for the butter. It'll provide a slightly different flavor to be sure but will still provide a moist muffin to fill those bellies in a hurry. Add 1/2 teaspoon of salt to the dry ingredients if you use oil instead of salted butter.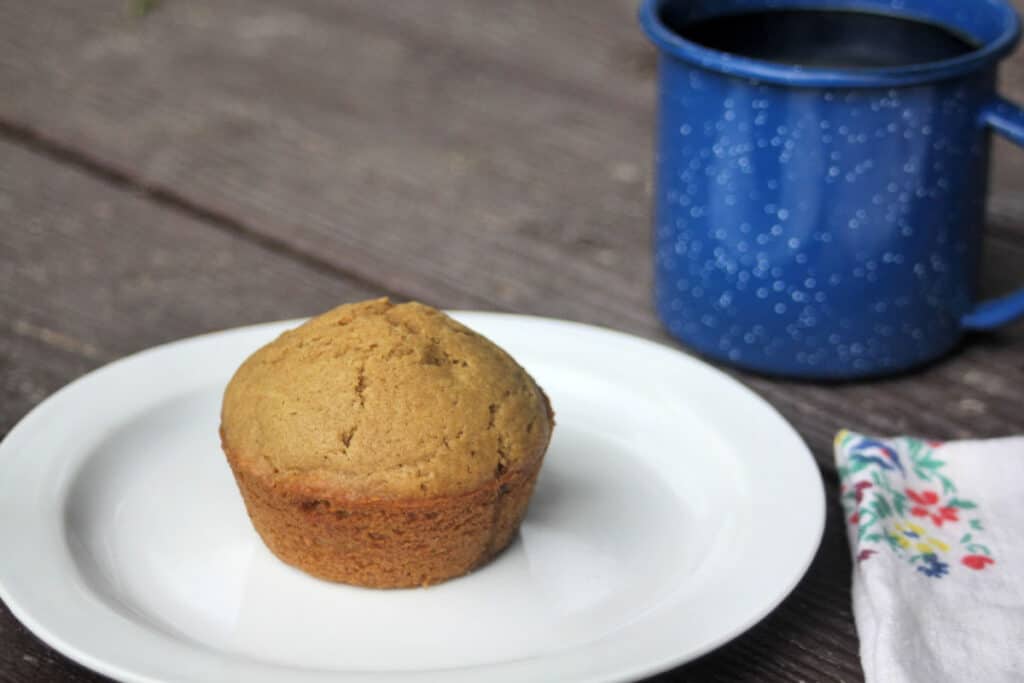 Other Substitution Ideas
I used salted butter, simply because it's generally what I have on hand. If you use unsalted butter add 1/2 teaspoon salt to the dry ingredients and proceed with the recipe.
Light brown sugar was used to test the recipe but dark brown sugar would provide an richer, sweeter flavor to the buttery muffins.
How Much Coffee?
Every coffee lover has their own preferred level of coffee strength. Some like it light and creamy, others dark and bitter.
The great thing about this delicious muffin recipe is that you adjust the coffee to match your personal preference with just a few tweaks. There's no right or wrong here go with what you like best.
If you like your coffee strong or with a hit of bitterness. Make the coffee extra strong before continuing with the rest of the recipe.
Stir a Tablespoon of instant espresso or instant coffee powder into the coffee for super strong coffee flavor.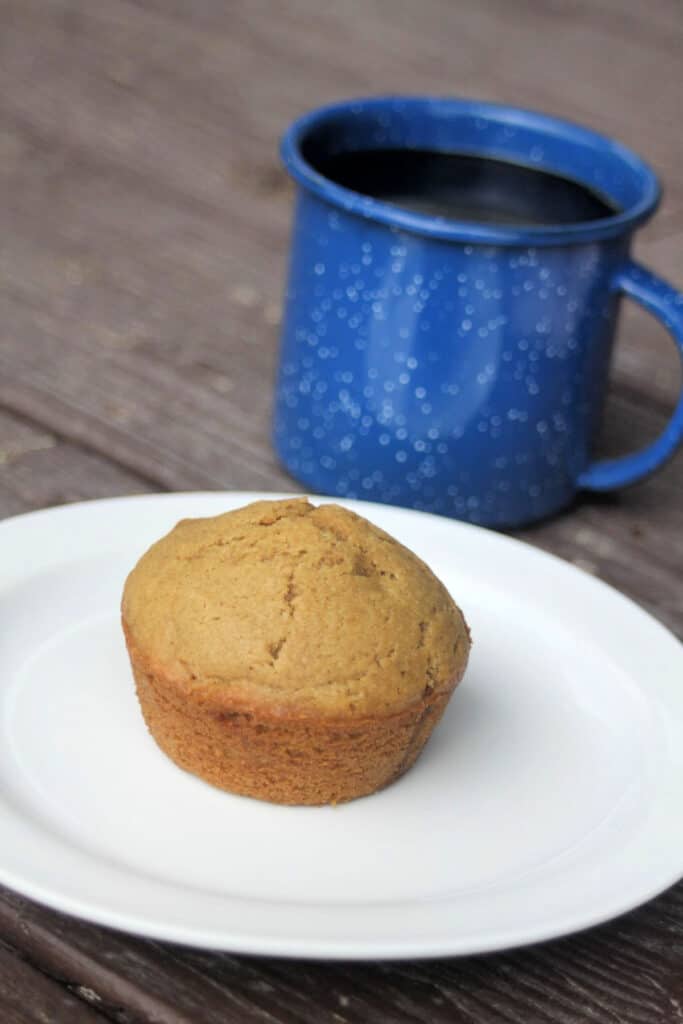 Alternatively, if you want to go lighter on the coffee flavor, use 1/2 cup coffee and 1/2 cup of milk (or milk alternative) instead of a full cup of coffee.
If you are making these to serve to a crowd use the recipe as written or go with a lighter coffee flavor to likely please more people.
Optional Additions
These are a soft and fluffy muffin but you can give them some additional texture and flavor, if desired.
Consider these adding these things to the base recipe to fill it out some more and make them extra interesting for buffets, pot lucks, etc.
Add up to 1 cup of chopped nuts
Whisk 1 teaspoon of ground spice (cinnamon, nutmeg, etc.) into the flour mixture
Fold in up to 1 cup of chocolate chips for a sweeter breakfast treat
For an over-the-top treat, add up to 1 cup of chopped chocolate covered espresso beans
Freeze Extras for Later
This is a great recipe to double and stock in the freezer. The baked muffins freeze beautifully.
Simply place the baked muffins into an airtight container or freezer bag and place in the freezer..
Thaw at room temperature, as needed.
Want a mid-morning snack at work? Pull a frozen muffin out of the freezer first thing in the morning and tuck into a lunch box. It will likely be thaw and ready to eat by mid-morning and certainly by lunch.
Use up frozen muffins within 6 months for best flavor (and before freezer burn).
Looking for other easy muffin recipes? Try these favorites: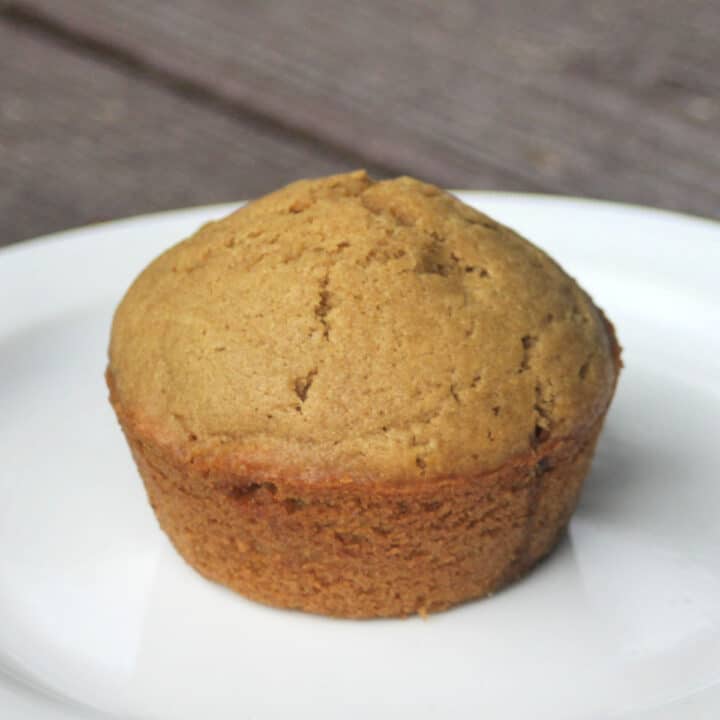 Coffee Muffin Recipe
Get an extra boost of coffee to start your day with this easy recipe for sweet, fluffy coffee-infused muffins.
Ingredients
2 Cups Unbleached, All-Purpose Flour
1 teaspoon Baking Powder
1 teaspoon Baking Soda
1/2 Cup Brown Sugar, Packed
1 Egg
1 Cup Coffee
1/2 Cup Salted Butter, Melted
Instructions
Preheat oven to 375 degrees Fahrenheit.
Grease muffin tins or line with paper liners.
Whisk together the flour, baking powder, and baking soda in a large mixing bowl. Set aside.
In a medium bowl, whisk together the brown sugar, melted butter, coffee, and egg until completely emulsified.
Pour the wet mixture into the dry ingredients and mix with a rubber spatula until just combined.
Divide the muffin batter equally among the 12 cups of the prepared muffin pan.
Bake in the preheated oven for 15 to 18 minutes or until an inserted toothpick comes out clean.
Cool in pan for 5 minutes. Then remove from pan and allow to cool completely on a wire rack.
Nutrition Information:
Yield:

12
Serving Size:

1 muffin
Amount Per Serving:
Calories:

179
Total Fat:

8g
Saturated Fat:

5g
Trans Fat:

0g
Unsaturated Fat:

3g
Cholesterol:

36mg
Sodium:

215mg
Carbohydrates:

24g
Fiber:

1g
Sugar:

7g
Protein:

3g
I try but cannot guarantee this nutritional information is 100% accurate.