Lightly sweet and full of texture this cranberry walnut bread recipe is easily made in your bread machine for homemade but hands-off deliciousness!
Full of chewy dried cranberries and crunchy walnuts this tender loaf is one of those bread recipes you'll turn to again and again.
This bread machine recipe is everything you want in a homemade bread – delicious, easy, and full of comforting goodness!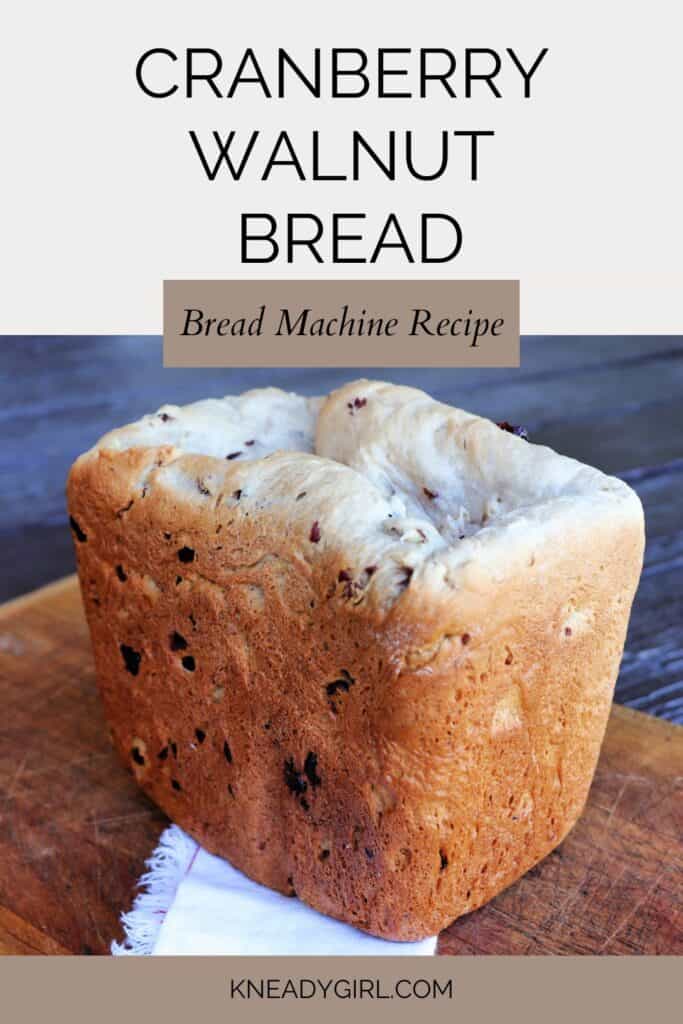 Ingredients
This delicious bread comes from the simplest of ingredients. There's nothing fancy here, in fact, you may have everything in your pantry already.
Remember to bring all the ingredients to room temperature prior to assembling inside the machine.
Flour Choices
The recipe as written uses regular bread flour. I've found this provides the best rise in a bread machine. However, you could easily substitute all-purpose flour instead.
A 50-50 mix of whole wheat flour and bread flour could also be used. Don't go more than 2 cups of whole wheat or other whole grains, however; as there might not be enough liquid for it to properly mix and rise.
Liquid Choices
I used a bit of milk alongside my water for extra richness. You could use all water, just know you'll lose a little of the rich flavor.
If you used all regular milk, the bread will be slightly more dense but still tasty.
The recipe was tested with whole milk but I can't see why an alternative milk couldn't be used.
Butter or Oil
Again, for richness I went with melted butter here. However, a liquid oil could definitely be used instead. Something like vegetable oil or melted coconut oil. Plant-based butter / margarine could also be used.
Melt the butter or solid oil and let cool to room temperature prior to putting everything in the machine.
Sweetener
I used honey simply because I like it. Feel free to use maple syrup or even brown sugar, if desired.
There's just a hint of sweetness in my recipe but you can make it sweeter, if desired.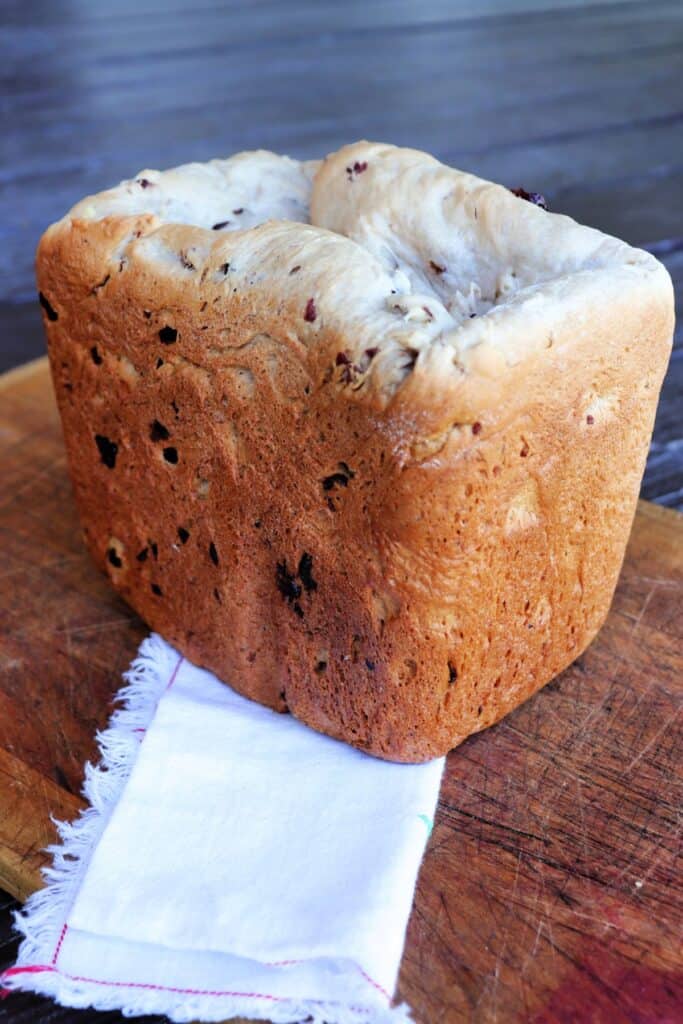 Dried Cranberries
I used sweetened dried cranberries in my bread, more because I couldn't find any unsweetened types in my local grocery stores.
The unsweetened kind would definitely work and provide more tartness to the final loaf.
You could truly substitute most any dried fruit here and have good results, just chop large pieces into smaller bits.
Walnuts
Cranberries and walnuts are a classic combination. However, you could substitute pecans or almonds, if desired.
You could also skip the nuts for a plain cranberry bread.
Yeast
I use instant yeast in all my bread maker recipes. You could substitute active dry yeast or bread machine yeast – simply follow your machine's guidelines.
The great thing about instant yeast is that you can just add it at the end and walk away – no need to pre-mix or do anything special and it tends to be available in most every grocery store all the time.
About My Bread Machine
This recipe was tested on a Welbilt Bread Machine. I bought it at a thrift store for $6.50. It makes great bread but every machine is different. Please follow any specific instructions provided by your bread machine manufacturer if they differ from how this recipe is written.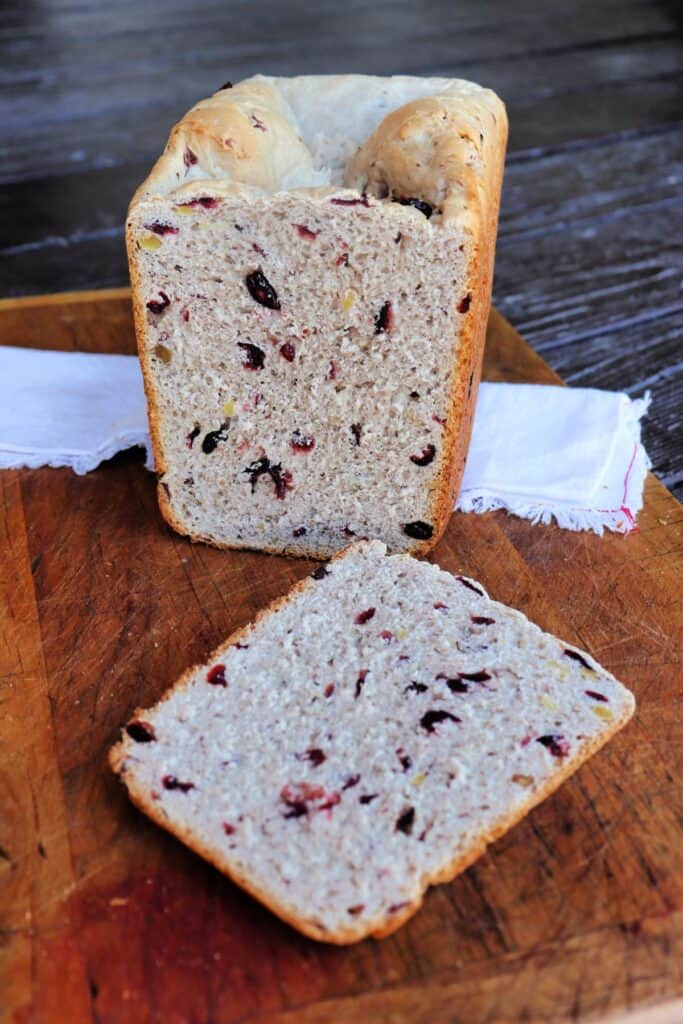 To Prevent Sticking
I had multiple loaves become hopelessly stuck to my bread pan and had to learn a trick or two to prevent it. Here's what I do, if you'd like to try it:
After the final kneading cycle (for my machine there's a 2 second third cycle of punching down), I remove the dough quickly from the machine, remove the paddle and then spray the pan with some non-stick spray. Then I put the dough back in, close the lid and let the machine finish its rising and baking.
I use needle nose plier to remove the paddle.
This very simple step has stopped bread from sticking to the paddle hopelessly and coming out of the pan a broken mess.
How to Serve
This is a great bread to slice and toast for breakfast with some nut butter or softened cream cheese slathered on it.
It also makes for great leftover turkey sandwiches. Chicken salad is also amazing on this bread.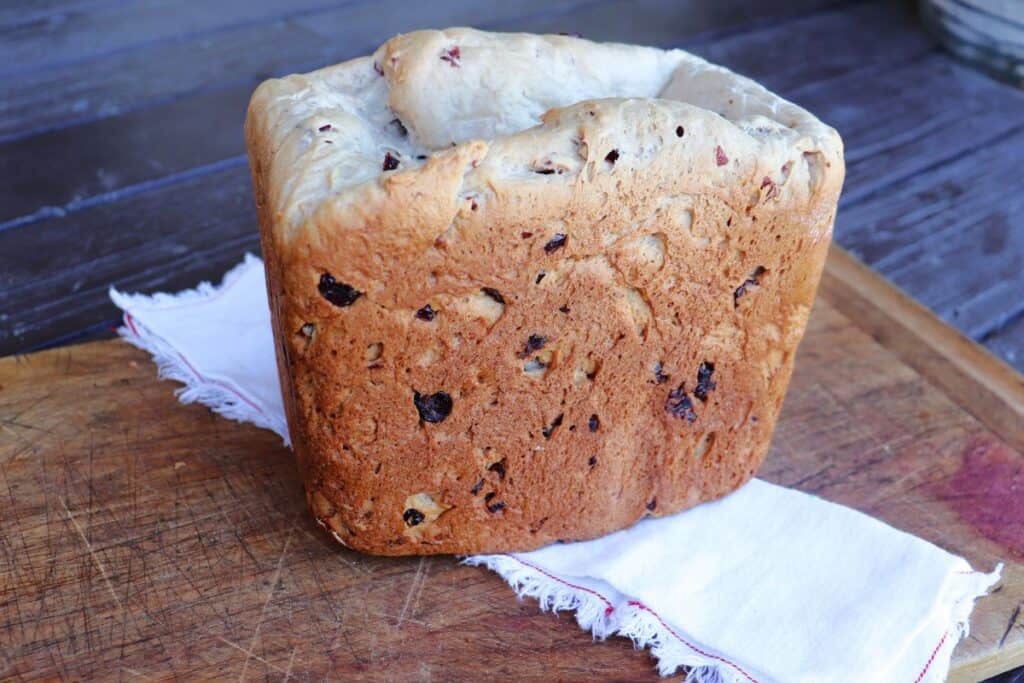 I haven't tried it yet but I keep thinking it would make amazing french toast – we just go through it so fast. Next time, I may bake it with this sole purpose in mind.
How to Store
Keep any leftover bread in an airtight container or wrapped in plastic wrap where it should stay fresh for up to 5 days.
For longer term storage, freeze the bread in a plastic bag. Thaw bread on the counter before serving. Use up any frozen bread within 6 months for best flavor
Looking for other delicious recipes featuring cranberries?
Bread Machine Cranberry Bread
Cook Time:
3 hours
30 minutes
Total Time:
3 hours
45 minutes
Make this cranberry nut bread easily in your bread maker for a sweet yeast bread recipe that is delightful for breakfast toast and lunch sandwiches alike!
Ingredients
1 Cup Milk
1/3 Cup Water
1/4 Cup Honey
3 Tablespoons Melted, Salted Butter
1 teaspoon Salt
4 Cups Bread Flour
1 Tablespoon Instant Yeast
1 Cup Dried Cranberries
1/2 Cup Walnuts, Chopped
Instructions
In the bread machine pan, layer the wet ingredients first - milk, water, honey, melted butter.
Then place dry ingredients on top, first the salt, then the bread flour, then the yeast.
Place the pan in the bread machine.
Use the basic bread setting on light crust (or crust color setting of your choice) for a 2 pound loaf. Press start.
Let the bread dough work until almost the end of the second kneading cycle (or when prompted by your machine) and add the cranberries and walnuts.
Let the machine finish the baking process.
Using oven mitts remove the loaf pan from the machine, run a knife around the edges before turning the pan upside down to turn out onto a wire rack to cool completely.
Nutrition Information:
Yield:

16
Serving Size:

1
Amount Per Serving:
Calories:

224
Total Fat:

6g
Saturated Fat:

2g
Trans Fat:

0g
Unsaturated Fat:

3g
Cholesterol:

7mg
Sodium:

159mg
Carbohydrates:

39g
Fiber:

2g
Sugar:

13g
Protein:

6g
I try but cannot guarantee this nutritional information is 100% accurate.