Make a delicious quick bread from your yellow summer squash abundance.
Quick and easy to make, this yellow squash bread recipe is great for breakfast and snacking.
This simple recipe is a great way to make use of garden or CSA abundance with a moist homemade bread.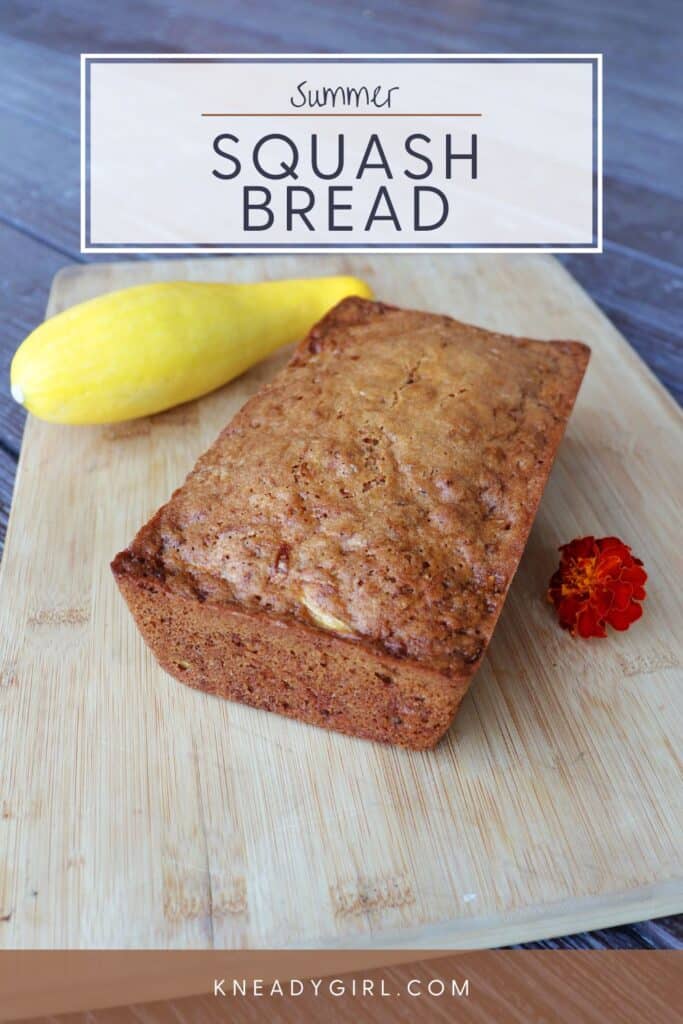 Basic Ingredients
Like all of my favorite recipes, there's nothing fancy here. If you have the yellow squash, you likely already have the rest in your pantry to whip this up.
Flour
Basic all-purpose flour is my go-to for quick breads. You could substitute some whole wheat flour, if desired, for some whole grain crunch. The texture will change some but it will still be tasty.
Fat
I used melted salted butter for the fat in this recipe. Olive oil or other vegetable oil could be substituted if desired.
Use unsweetened applesauce instead for a lower fat version (the eggs will still have some fat in the bread).
Sugar
This is a sweet bread but not overly so. There's just enough sugar to keep it sweet and wonderful as a treat but not so sweet as to automatically think of cake.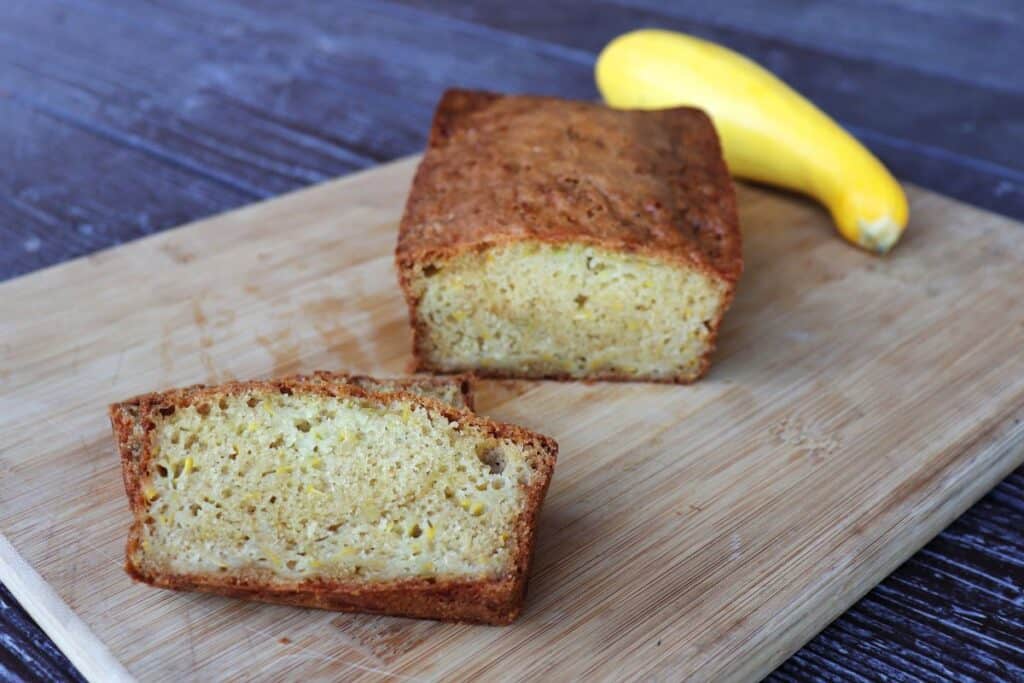 I didn't test it but I imagine brown sugar could be substituted for a slightly different flavor.
Summer Squash
This recipe uses grated summer squash. It's very similar to my zucchini bread recipe and just another way to use up those garden squash plants.
You need just 7 ounces of shreds to make a single loaf of bread – a small squash.
I used a box grater to shred my squash and I left the peel on. A grating blade on a food processor would obviously work.
If you want to make a double or larger batch, the food processor would make quick work of the shredding chore.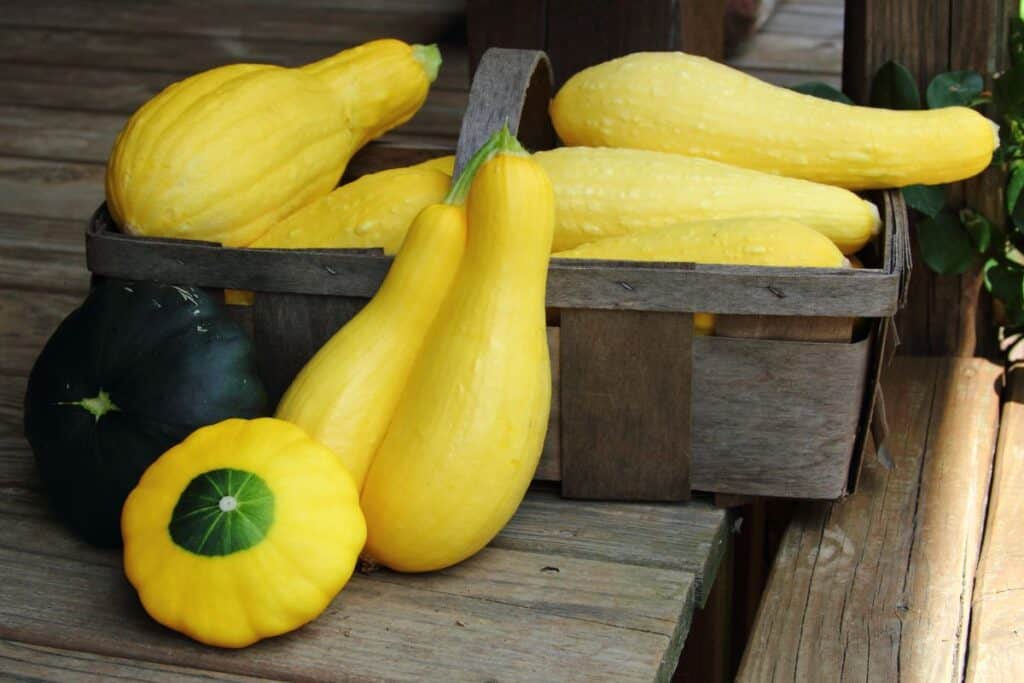 I did not remove seeds or squeeze out any excess moisture in the testing of this recipe.
If you're using an especially large squash, it might be wise to remove the larger seeds and peel any hard skin from the squash before grating.
If the squash shreds do seem especially moist, it made need more baking time – just check for doneness by inserting a tester and making sure it comes out clean.
Optional Additions
The original recipe, as written, results in a fairly plain, though delicious bread. It can easily serve alongside brunch or snacks or go with other things like eggs or fruits.
If you want to switch it up a bit, there are some easy and wonderful options:
Add up to 1 cup white chocolate chips or any chocolate chunks.
Stir in a teaspoon of spice, like ground cinnamon or ginger, into the dry ingredients.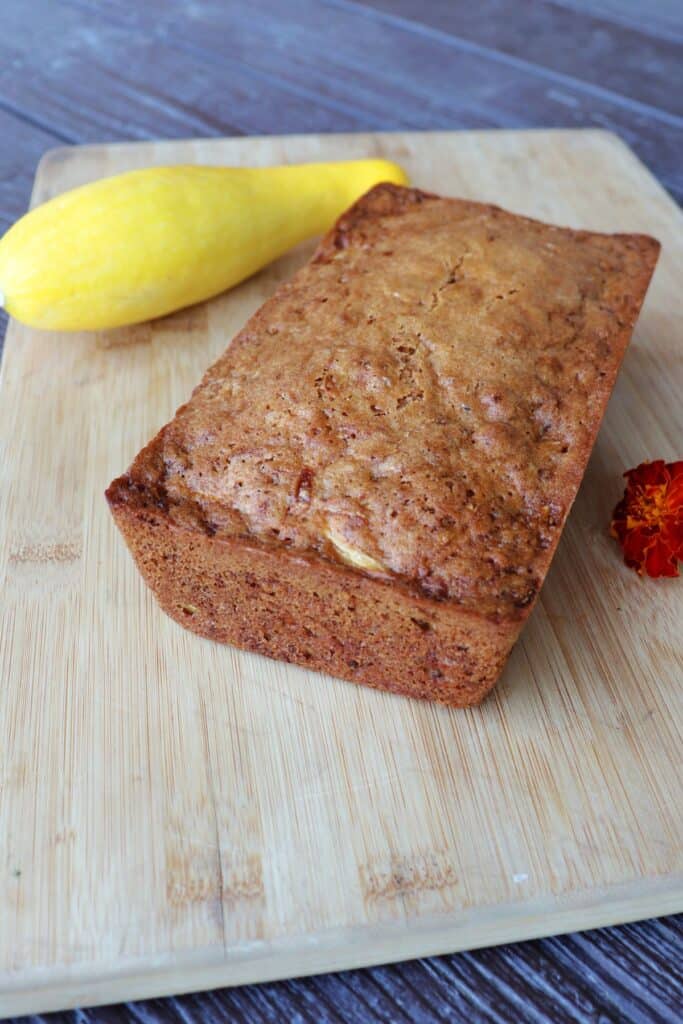 Fold in up to a cup of chopped nuts or dried fruits for a heartier snack.
Make a powdered sugar glaze to drizzle over the baked bread once it has reached room temperature.
Give it all some citrus flair by turning it a lemon summer squash bread by adding 1 teaspoon of fresh lemon zest to the batter and drizzling a lemon glaze over the baked and cooled loaf.
How to Serve
This is one of those great recipes that doesn't need much. Serve simple slices with a little extra butter and your favorite beverage for breakfast.
Slice and serve alongside eggs and fruit for a delicious brunch.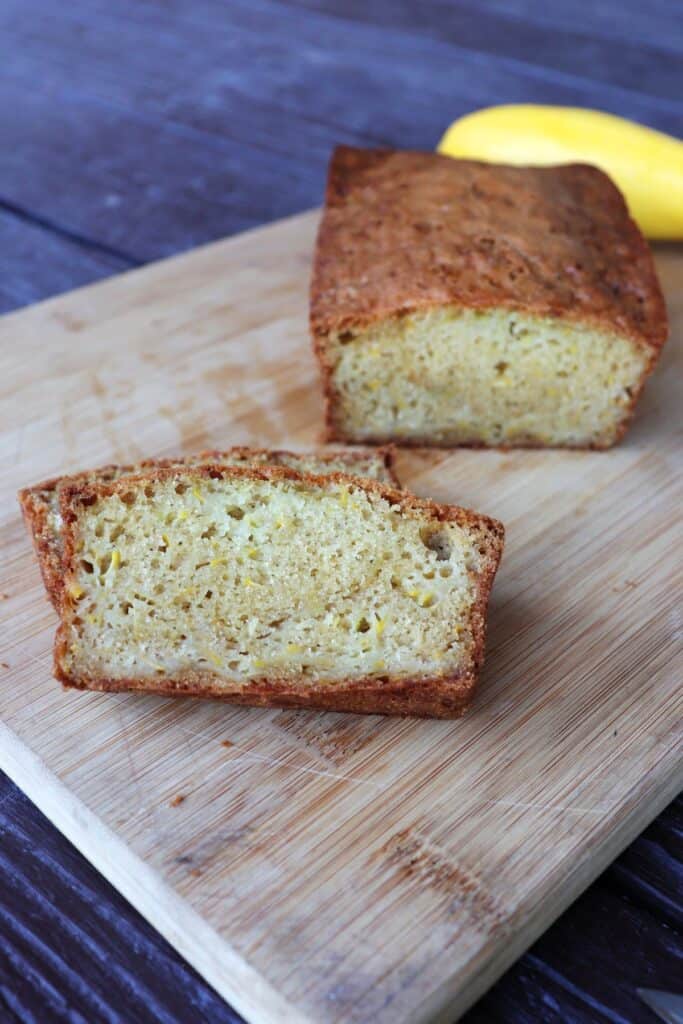 Make it an afternoon or lunch box snack with some fresh fruit.
Turn it into dessert by serving it with some whipped cream, a fresh fruit sauce, and ice cream.
How to Store
The bread should stay fresh for up to 5 days when kept in an airtight container.
For longer term storage, wrap in plastic wrap or put into plastic bags and freeze.
It does freeze incredibly well, so feel free to make multiple loaves when the summer squash is abundant and eat it up later.
Slice the loaf and put in plastic bags to freeze, if desired. This makes it easy to just grab a slice or two now and then when the urge hits. It also makes a great way to fill out a lunch box meal as the slice would likely be thaw by lunch if packed in the morning.
Let frozen bread thaw at room temperature before serving.
Use up any frozen bread within 6 months for best flavor and to prevent freezer burn.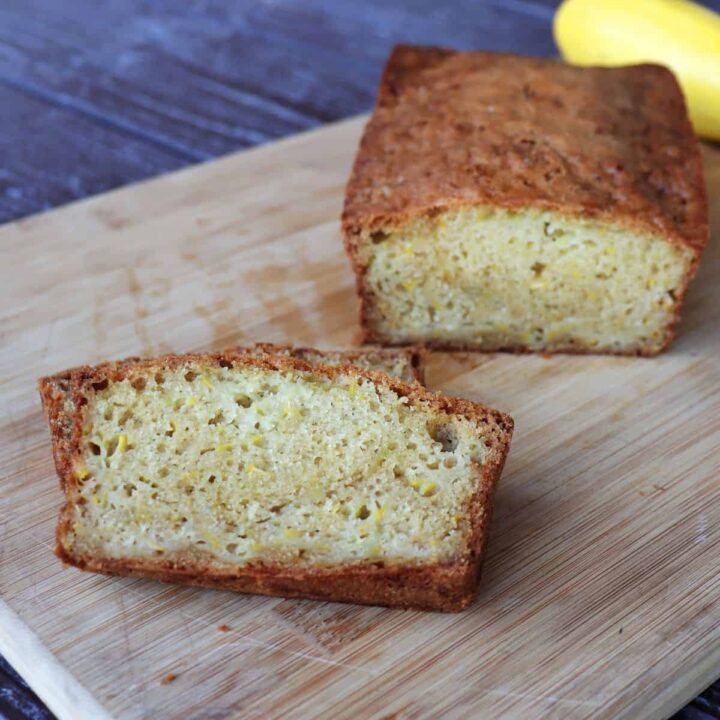 Squash Bread Recipe
Total Time:
1 hour
25 minutes
Use this delicious quick bread recipe as a perfect way to use up an abundance of yellow squash.
Ingredients
1 1/4 Cups Unbleached, All-Purpose Flour
1 teaspoon Baking Powder
1/2 teaspoon Baking Soda
2 Eggs
1/2 Cup Salted Butter, melted
2/3 Cups Sugar
1 teaspoon Vanilla Extract
1 1/2 Cups Yellow Squash, shredded (approximately 7 ounces by weight)
Instructions
Preheat oven to 350 degrees Fahrenheit.
Grease a loaf pan.
In a large mixing bowl, combine flour, baking powder, and baking soda. Set aside.
In a medium bowl, whisk together the melted butter, sugar, eggs, and vanilla extract until emulsified.
Pour the wet ingredients into the dry ingredients and mix until almost combined.
Add the shredded squash and mix until thoroughly combined.
Pour batter into the prepared pan and spread evenly.
Bake in the preheated oven for 50 minutes to 1 hour or until golden brown and inserted tester comes out clean.
Let cool in pan for 10 minutes. Remove from pan to cool completely on wire rack.
Nutrition Information:
Yield:

12
Serving Size:

1
Amount Per Serving:
Calories:

176
Total Fat:

9g
Saturated Fat:

5g
Trans Fat:

0g
Unsaturated Fat:

3g
Cholesterol:

51mg
Sodium:

166mg
Carbohydrates:

22g
Fiber:

1g
Sugar:

12g
Protein:

3g
I try but cannot guarantee this nutritional information is 100% accurate.