Make this easy pepperoni bread for light meals, snacks, and appetizers.
Using homemade pizza dough, some pepperoni and a bit of cheese you can have a great snack or side dish that everyone will love.
Full of flavor and filling, homemade pepperoni rolls are a delicious recipe you'll turn to again and again for filling out easy meals and more.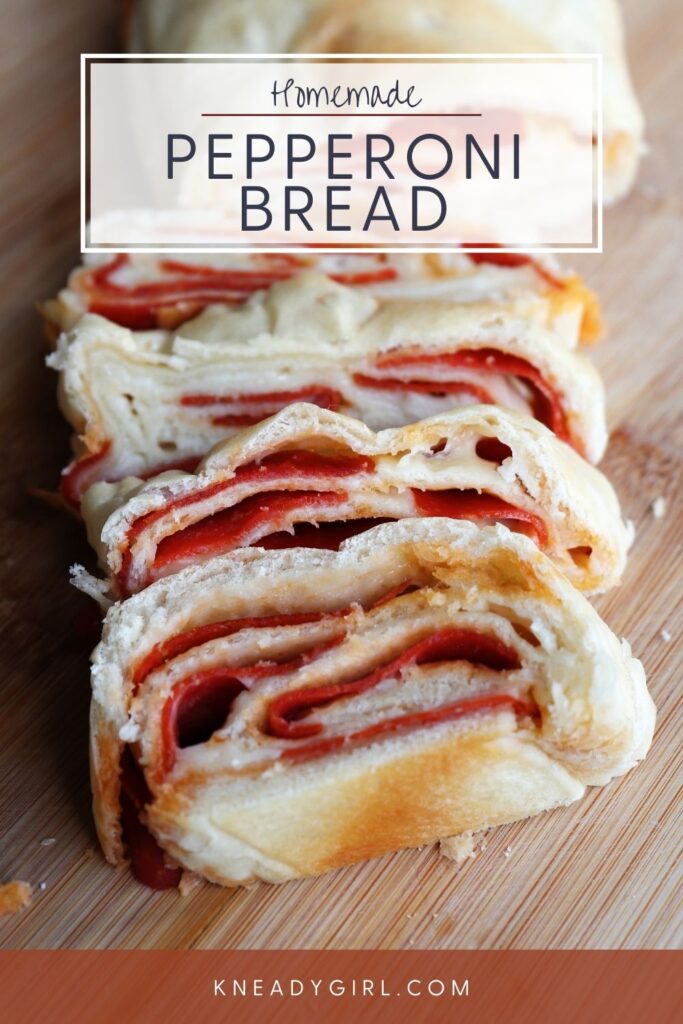 Pizza Dough
I tried making pepperoni bread with a number of different bread doughs. All homemade dough – I'm never a fan of using frozen bread dough. Personal choice but honestly, this is so easy there's no need to take the grocery store short cut.
A loaf of bread dough was too thick in my opinion, I wanted thin layers. I opted to use my own pizza dough recipe with just one change: I used all-purpose flour instead of the '00' flour, I typically use for pizza.
This small switch made for a lovely final result that everyone has loved.
Cheese Choices
Because I wanted to make this feel like a pepperoni pizza bread recipe, I opted for mozzarella in my original recipe. However, the options are truly endless.
Go for provolone cheese instead if that's what you prefer. Honestly, any cheese you like with your pepperoni will work perfectly.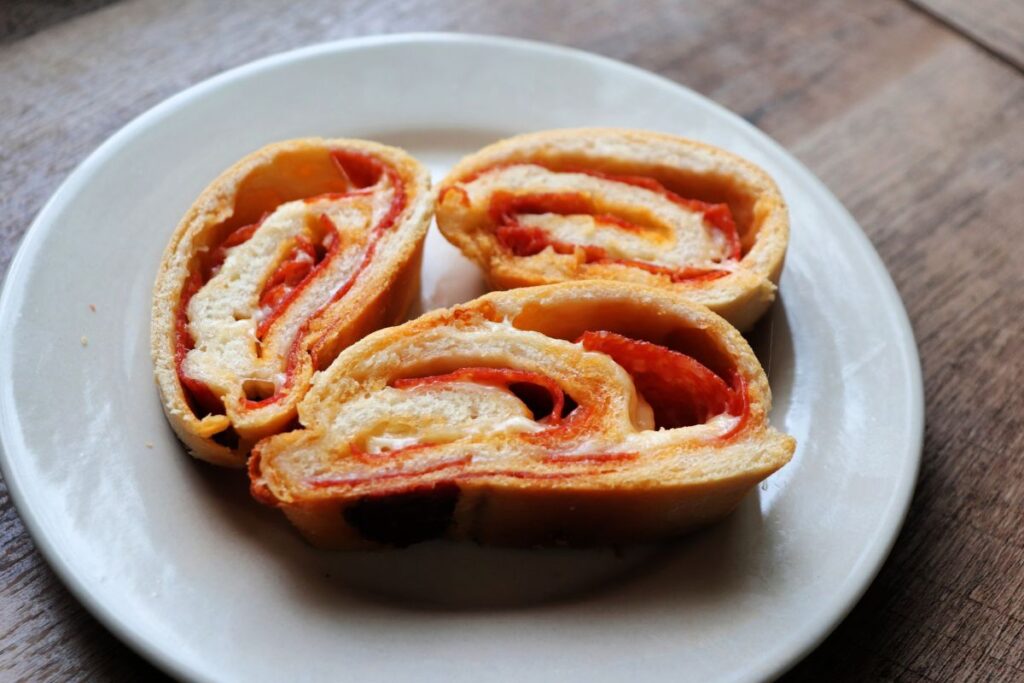 I've used cheddar on occasion with very tasty results.
A mix of parmesan cheese, mozzarella, and provolone would also be incredible.
Optional Additions
While it is indeed a great recipe as written, there are a couple of things you can do to customize it for your own tastes.
Add up to 1/2 teaspoon dried Italian Seasoning or garlic powder with the olive oil for a more herbal flavored bread.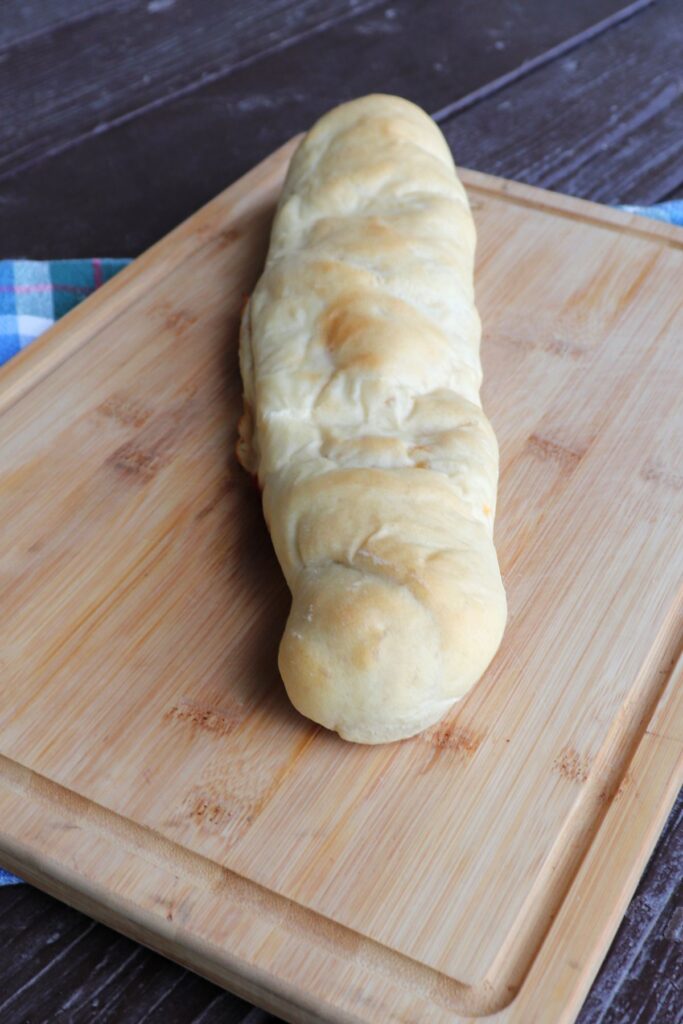 If you like it spicy, add some red pepper flakes to the bread dough – as much or as little as you'd like.
Mix in 1/2 cup of sliced black olives to the bread dough for extra pizza flavor.
Experience Level : Beginner
This is a simple way to get acquainted with bread baking and end up with a great finger food. The recipe is basic and only requires 1 rise making it ideal for beginners to bake. It's also a pretty fun recipe for kids to tackle as pizza in any form tends to be popular.
How to Serve
Cut the pepperoni roll into slices with a sharp knife and serve with a side of pizza sauce for simple game day or movie night snack. It also tucks into a lunch box in the same way for a fun and different brown bag experience.
Serve slices alongside salads for a more filling but still easy meal on busy nights.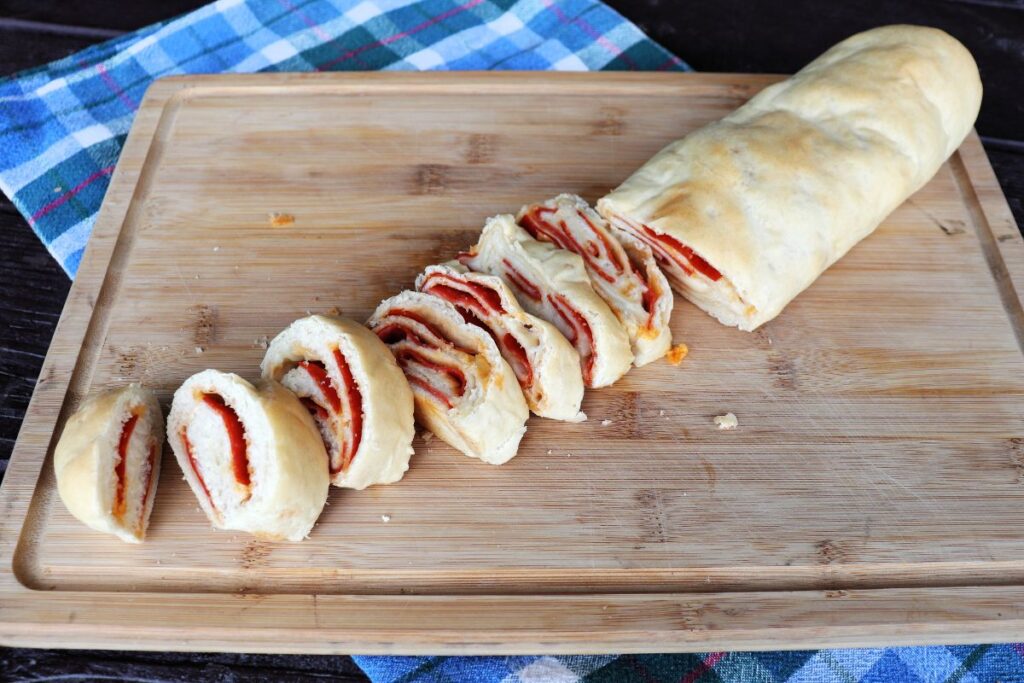 Warm up leftover slices just slightly and serve with eggs for a hearty breakfast.
Make a double or triple batch and slice thin to serve as appetizers at holiday parties and more.
I do think these easy pepperoni rolls taste best when served warm or at room temperature.
How to Store
Keep leftovers in the refrigerator. Simply store in an airtight container where it should stay fresh for up to 4 days.
Alternatively, freeze leftovers for long term storage. Wrap the baked and cooled bread in plastic wrap or aluminum foil and freeze.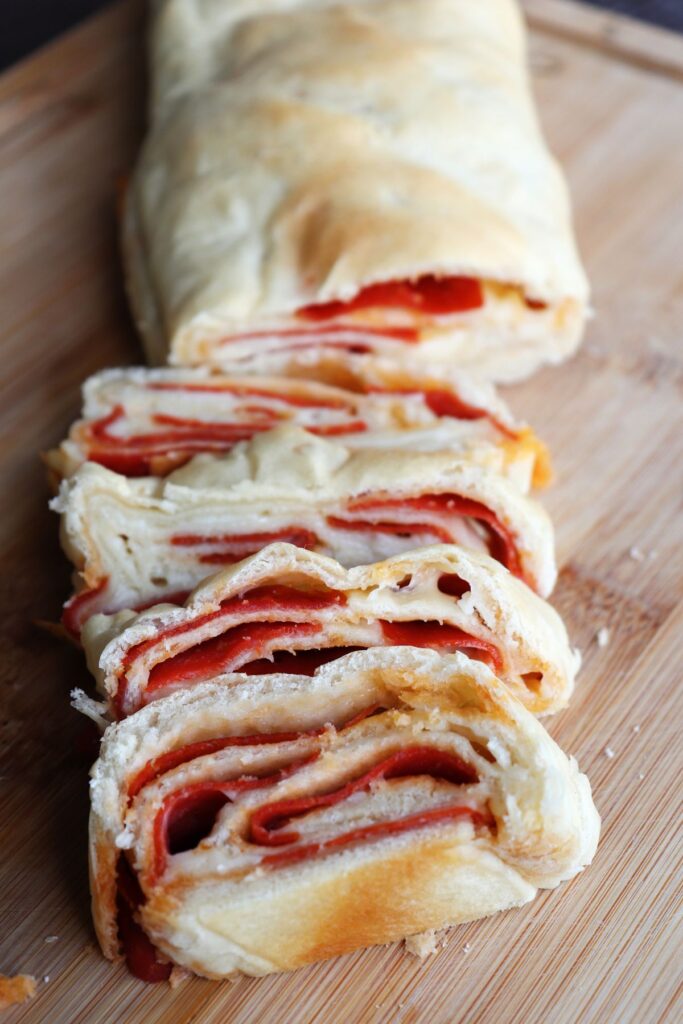 Or freeze slices of pepperoni bread in a freezer bag for ease. This way you can just remove one or two slices at a time to put in lunch boxes or have with breakfast.
That frozen bread thaw in the fridge prior to serving.
Use up any frozen bread within 6 months for best flavor.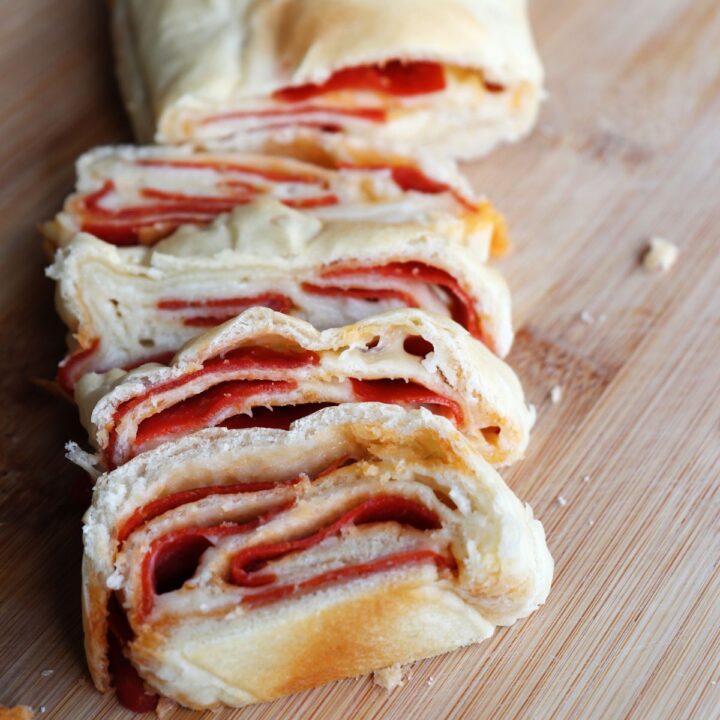 Pepperoni Bread Recipe
Total Time:
1 hour
30 minutes
Savory and hearty this easy to make pepperoni bread recipe is perfect for serving as part of a light lunch or even as appetizers.
Ingredients
1 1/2 teaspoons Dry Active Yeast
1/2 Cup Warm Water
1 1/2 Cups Unbleached, All-Purpose Flour
1/4 teaspoon Salt
1 Tablespoon Olive Oil
2 1/2 Ounces Pepperoni Slices
4 Ounces Shredded Mozzarella Cheese
Instructions
In a large mixing bowl, combine the yeast and water. Let sit until foamy, about 5-10 minutes.
Stir in the olive oil, salt, and 1 cup of flour.
Continue adding flour and mixing until a soft dough begins to form.
Turn the out onto a floured surface and knead until soft and elastic.
Grease a bowl and place dough inside, turning to coat.
Cover the bowl with a towel and let rise until doubled, about 40 minutes.
Grease a baking sheet or line one with parchment paper or a silicone mat.
Punch down the down and turn out onto a floured board.
Knead the dough just slightly.
Roll the dough out into a 11X17 large rectangle. Approximate, no need to be exact.
Spread the pepperoni slices out in an even layer covering the bread dough.
Sprinkle the shredded cheese over the pepperoni.
Roll the bead dough up like a jelly roll.
Place the roll onto the prepared cookie sheet, seam side down.
Cover a clean towel and let rest for about 15 minutes.
Preheat the oven to 400 degrees Fahrenheit.
When the oven is ready, bake the pepperoni roll for 15-20 minutes or until golden brown and sounds hollow when tapped with a knuckle.
Remove from the baking sheet to cool on a wire rack.
Nutrition Information:
Yield:

16
Serving Size:

1
Amount Per Serving:
Calories:

95
Total Fat:

4g
Saturated Fat:

2g
Trans Fat:

0g
Unsaturated Fat:

2g
Cholesterol:

9mg
Sodium:

152mg
Carbohydrates:

10g
Fiber:

0g
Sugar:

0g
Protein:

4g
I try but cannot guarantee this nutritional information is 100% accurate.