Make your own homemade thin crust pizza with this super easy recipe sure to make pizza night even better.
This simple crispy pizza dough recipe needs only 40 minutes to rise and less than 30 minutes to bake, meaning dinner can be on the table relatively easily and quickly.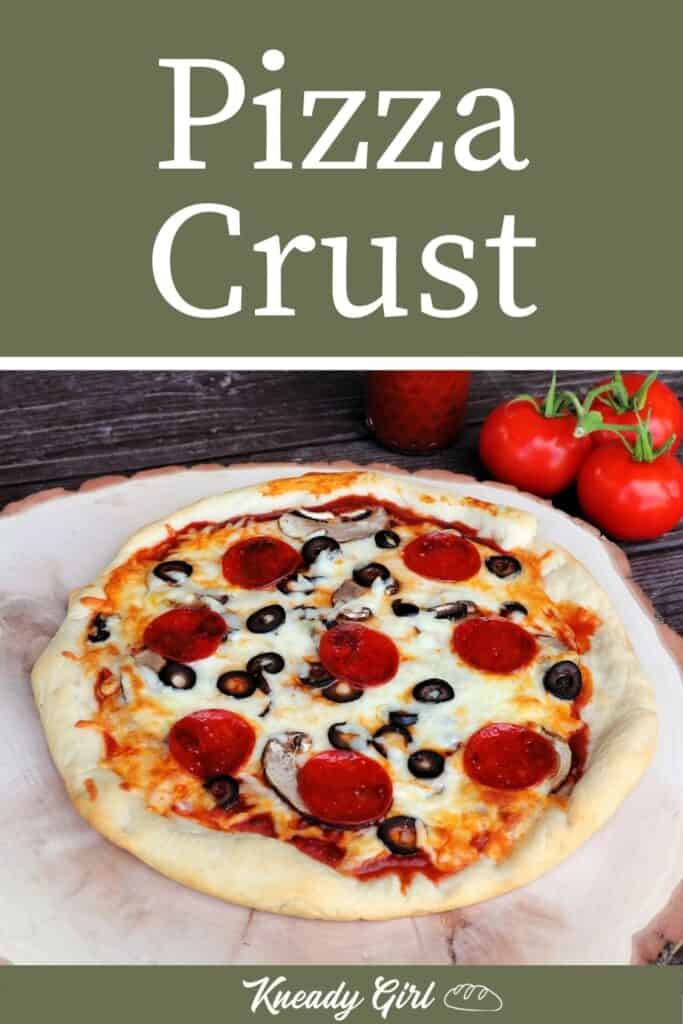 How to Make Thin Crust Pizza
Everyone has a favorite style of pizza crust. For those that like it on the thin side, this is the recipe for you.
Do take your time to stretch and roll the dough out so that it fits at least a 12″ pizza pan. It will easily stretch to make two 16″ pizzas which will obviously be quite thin.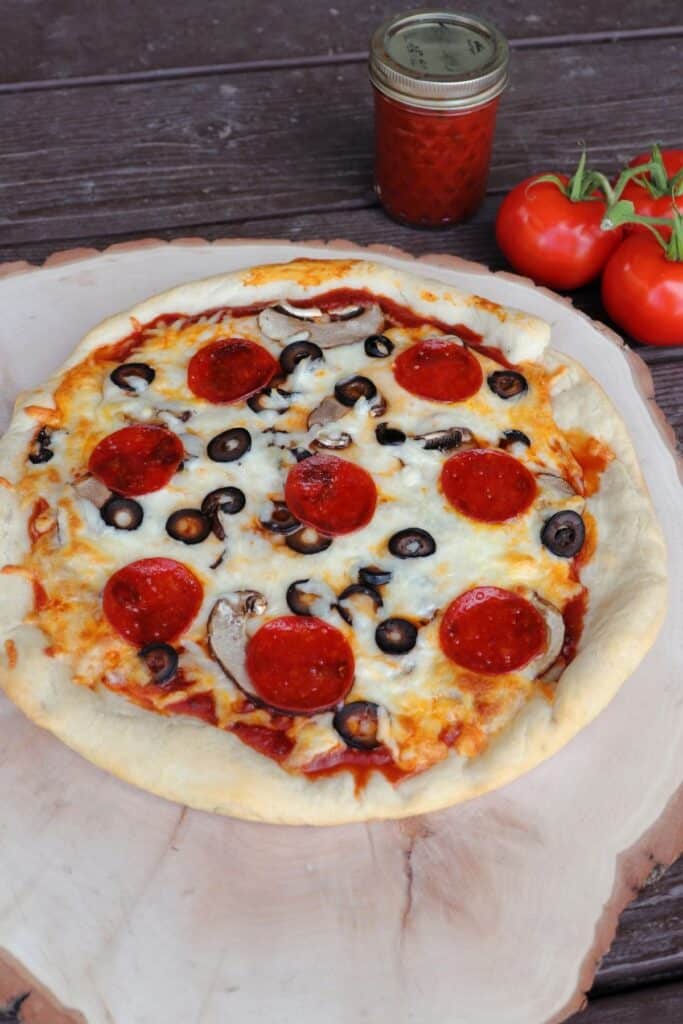 Because I like to bake the pizza directly on the oven rack, I do create a bit of a rim around the edge to prevent cheese or sauce from dripping all over the oven.
You do not have to create the rim and can take toppings all the way to the edge of the crust, if desired.
Pre-Bake
In a home oven, the trick to getting a crispy crust pizza is some pre-baking. This only takes about 8-10 minutes and is worth it for a crispy, crunchy crust.
Simply fit the dough to your pizza pans, pick a couple of times to prevent air bubbles, and bake at 425 degrees Fahrenheit. Then remove the crust from the pans and top as desired.
After topping, place the pizza directly onto the oven racks and bake until cheese is melted and the pizza is golden usually another 10-12 minutes.
Pan Choices
Over the years, I've experimented with baking the pizza directly in a metal pizza pan, cooking directly on a pizza stone, and the oven rack.
We've come to like the pre-bake in a pan followed by the oven rack the best. It does make the crispiest crust of all the choices, no matter how thick the dough is honestly.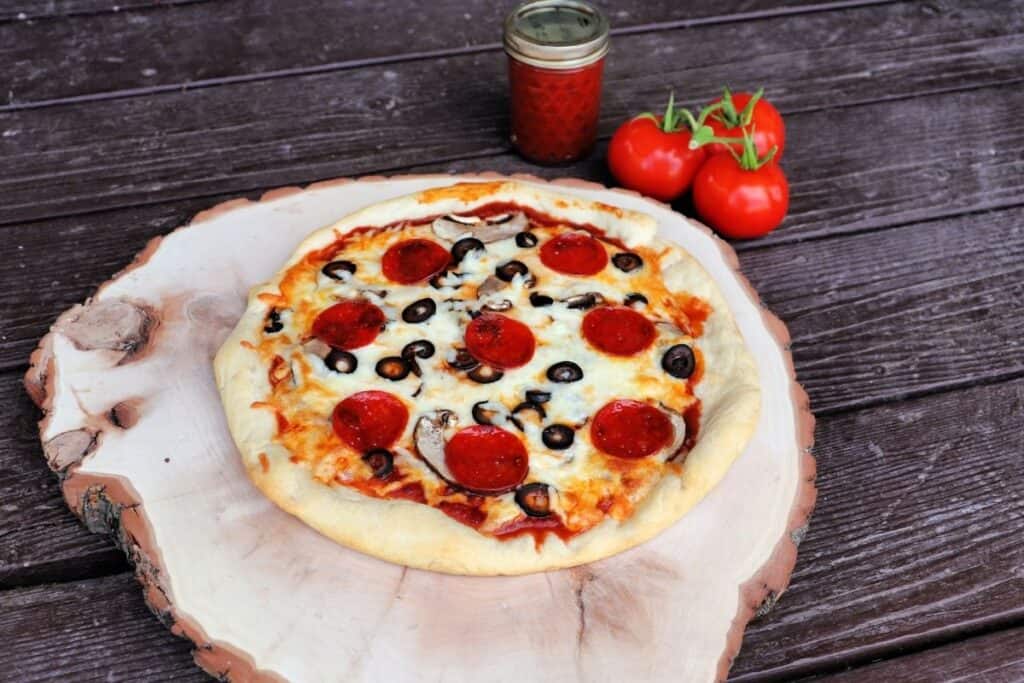 Feel free to make a larger pizza in a rectangular shape in a baking sheet rather than using round pizza pans if that's what you have on hand.
Specialty Ingredients
A superior pizza crust is definitely made with '00' pizza flour. This is a bit of a specialty ingredient and if you live in a small town like I do, it will likely need to be ordered. I get mine from King Arthur.
If '00' flour is out of the question, unbleached all-purpose flour will work but the texture and crispness will be different.
Topping Choices
Do top the pizza in whatever way is your favorite. There are no rules, keep it easy and flavorful.
We make and can our own pizza sauce as it makes a huge difference for us in the overall flavor. If using store-bought go for a better quality – so often they're loaded with extra sugar that the tomato flavor is lost.
Pile on the vegetables and meats as you enjoy. Do try to keep the watery vegetables to a minimum lest you get a soggy crust.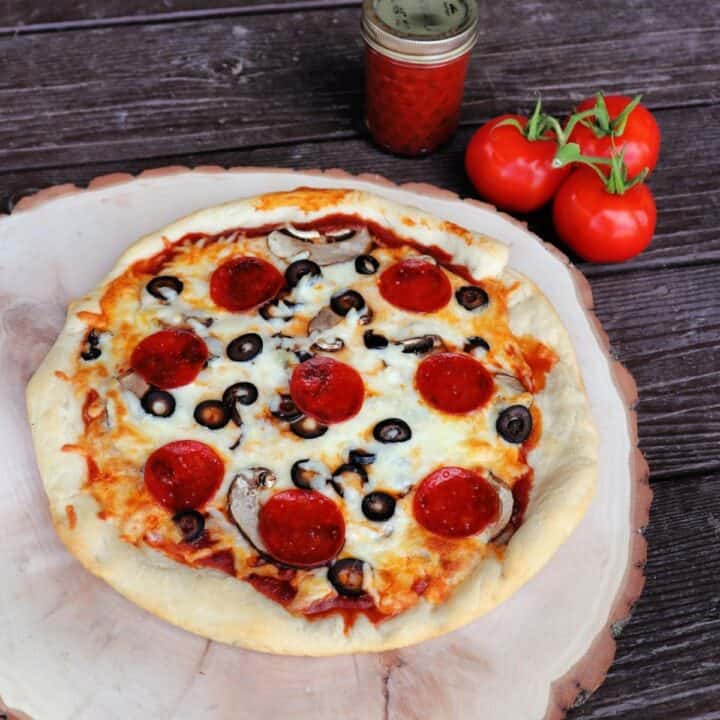 Thin Crust Pizza Dough
Yield:
2 - 16" Pizza Crusts
Total Time:
1 hour
10 minutes
Use this simple pizza dough recipe for a thin and crispy crust base for all your favorite pizza night creations.
Ingredients
1 Tablespoon Dry, Active Yeast
1 Cup Warm Water
2 Tablespoons Olive Oil
1/2 teaspoon Salt
Instructions
In a mixing bowl, combine the yeast and warm water. Let sit until foamy about 5-10 minutes.
Add the olive oil, salt, and 1 1/2 cups of flour. Mix well.
Add more flour as necessary to form a soft dough.
When the dough comes together, knead until elastic and soft.
Oil the mixing bowl, and place the pizza dough inside, turning to coat.
Cover the bowl with a towel and let the dough rise until almost doubled, about 40 minutes.
Meanwhile preheat the oven to 425 degrees Fahrenheit and grease 2 pizza pans.
Punch down the dough and divide in half.
Gently roll and stretch the dough to fit your pizza pans.
Prick the pizza dough bottom with the tines of a folk all over (if you forget this, you will likely get air bubbles in the crust - not bad necessarily just not idea).
Bake in the preheated oven for 8 to minutes or just until the crust is stiff enough to slide out of the pans easily.
Remove the crusts from the pan to a wooden cutting board and top as desired.
Top the crust as desired with sauce, cheese, etc.
Slide the topped pizza crust directly onto an oven rack and bake until done about 10-12 minutes.
Recommended Products
As an Amazon Associate and member of other affiliate programs, I earn from qualifying purchases.
Nutrition Information:
Yield:

16 slices
Serving Size:

1 slice
Amount Per Serving:
Calories:

17
Total Fat:

2g
Saturated Fat:

0g
Trans Fat:

0g
Unsaturated Fat:

1g
Cholesterol:

0mg
Sodium:

67mg
Carbohydrates:

0g
Fiber:

0g
Sugar:

0g
Protein:

0g