Homemade bread and jam is a wonderful combination. Comforting, delicious, perfect for breakfast or lunch. The only thing better really is a homemade jam filled bread.
This rich babka like dough with its ribbons of jam and crunching sugar topping is a perfect breakfast or snack that is impressive to look at but not at that difficult to pull together.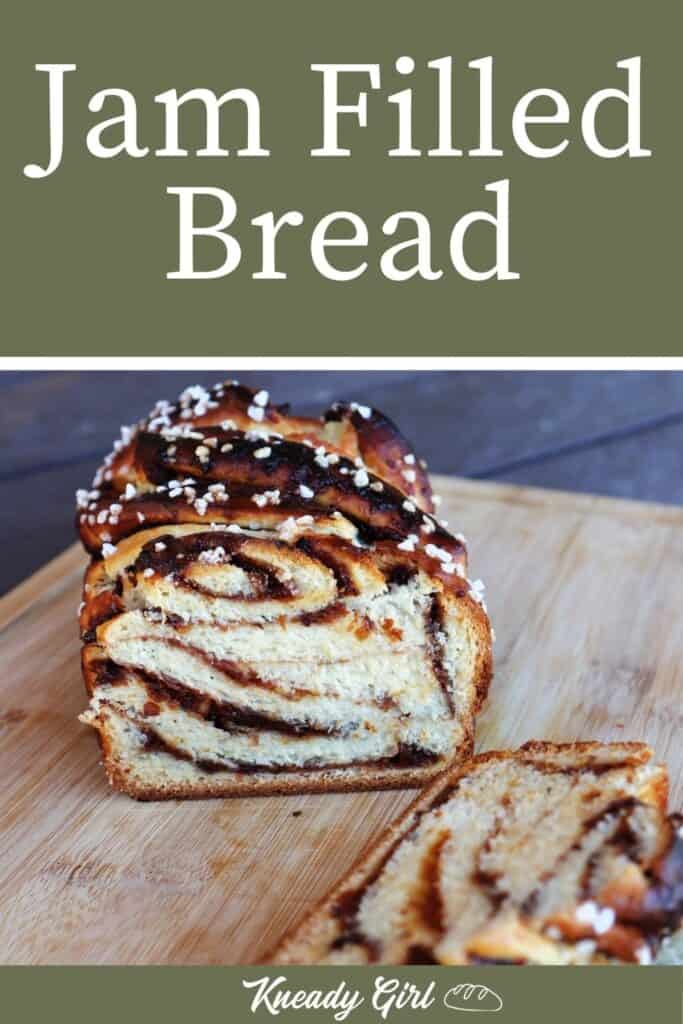 Rich but Airy
This is a rich dough because of the butter, milk, and eggs but still rises nicely for a good texture. Do be careful not to knead too heavily or add too much flour or the richness might get lost.
The Swirl
The bread dough is rolled out and spread with jam. This is then rolled up like a cinnamon roll. From here the dough can simply be placed into an oiled bread pan and baked.
For a slightly fancier and more impressive presentation, take that rolled up log and slice it down the middle of the dough the long way so that there are two long halves with the jam layers exposed.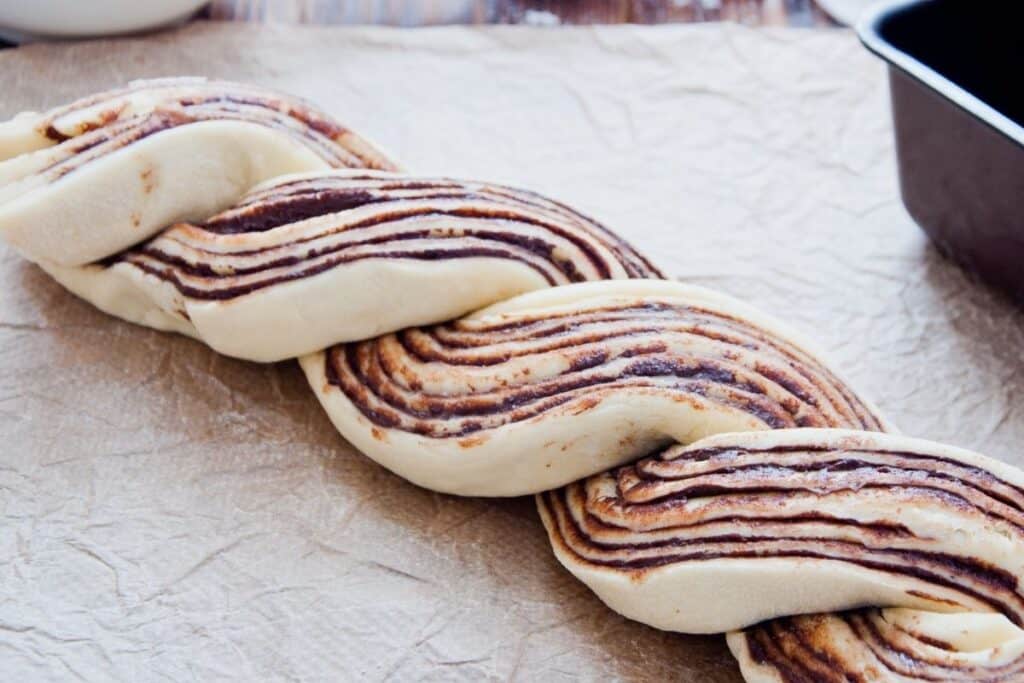 Take those two layers and twist them around one another. Just overlapping each half some, leaving some of the jam layers exposed. Form that twist into a loaf shape and place into the pan to bake.
Difficulty Level: Intermediate
This is not terribly difficult to make but care must be paid to the kneading and flour for best texture. Some experience will help the final result be more tender and delicious.
Sugar Topping
Swedish pearl sugar sprinkled over the egg wash just prior to baking gives this bread just a little crunch and extra sweetness. Swedish pearl sugar won't melt during the baking process meaning it will be bright and beautiful after baking.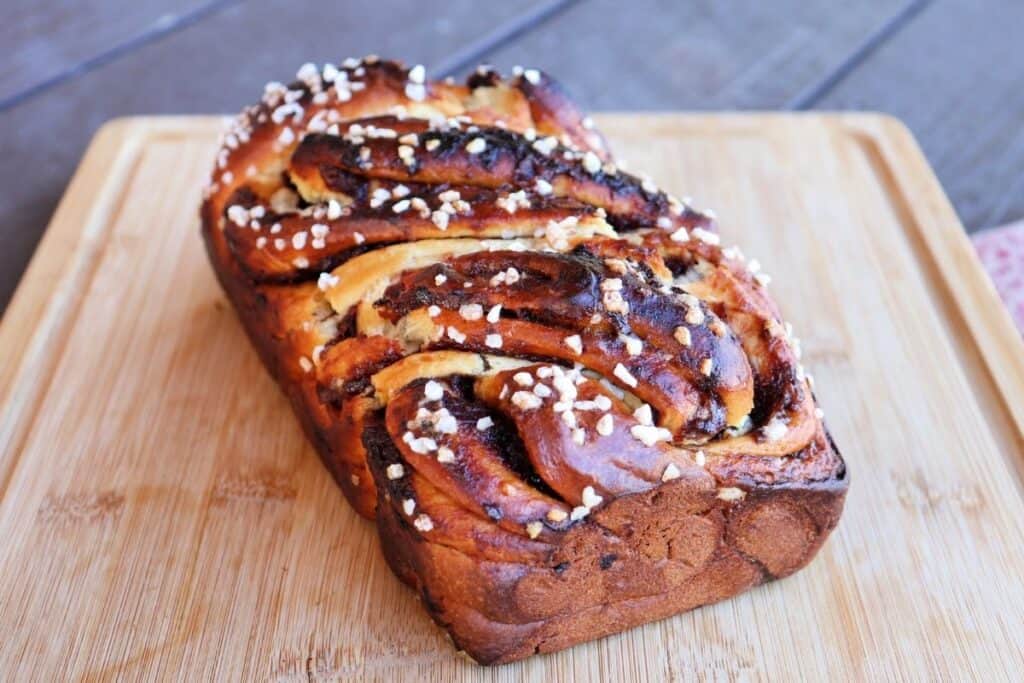 A coarse sugar will still provide some crunch if not the same look if you don't have the pearl sugar on hand.
The sugar topping could also be skipped if desired.
Jam Filling
Do use a thicker jam here but any flavor you desire. I used a homemade dried fruit and rose hip jam in the loaf photographed. Something too thin will likely alter the texture of the dough and increase cooking time.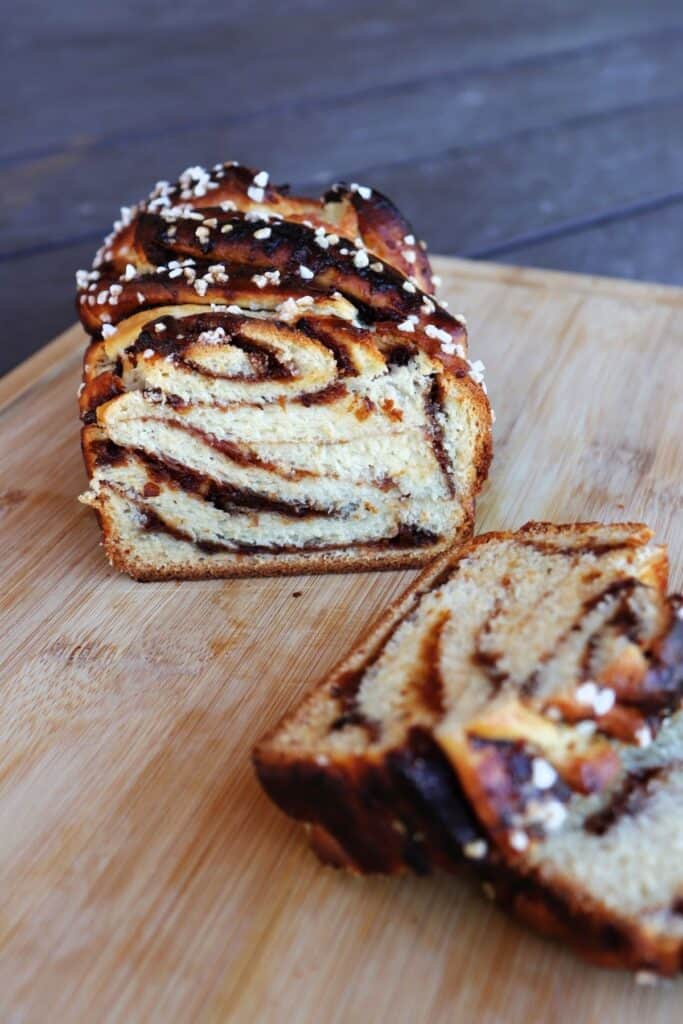 Cool in Pan
Most bread loaves are removed from their pans immediately after coming out of the oven. Don't do that here!
Let the bread cool in a pan for 30 minutes so that it can hold it's shape, it will likely fall if you remove it to a wire rack hot from the oven.
How to Serve
Simply serve slices on a try with fruit or eggs for brunch. Slather it in butter or nut butter alongside a cup of tea for an afternoon snack.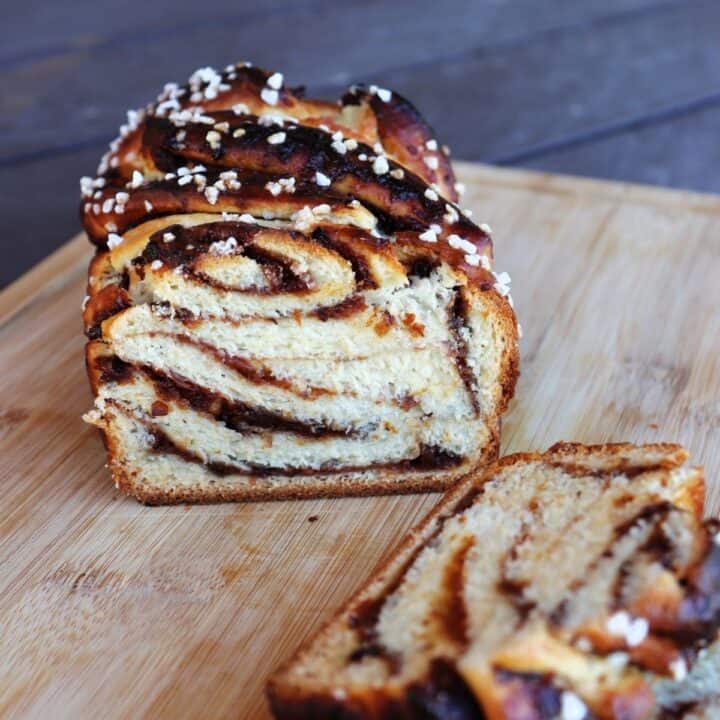 Jam Filled Bread
Total Time:
3 hours
10 minutes
A beautiful and delicious loaf of sweet bread with swirled with jam.
Ingredients
1/4 Cup Salted Butter
1/2 Cup Milk
1/4 Cup Sugar
1 Tablespoon Dry, Active Yeast
1 Egg
1 teaspoon Salt
2 1/2 Cups Bread Flour
1 Cup Thick Jam
Sugar Topping
Instructions
In a small saucepan, heat together the butter and milk until just simmering. Remove from heat and let cool to 110 to 115 degrees Fahrenheit.
In a large bowl, whisk together the sugar and yeast. Add the warm milk mixture and let proof until foamy. About 10 minutes.
Add the egg and salt. Add 2 cups of flour and mix until the dough begins to form. Add more flour if necessary to form a soft dough.
Turn the dough out onto a floured board and knead until smooth and elastic. Adding only the smallest amount of flour to prevent sticking.
Oil a bowl and place the dough inside turning to coat. Cover the bowl with a towel and let rise until doubled about 60 to 90 minutes.
Grease a loaf pan.
Punch down the dough and turn out to a floured board. Knead slightly.
Using a rolling pin, roll the dough out to an 11X17 sheet.
Spread the dough with the jam, leaving about 1/4" around the edges.
Roll up the dough into a loaf and pinch the edges closed.
Using a bench scraper or knife, Slice the dough in half the long way, exposing the ribbons of jam inside.
Twist the halves of dough around each other, exposing some of the jam swirls to the top of the loaf. Pinch the ends together.
Place the twisted loaf into the bread pan. Cover with a towel and let rise about 45 minutes.
Preheat the oven to 375 degrees.
Make the egg wash by whisking together the egg and water until completely mixed.
Gently brush the top of the loaf with the egg wash.
Sprinkle the top of the loaf with the pearl sugar.
Bake in the preheated oven for 35-40 minutes or until gold brown.
Remove from the oven and allow to cool for 30 minutes in the bread.
Once cool, remove from the pan and cool completely on wire racks.
Recommended Products
As an Amazon Associate and member of other affiliate programs, I earn from qualifying purchases.
Nutrition Information:
Yield:

16
Serving Size:

1 slice
Amount Per Serving:
Calories:

189
Total Fat:

4g
Saturated Fat:

2g
Trans Fat:

0g
Unsaturated Fat:

1g
Cholesterol:

32mg
Sodium:

175mg
Carbohydrates:

34g
Fiber:

1g
Sugar:

14g
Protein:

4g
I try but cannot guarantee this nutritional information is 100% accurate.