Make Norwegian Christmas Bread for a spicy, sweet, and rich loaf perfect for the holiday season and beyond.
Original Christmas Julekake is a sweet bread loaded with spice, dried fruit, and candied citrus peel for warming and comforting flavor.
While this flavorful bread is often baked for the Christmas season, it is honestly good enough to serve on special occasions or the weekend for that matter.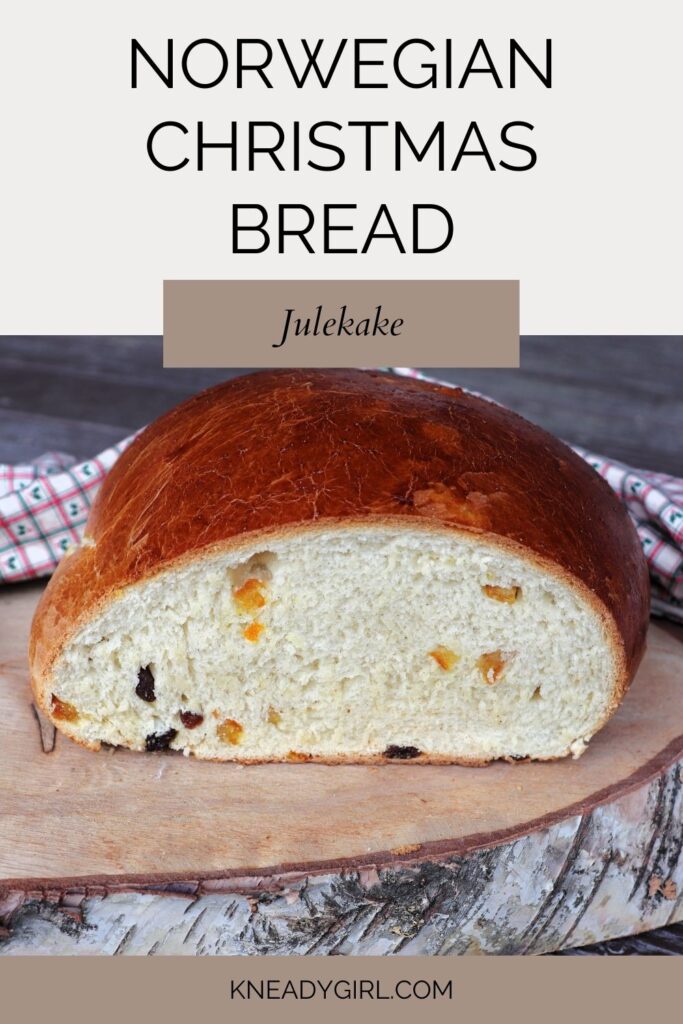 A Holiday Tradition
My husband's family is of Norwegian descent and I wanted to make sure I included some of those Christmas baking traditions alongside the beloved Potica baking of my childhood.
I live in area where many folks from Scandinavian countries settled meaning my library is full of cookbooks that I used to help me form a Julekake recipe that at least resembles the traditional loaves.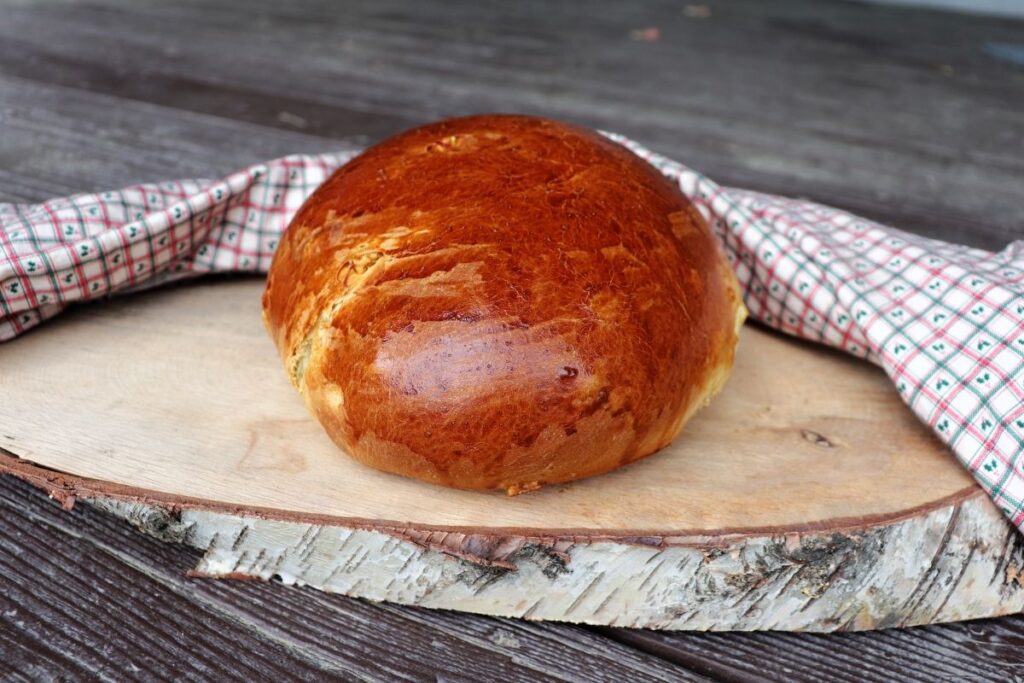 I used what seemed to be the most common ingredients while also making the recipe fit into my life and kitchen habits. The result is a rich holiday bread that is sure to please.
Dried Fruit
Like most holiday breads this Norwegian version contains dried fruit. I used raisins which seem to be fairly traditional.
Golden raisins would also work and be lovely, I just don't usually have them on hand.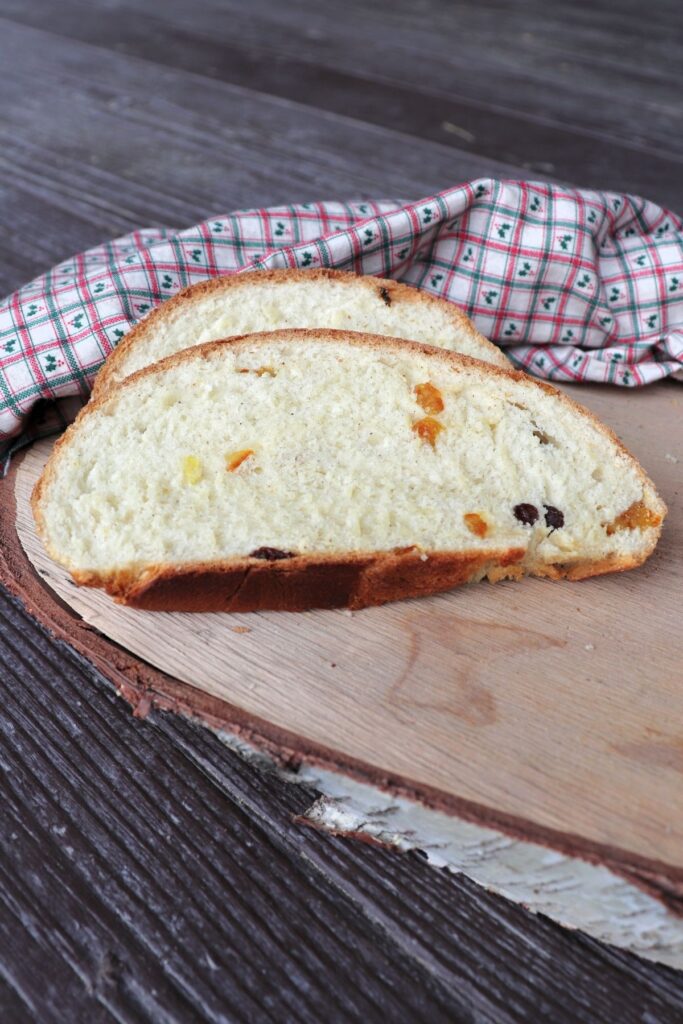 Other dry fruits could likely be substituted with great success. Things like dried cranberries or chopped bits of dried apples would work.
Candied Fruit
Candied citron is often used in the traditional recipes. It's a very specific kind of candied peel that I couldn't find in my local grocery store.
I opted to use candied orange peels in my recipe because my husband likes to eat oranges and so I made some candied peel from his snacks.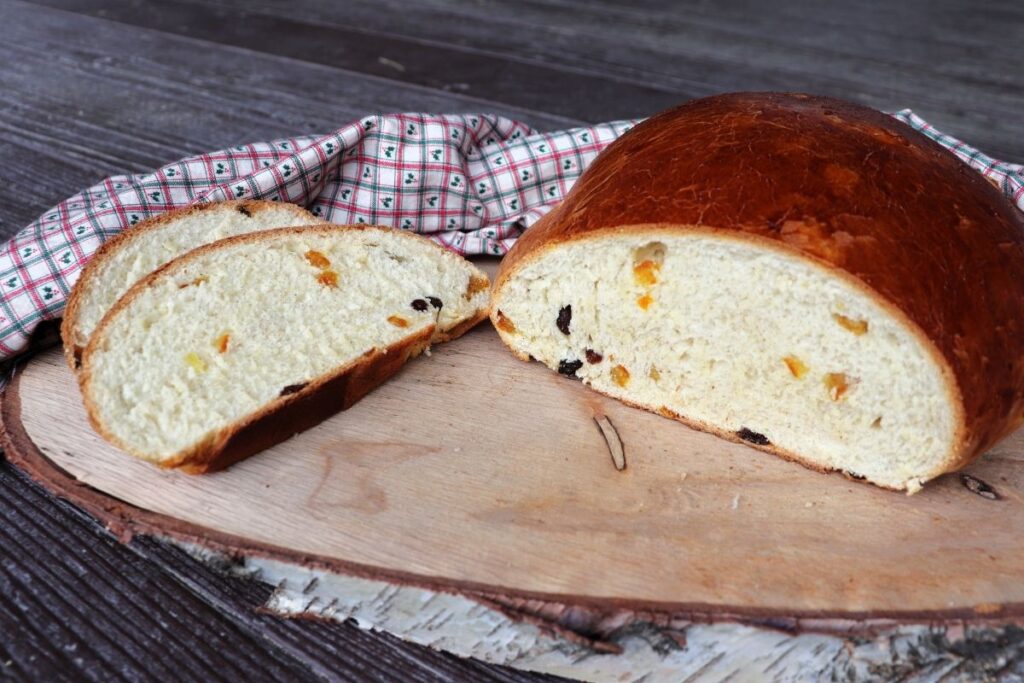 Now candied orange peel can often be purchased, my local store didn't have any options that weren't coated in high fructose corn syrup which isn't an option I feel good about using. If you can find something you like certainly buy it.
If you can't buy it, making it takes a little time but isn't at all difficult.
Spice
Cardamom seemed to be the spice used most often in all the various research I did. I opted to use it entirely and I'm glad I did because it's truly incredible here with the orange peel and rich flavor.
I imagine you could substitute whatever spice or spice mix you prefer with ease.
Flour Choices
For ease, I used bread flour in the recipe below. All purpose flour could easily be substituted.
If you like a little whole grain in your bread recipes, substitute up to half of the bread flour with whole wheat flour.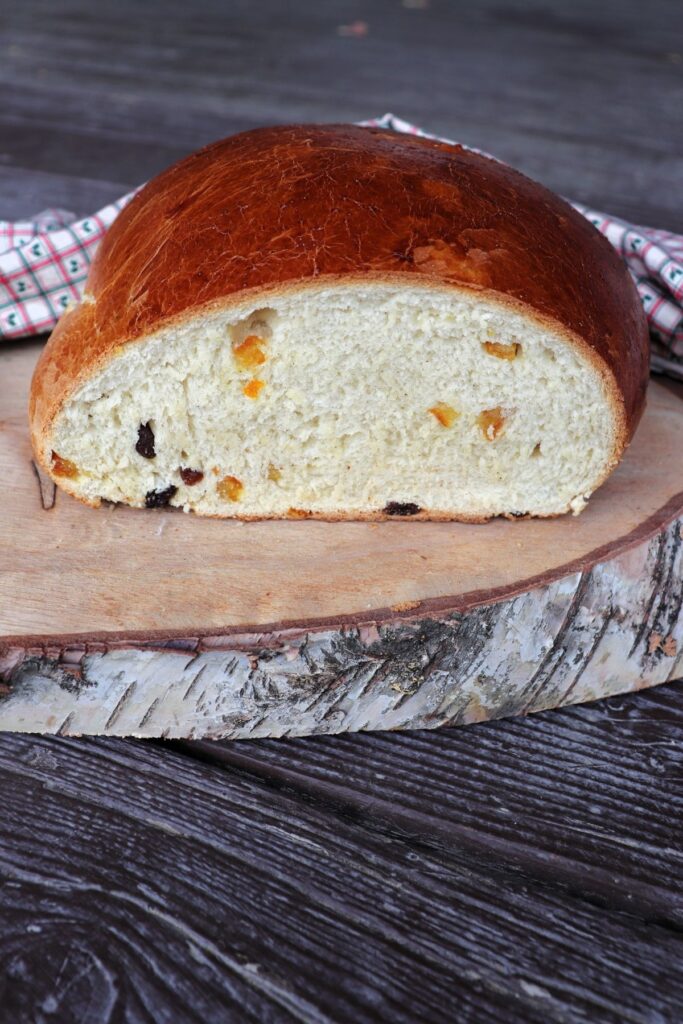 Using a whole grain will make the bread denser, of course. And whole grain flours absorb water differently so add it slowly as you knead.
Loaf Shape
A large round loaf seems to be most traditional and honestly one of my favorite shapes for bread, so I stuck with that.
It would be a bit much to fit into a single bread pan but would make two small loaves if you wanted to stick with a loaf pan shape.
Divide the dough into buns if you'd like to serve the Julekake as rolls.
As always, if you change the shape be sure to watch the cooking time and check for doneness earlier and more often.
How to Serve
Cut this rich bread into thick slices and serve with butter, homemade jam, or honey alongside your favorite hot drinks for a simple snack or breakfast treat.
We quite like it toasted and slathered in almond butter.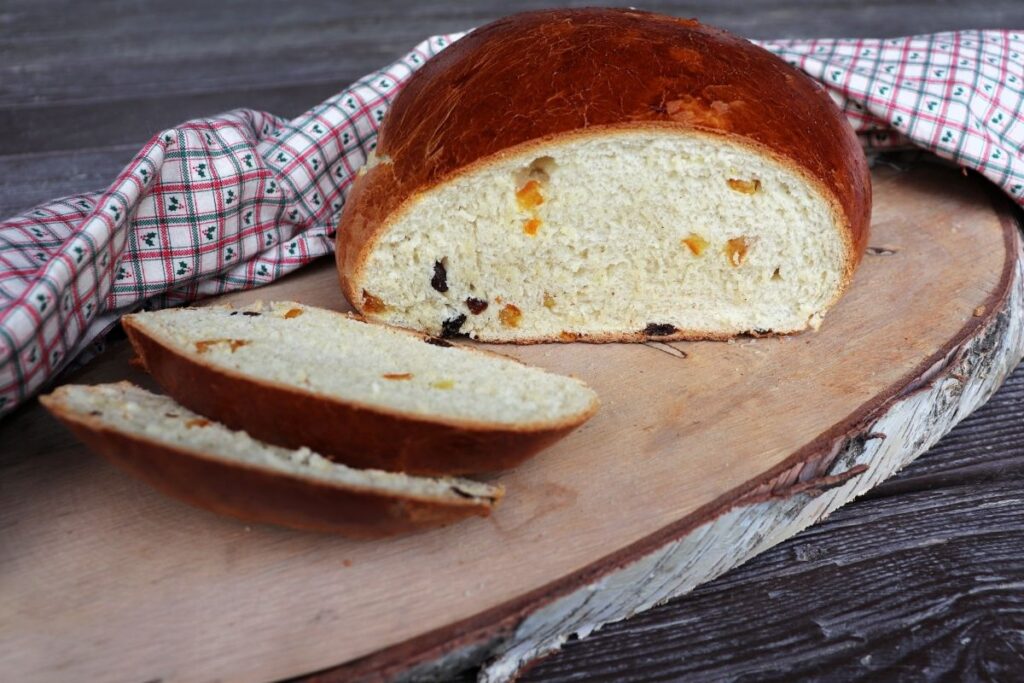 Definitely serve as part of a holiday brunch buffet.
The slices do work well for a rich French toast, if desired.
How to Store
When kept in airtight container at room temperature, the loaf should stay fresh for up to 5 days.
For longer term storage, freeze the baked and cooled loaf in a plastic bag.
Alternatively, slice the baked and cooled loaf and place the slices in the freezer bag. This way you can simply pull out a few slices at a time, if desired.
Thaw frozen bread at room temperature prior to serving.
Use up any frozen bread within 6 months for best flavor.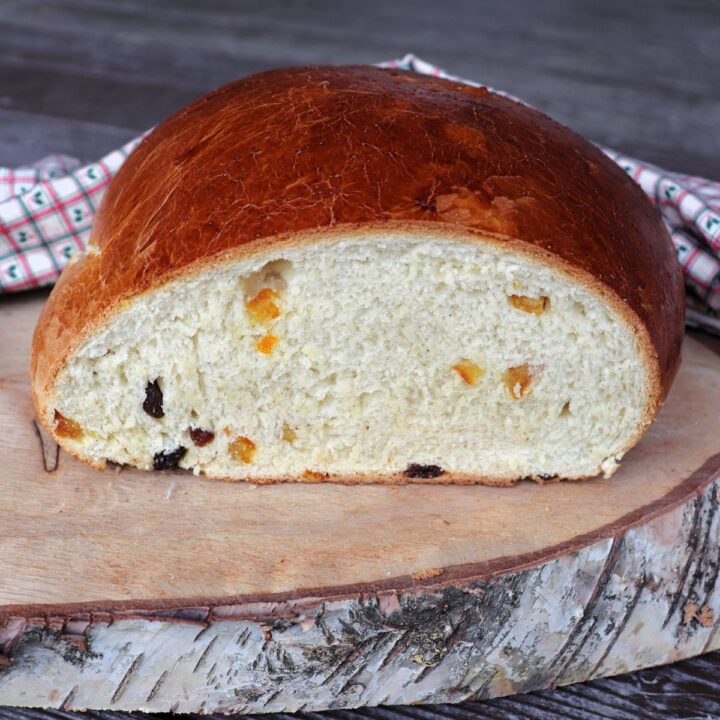 Julekake Recipe
Rising Time:
1 hour
30 minutes
Total Time:
2 hours
40 minutes
Norwegian julekake is a rich, light, and highly flavored bread perfect for the holiday season and beyond!
Ingredients
1 Cup Milk, scalded & cooled to 115 degrees Fahrenheit
1 1/2 teaspoons Active Dry Yeast
1/3 Cup Sugar
1 teaspoon Ground Cardamom
1 Egg
1/4 Cup Salted Butter, softened, cut into small pieces
1/3 Cup Raisins
1/3 Cup Candied Orange Peels / Citron
3 1/2 Cups Bread Flour
Instructions
In a large bowl, combine the yeast, milk, and sugar. Let sit until foamy about 5-10 minutes.
Add the cardamom, egg, and 1 cup flour. Mix gently.
Add another cup of flour and butter. Mix until everything gets beaten well.
Pour in the raisins and orange peel.
Continue adding flour until everything to comes together into a loose dough.
Turn the dough out onto a floured board and knead until the dough is soft and elastic.
Grease a bowl, place dough inside the bowl, turning to coat.
Cover the bowl with a clean towel and let rise in a warm place until doubled, about 45 minutes to an hour.
Grease a baking sheet or line with parchment paper / silicone baking mat.
Punch down the dough and turn out to a floured surface.
Knead the dough slightly and form dough into a large tight ball.
Place dough onto prepared cookie sheet.
Cover the sheet with a clean towel and let dough rise in a warm spot until doubled, 30-45 minutes.
Meanwhile preheat oven to 350 degrees Fahrenheit.
Beat the egg well.
Brush the beaten egg wash over the top and sides of the dough, coating well.
Bake in the preheated oven for 34-45 minutes or until golden brown and sounds hollow when tapped with a knuckle.
Remove from cookie sheet immediately to cool on wire rack.
Nutrition Information:
Yield:

18
Serving Size:

1
Amount Per Serving:
Calories:

174
Total Fat:

4g
Saturated Fat:

2g
Trans Fat:

0g
Unsaturated Fat:

1g
Cholesterol:

18mg
Sodium:

32mg
Carbohydrates:

31g
Fiber:

1g
Sugar:

10g
Protein:

4g
I try but cannot guarantee this nutritional information is 100% accurate.