Serve something comforting, traditional, rich and delicious at brunch gatherings and holiday breakfasts with this potica recipe.
Potica, a Serbian Nut Roll, is a rich and decadent yeasted dough that is almost a dessert.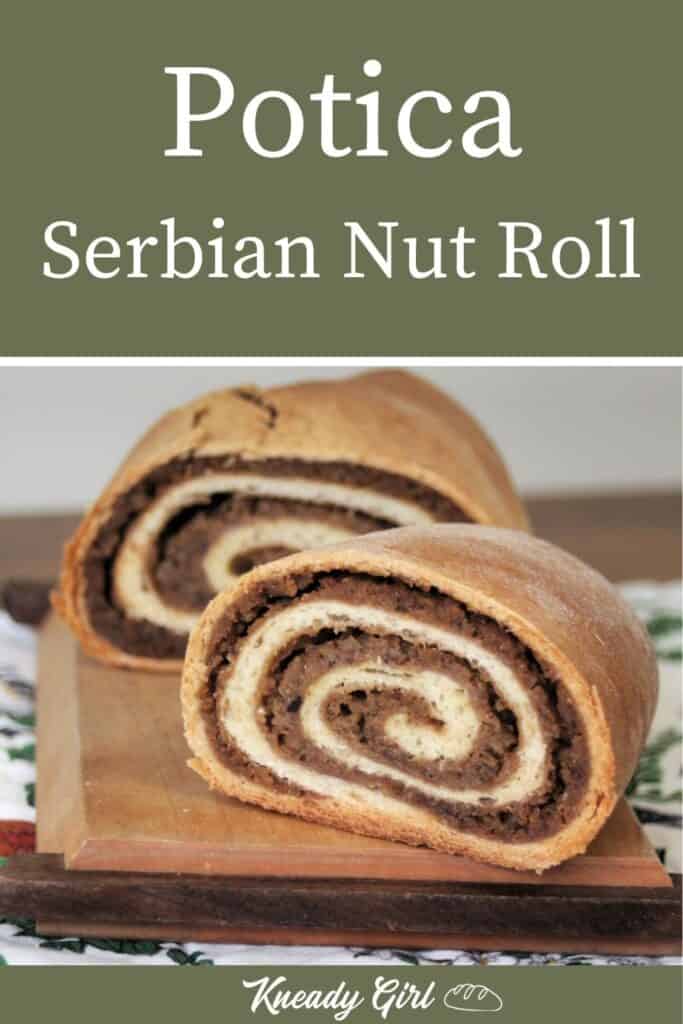 Traditional Across Many Cultures
Potica is actually pronounced like Poh-TEET-sah and is quite traditional in many Serbian homes.
Variations of this type of bread abound with many cultures having their own take on it.
While I was born and raised in the Pittsburgh, Pennsylvania area this was the holiday bread of my youth and a tradition I continue baking every year even here in northwestern Montana.
Difficulty Level: Advanced
This is a recipe for an advanced bread baker and baker in general, honestly. There are many steps and nuances to work through. It's a giant process even for the experienced and while I don't want to discourage beginners, it can be an overwhelming baking project.
Tips for Making Potica
Be prepared for a mess and a long time in the kitchen the first time you make this. The more you do it, the more efficient you will become, but the first time is a lot.
Read the entire recipe through at least once before getting started.
Note that there are 5 egg whites in the filling and 5 egg yolks in the bread, meaning you only need 5 eggs, total.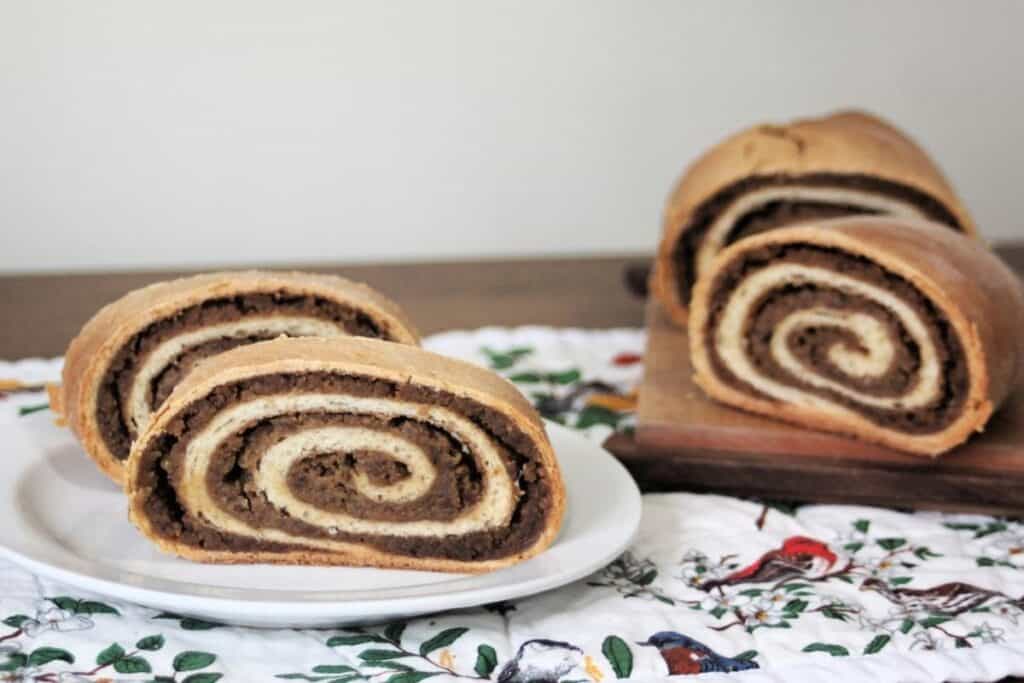 Get all your ingredients measured and set-up before beginning. Put the filling ingredients by the stove, bread ingredients on the counter as an example. You'll be glad later to have this all ready.
How to Grind Walnuts
My grandmother used a giant, metal hand crank meat grinder to grind her walnuts for potica. That works great if you have it.
I use a meat grinder attachment for my KitchenAid mixer. It's fast and easy.
A food processor will also work, but be careful to not make walnut butter just grind the nuts.
How to Serve
Slice and serve potica warm or at room temperature. It's delightful with coffee or tea for brunch or dessert.
For an extra rich touch, slather slices in butter and enjoy.
Do try dunking a bit in coffee or tea.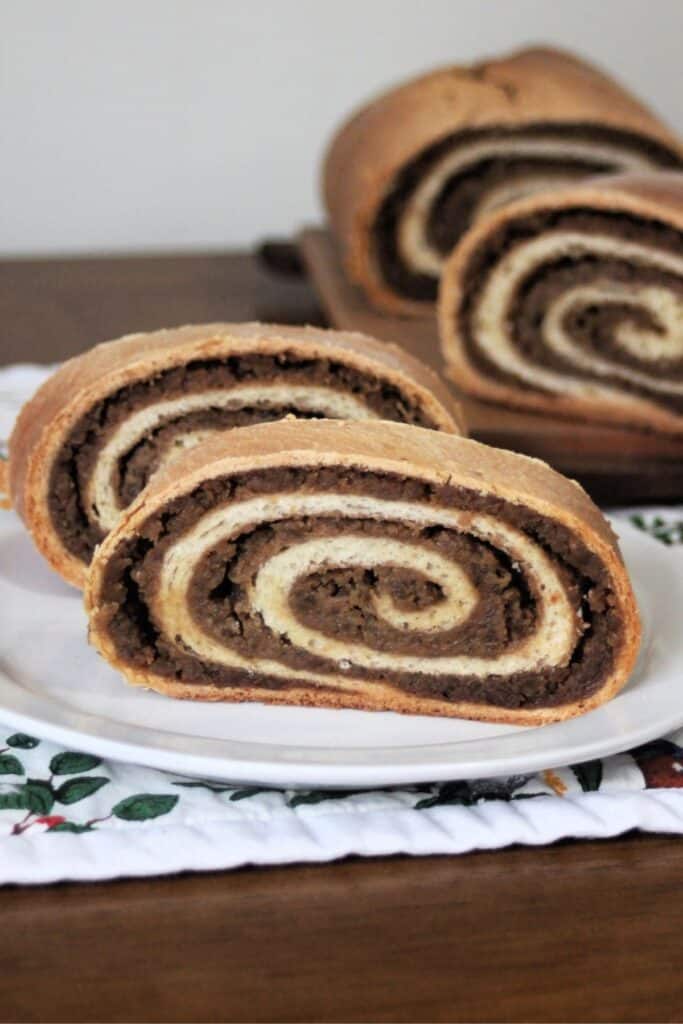 Large Batch
This does indeed make 6 loaves of potica, which is a lot. You'll be glad you have that much around but do consider giving some away as a gift.
It is something I give year after year to many people because it's something that most everyone loves but very few people, it seems, actually make it for themselves.
Freeze Extras
For longer term storage, wrapped the cooled loaf in plastic wrap and freeze. Or slice and place the slices into a freezer bag and freeze.
Use up frozen bread within 6 months for best flavor. Let frozen bread thaw on the counter prior to serving.
Other Nut Bread Recipes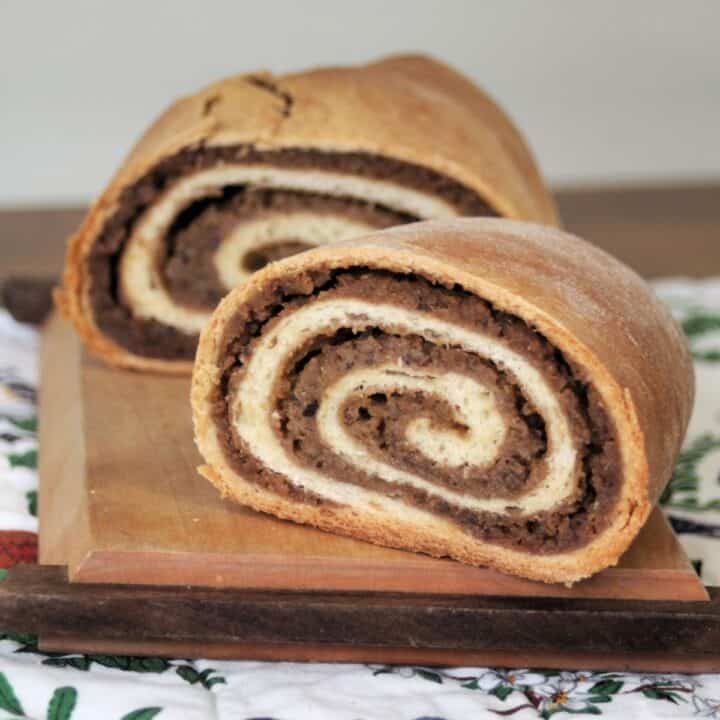 Potica
Rising Time:
1 hour
30 minutes
Cook Time:
1 hour
10 minutes
Total Time:
3 hours
40 minutes
A traditional Serbian nut roll, potica is a rich and wonderful bread perfect for holiday brunches and more.
Ingredients
Bread Dough
2 teaspoons Dry, Active Yeast
1/2 Cup Warm Water
1 Tablespoon Sugar
1 1/2 Cups Milk
5 Egg Yolks
3/4 Cup Salted Butter, softened
3/4 Cup Sugar
2 teaspoons Salt
1 Tablespoon Vanilla Extract
1 teaspoons Ground Nutmeg
7 Cups Unbleached, All-Purpose Flour
Walnut Filling
1 1/2 Cups Milk
5 Egg Whites
1/2 Cup Salted Butter 
2 Cups Sugar
1/2 Cup Honey
1 Tablespoon Vanilla Extract
2 Pounds Walnuts, ground
Instructions
Make the Bread Dough
Heat milk in a small saucepan, until it's about 120 degrees Fahrenheit.
In a large bowl, combine yeast, warm water, and 1 Tablespoon of sugar. Let sit until foamy, about 10 minutes.
Pour the warm milk into the yeast mixture, add egg yolks, butter, 3/4 cup sugar, salt, vanilla, nutmeg, and 5 cups of flour.
Mix well and continue adding flour until a dough begins to form.
Turn out onto a floured board and knead until soft and elastic.
Put the dough into an oiled bowl and cover with a towel. Set aside to rise.
Make the Filling
Place the ground walnuts in a large bowl and set aside.
In a large saucepan, whisk together the egg whites and milk.
Heat over medium heat until the mixture reaches 120 degrees Fahrenheit, whisking constantly.
Add the honey, sugar, and butter. Continue whisking constantly until the mixture thickens and begins to simmer.
Remove from heat, stir in the vanilla extract.
Pour the sugar mixture over the ground walnuts and mix completely. It will seem to thin at first but thickens more as it cools.
Set aside to cool to room temperature. When the mixture is cool, assemble the nut rolls.
Assembling the Nut Rolls
Grease 2 baking sheets lightly.
Punch down the bread dough and knead slightly.
Divide the dough into 6 equal portions, weighing approximately 11 ounces each.
Roll each portion out to a 11X17 inch sheet.
Spread the dough with a thin layer of the nut filling, leaving about 1/4" around the edges.
Roll up the dough tightly from the short edge.
Seal the edges and place the dough seam side down on the baking sheet.
Place 3 loaves on each baking sheet, leaving about 2 inches between loaves.
Cover the baking sheets with towels and let rise about 30 minutes, it will not double.
Preheat the oven to 325 degrees Fahrenheit.
Place racks in the oven so that there is space between them for the loaves to bake.
Place 1 baking sheet on each rack in the oven.
Bake in the preheated oven for 1 hour 10 minutes, rotating racks on sheets halfway through.
When finished the loaves will be golden.
Remove from baking sheets to cool completely on wire racks.



Recommended Products
As an Amazon Associate and member of other affiliate programs, I earn from qualifying purchases.
Nutrition Information:
Yield:

72
Serving Size:

1 slice
Amount Per Serving:
Calories:

204
Total Fat:

12g
Saturated Fat:

3g
Trans Fat:

0g
Unsaturated Fat:

8g
Cholesterol:

22mg
Sodium:

95mg
Carbohydrates:

21g
Fiber:

1g
Sugar:

10g
Protein:

4g
I try but cannot guarantee this nutritional information is 100% accurate.