Fresh peaches are some of summer's tastiest gifts to us. Highlight their juiciness and flavor by baking them up in this easy peach bread.
Peach quick bread is an easy and beautiful baked good, perfect for lazy Sunday brunches or even summer desserts.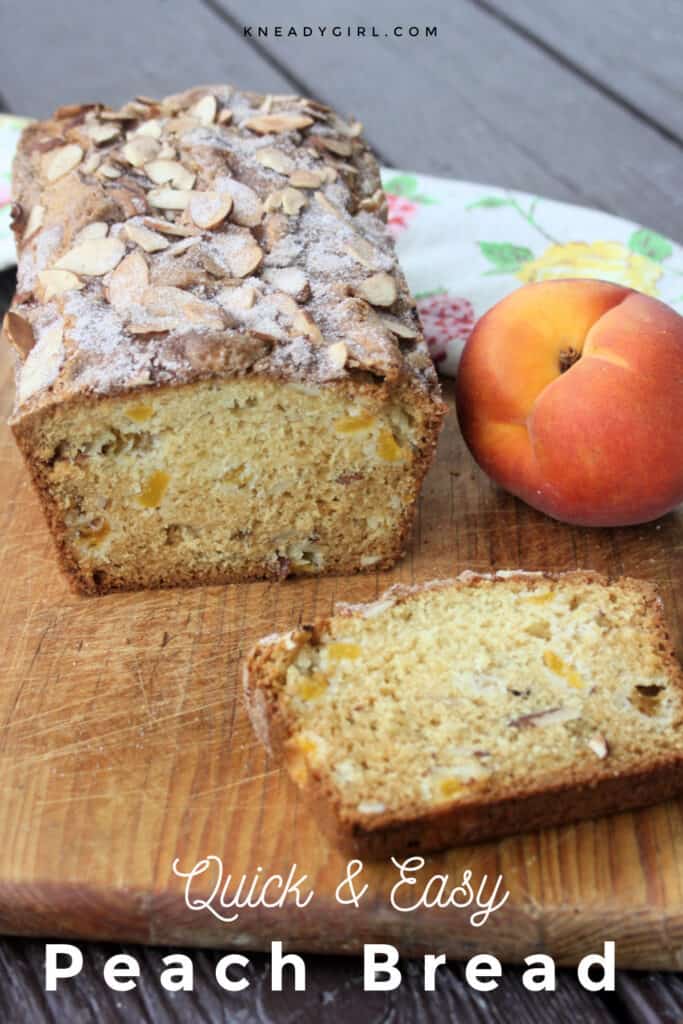 Easy to Make Batter
There's nothing fancy going on here in this quick bread recipe. Melted butter and basic staple ingredients pull together quickly enough in this easy recipe.
Do use ripe but firm peaches here, too juicy and mushy will result in less than ideal bread.
Use purchased slivered almonds to make the topping easier and skip chopping almonds for the batter itself.
To Peel or Not to Peel?
Honestly, I tend to skip peeling all the time. Peels don't bother me in most things. However, this is a very personal preference.
If you leave the peel, chop the peaches into small pieces. If you peel, chopping into 1/2 inch pieces or even larger will work just fine and highlight the sweet peaches.
Almonds are Optional
The original recipe calls. for almonds, but one could skip it and still have delicious results. Don't run out to the grocery store just to get them. However, they do add a nice flavor and great texture.
The topping also makes it even more beautiful but again, optional. If you do add the almonds, consider using almond extract instead of vanilla in the batter.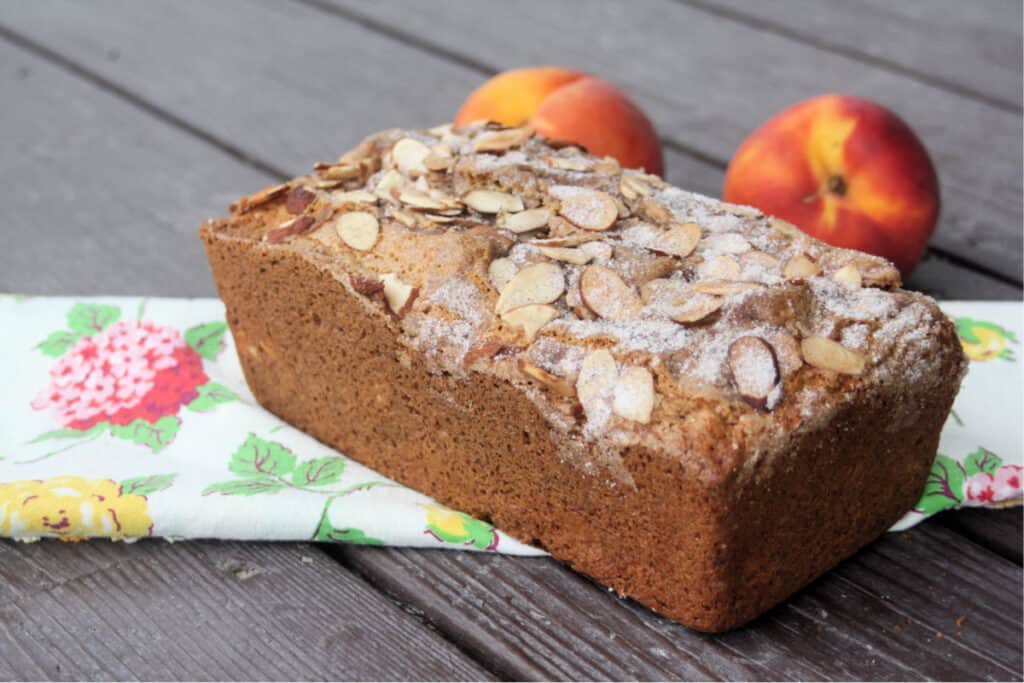 Double, if desired
Because this is so very easy to make, consider doubling or more the recipe. Simply divide among more loaf pans. This way you can share with friends or family and even bring some to a potluck.
Serving Ideas
This is a delicious, sweet breakfast bread. Enjoy it with some hot coffee or tea and a hard boiled egg.
Keep it simple, serve slices with some fresh fruit and iced tea as an afternoon snack.
A dollop of whipped cream or even a scoop of vanilla ice cream would be nice as well.
Drizzle the bread with a bit of a vanilla glaze for an even sweeter dessert.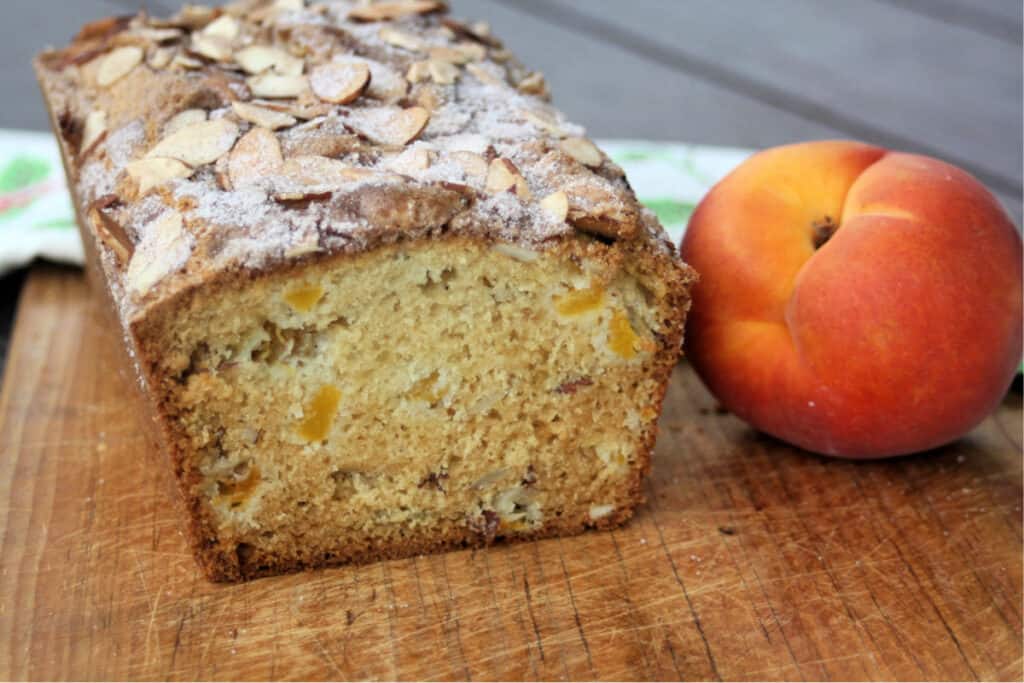 Freeze Extras
The bread loaf freezes easily and well. This is a wonderful way to save some for when peach season is over.
Simply place cooked and cooled loaves into airtight bags and freeze. Another method is to wrap the loaves tightly in plastic wrap and then aluminum foil for maximum freshness.
Alternatively, slice the bread and freeze slices in airtight bags. Freezing slices allows you to just grab what you need instead of an entire loaf at one time.
Use up frozen bread within 6 months for best flavor and to prevent freezer burn
Looking for other peach recipes?
Try making my Cornmeal Raspberry & Peach Muffins.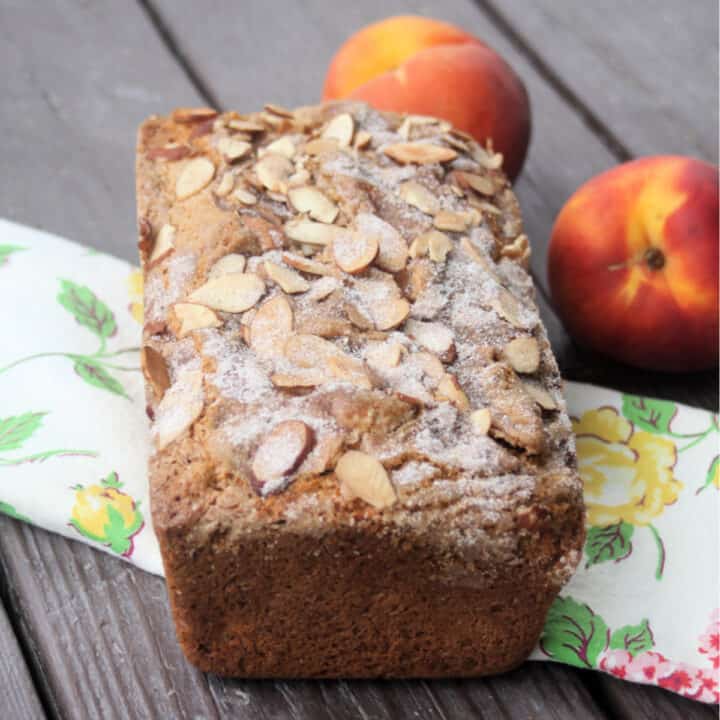 Peach Bread Recipe
Total Time:
1 hour
15 minutes
Light and flavorful this peach quick bread works well as a sweet breakfast or simple summer dessert.
Ingredients
1/2 Cup Melted Salted Butter
2 Eggs
1/3 Cup Sour Cream
1 teaspoon Vanilla Extract
3/4 Cup Sugar
2 Cups Unbleached, All-Purpose Flour
2 teaspoons Baking Powder
1 teaspoon Baking Soda
1 Cup Peeled & Chopped Peaches
3/4 Cup Slivered Almonds
Optional Topping
2 Tablespoons Sugar
1/4 teaspoon Ground Cinnamon
1/4 Cup Slivered Almonds
Instructions
Preheat oven to 325 degrees Fahrenheit.
Grease a 9X5 inch loaf pan.
If making the optional topping, mix all the ingredients together in a small bowl and set aside.
In a large bowl, whisk together the sugar, flour, baking powder, and baking soda. Set aside.
Whisk together the melted butter, sour cream, eggs, and vanilla extract.
Pour the wet ingredients into the dry ingredients and stir just until mixed.
Fold in the peach chunks and almonds. Mix until completely incorporated.
Spread the batter into the prepared loaf pan.
Sprinkle the cinnamon topping onto the top of the bread batter.
Bake in the preheated oven for 55 to 65 minutes or until edges are golden and an inserted tester comes out clean.
Cool in pan for 15 minutes before removing to cool completely on a wire cooling rack.
Recommended Products
As an Amazon Associate and member of other affiliate programs, I earn from qualifying purchases.
Nutrition Information:
Yield:

12
Serving Size:

1 slice
Amount Per Serving:
Calories:

278
Total Fat:

14g
Saturated Fat:

6g
Trans Fat:

0g
Unsaturated Fat:

7g
Cholesterol:

55mg
Sodium:

261mg
Carbohydrates:

34g
Fiber:

2g
Sugar:

16g
Protein:

5g
I try but cannot guarantee this nutritional information is 100% accurate.