Moist, flavorful, and beautiful sesame bread is a delightful addition to the dinner table.
Sesame seed bread is colorful thanks to a bit of molasses that also add richness, moistness, and flavor.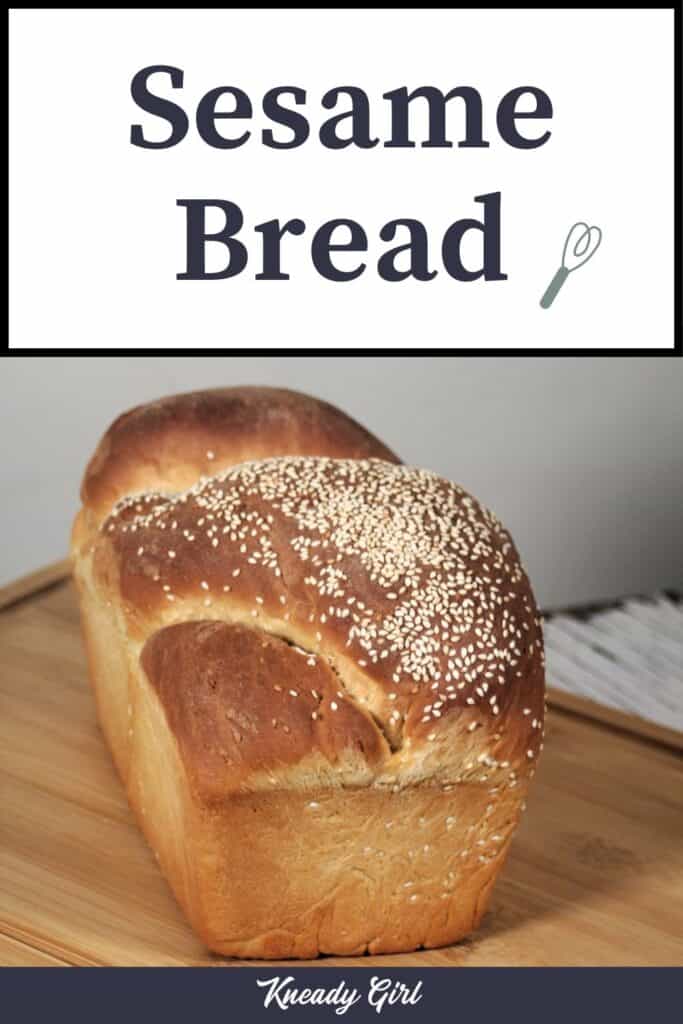 Airy Loaf
This sesame seed bread recipe results in a light loaf with a beautiful rise. It will get airy and yet retains a sense of creaminess and richness.
Molasses
Molasses gives this loaf its color and a ton of flavor. There is enough sugar in the recipe to counter any of the bitterness that dark molasses can sometimes impart.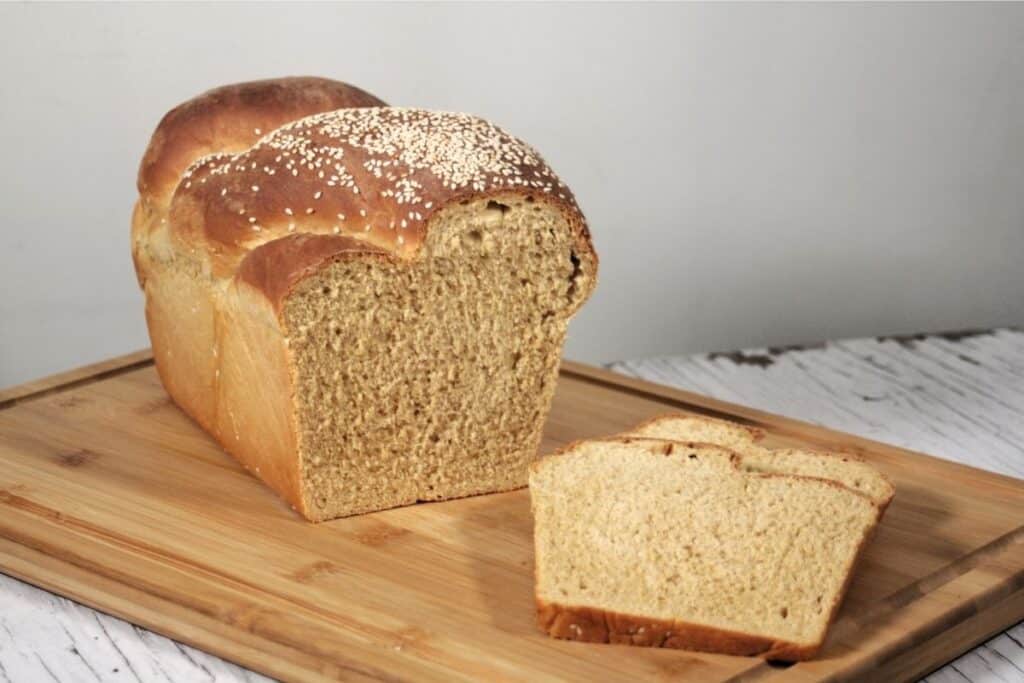 If molasses truly isn't your thing, honey would likely work as a substitute but the loaf will be very different.
Difficulty Level: Beginner
This is a fairly basic bread dough that even a beginner should be able to tackle. For intermediate or advanced bakers, play with the shape to improve skills.
Loaf Shapes
For the loaf picture, I simply divided the dough in half and formed ropes with the dough. I rolled one rope in sesame seeds, then twisted to the two ropes together and placed in a bread pan for the second rise.
However, one could just as easily just roll the whole bit of dough in sesame seeds and form into a loaf and place in bread pan to bake. Skip all the twisting.
Skipping the roll in sesame seeds is also an option.
A braid of bread would be lovely. Round or oblong shapes could also easily be accomplished.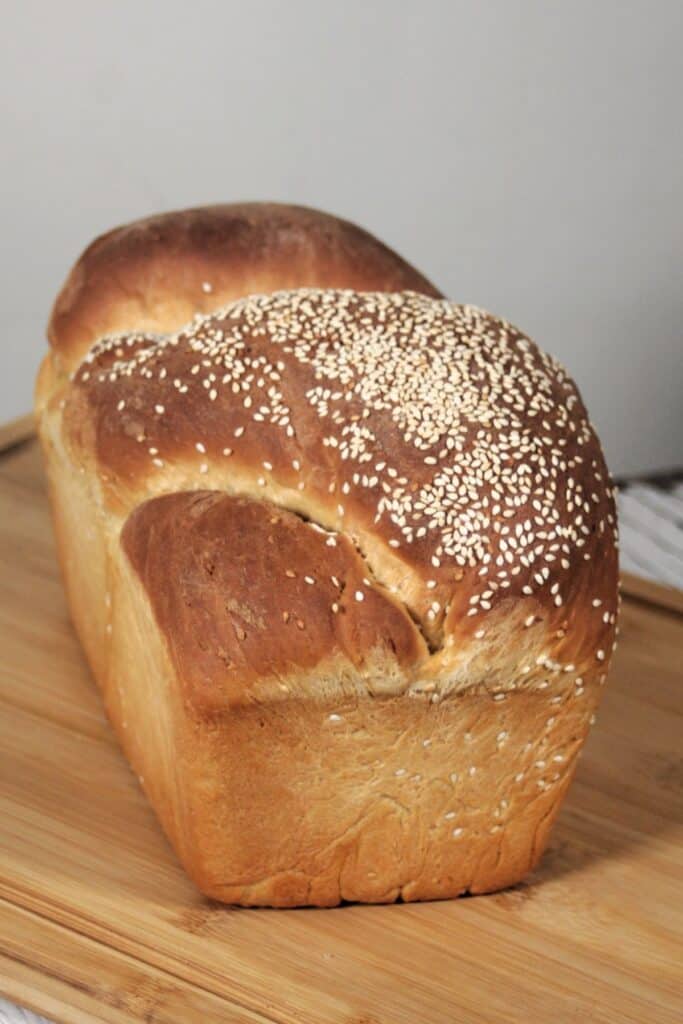 Make Extra & Freeze
The recipe makes only 1 loaf, however it would be easy to double to make more and freeze for later.
To freeze, simply place cooked and cooled loaves into airtight bags and freeze.
Alternatively, slice the bread and freeze slices in airtight bags. Freezing slices allows you to just grab what you need instead of an entire loaf at one time.
Use up within 6 months for best flavor and to prevent freezer burn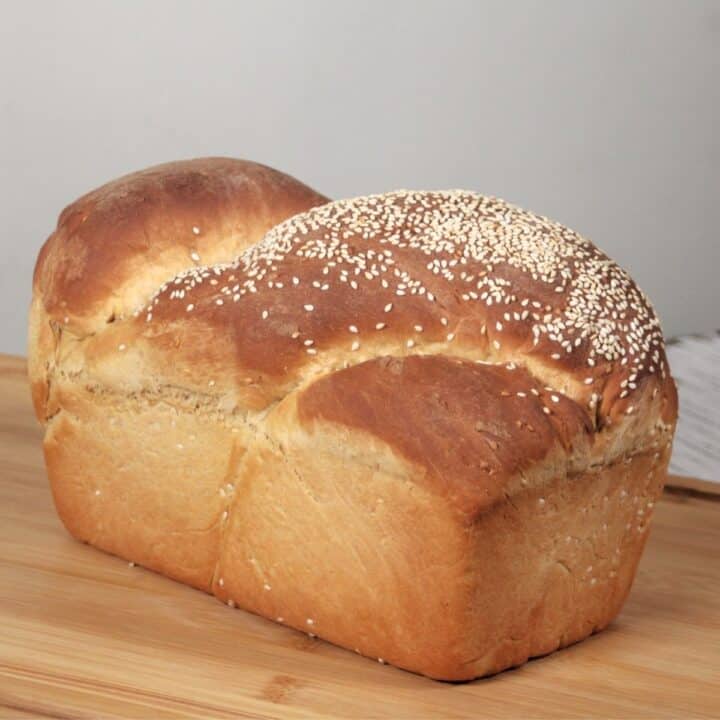 Sesame Bread
Rising Time:
1 hour
30 minutes
Total Time:
2 hours
30 minutes
A lightly sweet and moist loaf full of sesame seed crunch perfect for sandwiches and toast.
Ingredients
1 Cup Milk
2 Tablespoons Butter
1/2 Cup Warm Water
1 Tablespoon Dry, Active Yeast
1 1/2 teaspoons Salt
1/4 Cup Molasses
1/3 Cup Sesame Seeds
3 1/2 Cups Bread Flour
Optional Topping
3 Tablespoons Sesame Seeds
Instructions
In a small saucepan, gently heat the milk and butter. The butter should be melted. Let cool to about 120 degrees Fahrenheit.
In a large bowl, combine the water and yeast. Let sit until foamy about 10 minutes.
Add the milk mixture, molasses, and 2 cups of flour to the yeast mixture. Stir well.
Add the salt and more flour until a dough begins to come together.
Knead until the dough is smooth and elastic.
Place the dough in a bowl and cover with a towel. Allow to rise until doubled, about 1 hour.
Punch down the dough. Knead and place in a greased bread pan.
Alternatively, divide in half.
Roll each half between palms and floured board to form two ropes, about 12 inches long each.
Sprinkle the board with the 3 Tablespoons of sesame seeds for the topping and roll one rope around to coat in seeds.
Twist the ropes around each other and pinch ends to seal.
Place the twist into a greased bread pan.
Cover the pan with a towel and let rise until about 1 inch above loaf pan rim.
Mean while preheat oven to 375 degrees Fahrenheit.
Bake loaf in preheated oven for 30-35 minutes or until golden and it sounds hollow when tapped with a knuckle.
Remove from pan immediately to cool completely on wire rack before slicing.
Recommended Products
As an Amazon Associate and member of other affiliate programs, I earn from qualifying purchases.
Nutrition Information:
Yield:

16
Serving Size:

1 slice
Amount Per Serving:
Calories:

170
Total Fat:

4g
Saturated Fat:

1g
Trans Fat:

0g
Unsaturated Fat:

2g
Cholesterol:

5mg
Sodium:

221mg
Carbohydrates:

28g
Fiber:

2g
Sugar:

4g
Protein:

5g
I try but cannot guarantee this nutritional information is 100% accurate.