Flavorful, sweet, and rich rum raisin bread is a delight for breakfast and brunch.
Complex in flavor because of the rum soaked raisins and long, slow ferment this tastes like a very decadent bread but yet is quite hands off to assemble.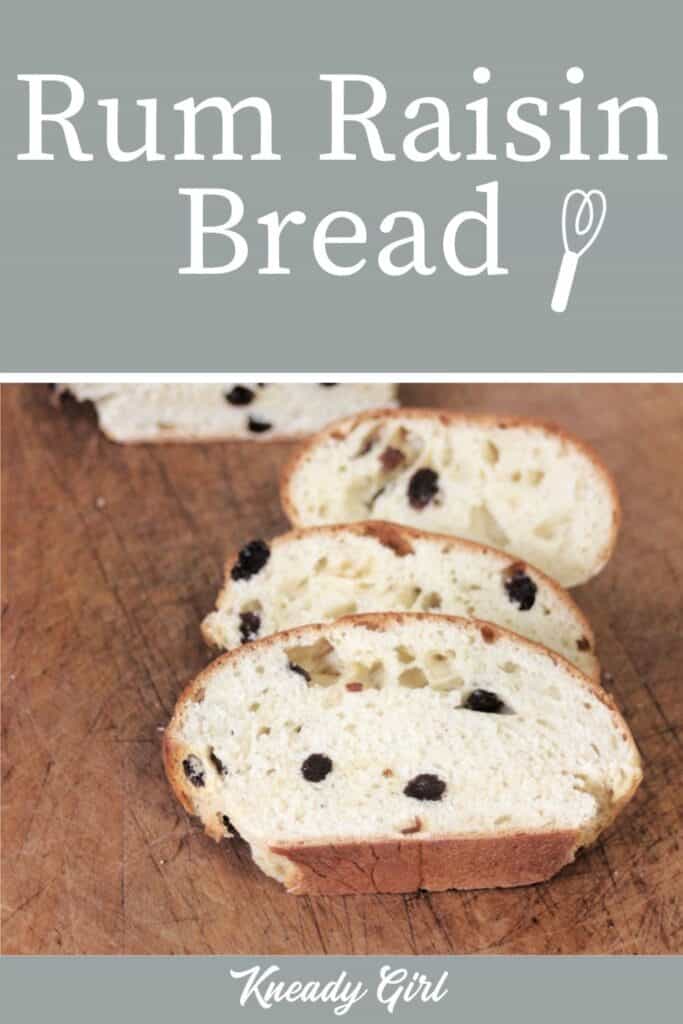 Pre-Ferment
This rum raisin bread recipe requires some prep work. Thankfully, the actual work is easy and quick but it does mean planning ahead to allow everything to sit.
The pre-ferment is simply bread ingredients allowed to get bubbly for a more flavorful and airy loaf later.
Soaking the Raisins
Don't skip this step. While the pre-ferment is doing its thing, let the raisins plump up in and absorb the rum.
Again, this takes 2 minutes – put the rum and raisins in a jar. Then let sit for a couple of hours.
Basic Egg Bread
The rest of the recipe is a straightforward egg bread recipe. Simply combine everything knead, rise, shape, rise, bake. That's honestly it.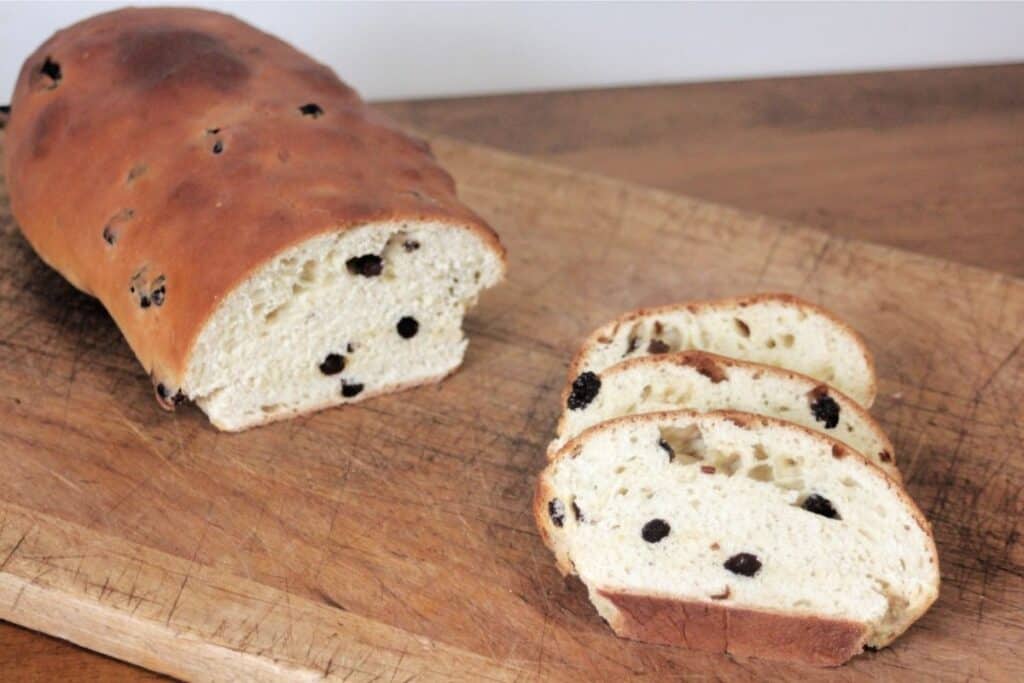 Shaping Loaves
I went with just oblong loaves pictured here. However, this is a beautiful dough to braid for fancier loaves, if desired.
Other choices include: baking in loaf pans or baking as round loaves. There's truly no right or wrong just do what feels good.
Difficulty Level: Intermediate
Again this is a pretty straightforward and basic recipe but it does require a skilled with the kneading so that it becomes a rich dough rather than a regular loaf of bread. It's a great recipe for someone wanting to move up from beginner recipes.
Ways to Use
While this is a fine bread for simple toast with nut butter or jam for breakfast it has some other special uses as well.
Do use it as a tasteful base for French toast and serve with warmed maple syrup.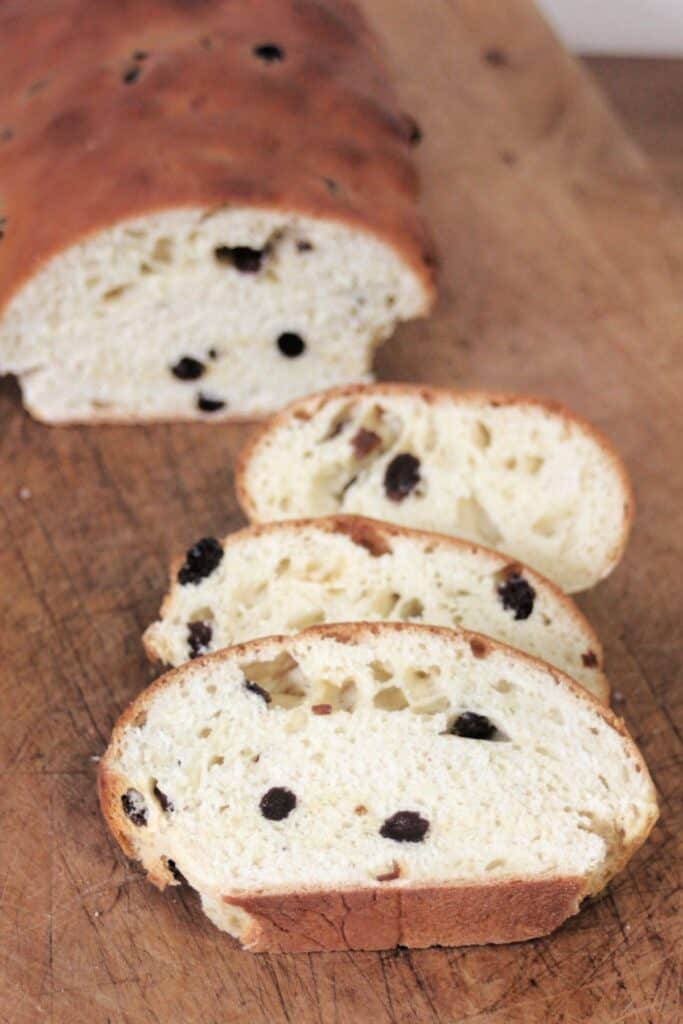 Make a very flavorful bread pudding from day old cubes of rum raisin bread and skip adding other raisins to the recipe.
How to Freeze the Bread
For longer term storage, wrapped the cooled loaf in plastic wrap and freeze. Or slice and place the slices into a freezer bag and freeze.
Use up frozen bread within 6 months for best flavor. Let frozen bread thaw on the counter prior to serving.
Looking for Other Raisin Breads?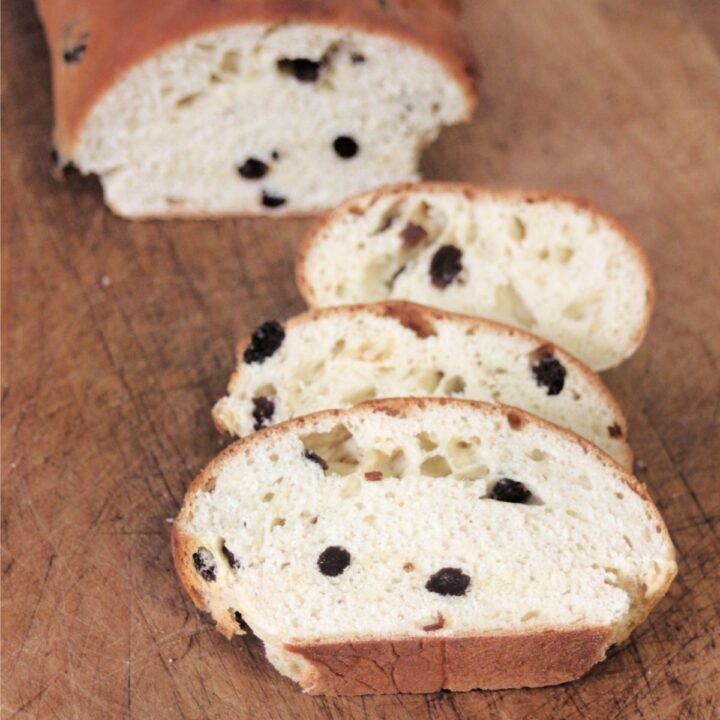 Rum Raisin Bread
Prep Time:
2 hours
20 minutes
Rising Time:
1 hour
30 minutes
Total Time:
4 hours
25 minutes
Lightly sweet and rich rum raisin bread is perfect for toasting and snacking
Ingredients
Pre-Ferment
1 Tablespoon Dry, Active Yeast
1 Cup Warm Water
1 Cup Unbleached, All-Purpose Flour
Rum Raisins
1/2 Cup Rum
1 Cup Raisins
Bread Dough
2 Eggs
1/4 Cup Honey
1/4 Cup Salted Butter, melted
2 teaspoons Salt
3 1/2 Cups Unbleached, All-Purpose Flour
Instructions
Pre-Ferment
Combine the yeast, water, and flour in a large bowl. Mix completely.
Cover the bowl with a tea towel and let sit at room temperature for 2 hours.
Soak Raisins
Put the raisins in a wide-mouthed jar and cover with the warm. Push the raisins down so that the raisins are covered with the rum.
Cover the jar loosely with a lid and let sit with the yeast mixture pre-ferments.
Make the Dough
Add the rum soaked raisins and all the rum to the pre-ferment mixture.
Stir in the eggs, honey, melted butter, salt, and 3 cups of flour. Stir well.
Add a little more flour as necessary, until a dough begins to form.
Turn dough out to a floured board and knead until soft and elastic.
Put the dough into a greased bowl, cover with a tea towel and let rise 1 hour. It will not quite double.
Divide the dough in half and form into loaves. Place the loaves on a greased baking sheet. Cover with the baking sheet with a tea towel. Let rise 30 minutes.
Meanwhile, preheat the oven to 375 degrees Fahrenheit.
Bake the risen loaves in the preheated oven for 35 minutes or until crust is golden and sounds hollow when tapped with a knuckle.
Remove from baking sheet and let cool on wire racks.
Nutrition Information:
Yield:

32
Serving Size:

1 slice
Amount Per Serving:
Calories:

111
Total Fat:

2g
Saturated Fat:

1g
Trans Fat:

0g
Unsaturated Fat:

1g
Cholesterol:

15mg
Sodium:

150mg
Carbohydrates:

20g
Fiber:

1g
Sugar:

5g
Protein:

3g
I try but cannot guarantee this nutritional information is 100% accurate.