Light and sweet, filled with chewy bits of dried fruit, and that amazing spice swirl, Cinnamon Raisin Bread is a delight to make and eat!
While the presentation is quite lovely, the technique to making a cinnamon swirl bread is uncomplicated.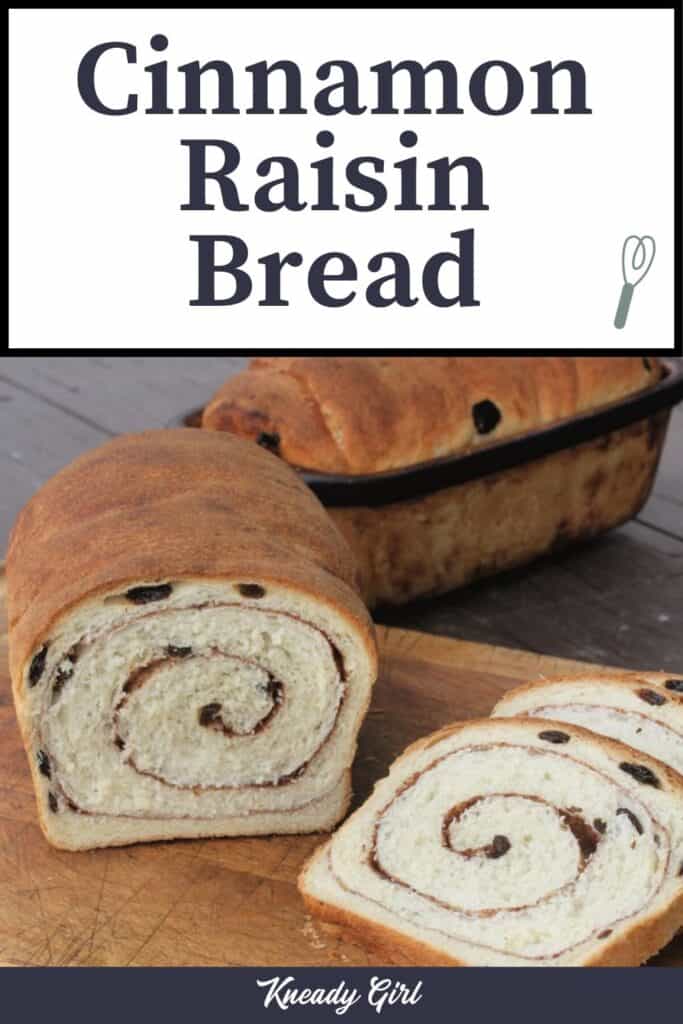 Simple Ingredients, Glorious Flavor
There is nothing in this recipe that is especially unique on its own. The ingredients are basic and simple. Most are probably already in the pantry all the time.
And yet, when they combine with that little swirl appearance something quite magical happens.
Difficulty Level: Intermediate
This isn't much different than a basic bread dough. If you have the basics of baking bread down, know how to knead and shape this is the perfect next level bread to try. The rolling and spreading of cinnamon sugar is easy enough, do try to get the roll tight when rolling it back up, that's the only next level skill.
Amazing Toast
Cinnamon raisin bread is just fine sliced and eaten fresh. More than fine, really. However, these loaves make excellent toast. It's one of our most favorite breakfast breads for that reason.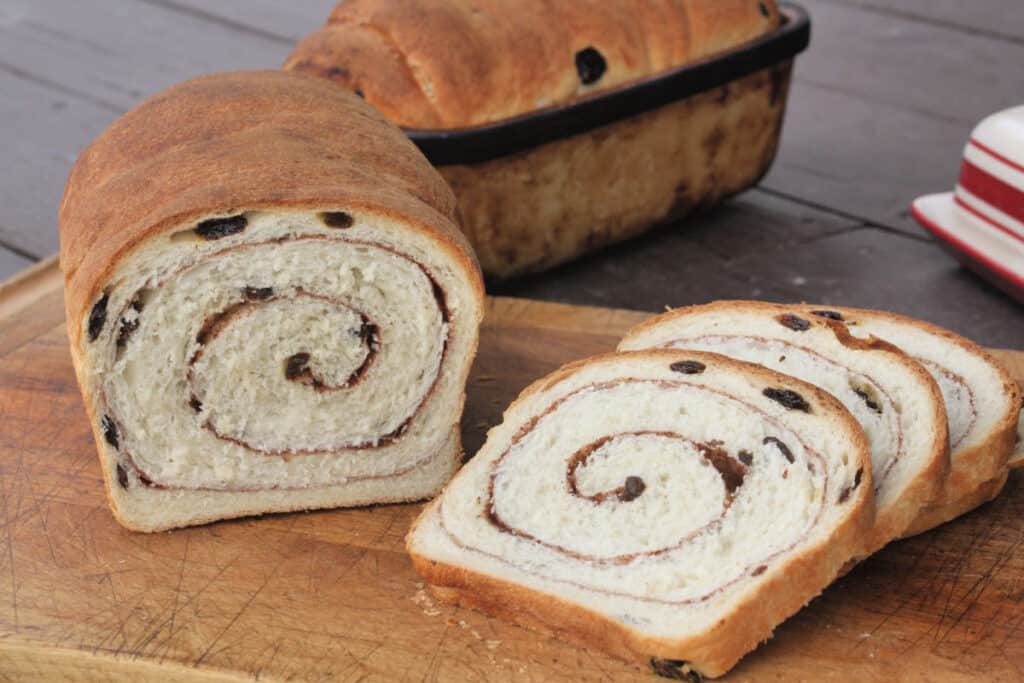 Once toasted, slather on a little butter for something simple but delicious. It's also quite good with a bit of nut butter in my opinion.
And French Toast
Most any bread works well for french toast but using this bread will take it to a whole new level.
Just make it like you would any french toast, dip the slices in some eggs, and fry up. Enjoy with butter and syrup or some jam.
Perfect for Sharing
There's something about this bread that makes people smile. It's great for giving as a gift to someone you love. It's the most amazing breakfast to share with house guests.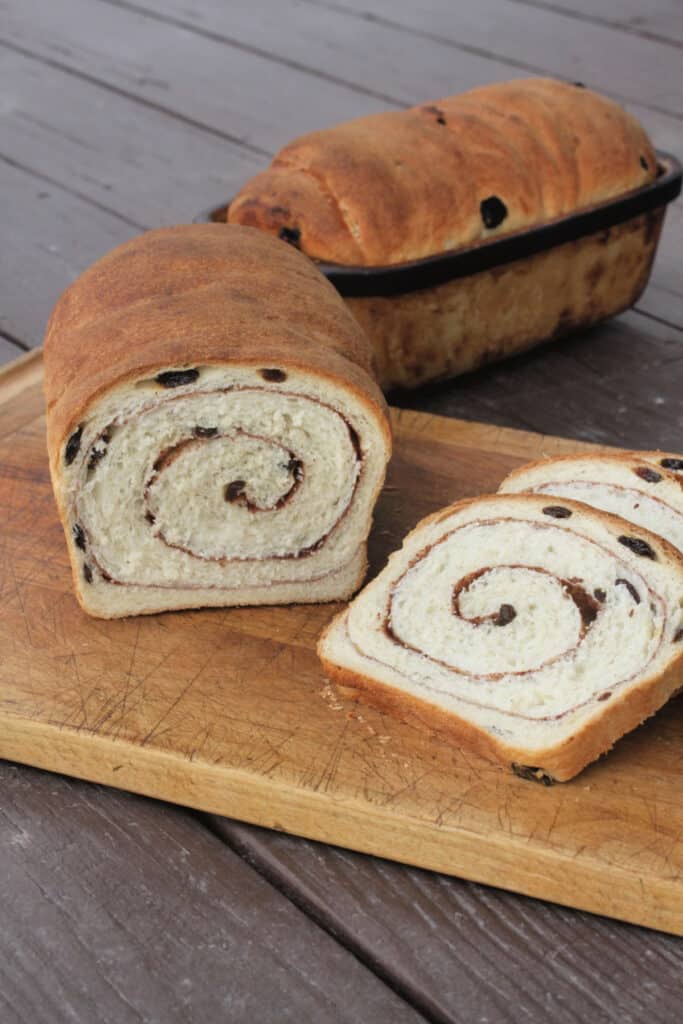 Freeze for Later
This bread freezes perfectly for later. Freezing it now, means having some to serve those house guests in a few weeks when time to actually make the bread might be tight.
Make the loaves and let them cool completely. Store the loaves in airtight bags and freeze.
Alternatively, slice the bread first. Put the slices in airtight containers and freeze. Having it already sliced means you can pull just a little out at a time when the urge to have it hits.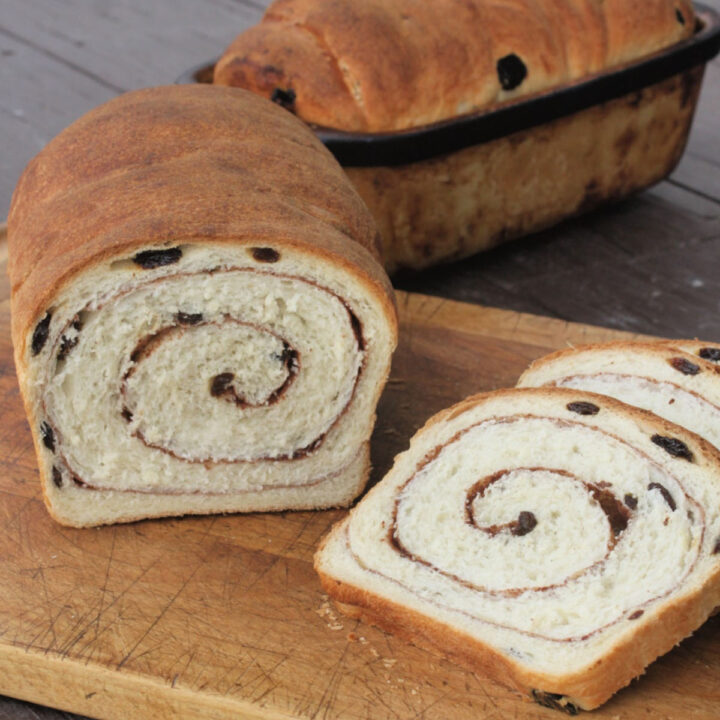 Cinnamon Raisin Bread
Total Time:
3 hours
5 minutes
A simple raisin bread complete with a cinnamon swirl that makes for great toast and gift giving.
Ingredients
1 Tablespoon Dry, Active Yeast
2 1/4 Cups Warm Water
3 Tablespoons Sugar
1 Tablespoon Salt
2 Tablespoons Butter, softened
6 Cups Unbleached, All-Purpose Flour
1 Cup Raisins
Water for Brushing Dough
2 Tablespoons Butter, melted for brushing crusts
Cinnamon Sugar Filling
1/2 Cup Sugar
2 Tablespoons Ground Cinnamon
Instructions
Dissolve the yeast and 1 Tablespoon of sugar in ½ Cup of the warm water. Let stand for 5 minutes, until frothy.
Stir in the remaining 1 ¾ Cups warm water, 2 Tablespoons sugar, salt, softened butter, and 3 ½ Cups of flour. Beat until smooth – use a wooden spoon or a mixer with a dough hook. Mix in the raisins and enough flour until a smooth, dense dough is formed.
Turn the dough out onto a floured counter and knead until it is smooth and elastic. Put the dough into a greased bowl. Cover with the bowl with a towel and allow the dough to rise until doubled, about 1 ½ hours.
While the dough rises, mix the cinnamon and sugar for the filling in a bowl and set aside. Have some water in a bowl and a pastry brush ready for the next step, as well.
Once the dough doubles, punch it down and turn it back out onto your floured counter. Knead the dough a bit to remove air bubbles; then split the dough into two halves. Roll each half into about an 11 by 17 inch rectangle.
Using your pastry brush, brush the dough with water until slightly moist. Sprinkle the cinnamon sugar mixture over the moistened dough, being sure to cover the dough evenly, leaving a ½ inch border all around the edge.
Roll up the dough, keeping it tight and pinch the ends to seal. Place the rolled up loaves into greased bread pans, seam side down.
Brush the tops of each loaf with melted butter. Cover the pans with a towel and allow them to rise 30 to 45 minutes.
While the loaves are rising, preheat the oven to 425 degrees.
After the loaves have risen, bake them in the preheated oven for 25 to 35 minutes. The bread is done when it sounds hollow when tapped with your knuckle.
Remove the bread from the pans immediately and allow them to cool on wire racks.
Recommended Products
As an Amazon Associate and member of other affiliate programs, I earn from qualifying purchases.
Nutrition Information:
Yield:

28
Serving Size:

1 slice
Amount Per Serving:
Calories:

187
Total Fat:

4g
Saturated Fat:

2g
Trans Fat:

0g
Unsaturated Fat:

2g
Cholesterol:

4mg
Sodium:

276mg
Carbohydrates:

35g
Fiber:

1g
Sugar:

8g
Protein:

3g
I try but cannot guarantee this nutritional information is 100% accurate.