Buttermilk rhubarb bread is a delicious and easy way to use up some of spring's first harvest!
Super moist and flavorful while also being loaded with rhubarb pieces this delicious quick bread recipe is sure to become a seasonal favorite.
Uncomplicated in both ingredients and technique moist rhubarb bread will delight both baker and eater.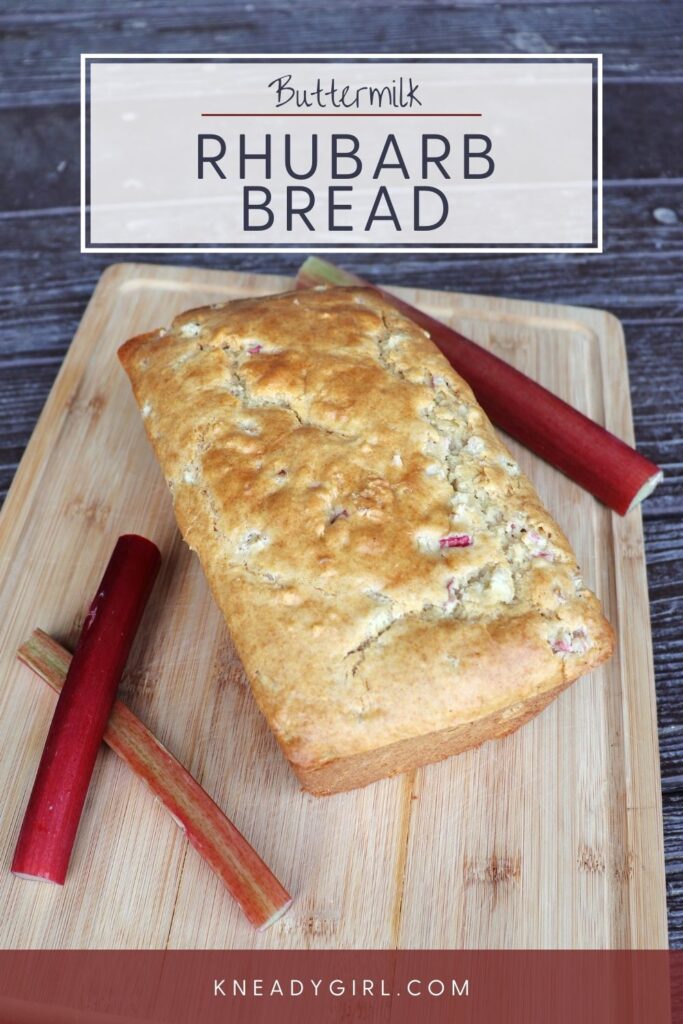 Simple Ingredients
If you've read or tried any of my other recipes, you know that I'm a fan of simple, everyday ingredients. This bread definitely follows that pattern. Nothing too fancy and as always there are some options.
Buttermilk
Buttermilk definitely gives this bread flavor and moistness. Real buttermilk will provide the best of all worlds but if you don't have any on hand and don't want to run to the store, you have options.
The powdered buttermilk sold in the baking aisle of the grocery store will work.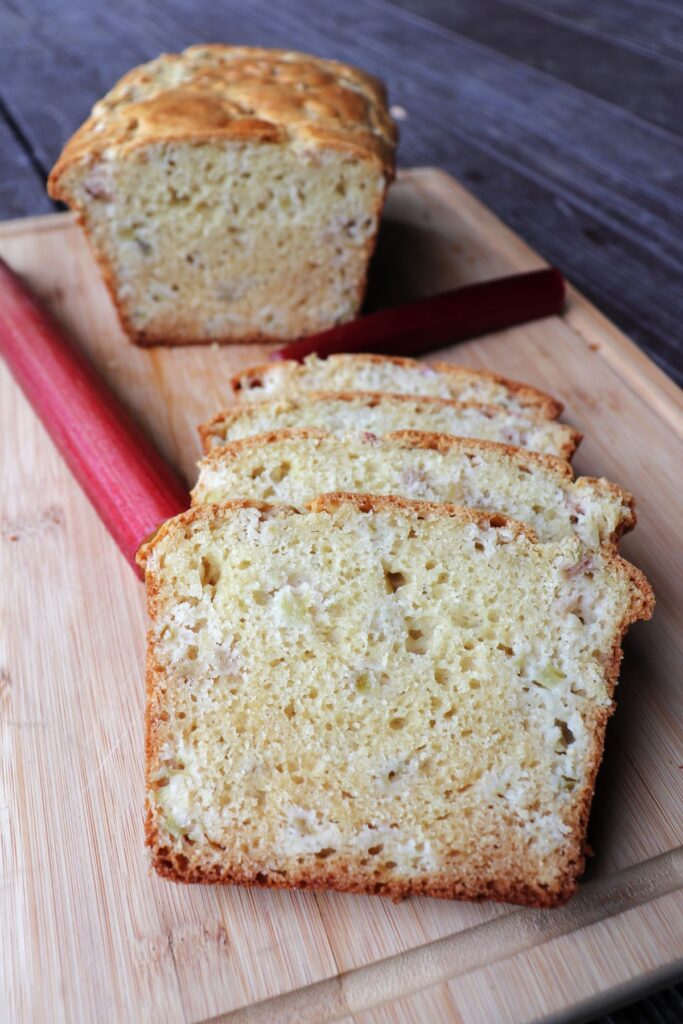 The soured milk trick – 1 cup of regular milk combined with 1 Tablespoon of vinegar or lemon juice and allowed to sit for a few minutes – works as a buttermilk substitute. It's not exactly the same but close enough.
Fresh Rhubarb
Rhubarb season tends to last a while, giving us ample opportunity to make multiple loaves of this great recipe.
If it's too hot to bake or you've had your fill of rhubarb recipes at the moment. Chop the rhubarb and freeze into pre-measured portions. Then you can thaw and bake this bread up later in the year.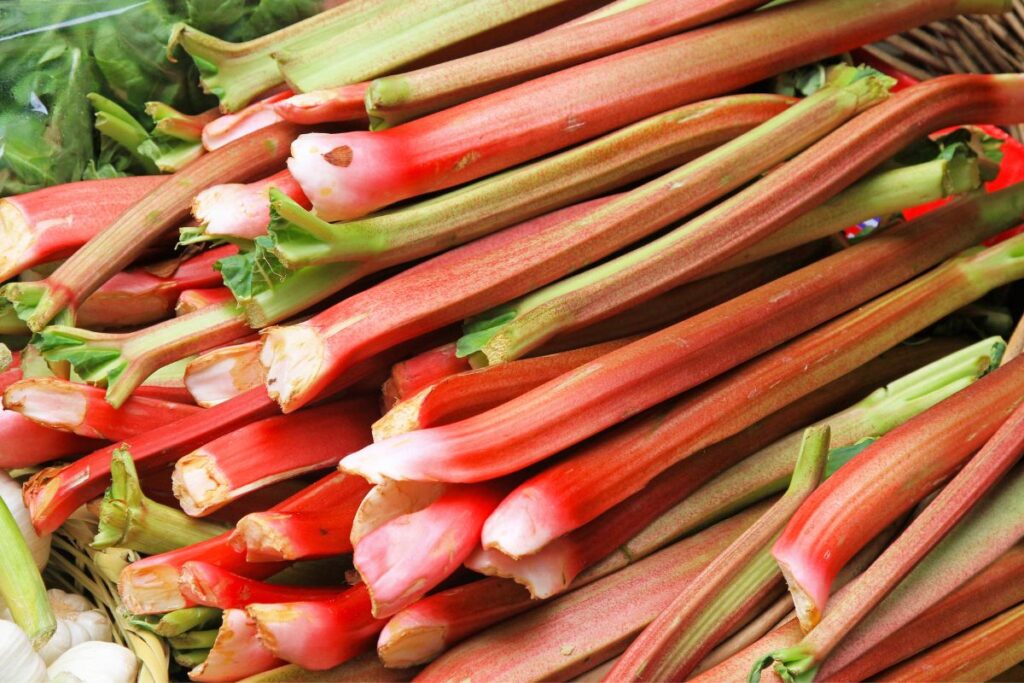 For this recipe, I did dice the rhubarb into small pieces, rather than just slice the stalks. Slices would likely work but be less distributed.
Butter
Admittedly this is a very dairy heavy recipe. Vegetable oil could be substituted for the melted butter, if desired.
If you use unsalted butter add 1/2 teaspoon of salt to the dry ingredients.
Sour Cream
I used full-fat sour cream in the recipes I tested. I imagine a low-fat would work.
Though, I didn't test it specifically, generally speaking, a plain Greek yogurt works as a substitute for sour cream in most recipes.
Optional Additions
Want to switch up your bread a bit? Consider these options:
Add the streusel topping from my rhubarb muffins to the top of the bread before baking.
Stir in up to 1 cup of chocolate chips to the bread.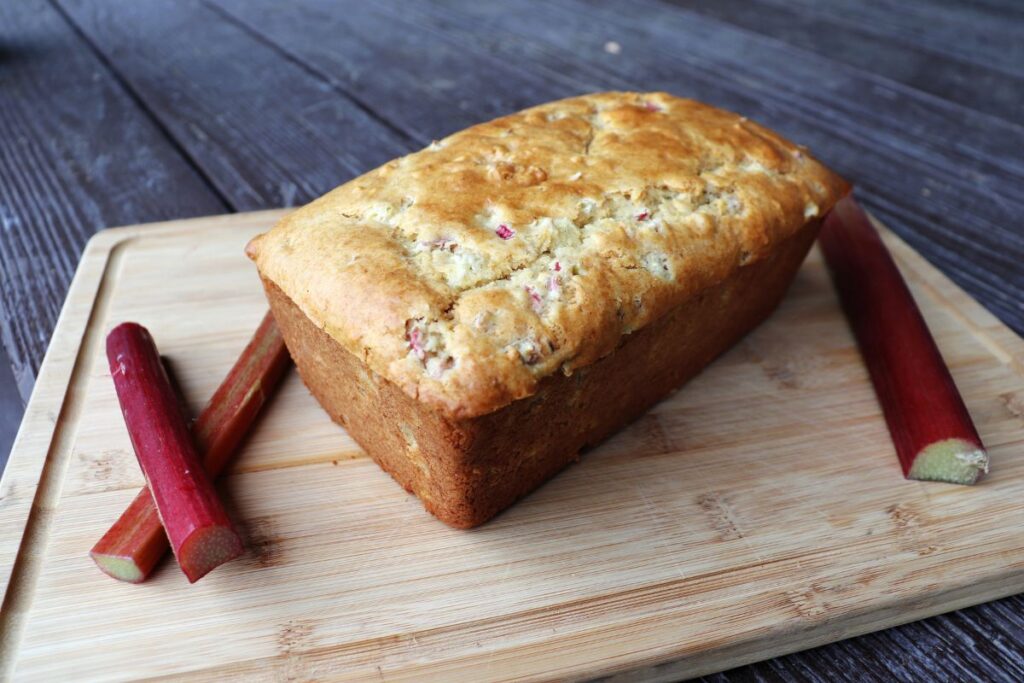 Drizzle the baked and cooled loaf of bread with a vanilla glaze or melted chocolate.
Fold in up to 1 cup of chopped nuts with the rhubarb for some hearty crunch.
Switch out half the rhubarb for chopped sweet strawberries for the always favorite strawberry rhubarb combination.
How to Serve
While we call this a tasty quick bread, it's definitely on the line of a rhubarb loaf cake and should be treated as a sweet treat.
Because it is sweet, it goes well at a brunch in combination with savory choices like eggs and bacon.
It's a great afternoon snack with tea or coffee.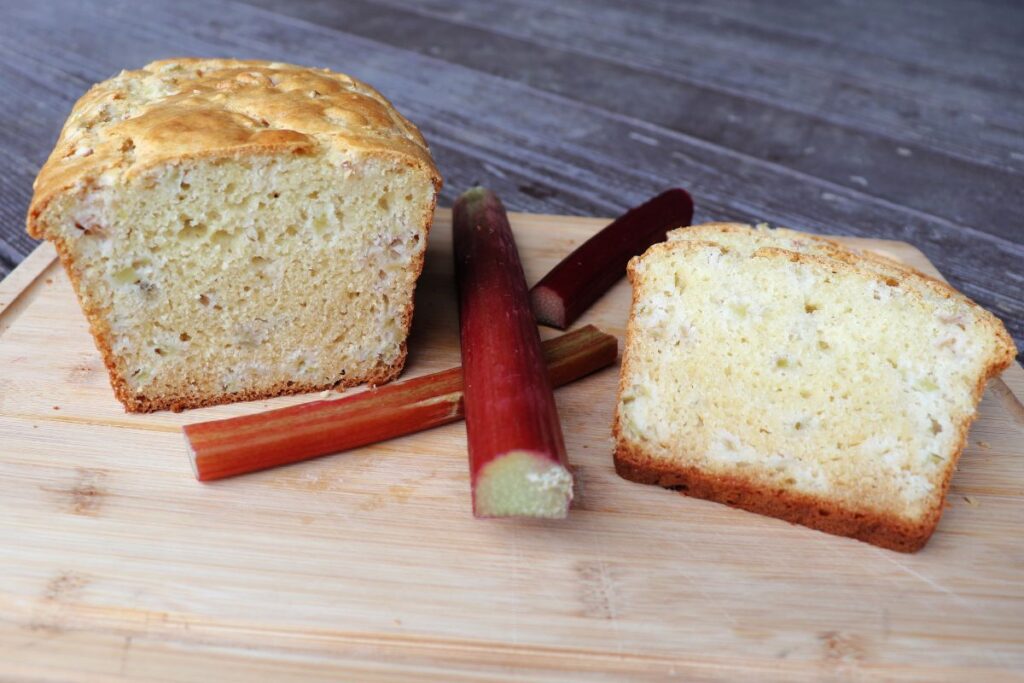 Definitely tuck into lunch boxes for a little mid-afternoon treat.
Make it dessert by dusting slices with powdered sugar or serving with a scoop of ice cream.
Bake it in a mini loaf pan instead and share with neighbors and friends – adjust the baking time as necessary.
How to Store
This bread will keep fresh if stored in airtight container at room temperature for about 4 days.
It freezes incredibly well, if you're inclined to make a double batch.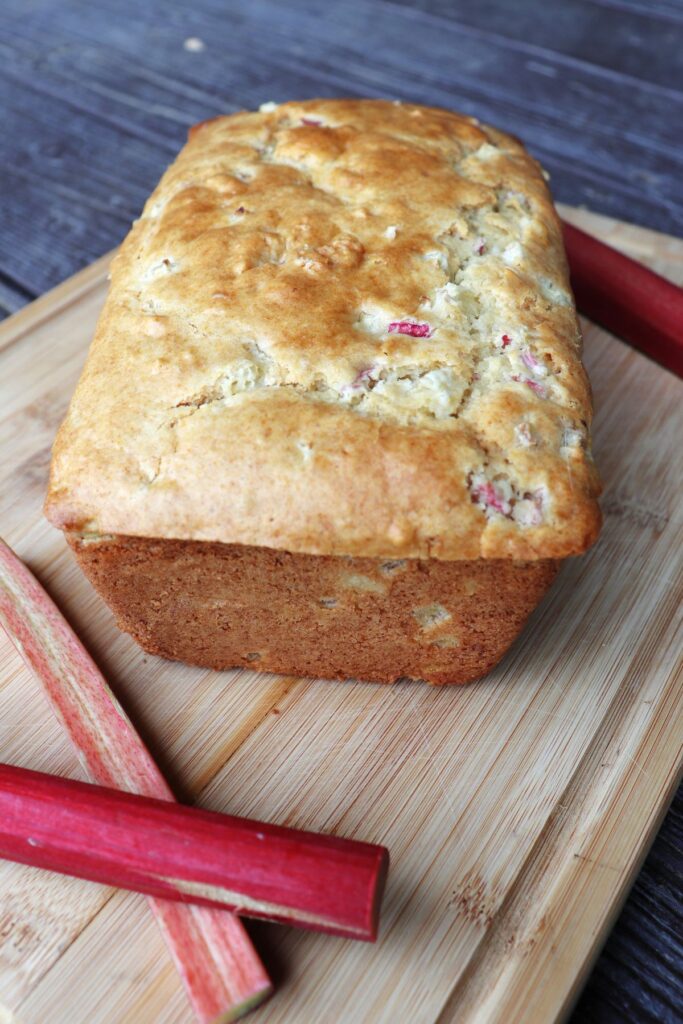 Simply put baked and cooled loaves into freezer bags or wrap tightly in plastic wrap and freeze.
Thaw frozen bread at room temperature prior to serving.
Use up frozen bread within 6 months for best flavor and to prevent freezer burn.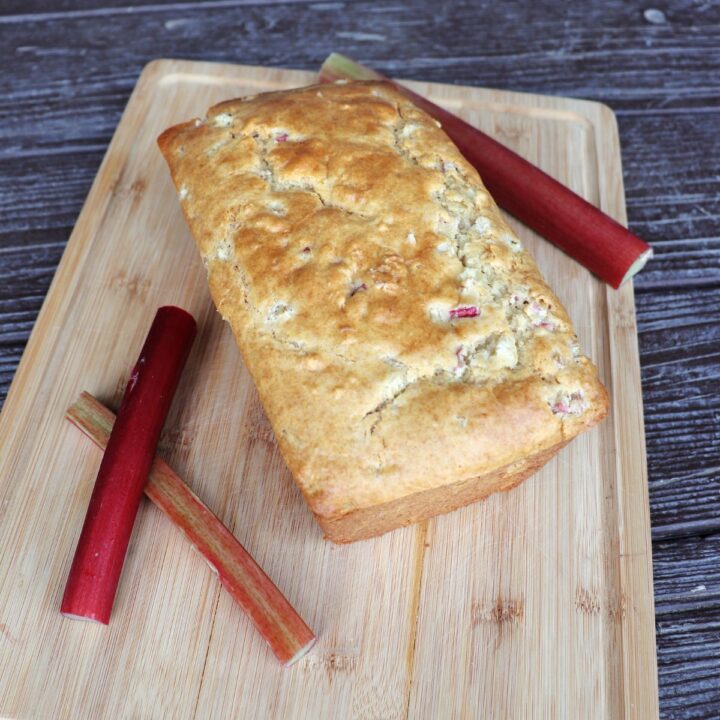 Buttermilk Rhubarb Bread Recipe
Total Time:
1 hour
15 minutes
Make this easy bread recipe full of spring flavor for a sweet treat everyone will enjoy!
Ingredients
1/2 Cup Salted Butter, melted
3/4 Cup Sugar
1 Egg
1/4 Cup Sour Cream
1 Cup Buttermilk
1 teaspoon Vanilla Extract
3 Cups Unbleached, All Purpose Flour
1 Tablespoon Baking Powder
1 teaspoon Baking Soda
1 1/2 Cups Rhubarb, diced
Instructions
Preheat oven to 325 degrees Fahrenheit.
Grease a loaf pan.
In a medium bowl, whisk together the melted butter, sugar, egg, sour cream, and buttermilk. Set aside.
In a large bowl, whisk together the flour, baking powder, and baking soda.
Pour the wet ingredients into the dry ingredients and mix until almost completely combined.
Fold in the chopped rhubarb and mix until everything is thoroughly combined.
Pour batter into the prepared pan, spreading evenly.
Bake in the preheated oven for 1 hour or until inserted cake tester comes out clean.
Cool bread in pan for 15 minutes.
2Remove from pan and cool on wire rack completely.
Nutrition Information:
Yield:

12
Serving Size:

1
Amount Per Serving:
Calories:

258
Total Fat:

10g
Saturated Fat:

6g
Trans Fat:

0g
Unsaturated Fat:

3g
Cholesterol:

39mg
Sodium:

335mg
Carbohydrates:

39g
Fiber:

1g
Sugar:

14g
Protein:

5g
I try but cannot guarantee this nutritional information is 100% accurate.