Show off the herb garden by making a loaf of fresh herb bread to share.
This easy homemade bread is made from savory herbs and looks beautiful on the dinner table.
Make this great recipe with any combination of herbs that will complement your main dish and that is easily on hand.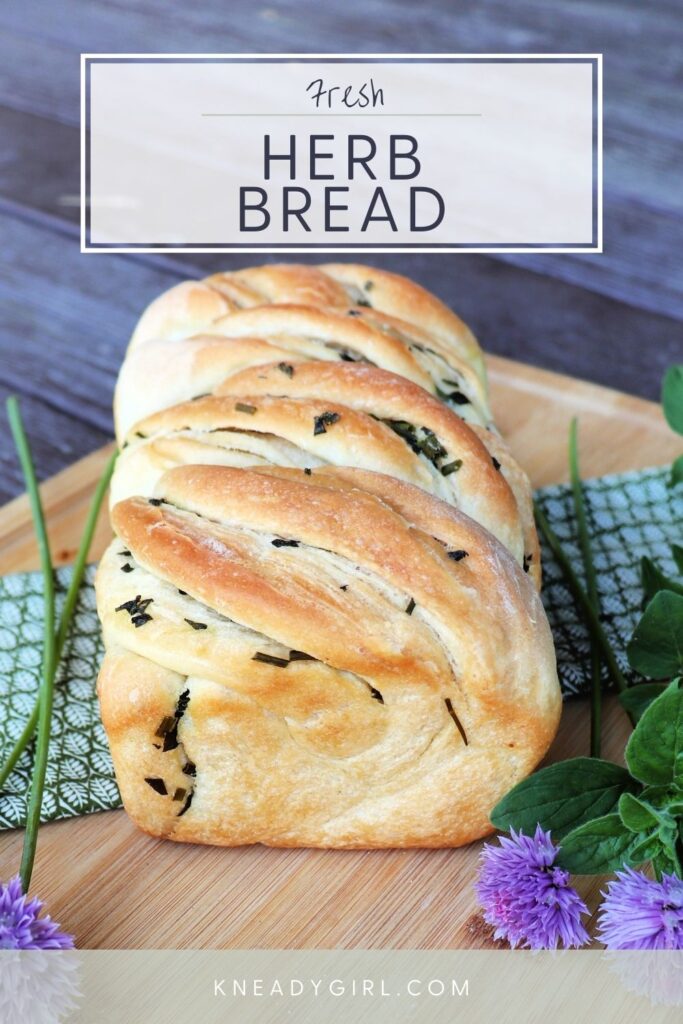 Fresh from the Garden
The great thing about this easy recipe is that it can easily highlight whatever fresh bit of herbs is growing in your garden right now.
You can choose to highlight just one herb like fresh rosemary or use a mixture of aromatic herbs for something extra flavorful.
Match the herbs to what you plan to serve the bread alongside. Serve it with pasta and make an italian herb bread, for example.
Not sure exactly what herbs to pair with your meal? It seems to me that garlic cloves and fresh parsley or snipped chives complement most anything.
Compound Butter
The herb filling is nothing more than an herb butter. An equal mixture of salted butter and fresh herbs.
Obviously this can be done on the fly as herbs are fresh in summer and immediately baked into fresh bread dough.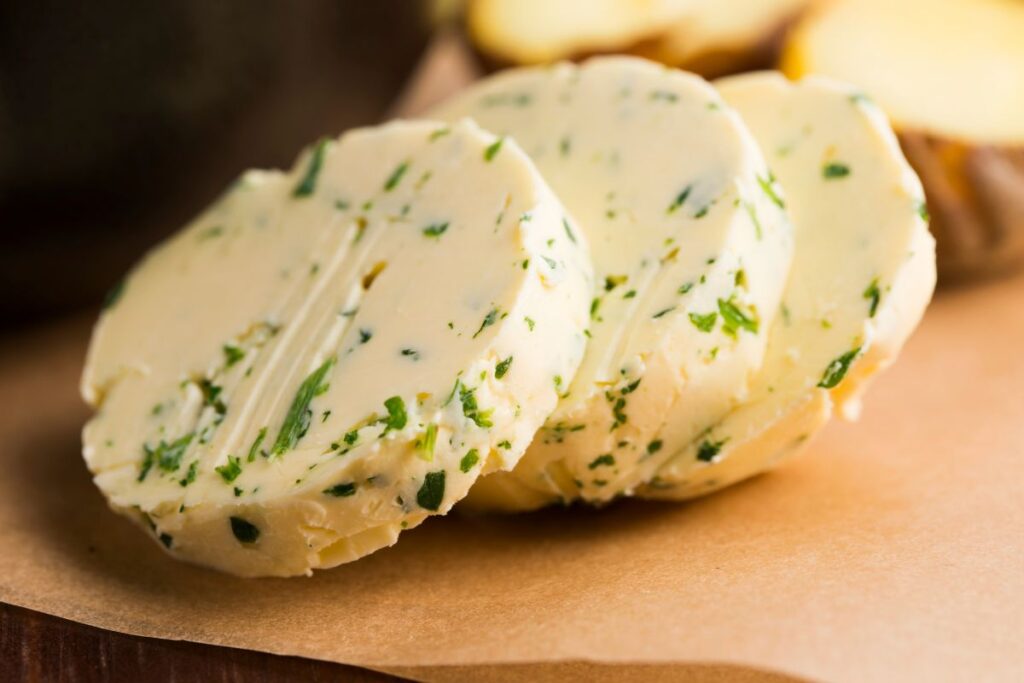 However, the herb butter can also be made ahead of time and frozen. Make your herb butter in different combinations as herbs are fresh in the summer months. Freeze that butter in hockey puck shapes and then store in freezer bags.
Let that herb infused butter thaw at room temperature and use it in the winter months to make this delicious yeast bread.
The Shape
I went with a twisted bread loaf simply because I love how those look and I knew that the bits of green herbs peaking through would be especially beautiful.
To achieve this, roll up the dough after it's been filled like you would for any swirl bread or cinnamon rolls.
Then slice that roll in half the long way, exposing the layers inside.
Place the two halves next to each other and simply twist them around one another, pinching the ends to keep it sealed.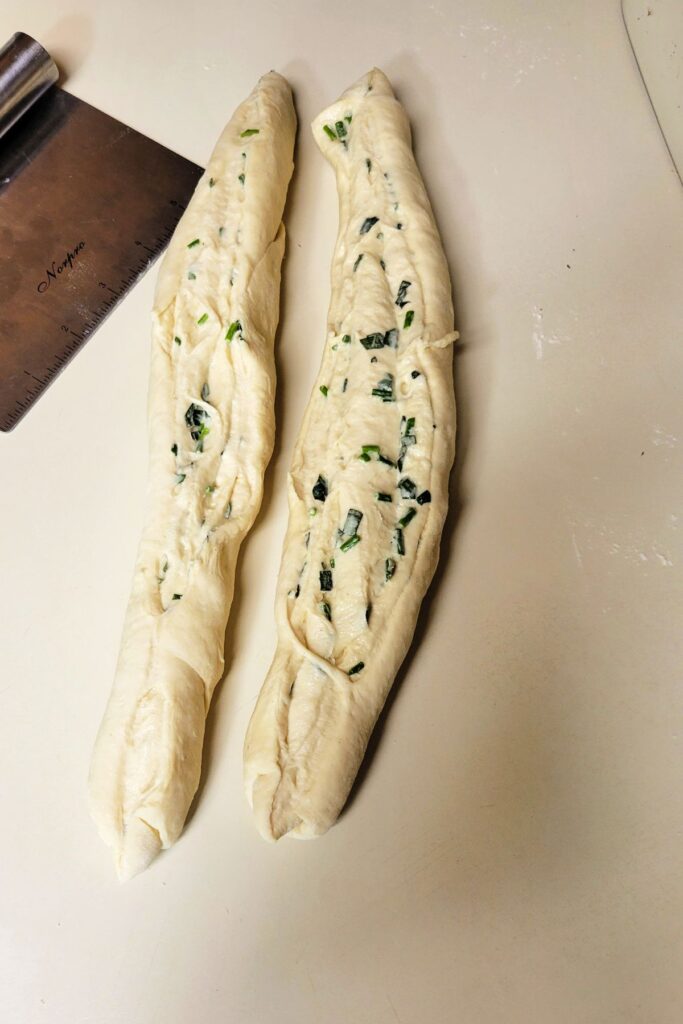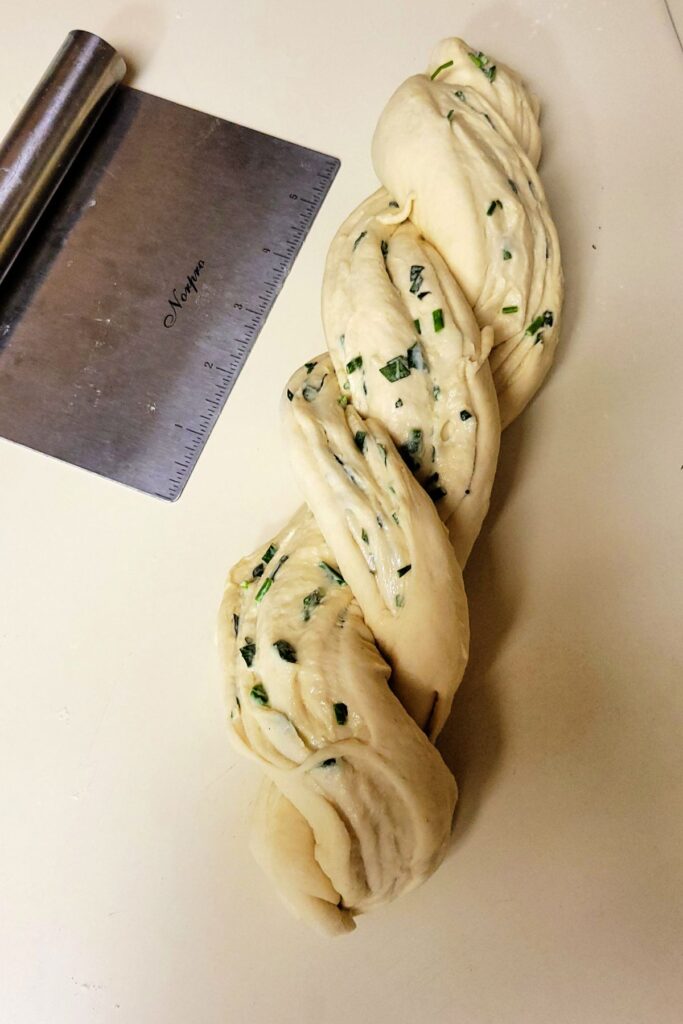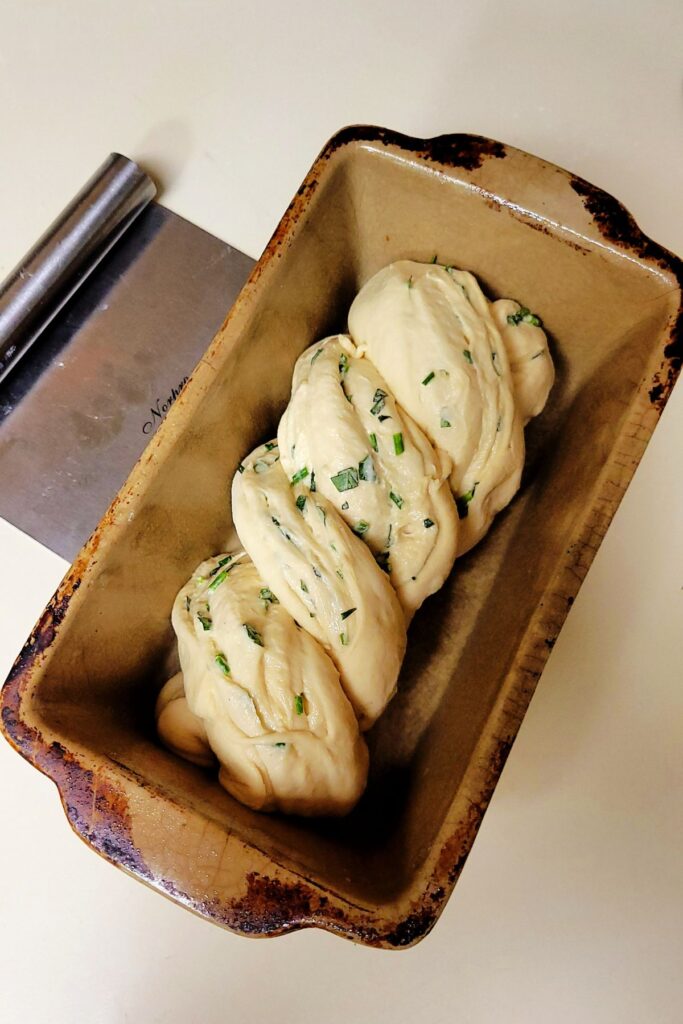 Put that twist into the prepared pan, let rise, then bake.
Don't want to do a twist? You don't have too. Simply leave it like a loaf of cinnamon swirl bread and bake it up.
Flour Choices
I went with basic all-purpose flour in the original recipe. It's easy and works perfectly.
Bread flour could easily be substituted, if preferred.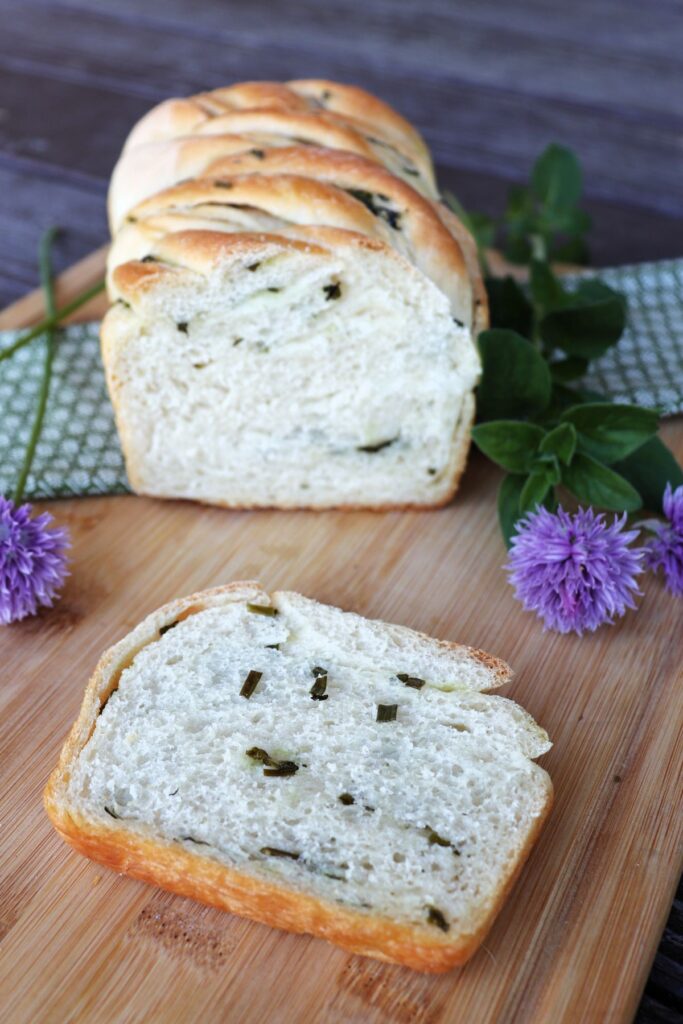 Make it whole grain by using some whole wheat flour or even rye for some of the all purpose flour.
As always, remember that different flours absorb water differently so add flour slowly until it reaches that elastic stage.
Liquid Choices
I went with water here. It's easy, of course, but also provided the lightness in texture that I was after.
Want something richer and denser? Use warm milk instead of warm water.
Use half water and half milk for something in between and completely delicious.
The Garlic
I added minced garlic straight to the bread dough because I think it infuses the entire loaf with flavor in a way that isn't overpowering at all.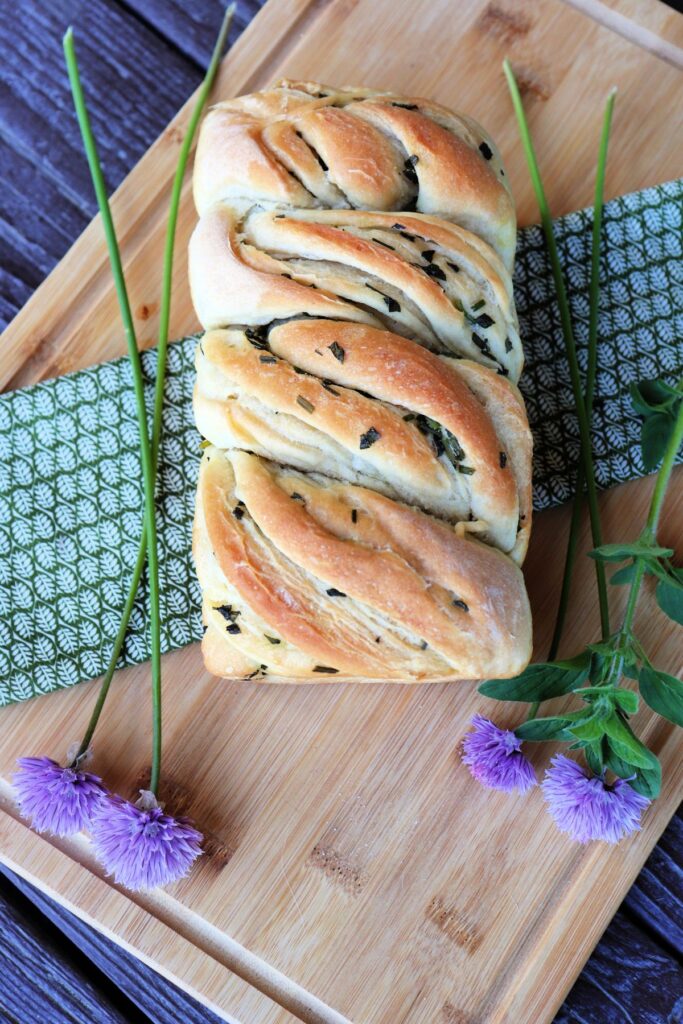 Feel free to add it to the herb butter instead, if you want the flavor layered differently.
The garlic can also be skipped if someone doesn't like it or can't eat it for some reason.
Other Additions
The recipe is great as written but there are some ways that you can switch it up if desired.
We quite like a bit of fresh cracked black pepper added in the herb butter. Go for that if desired.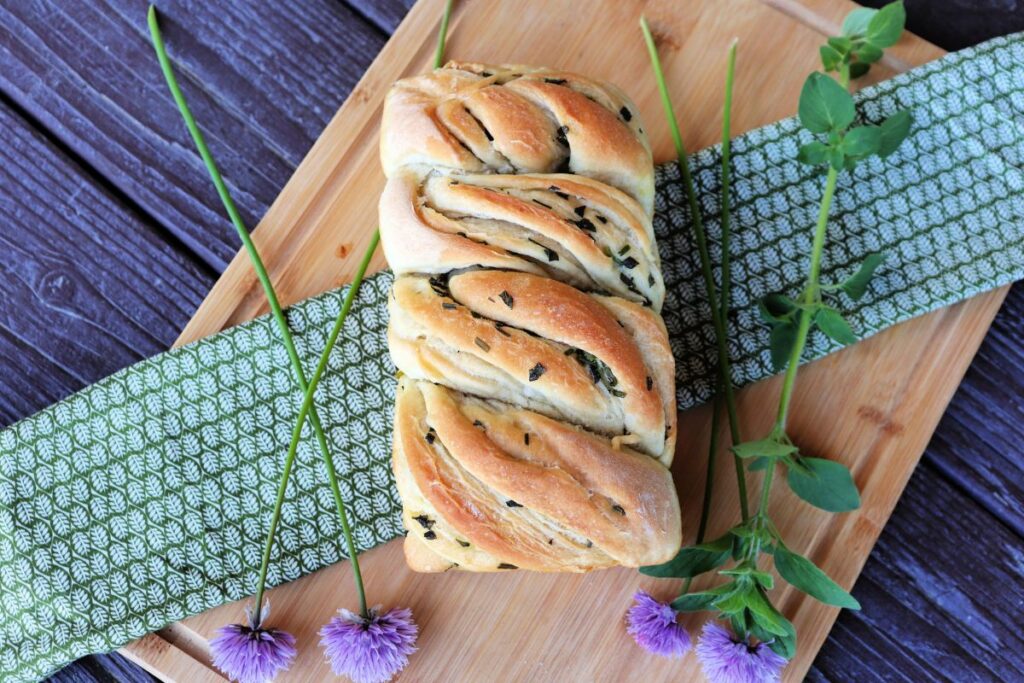 Add up to a cup of shredded cheese to the bread dough for cheesy herb bread.
Sprinkle some parmesan cheese over the herb butter before rolling it up for an extra bit of cheese and flavor.
Add 2 Tablespoons of poppy seeds for extra flavor and crunch.
Experience Level: Beginner
This is a basic bread recipe with just a little switch up in the filling. Most beginning bakers can feel confident in having success with this as one of their first bread recipes.
The twist shape might feel a little intimidating but is honestly, not that hard and could be skipped until more skill is gained.
How to Serve
Like all savory bread recipes, this loaf goes well with soup and salad meals.
It's a great bread with many pasta dishes, too. Heck, I can't think of a savory meal that it wouldn't make better.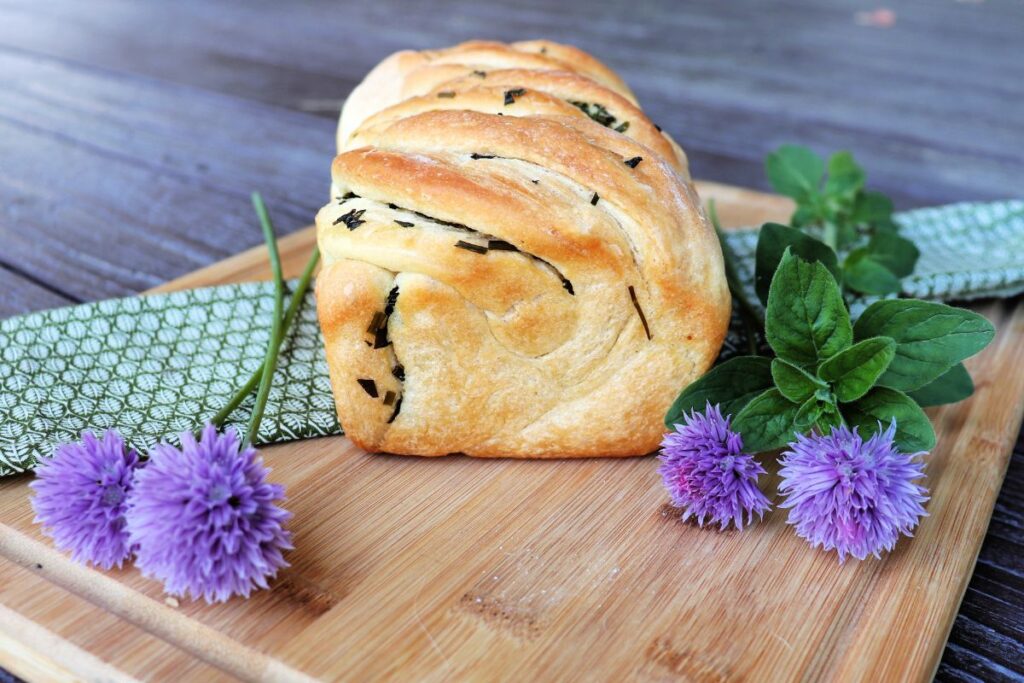 Slices definitely work as a sandwich bread.
It works perfectly for grilled cheese sandwiches.
Thick slices could be turned into toasted garlic bread for something extra flavorful.
How to Store
Keep fresh bread in an airtight container or plastic bag for up to 4 days for maximum freshness.
For longer term storage, place baked and cooled loaves in freezer bags and freeze.
Let frozen bread thaw at room temperature prior to serving.
Use up frozen bread within 6 months for best flavor.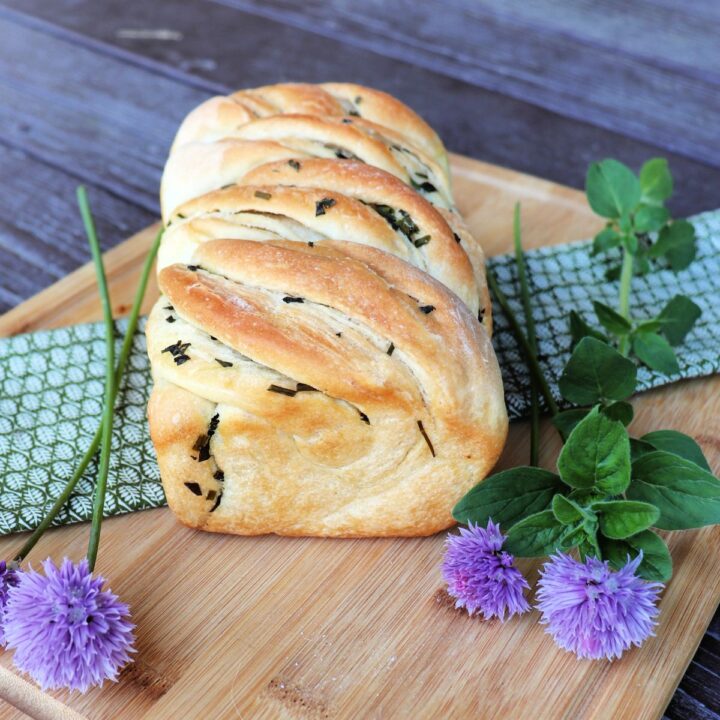 Fresh Herb Bread Recipe
Rising Time:
1 hour
30 minutes
Total Time:
2 hours
40 minutes
Make this flavorful and buttery bread for the perfect side dish to soups, salads, and more.
Ingredients
Bread Dough
1 1/2 teaspoons Active Dry Yeast
1 teaspoon Sugar
1 Cup Warm Water
1 teaspoon Salt
3 Cloves Garlic, minced
2 1/2 Cups Unbleached, All Purpose Flour
Herb Filling
1/4 Cup Salted Butter, Softened
1/4 Cup Fresh Herbs, minced
Instructions
Make the Bread Dough
In a large bowl, combine the yeast, sugar, and water. Let sit until foamy, about 5-10 minutes.
Add 1 cup flour, salt, and minced garlic to the yeast mixture. Mix until well combined.
Stir in another cup of flour and mix. Add more flour as necessary to form a soft dough.
Turn the dough out onto a floured board and knead until soft and elastic.
Grease a bowl and place dough inside, turning to coat.
Cover the bowl with a towel and let dough rise until doubled in a warm place about 45 minutes to an hour.
Make the Filling
Cream together the butter and herbs until soft and completely combined. Beat it all well.
Set Aside.
Finish the Bread
Grease a loaf pan.
Punch down the dough and turn out to a floured surface.
Knead the dough just slightly.
Using a rolling pin, roll dough out to an 11X9 inch rectangular - approximate doesn't need to be exact.
Spread the filling evenly onto the dough.
Roll the dough from the short end tightly.
Cut the dough log in half lengthwise, exposing the herb layers.
Twist the halves together and pinch ends together.
Place the twist into the prepared bread pan.
Cover with a clean towel and let rise in a warm location until doubled, about 30 minutes.
Meanwhile, preheat oven to 350 degrees Fahrenheit.
When risen, place pan in the preheated oven and bake for 40 to 45 minutes or until the top is golden brown and the bread sounds hollow when tapped with a knuckle.
Place the pan on a wire rack and let bread cool in the pan for 15 minutes.
Remove bread from the pan and let cool completely on the cooling rack.
Nutrition Information:
Yield:

12
Serving Size:

1
Amount Per Serving:
Calories:

133
Total Fat:

4g
Saturated Fat:

2g
Trans Fat:

0g
Unsaturated Fat:

1g
Cholesterol:

10mg
Sodium:

208mg
Carbohydrates:

21g
Fiber:

1g
Sugar:

0g
Protein:

3g
I try but cannot guarantee this nutritional information is 100% accurate.