Make this cheese scone recipe for a savory quick bread perfect for most any meal.
Buttery cheddar cheese scones are rich and easy to pull together to complete breakfast, lunch, or dinner.
The simple recipe is just like making a sweet scone but in a savory version and one you will make many times!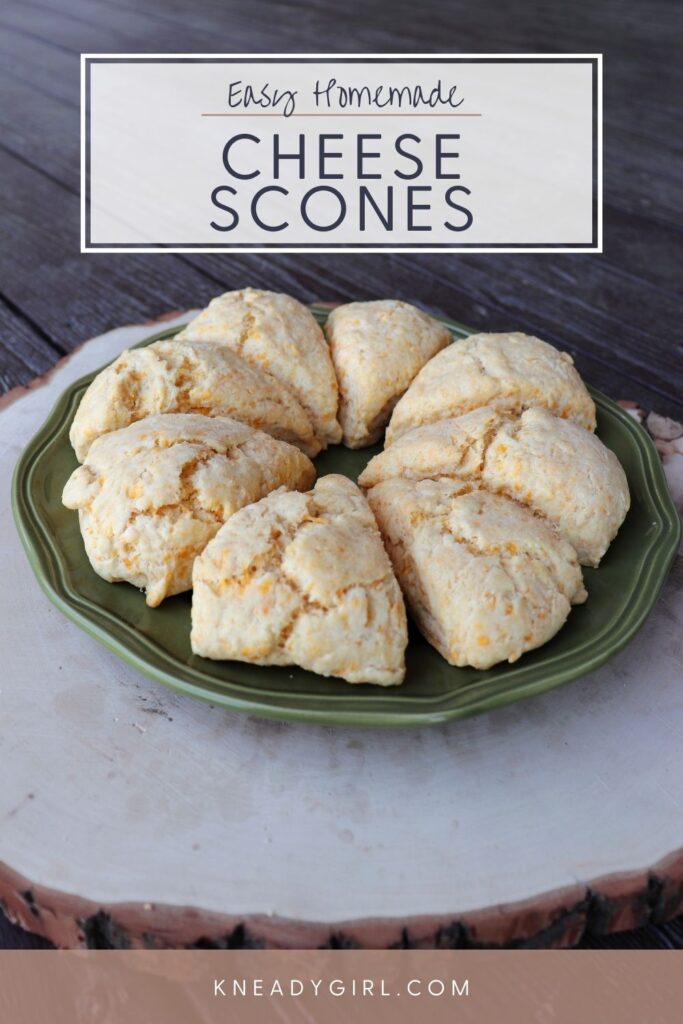 Basic Ingredients
Like all good scones there's nothing fancy here. The final result comes down to a balance of flavorful ingredients like cheese and butter. And really how can any of us go wrong with that?
Here are a few helpful hints to get the most out of those basics and get the perfect scone as a result:
Cheese
I did opt for sharp cheddar cheese in the photographs. We almost always have that on hand in our house and it's probably our favorite.
However, most any semi-hard or hard cheese would work. Parmesan, Mozzarella, Gouda, etc. I would skip the brie or cream cheese here.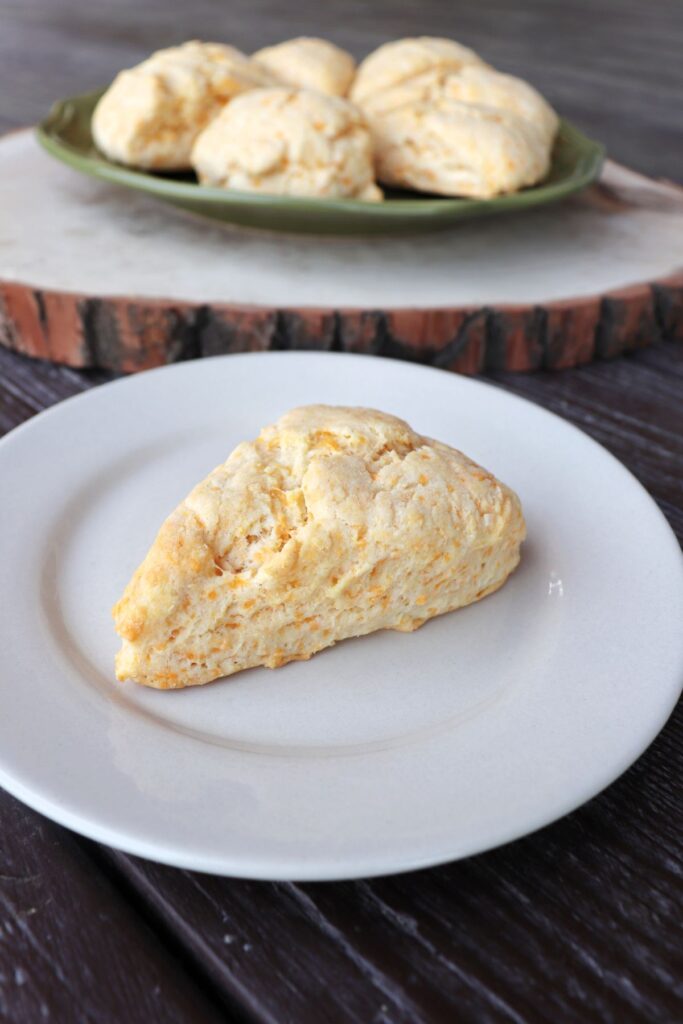 Truly most anything would work. Match the cheese to what you will serve it with for an excellent meal.
I included the weight instead of just cups for cheese so feel free to use pre-shredded or cubed or bits of cheese by weight instead of trying to figure out exactly how much cheese to put in a half cup.
Butter
I used salted butter because it's generally what I have on hand.
Cold unsalted butter could be substituted just add 1/2 teaspoon of salt to the recipe.
I didn't test it but I imagine shortening could also be used but again add some salt.
Milk
I used regular whole milk when I tested this recipe. Likely any milk or milk alternative, like almond milk, could be substituted.
Use heavy cream or buttermilk for even richer scones.
Flour
Basic all-purpose flour works well for for light scones that are flavorful and most people will enjoy.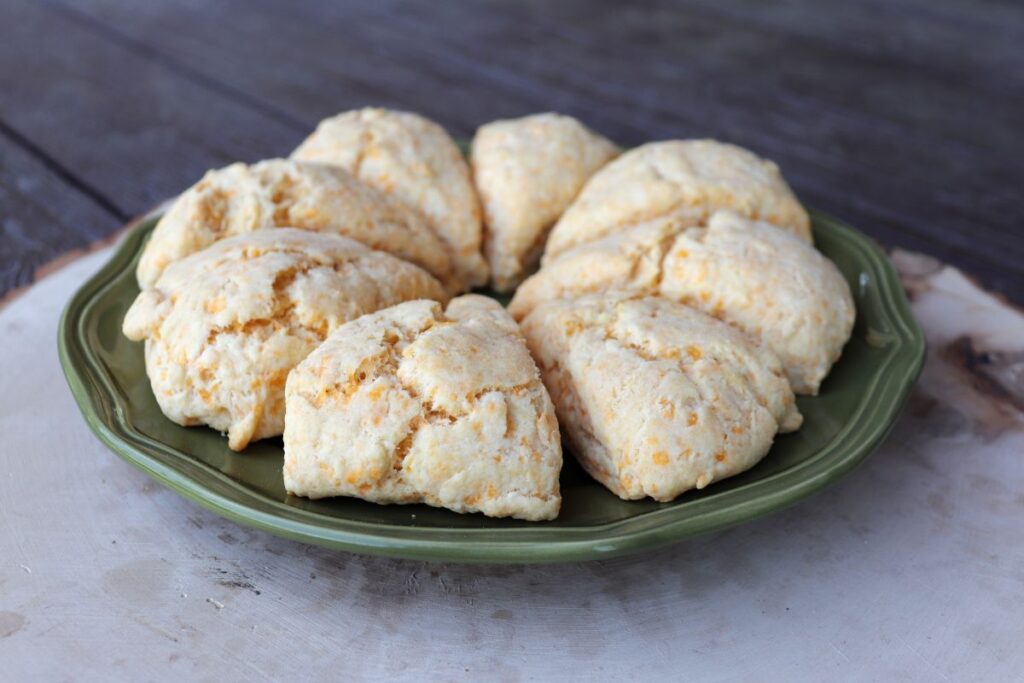 For a whole grain flavor, substitute up to half of the all-purpose flour with whole wheat flour, if desired. This result in a slightly heavier scone, not necessarily bad just a different texture.
Optional Additions
These savory scones are are pretty amazing just as the recipe is written, however; you can add a few things to make them your own or make them fit better into your meal plans.
Add up to 1/4 cup chopped herbs, like fresh chives or parsley.
Add up to 1/2 cup of sliced green onions.
Savory dried spices are also a perfect addition. Consider adding up to 1/2 teaspoon of cayenne pepper, garlic powder, or dry mustard powder for heat and bold flavor, more or less to taste. Simply add the spices to the flour mixture and then proceed with the recipe.
A good bit of fresh cracked black pepper is also quite nice.
Fold in up to 1 cup of diced leftover ham for a very filling bread. Some cooked, crisp bacon crumbled into the scone dough would also be quite tasty.
Food Processor
I will admit that I don't enjoy using the food processor most of the time. I generally opt for a pastry blender or my hands when making scone recipes.
However, using one here makes it easy to get the cheese evenly distributed into the dry ingredients.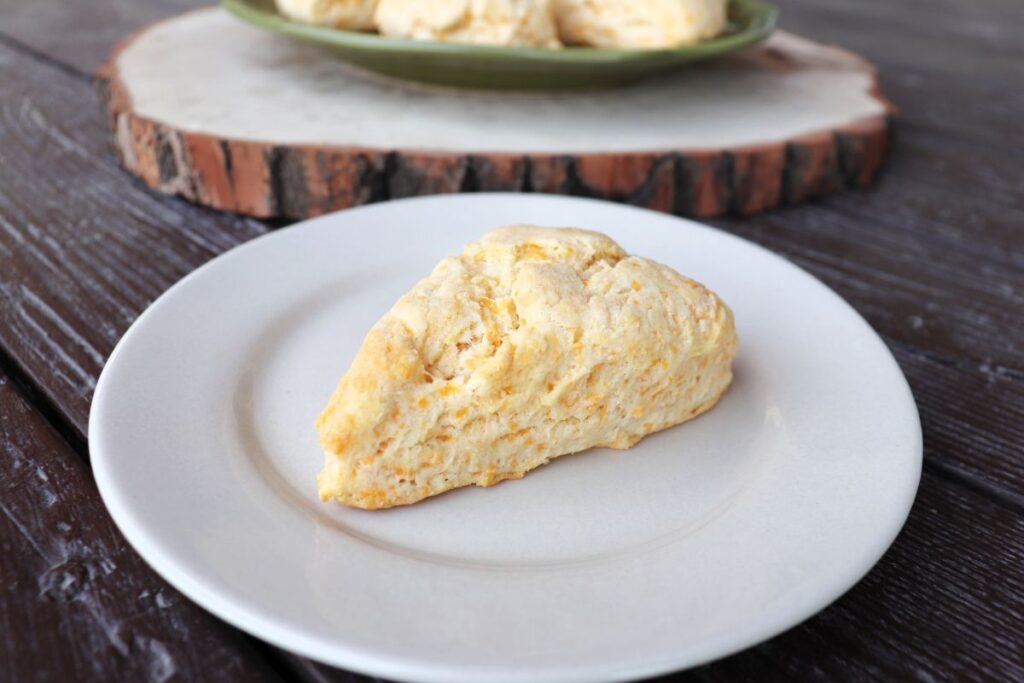 And it because of this that you can use finely grated cheese or even larger chunks crumbled into the flour and let the food processor do the work of making it all even.
If you don't have a food processor or just don't want to use it, then use grated cheese and mix however you normally would.
Shape
I simply prefer the triangle shapes in a scone. I find it easier and it makes it less likely to overwork the dough.
However, they can be rolled out and cut into round shapes, if desired. Simply keep re-rolling until all the dough is used up.
Watch the cooking time a bit more, depending how large or small the shapes are cut, as they may need more or less.
How to Serve
The great flavor of these fluffy scones go great with most any meal.
We definitely like them with bacon and eggs for breakfast.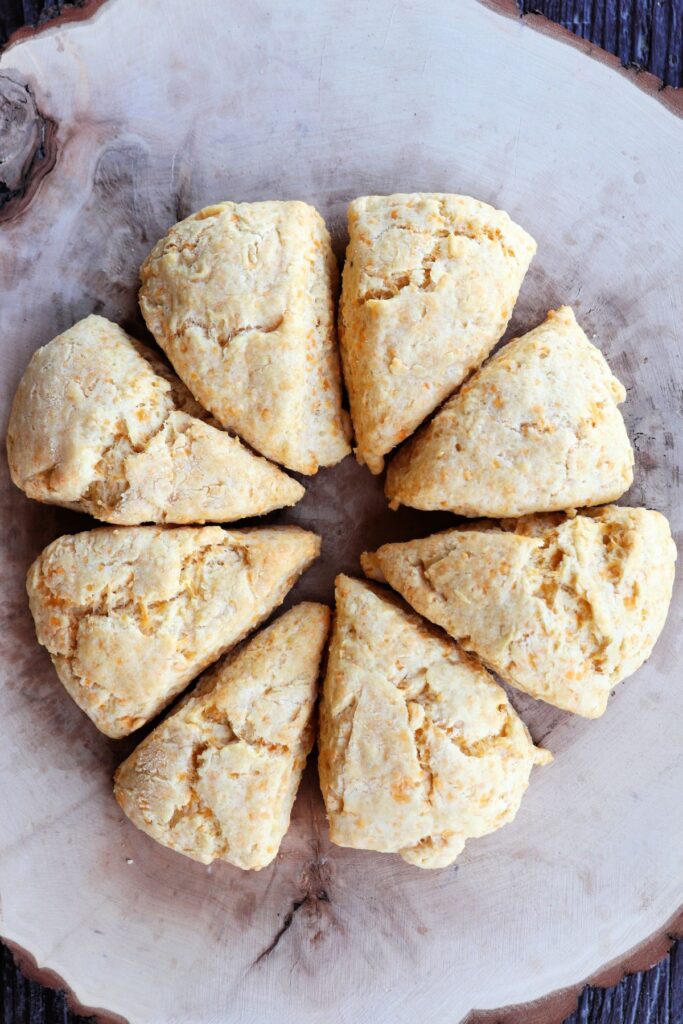 They're great alongside a green salad for a filling lunch.
Use them as the perfect side to hearty soup meals.
Skip the sweets with your afternoon tea and have these instead.
Serve alongside your favorite brunch recipes during the holidays.
How to Store
The scones will keep their best flavor if stored in an airtight container at room temperature. Do eat them up in about 3 days for optimum freshness.
For longer term storage, freeze them in a freezer bag or other freezer container.
Let the frozen scones thaw at room temperature prior to serving. Eat up frozen scones within 6 months for best flavor.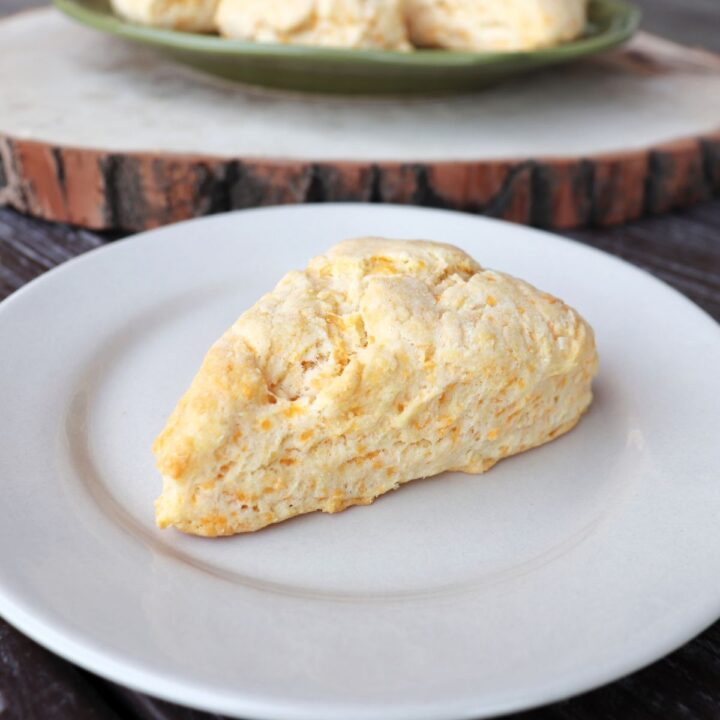 Cheese Scones Recipe
Make these buttery and rich cheese scones as a perfect quick bread for most any savory meal.
Ingredients
2 Cups Unbleached, All-Purpose Flour
1 Tablespoon Baking Powder
1/2 Cup Cheese, packed (2.5 ounces by weight)
1/2 Cup Cold, Salted Butter
1 Egg
1/2 Cup Milk
Instructions
Preheat oven to 400 degrees Fahrenheit.
Grease a large baking sheet or line with parchment paper or silicone baking sheet.
In the bowl of a food processor, add the flour, baking powder, and cheese. Pulse until everything is combined.
Add the cold butter and pulse until the mixture is crumbly, looking like coarse crumbs.
Pour the butter mixture into a large mixing bowl. Set aside.
Whisk together the milk and egg in a small bowl.
Pour the wet ingredients into the dry ingredients and mix with a wooden spoon or spatula until completely combined.
Turn the dough out onto a lightly floured board and knead just until combined. It will be a sticky dough.
Pat the scone dough into a large round circle, about 1/2 inch thick.
Cut the dough into 8 even pieces.
Place the scones a few inches apart on the prepared baking sheet.
Cook in the preheated oven for 13-15 minutes. Edges will be golden brown.
Remove from pan and cool completely on wire rack
Nutrition Information:
Yield:

8
Serving Size:

1
Amount Per Serving:
Calories:

264
Total Fat:

15g
Saturated Fat:

9g
Trans Fat:

1g
Unsaturated Fat:

5g
Cholesterol:

63mg
Sodium:

341mg
Carbohydrates:

25g
Fiber:

1g
Sugar:

1g
Protein:

6g
I try but cannot guarantee this nutritional information is 100% accurate.