This easy olive bread recipe is the perfect savory base for appetizers, spreads, and more.
Simple to make and delicious to eat for sandwiches or to dip into soups this olive bread recipe is sure to be a family favorite.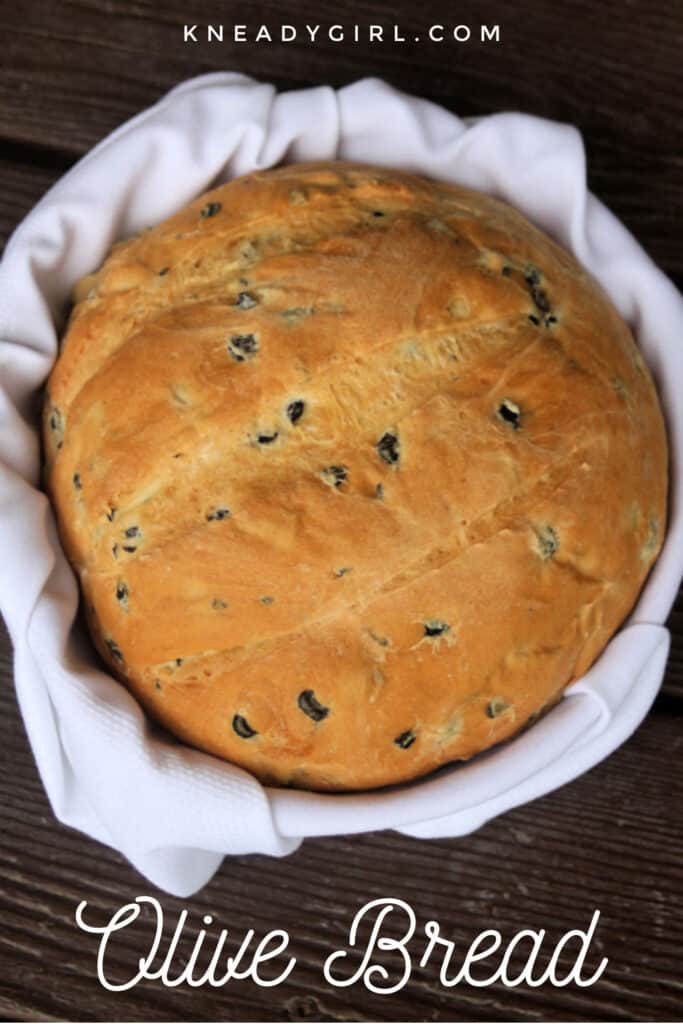 Match Shape to Purpose
Because this homemade bread does have so many potential use, be sure to shape the dough according to planned use.
Make large round loaves or put them in loaf pans for easy sandwich making.
Form the dough into longer, thinner loaves to use as an appetizer.
You could even shape it into rolls to serve alongside soups or your main course.
Obviously cooking time will vary based on size and shape of loaves, just be sure to check for doneness.
Specialty Ingredients : Olives
Use whatever olives you have around. Pitted kalamata olives are going to add a completely different flavor than say the canned black olives you use on pizza but both types work. Use your favorite, experiment and see what turns out best for you. Green olives could be used as well.
Additions for more flavor
If you'd like to make an even more flavorful bread to serve at a dinner party, consider adding fresh herbs.
Add a couple Tablespoons of fresh rosemary to the bread dough.
Two to three minced garlic cloves added to the bread dough will infuse it all with a light garlic flavor. Use a teaspoon of garlic powder for the same flavor instead of fresh garlic.
A tablespoon of dried italian seasoning will provide for a wonderful savory flavor.
Add a cup of parmesan cheese to the dough for more salty, cheesy flavor.
Switch Up the Flour
Using bread flour makes for a simple and easy to whip up loaf. It's also makes for a loaf of bread that most everyone will like. All purpose flour could be substituted if you don't have bread flour on hand.
However, feel free to substitute some whole-wheat flour or rye for some of the bread flour to give a more whole grain flavor and texture.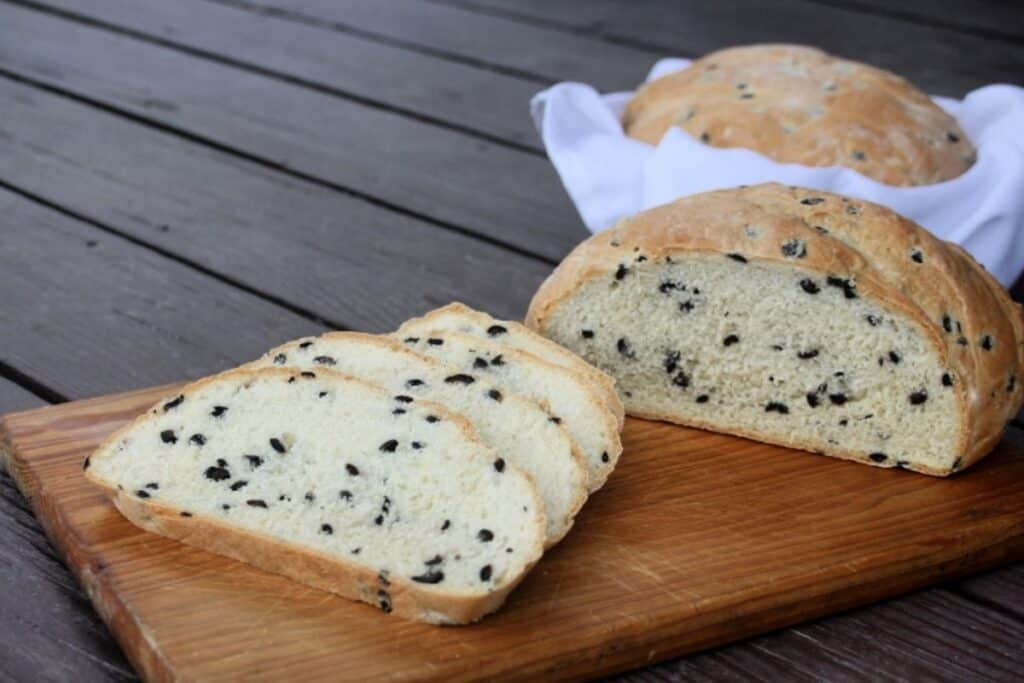 A Word About Salt
Olives tend to be salty. Taste the olives before adding salt to your bread dough. You may want to go up or down from the 2 teaspoons suggested in the recipe.
Admittedly it is tough to know for sure, as one can't taste test raw bread dough. Start with 2 teaspoons unless the olives are excessively salty. Take notes and adjust in the future based on the olives you use.
How to Freeze
The bread freezes wonderfully so feel free to make ahead for dinner parties, etc.
Simply wrap baked and cooled loaves in plastic wrap and stick in the freezer.
Alternatively, slice the baked and cooled bread and put the slices into airtight containers or freezer bags to freeze.
Simply thaw at room temperature as needed.
Use up frozen bread within 6 months for best flavor.
Try my Kalamata Olive Bread for a super flavorful and savory loaf.
Looking for more rustic bread recipes?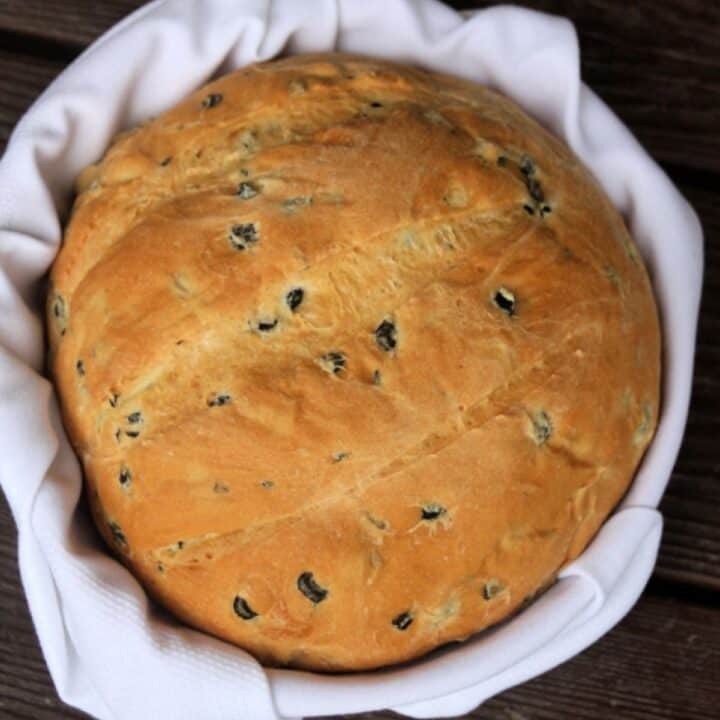 Olive Bread
Rising Time:
1 hour
45 minutes
Total Time:
2 hours
50 minutes
Soft and studded with black olives, this bread is perfect for sandwiches or dipping in soup.
Ingredients
1 Tablespoon Dry, Active Yeast
1 Tablespoon Sugar
2 Cups Warm Water
2 Tablespoons Olive Oil
2 Cups Black Olives, roughly chopped
2 teaspoons Salt
5 cups Bread Flour
Instructions
In a large mixing bowl, combine the water, sugar, and yeast. Whisk quickly and let sit until foamy. about 10 minutes.
Add the olive oil, salt, and 3 cups of flour. Stir with a wooden spoon or dough hook until it begins to come together. Mix in the olives, and add more flour until a soft dough forms.
Turn out the dough to a floured board and knead bread until soft and elastic.
Grease a bowl and place dough inside. Turn the dough around inside to coat with the oil. Cover with a tea towel.
Let dough rise until doubled in a warm place, about 1 hour.
Punch the dough down and turn the dough ball out onto a floured work surface. Divide the dough in half and shape into loaves. Place loaves into greased loaf pan or onto greased baking sheet.
Cover the dough with a clean kitchen towel and let bread rise until doubled, 30 to 45 minutes.
Meanwhile, preheat oven to 375 degrees Fahrenheit.
Bake the risen loaves for 40-45 minutes or until golden and sound hollow when tapped with a knuckle.
Cool on wire rack.
Recommended Products
As an Amazon Associate and member of other affiliate programs, I earn from qualifying purchases.
Nutrition Information:
Yield:

32
Serving Size:

1 slice
Amount Per Serving:
Calories:

97
Total Fat:

2g
Saturated Fat:

0g
Trans Fat:

0g
Unsaturated Fat:

2g
Cholesterol:

0mg
Sodium:

195mg
Carbohydrates:

17g
Fiber:

1g
Sugar:

0g
Protein:

3g
I try but cannot guarantee this nutritional information is 100% accurate.