Kalamata olive bread is a super flavorful loaf of homemade bread that is sure to amaze.
Thankfully, this is a very easy recipe for the baker to pull together and yet impressive enough to serve at any dinner feast.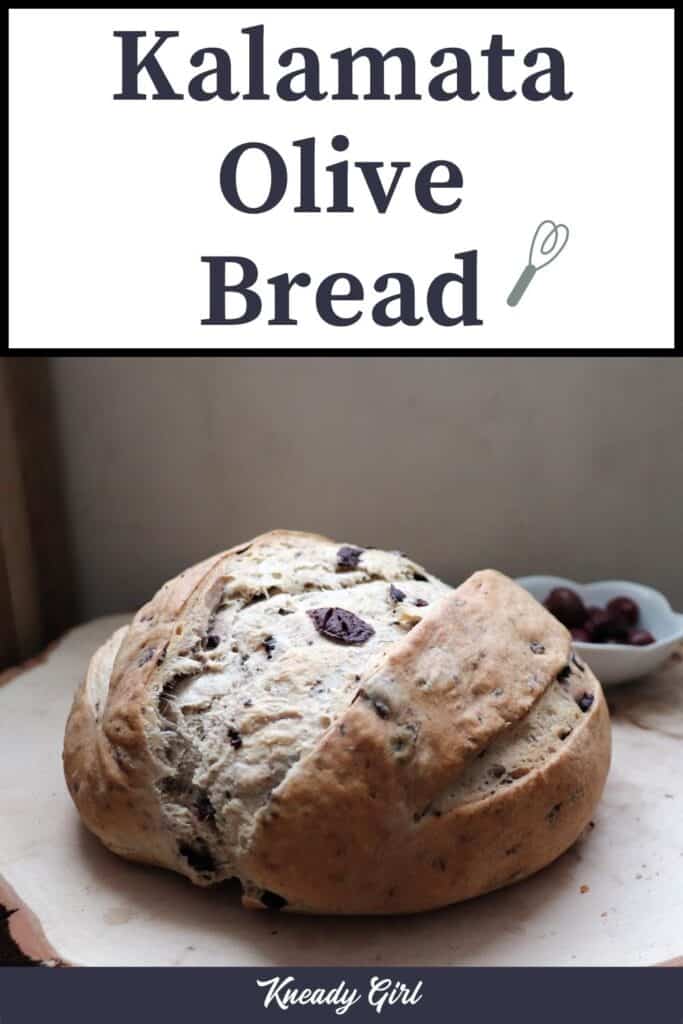 Rustic Bread
There's nothing fancy here. Like the best yeast breads, simple ingredients combine for wonderful flavor.
Do use the best, most flavorful kalamata olives you can find. The flavor comes from these jewels, don't skimp.
You don't have to be an olive lover to enjoy this wonderful recipe, but kalamata olive haters are not going to enjoy slices of this at all.
Crusty Loaf
For a crusty, crispy loaf, I brushed the top of the bread with warm water before baking.
You could also spritz the walls of the preheated oven with water for steam that will help give a crisper crust.
If crusty bread isn't your favorite, skip that step and just bake as you would normally.
Loaf Shape
Something about the nature of this bread just screams round loaf to me. However, you could also bake it in a loaf pan, if desired.
Honestly, go with whatever loaf shape most tickles your fancy – you may need to adjust the amount of time it bakes, just check earlier and be prepared to go a few minutes longer. Otherwise there isn't in any difference in the recipe or technique to achieve good results.
Flour Choices
I went with basic bread flour here for ease and texture.
One could substitute whole wheat flour for some of the bread flour, if desired. Wheat flours tend to absorb more water than bread flour, so add bread flour slowly to check for final elastic ball feel when kneading.
All purpose flour could also be used but you may need additional flour as it tends to absorb less water than bread flour.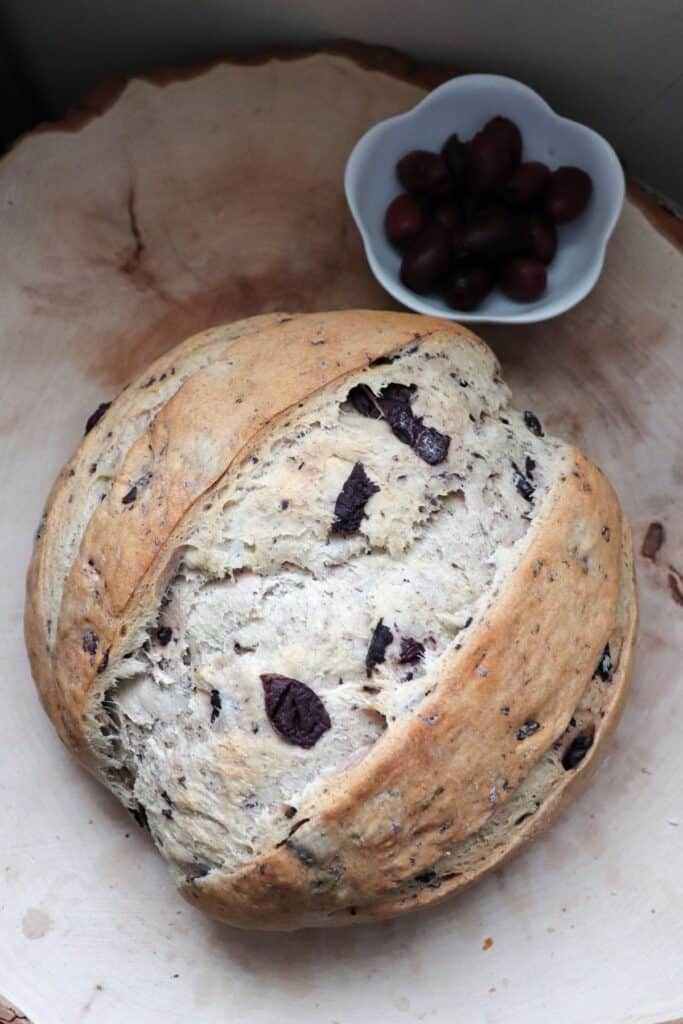 Flavorful Additions
The olives obviously flavor this bread and it is a great recipe as written. However you can add so many different things to give it more flavor:
Add a teaspoon of garlic powder to the bread dough, or 3 cloves of minced fresh garlic
Finely chopped fresh herbs like rosemary or thyme would be incredible
A Cup of parmesan cheese or other favorite hard cheese would be delightful
How to Serve
This is a good bread to serve alongside simple salads or soups to round out the meal.
I quite like it lightly toasted with eggs for breakfast.
It makes an amazing sandwich bread for your most favorite savory fillings.
How to Freeze
You can freeze leftover kalamata bread so make extra if you're so inclined.
The one caveat is that once frozen and thawed the crust doesn't keep it's crispiness. Honestly, that's a small price to pay to have loaves of this bread at the ready.
Simply wrap baked and cooled loaves in plastic wrap or store in freezer bags. You can also freeze the slices in an airtight container to pull out just a few slices as needed.
Use up a frozen loaf of bread within 6 months for best flavor.
Try my black olive bread if you don't have kalamata olives on hand.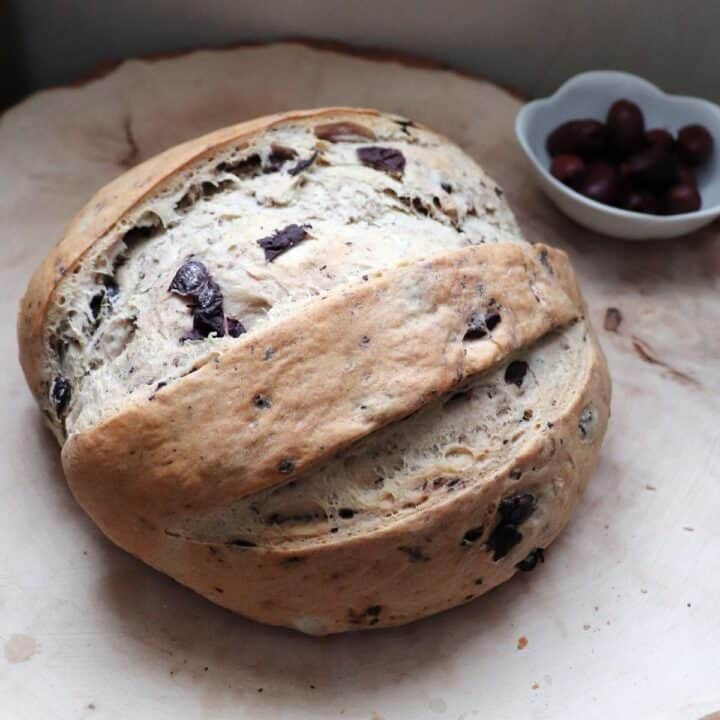 Kalamata Olive Bread
Yield:
1 Large Round Loaf
Rising Time:
1 hour
30 minutes
Total Time:
2 hours
25 minutes
Full of savory flavor this kalamata olive bread recipe is perfect for serving alongside simple meals.
Ingredients
1 1/2 teaspoons Dry Active Yeast
1 teaspoon Sugar
1 Cup Warm Water
3 Cups Bread Flour
1 Cup Kalamata Olives, drained & chopped
1 teaspoon Salt
Instructions
In a large mixing bowl, combine sugar and yeast with warm water. Let sit until foamy, about 10 minutes.
Add 2 cups of bread flour and stir well with a wooden spoon.
Add the chopped olives and salt. Mix to combine.
Add the remaining cup of bread flour. With spoon or dough hook, mix until a soft, sticky dough forms.
Turn the dough out onto a floured surface and knead until elastic. The dough will feel a bit sticky try to avoid adding too much flour.
Grease a large bowl and add the dough ball, turning to coat.
Cover the bowl with a tea towel and let dough rise until doubled 45 minutes to an hour.
Punch down the dough and turn out to a floured board. Knead the dough slightly.
Grease a baking sheet or line with parchment paper.
Shape the bread dough into a round, slightly flattened loaf.
Place on baking sheet and cover with a clean kitchen towel. Let bread rise until doubled, approximately 30 minutes.
Meanwhile, preheat the oven to 375 degrees Fahrenheit.
For a crispy crust, using a pastry brush, brush the top of the dough with warm water.
Slash the dough with a razor before baking, if desired.
Bake the dough in the preheated oven for 35 minutes or until golden brown and sounds hollow when tapped.
Remove from the baking sheet to cool completely on a wire cooling rack.
Nutrition Information:
Yield:

16 Slices
Serving Size:

1
Amount Per Serving:
Calories:

112
Total Fat:

2g
Saturated Fat:

0g
Trans Fat:

0g
Unsaturated Fat:

2g
Cholesterol:

0mg
Sodium:

185mg
Carbohydrates:

19g
Fiber:

1g
Sugar:

0g
Protein:

3g
I try but cannot guarantee this nutritional information is 100% accurate.