Fill your mornings with tropical flavor by whipping up this pineapple muffin recipe.
This fluffy muffin is lightly sweet and full of pineapple for an amazing breakfast or tea time treat.
The flavor of these definitely make you feel like you're on a tropical island and the simple ingredients and fast recipe means the baker can stay on easy street.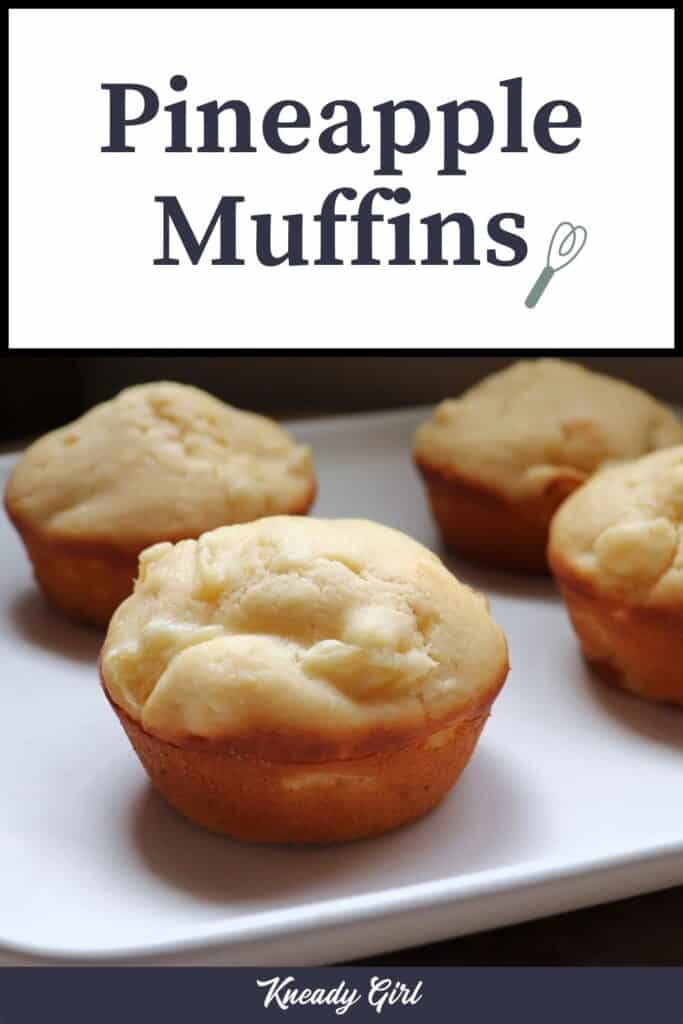 Pineapple Choices
When testing these recipes I tried a number of pineapple options. In the end, I chose canned pineapple chunks for a number of reasons.
Good, fresh pineapple is difficult to find in my northwest Montana home. If it is easier for you to find, for certain use that buy using chopping a cup into bits for the muffins and juice some for the liquid.
Crushed pineapple didn't provide the big pieces I wanted most.
So a 20 ounce can of pineapple chunks is what I ended up using with the best results. There was just a bit of leftover from that size can which we quite enjoyed snacking on.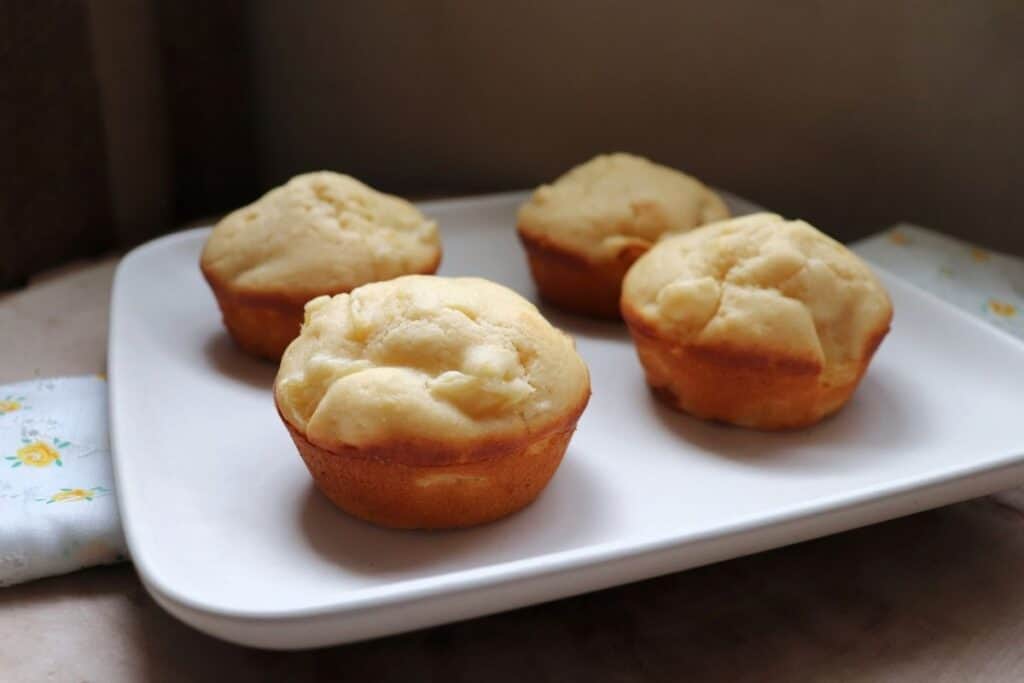 Drain & Chop
If using the canned pineapple chunks, drain them extremely well.
Put the strainer over a bowl, dump the can into the strainer and use the bowl to reserve the juice for the muffins. Let the pineapple drain for a bit while you get the rest of your ingredients together.
Pineapple chunks from the can tend to be quite large so do give them a rough chop and pack a measuring cup quite tightly full of the chopped chunks.
Reserve the chunks you didn't use for snacking and let the chopped chunks drain more until it's time to add them to the muffin batter.
Low Sugar
There is very little sugar added to this recipe.
The sweet pineapple and pineapple juice provide plenty of natural sweetness.
Don't be tempted to add more, truly, there's plenty of sweetness here.
Flavor Variations
Want pineapple coconut muffins? Add 1/2 cup unsweetened, shredded coconut to the pineapple muffin batter. Use half pineapple juice and half coconut milk for additional coconut flavor.
How about some pineapple orange muffins? Use orange juice instead of pineapple and add 2 Tablespoons of orange zest to the muffin batter.
Want even more pineapple flavor? Add up to 1 teaspoon of pineapple extract (granted this is a bit of a specialty item most of us probably don't keep in the pantry but is available).
How to Serve
These are amazing for breakfast especially alongside a fresh fruit salad of some sort.
Serve them as a great snack alongside some afternoon hot or iced tea for a tropical treat.
Honestly, these have such great flavor and the low amount of added sugar makes it feel like a decent but decadent side dish to a packed salad for lunch.
Make miniature muffins instead full-size for a great brunch buffet addition.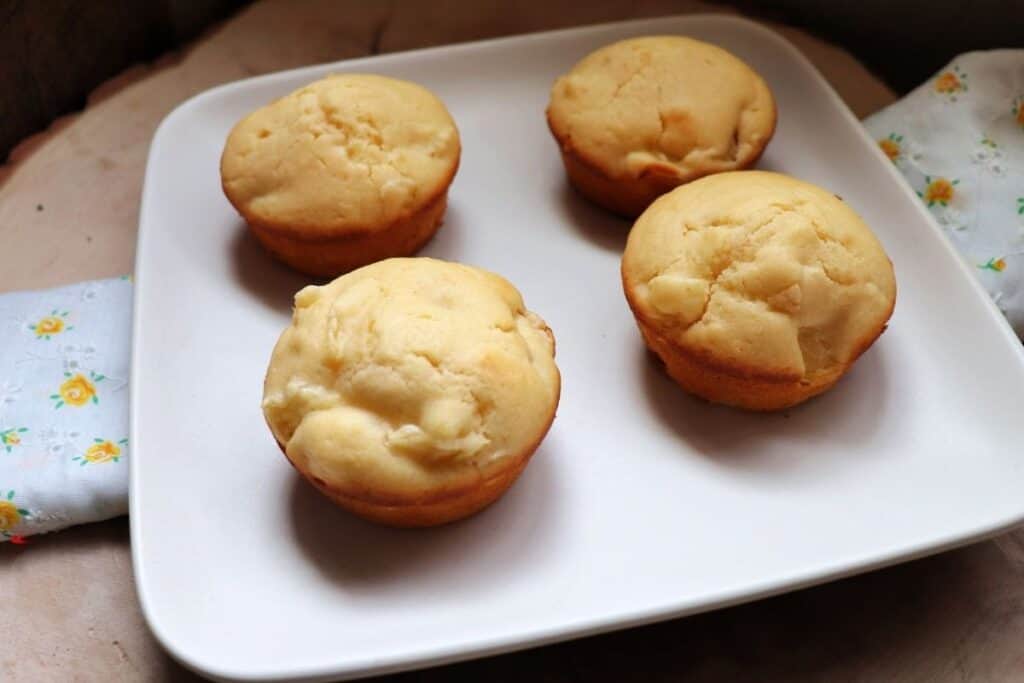 Freeze Extras
These are a light and moist muffin making them ideal to freeze.
Simply put baked and cooled muffins into a sealed container or plastic bag and freeze until ready to use.
To use, simply remove and let thaw at room temperature.
Looking for other fruity muffins? Try these recipes: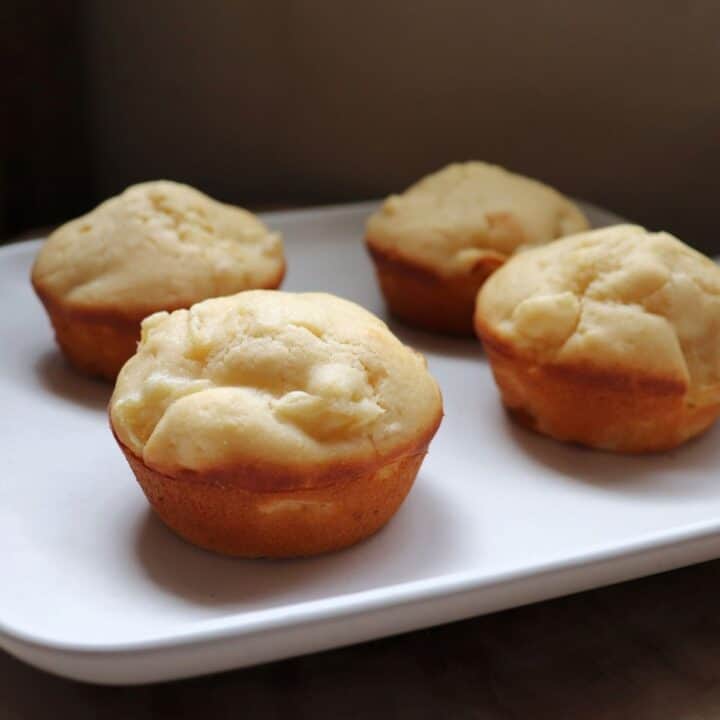 Pineapple Muffins
Lightly sweet homemade pineapple muffins are a great breakfast or afternoon snack.
Ingredients
2 Cups Unbleached, All-Purpose Flour
1 Tablespoon Baking Powder
1/4 Cup Salted Butter, softened to room temperature
1/4 Cup Sugar
1 Egg
1 Cup Pineapple Juice
1 Cup Tightly Packed, Drained Pineapple Chunks, chopped
Instructions
Pre-heat oven to 400 degrees Fahrenheit.
Grease a muffin pan or line with cupcake liners.
In a medium bowl, combine flour and baking powder. Set aside.
In a mixing bowl, cream together the butter and sugar until light and fluffy.
Add the egg and beat well.
Alternate adding a bit of the dry ingredients with the pineapple juice until everything is added and almost completely combined.
Fold in the pineapple chunks until everything is well mixed.
Divide the batter among the prepared muffin tins, filling each about 2/3 full.
Bake in the preheated oven for 20 minutes or until an inserted tester comes out clean.
Let cool in pan for 5 minutes before removing to cool completely on cooling rack.
Nutrition Information:
Yield:

12
Serving Size:

1
Amount Per Serving:
Calories:

156
Total Fat:

4g
Saturated Fat:

3g
Trans Fat:

0g
Unsaturated Fat:

1g
Cholesterol:

26mg
Sodium:

159mg
Carbohydrates:

26g
Fiber:

1g
Sugar:

9g
Protein:

3g
I try but cannot guarantee this nutritional information is 100% accurate.