Make this walnut date muffins recipe for a quick, easy, and delicious breakfast item, easy snack, or lunch box filler.
There's no need to pull out a mixer or food processor here, the entire easy recipe can be made with a large bowl, whisk or wooden spoon, and pan. This makes it easy to bake and easy to clean – best of all worlds!
Something about the mixture of sweet dates mixed with crunchy nuts make these simple muffins extra filling and oh so perfect for busy mornings.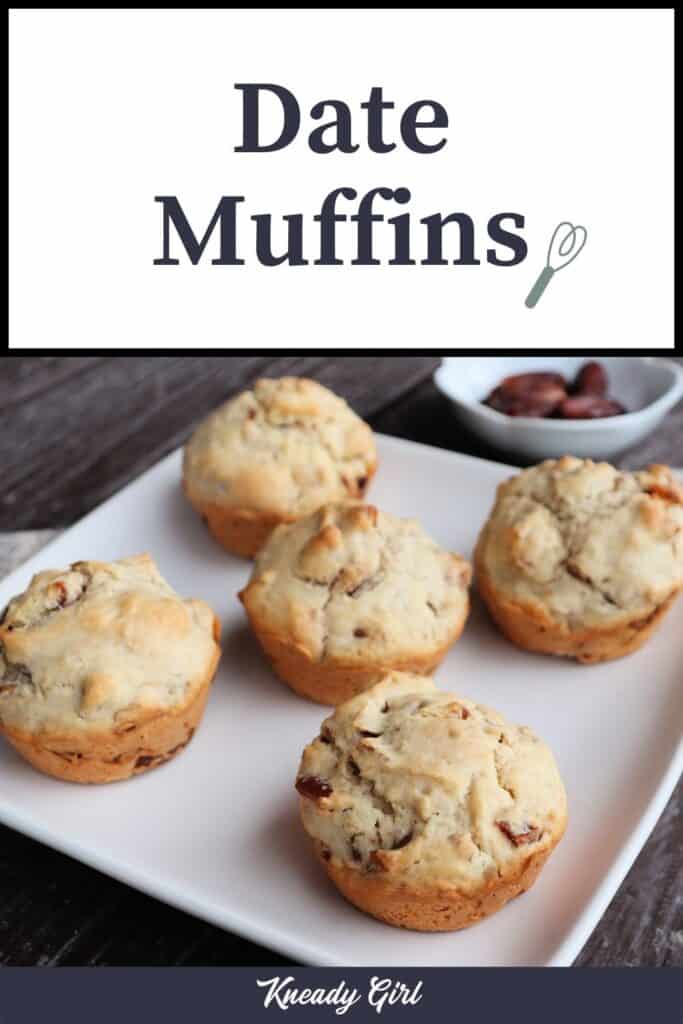 This is a basic and easy muffin recipe, it's straightforward and delicious. Follow the recipe as written for quick and easy preparation, however; if you'd like some different choices or options, I've got those for you too:
Fat Choices
I went with melted salted butter for ease in the original recipe. There are other options, use your favorite or whatever is on hand to keep this recipe quick.
Unsalted butter would absolutely work. Melted coconut oil or plain vegetable oil would also work.
Unsweetened, pureed applesauce can also work as a fat replacement if you want to skip the added fat for some reason. The applesauce will also add just a bit more sweetness – though it's not a ton.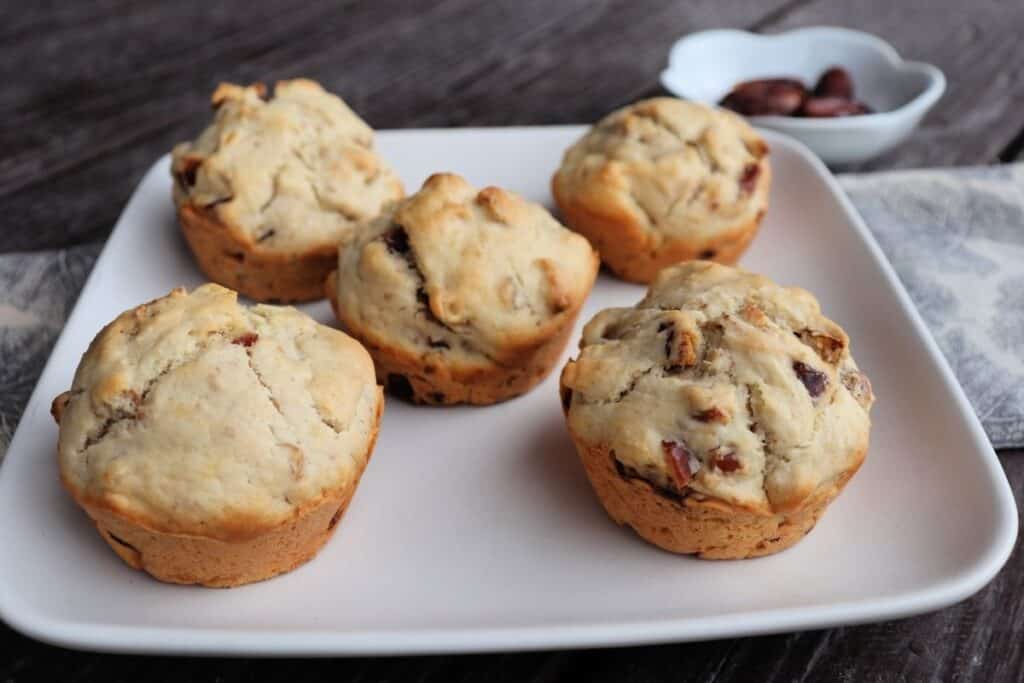 If going for the unsalted versions, oil, or applesauce, be sure to add 1/2 teaspoon salt to the flour mixture to give the muffins enough flavor.
Liquid Choices
Regular whole milk works just fine. Buttermilk, almond milk, or any other milk alternative would also work. Use what you have on hand.
Buttermilk, of course, a slightly different but wonderful flavor. Feel free to use the powdered buttermilk with water if you want that tangy flavor.
Orange juice would also work if you'd like to make these orange date muffins for a flavorful twist – add some orange zest from a whole orange, too.
Dates
Find good, fresh dates at your local grocery store if at all possible. For best results, something pitted and still moist. Avoid dates that have been rolled in sugar or have been sweetened in some way – it'll just be too sweet.
Supposedly, the Deglet Noor variety of dates are the best for cooking and baking. Depending on where you live, you may not have much choice in variety so choose the dates that are softer in texture from your local market.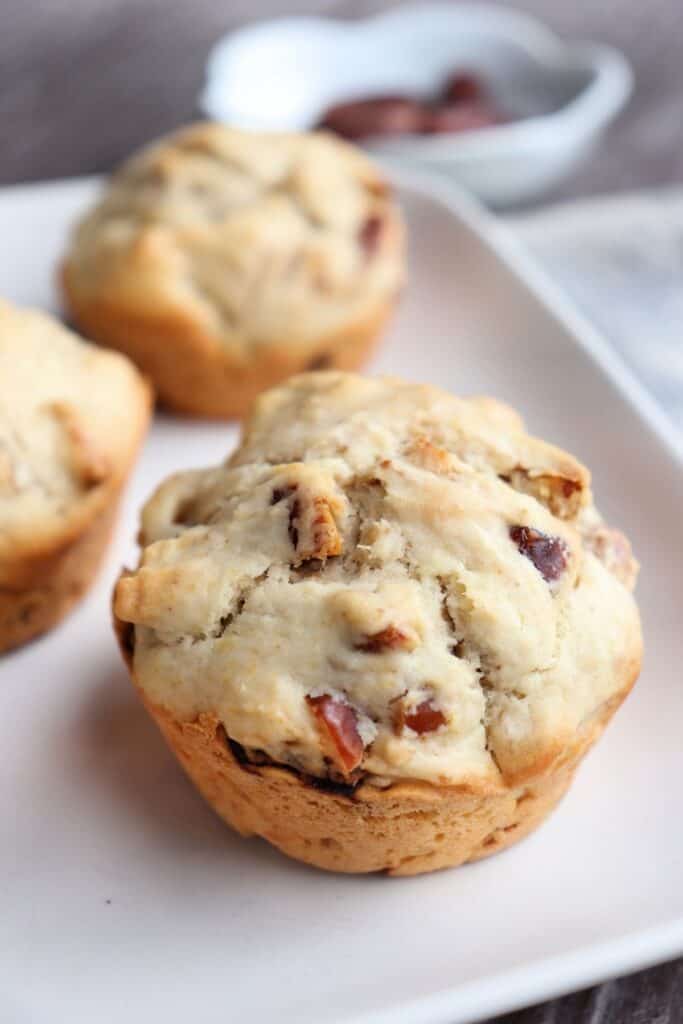 Skip the rolled date chunks so often sold in the baking aisle – these are simply not as flavorful and are often mixed with other ingredients rather than being pure date.
If you have some dates at home that have gotten a little too dry and are hard, you can soften them. Simply place the dates in a bowl and cover with boiling water. Let the dates soak for about 10 minutes or until soft. Drain the water and proceed with the chopping.
Do give the dates a good chop with a sharp knife. The best way to do this in my experience is to quarter the dates and then chop. Dates are sticky and chopping can be a little slow but it is worth it.
Optional Nuts
The walnuts are optional in this simple recipe but they definitely add crunch and heartiness. Chop them well so that there are little bits throughout each muffin.
The nuts can be skipped entirely if they're just not your thing.
Almonds or pecans or any other nut for that matter could be substituted if desired.
Amount of Sugar
Dates are naturally quite sweet which is why I kept the added sugar low. You could add more or less sugar based on personal preference.
I did not test it but I imagine brown sugar could be substituted, but I would mix that in with the liquid ingredients instead of with the dry ingredients as written for the white sugar.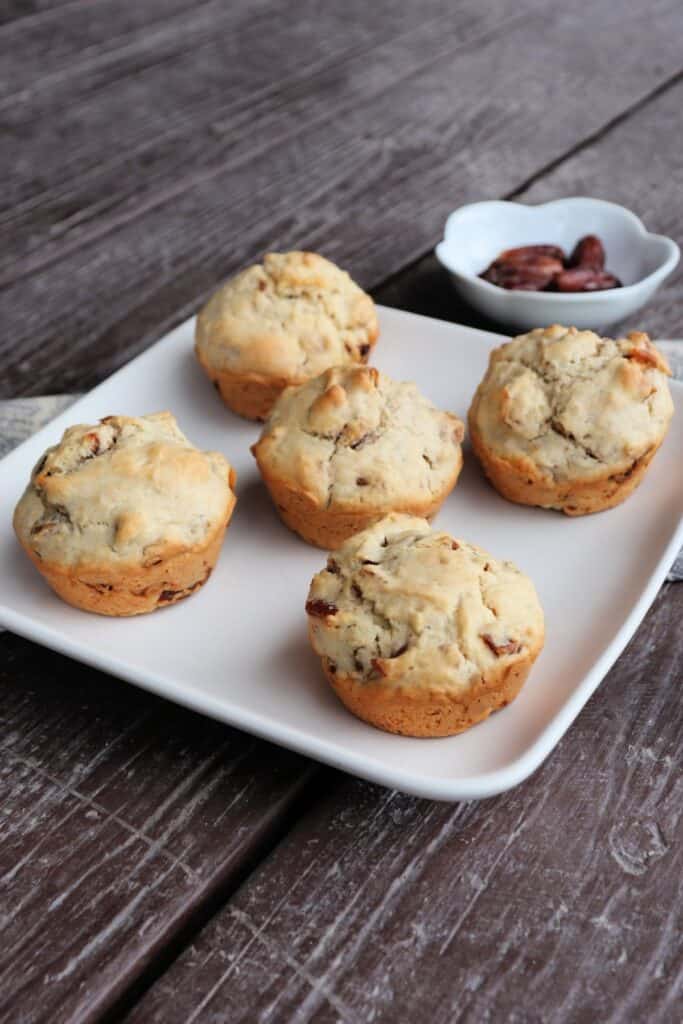 Other Optional Additions
I do think the date walnut muffin recipe is fairly perfect just as it is written but I know I like to switch things up and I imagine you do too.
Add up to 1/2 cup chocolate chips for extra sweetness and decadence, if desired.
Raisins, too, would add another depth of flavor and bit of sweetness, again add up to 1/2 cup to the muffin batter.
How to Serve
There's no real need to get fancy here. This is a great muffin recipe for snacking or breakfast with a glass of cold milk or hot coffee.
Make it a bigger meal by serving it alongside fresh fruit or eggs.
They are quite delicious warm if you want to take the time to warm them up but room temperature is great too. A bit of butter slathered onto a warm muffin is super tasty and oddly comforting.
Definitely serve them at meetings or pot lucks alongside hot drinks and other buffet choices.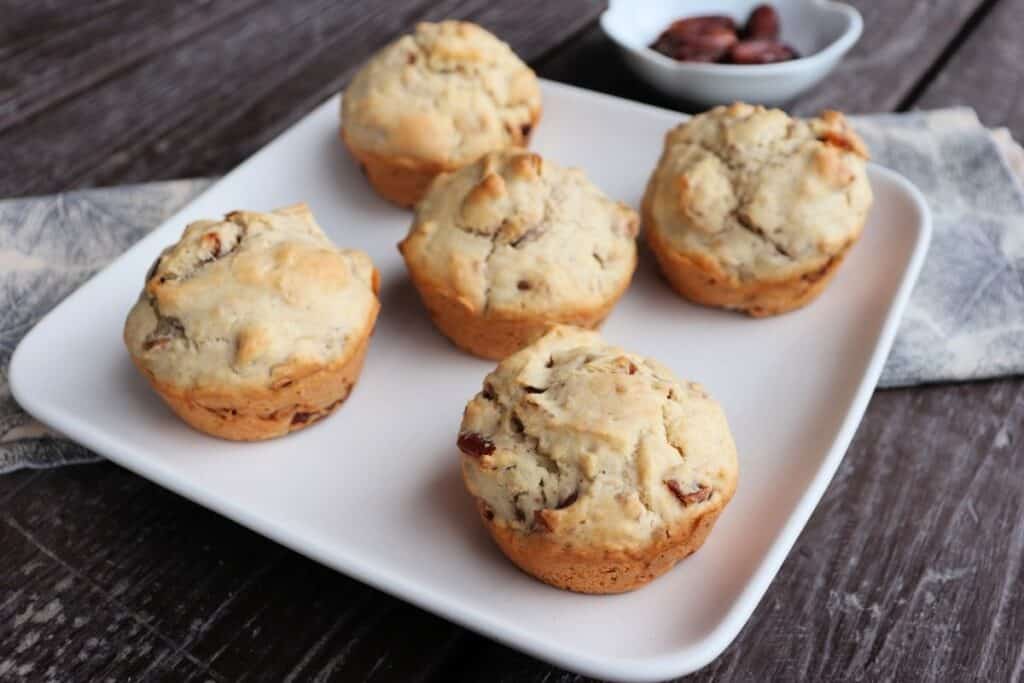 How to Store
These are a moist muffin and will likely stay fresh for a long time, several days when stored in airtight container at room temperature.
They freeze incredibly well, so if you inclined to make a double batch go for it. Simply place baked and cooled muffins in a freezer bag and freeze. Thaw at room temperature.
Honestly, a muffin pulled out of the freezer in the morning and tucked in a lunch box will likely be perfect to eat by mid-day.
Looking for more muffin recipes? Try these fruit filled easy favorites: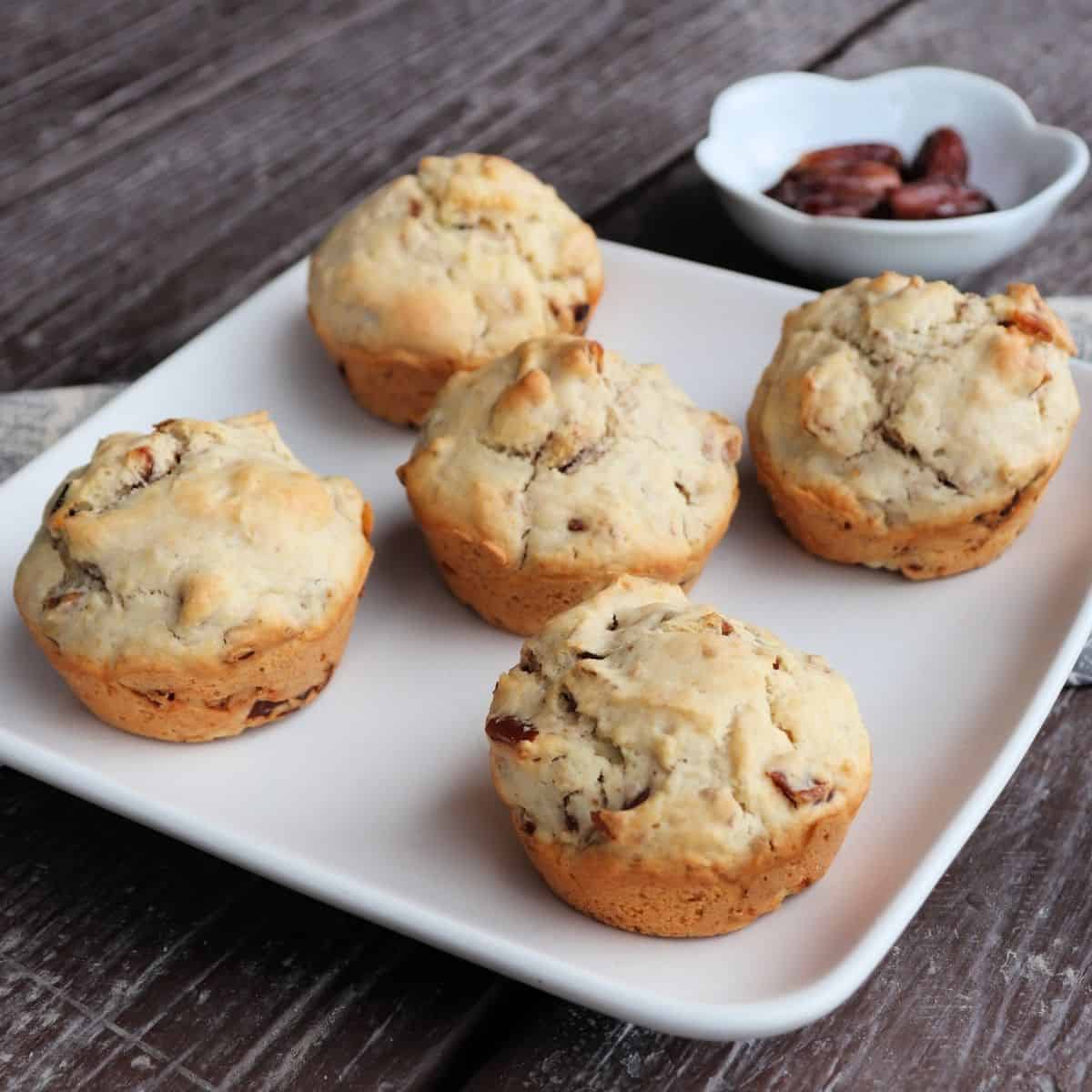 Date Muffin Recipe
These tender muffins are lightly sweet and chewy with plenty of crunch to satisfy and fuel a busy morning. They are sure to become a family favorite.
Ingredients
2 Cups Unbleached, All Purpose Flour
1/4 Cup Sugar
1 Tablespoon Baking Powder
1 Cup Dates, Chopped
1/2 Cup Walnuts, Chopped, Optional
1 Cup Milk
1/4 Cup Salted Butter, melted
1 Large Egg
Instructions
Preheat oven to 400 degrees Fahrenheit.
Grease a muffin pan or use paper liners.
In a large mixing bowl, whisk together the flour, sugar, and baking powder.
Stir in the chopped dates and nuts, if using. Toss to coat the pieces with the flour mixture.
Whisk together the melted butter, egg, and milk until completely combined.
Pour the wet ingredients into the date mixture and mix until combined. It may be a bit lumpy.
Divide batter among 12 muffin cups, filling each about 2/3 full.
Bake in the preheated oven for 20-25 minutes. The tops will be a golden brown and an inserted tester will come out clean.
Allow the muffins to cool in pan for 5 minutes. Remove from pan to cool completely on wire rack.
Nutrition Information:
Yield:

12
Serving Size:

1
Amount Per Serving:
Calories:

210
Total Fat:

8g
Saturated Fat:

3g
Trans Fat:

0g
Unsaturated Fat:

4g
Cholesterol:

27mg
Sodium:

169mg
Carbohydrates:

31g
Fiber:

2g
Sugar:

13g
Protein:

4g
I try but cannot guarantee this nutritional information is 100% accurate.