Banana bran muffins are a lightly sweet breakfast treat you can feel good about eating.
This easy recipe has sweet bananas, crunchy nuts, and filling fiber in the form of bran for a quick breakfast sure to keep you full until lunch.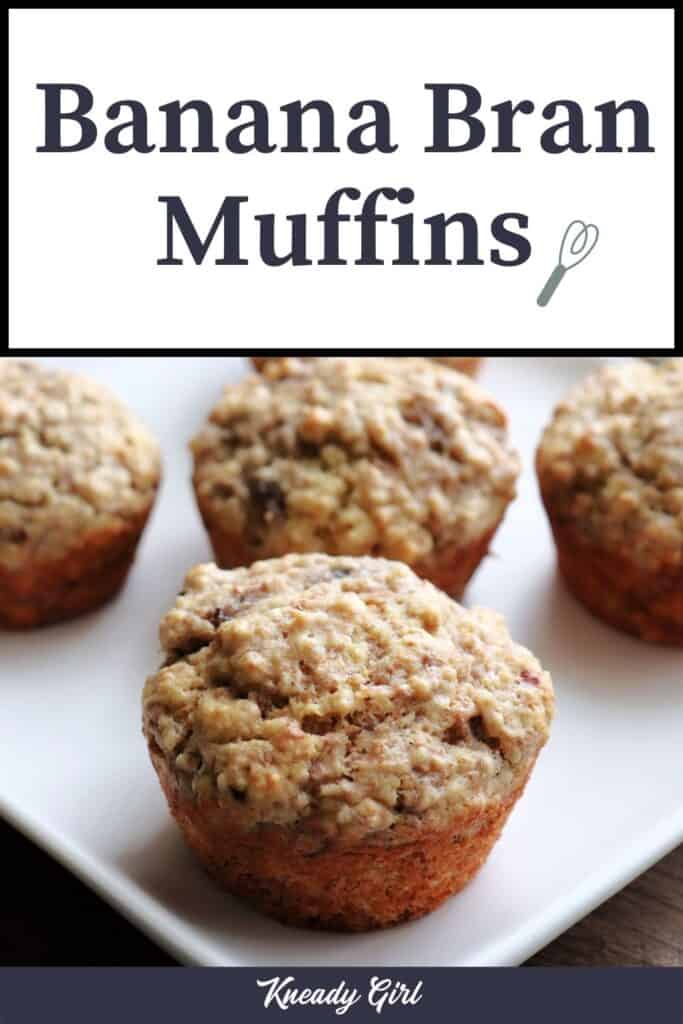 Ripe Bananas
Like most banana muffins or banana bread recipes, these banana nut muffins are a great way to use up overripe bananas.
It's a great way to use frozen bananas too, if you have some for smoothies tucked into the freezer. Just let them thaw completely before mashing and putting into the muffin batter.
If the bananas you have are still quite yellow and firm, give them a couple or try cooking them just slightly in a warm oven to get them soft.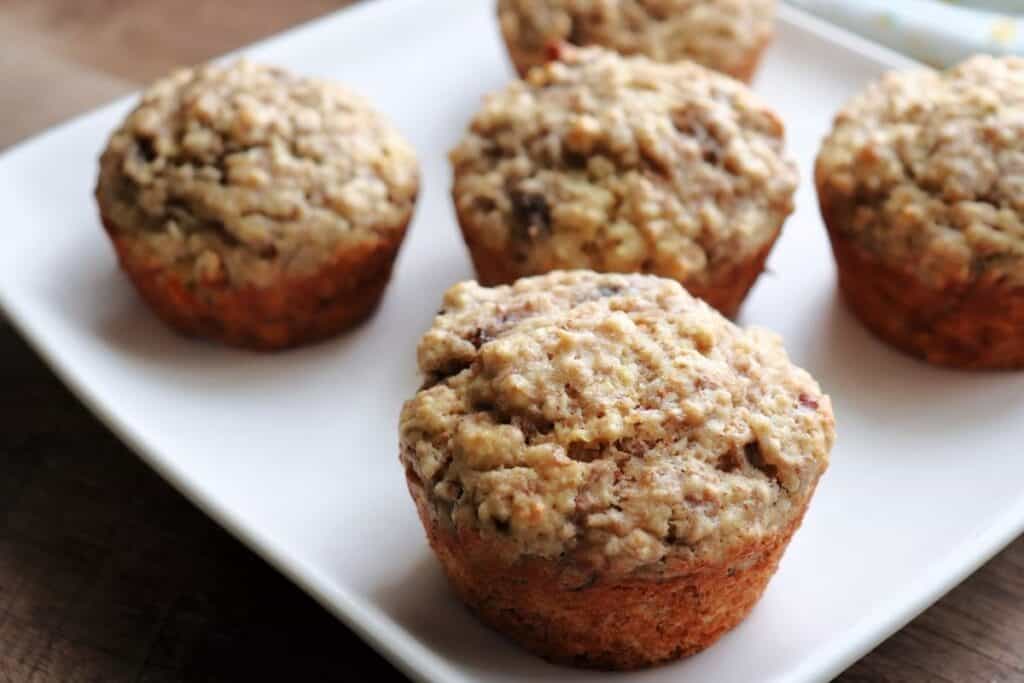 You will want about a cup and a half of mashed bananas, which is approximately 3 large bananas. A little more or less isn't likely to ruin the recipe so use what you have on hand.
The amount of mashed bananas makes for moist bran muffins. Offer healthy bran muffins can be quite dry – that is not at all the case here thanks to the bananas.
Bran Choices
There are a number of different bran choices in most grocery stores. I opted for wheat bran in this recipe because it tends to be the most common and likely easy to find even in small towns.
However, it isn't the only choice. Feel free to substitute any bran flakes you can find: oat bran or even rye bran will work and provide slightly different flavors for example.
Sugar Choices
To keep these as a healthy breakfast choice, there is just 1/3 cup of white sugar in the first batch. The bananas themselves add plenty of sweetness.
I shared these muffins with a number of folks and the light sweetness was commented on by many – they have a ton of flavor and simply do not need a ton of added sugar to be pleasing.
Brown sugar could likely be used instead though I didn't test the recipe that way. The brown sugar would add a depth of flavor and something I plan on trying next time.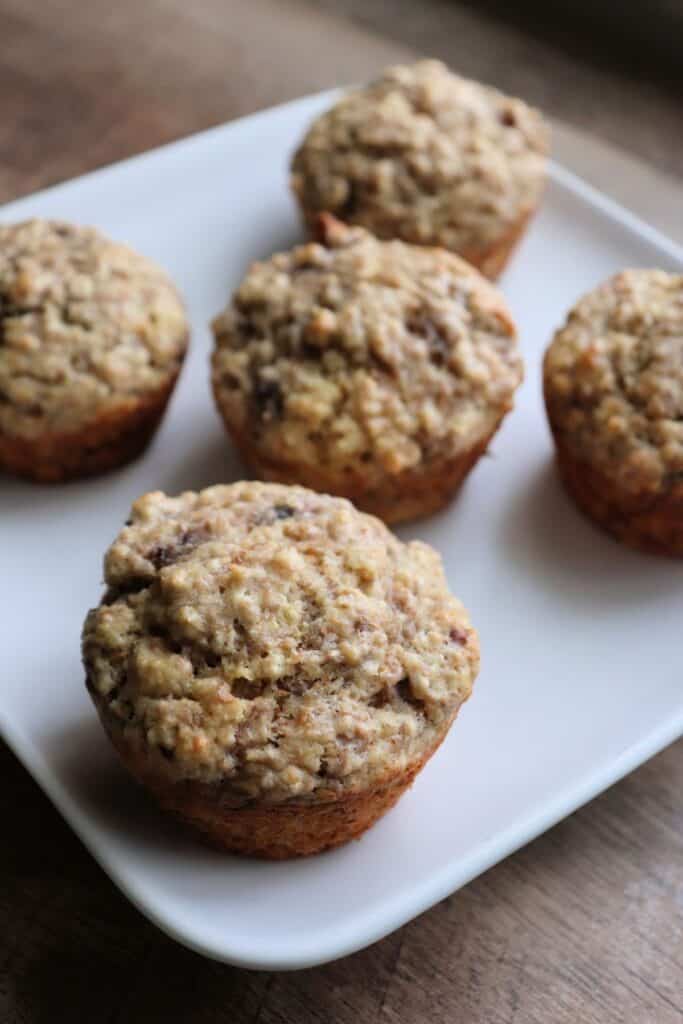 Fat Choices
The original recipe uses melted butter for ease and general availability. However, other liquid fats could be substituted.
Melted coconut oil, vegetable oil, even olive oil could be substituted. Do add 1/2 teaspoon salt to the batter to account for the missing salt.
Optional Additions
There are so many wonderful ways to change the flavor of these muffins. Consider adding up to 1 cup of the following or even a mixture:
Stir in a handful of dark chocolate chips
Mix in some dried fruit like raisins or even crushed bits of dried banana chips
A little bit of shredded coconut would be nice
Chopped dates always complement banana flavor
Add some peanut butter chips
Switch up the nuts – almonds, pecans, even peanuts would work
How to Serve
Obviously muffins with the beverage of your choice is a pretty instant breakfast but it isn't the only option.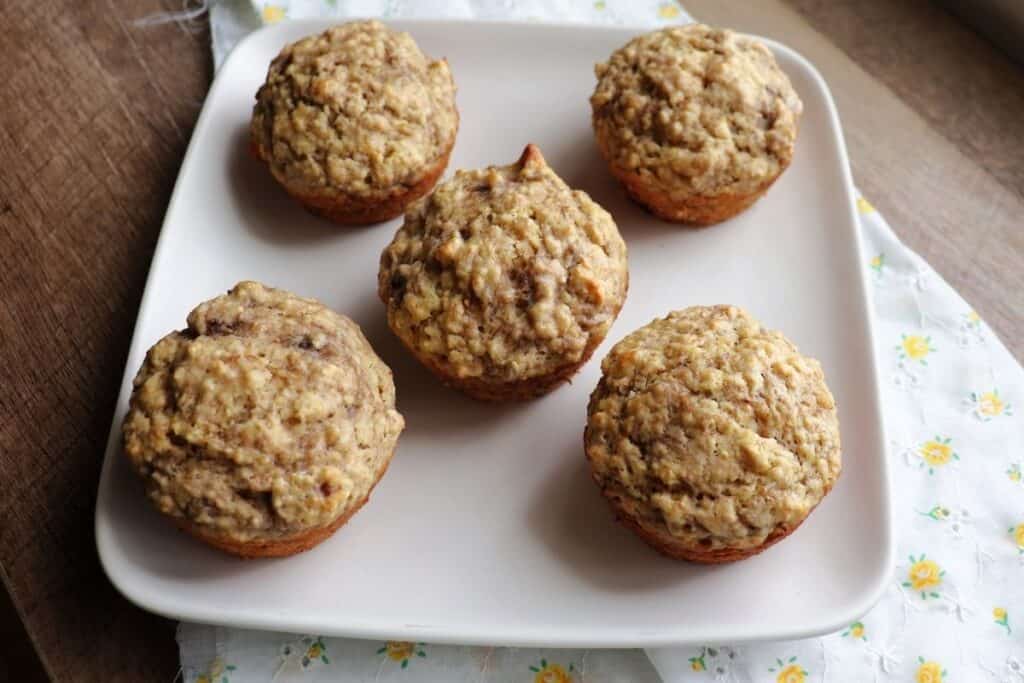 Peanut butter and bananas go so very well together so consider spreading some peanut butter or almond butter on the muffin for some extra protein and fat at breakfast.
I do like a fried egg over easy with these muffins to sop up a bit of the yolk.
Do serve them as a quick snack with some fruit or tea.
How to Freeze
These healthy muffins freeze incredibly well so make a big batch of muffins when you have the bananas available for quick and delicious eating later.
Simply bake and cool the muffins completely. Store the muffins in a plastic freezer bag or other airtight container in the freezer.
Use the frozen muffins up within 6 months for best flavor and to prevent freezer burn.
Simply thaw at room temperature or heat in the microwave gently for a great breakfast on the run.
Looking for another healthy bran muffin recipe? Try my yogurt bran muffin recipe.
Check out my favorite easy muffin recipes on the index page.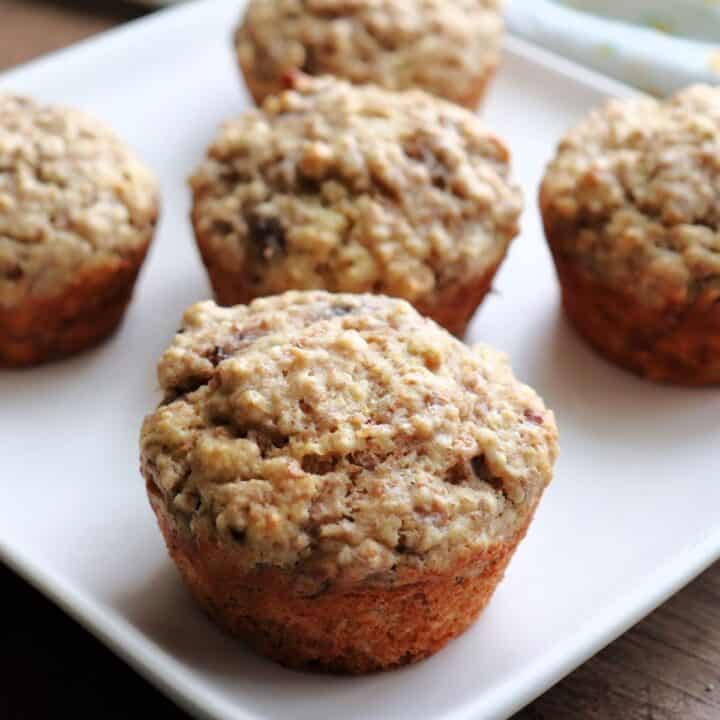 Banana Bran Muffins
Lightly sweet and full of fiber, these banana bran muffins are a great and filling way to start the day!
Ingredients
1/4 Cup Salted Butter, melted
1 Cup Milk
2 Eggs
1/3 Cup Sugar
1 Cup Wheat Bran
1  3/4 Cups Unbleached, All-Purpose Flour
2 teaspoons Baking Powder
1/2 teaspoon Baking Soda
1 1/2 Cups Mashed Bananas (approximately 3 large)
1/2 Cup Walnuts, chopped (optional)
Instructions
Preheat oven to 400 degrees Fahrenheit.
Grease muffin tins.
In a large mixing bowl, whisk together the melted butter, milk, eggs, and sugar until completely combined.
In a small bowl, whisk together the wheat bran, flour, baking powder, and baking soda.
Pour the dry ingredients into the wet ingredients and mix until just about combined.
Add the mashed banana and nuts, if using. Stir everything until completely combined.
Divide the batter among 16 prepared muffin cups, filling each about 2/3 full.
Bake in the preheated oven for 15 minutes or until an inserted tester comes out clean.
Cool in muffin pan for 5 minutes.
Remove from pan to cool completely on wire rack.
Nutrition Information:
Yield:

16
Serving Size:

1 muffin
Amount Per Serving:
Calories:

159
Total Fat:

7g
Saturated Fat:

3g
Trans Fat:

0g
Unsaturated Fat:

4g
Cholesterol:

32mg
Sodium:

140mg
Carbohydrates:

23g
Fiber:

3g
Sugar:

8g
Protein:

4g
I try but cannot guarantee this nutritional information is 100% accurate.