Homemade potato bread is one of the most amazing things you can pull out of your oven.
These bread loaves are light and fluffy and full of delicate flavor that is comforting and light.
This is a recipe you'll want to turn to again and again for it's simplicity and versatility.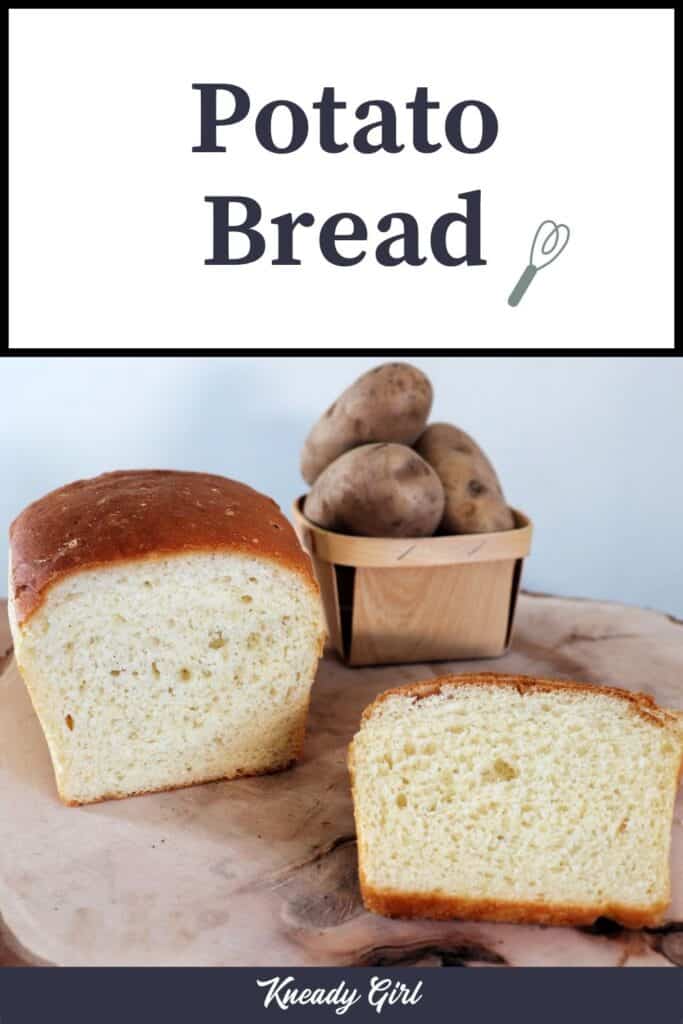 Humble Ingredients
As is generally true with homemade bread , the simplest ingredients combine into something incredibly delightful. There's nothing fancy here but yet it feels magical and is the kind of bread most folks enjoy with dinner or for toast.
Use a type of potato that is starchy – a russet is perfect. That starch is important in both the potato and cooking water.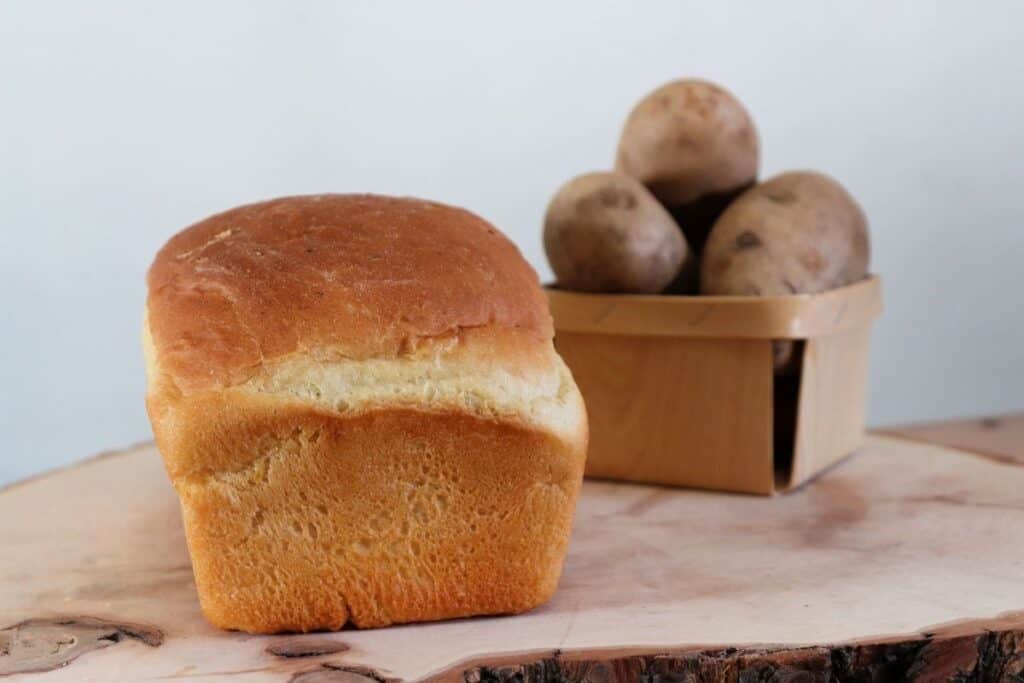 This can easily be a sandwich bread if the filling is soft. This is not the ideal bread for things like salami in my opinion. It's great for peanut butter or jelly or even egg salad.
Some Equipment is Helpful
While I'm of the opinion that we don't need anything but our hands to make bread, a stand mixer with a dough hook is extremely helpful here. The bread dough is quite sticky and while one could knead by hand, be prepared for that stickiness.
Using a dough hook to do the bulk of the kneading will help prevent adding too much flour to the dough. It also means it will come together will minimal effort. Kneading by hand will lead to a temptation to add more flour to prevent the stickiness and then changing the texture of the bread.
A bread machine could likely be used for the same purpose but I don't have enough experience with the machines to say for certain.
A very sharp knife is ideal here. A serrated knife is an absolute must, otherwise the bread will just be smashed and not sliced because of its airy texture.
Plenty of Options
The basic recipe is amazing and perfect. It's simple and easy and has a multitude of uses.
However, the recipe can easily be switched up for different flavors.
Add 4 or so minced garlic cloves to the dough.
Toss in some finely chopped herbs a 1/2 cup or so. Think chives, rosemary, sage, etc.
Some chopped olives would be lovely.
Add a cup or more of your favorite shredded cheese.
Substitutions
All purpose flour could be used instead of bread flour. The texture will change just slightly but not enough to fret over.
Margarine and powdered soy milk could be used to keep it vegan.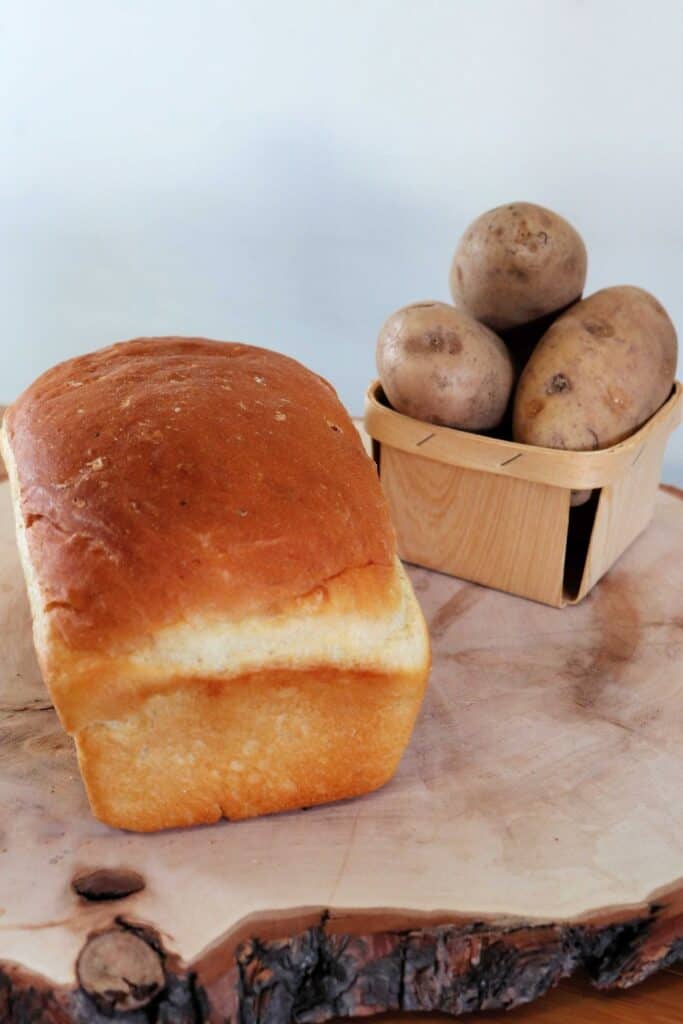 How to Freeze
This a perfect recipe for making ahead and freezing.
Simply place baked and cooled loaf of bread in an airtight container and freeze.
Let thaw at room temperature to serve.
Looking for more easy bread recipes?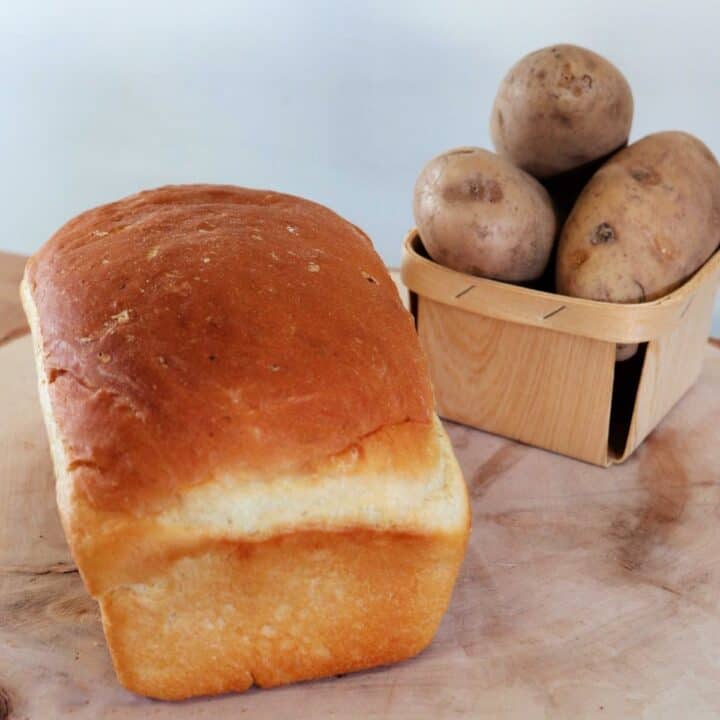 Potato Bread Recipe
Total Time:
3 hours
15 minutes
Soft and comforting potato bread is ideal for toast and soft sandwiches.
Ingredients
2-3 Small Russet Potatoes (about 3/4 pound) - 1 Cup Mashed Potatoes
1 1/2 Cups Reserved Potato Cooking Water
1 Tablespoon Dry Active Yeast
1 Tablespoon Sugar
2 teaspoons Salt
1/4 Cup Butter, softened
1/2 Cup Powdered Milk
5 Cups Bread Flour
Instructions
Peel and chop the potatoes.
Place the potatoes in a medium saucepan and cover with cold water.
Bring to a boil and cook until potatoes are soft 15 minutes or so depending on size of potato chunks.
Drain the potatoes, saving the cooking water.
Mash potatoes with a potato masher and save 1 cup for the bread. There may be extra.
Let the potatoes and cooking water cool to about 115 degrees Fahrenheit.
In a large mixing bowl, combine the potato water with yeast and sugar. Let sit until foamy, 5-10 minutes.
Add the mashed potatoes, salt, powdered milk, butter, and 2 cups of the flour. Stir until everything is loosely combined.
Using a dough hook on an electric mixer, knead the ingredients on a medium speed.
Add the remaining cups of flour and mixing until everything holds together in a sticky and very soft dough. The dough will be sticking to the hook and not the sides of the bowl.
Turn out onto a well floured board and knead just slightly to make sure the dough is soft and elastic.
Grease a bowl and place the dough inside, turning to coat.
Cover with a tea towel and let the dough rise in a warm place until doubled, about an hour.
Grease two 9X5 loaf pans.
Punch down the dough and knead on a well floured work surface. It will be a sticky dough.
Divide the dough in half and shape each half into loaf shapes.
Place dough into the prepared bread pans and cover with a kitchen towel. Let bread rise just until the top of the dough mounds up over the edge of the bread pan, about an hour.
Meanwhile preheat the oven to 350 degrees Fahrenheit.
After rising, bake the dough in the preheated oven for about 35 minutes. The tops will be golden and it will sound hollow when tapped with a knuckle.
Cool in the pans on a wire rack for 5 minutes before removing from pans to cool completely on wire racks.
Nutrition Information:
Yield:

30
Serving Size:

1 slice
Amount Per Serving:
Calories:

132
Total Fat:

2g
Saturated Fat:

1g
Trans Fat:

0g
Unsaturated Fat:

1g
Cholesterol:

4mg
Sodium:

187mg
Carbohydrates:

24g
Fiber:

1g
Sugar:

1g
Protein:

4g
I try but cannot guarantee this nutritional information is 100% accurate.