Make a coconut sweet bread to get a taste of the tropics no matter where you live!
This Caribbean bread inspired recipe is loaded with coconut and raisins for a delicious treat.
Like most quick breads, this comes together easily for breakfast or snacks.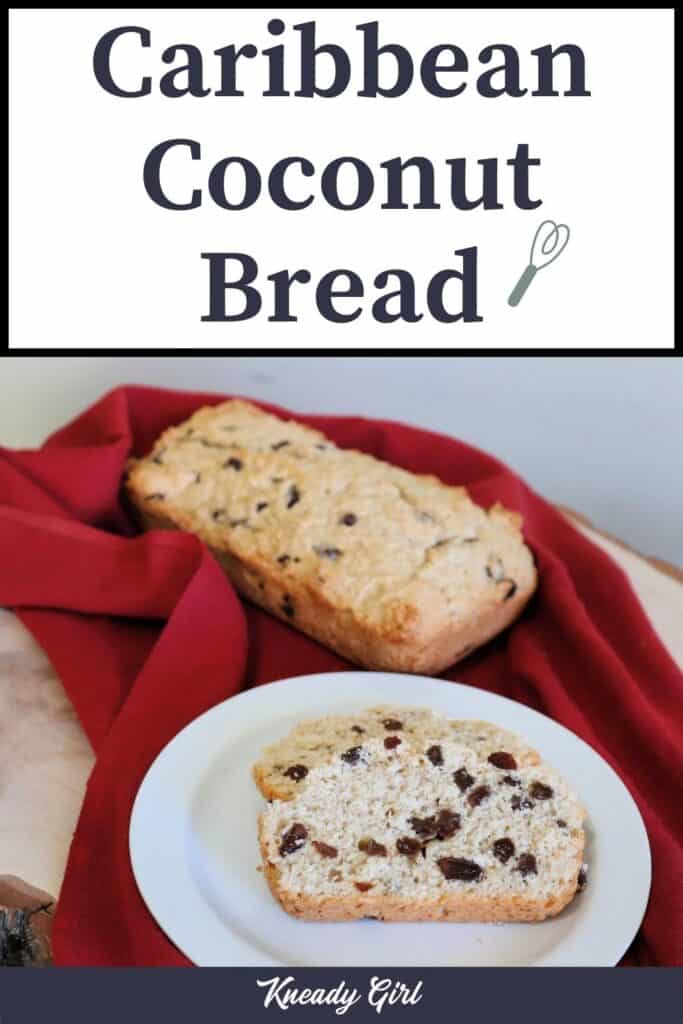 And while the bread is tasty any time of year, it has quickly become one of my favorite recipes for winter simply because it does feel so very tropical.
Coconut is the Star
There is quite a bit of coconut in these loaves.
I live in northwest Montana and fresh coconut can be difficult to find. I do believe the bread would be moister and even more flavorful if one could grated coconut but know that isn't possible for everyone.
I tested and used dried medium unsweetened coconut flakes in this recipe. I do not generally use the flaked, sweetened coconut because it tends to be too sweet in my opinion.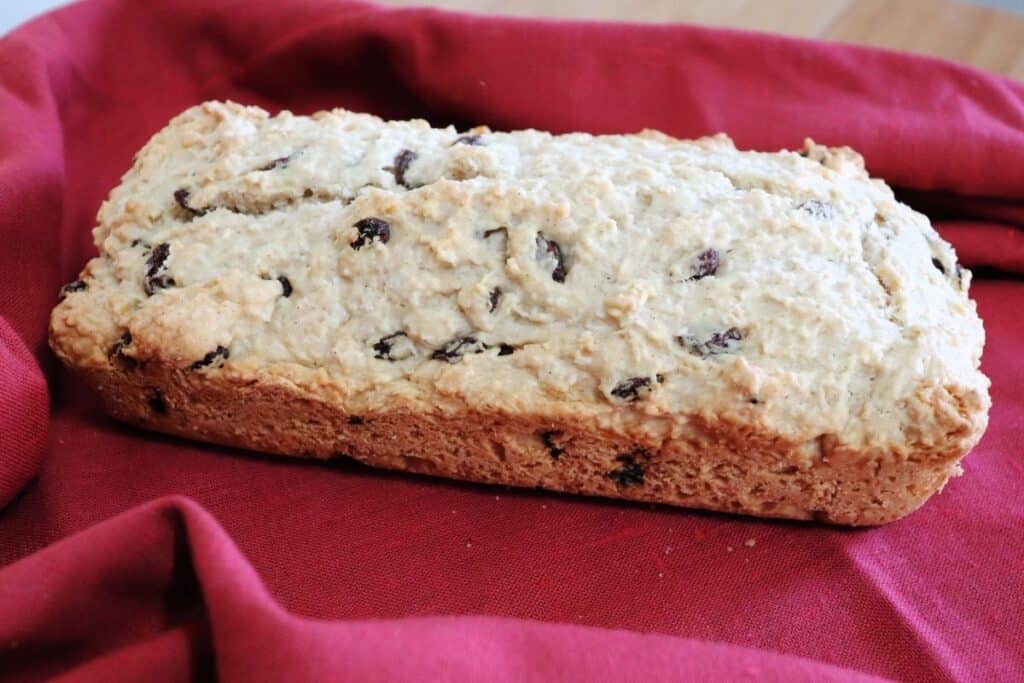 For even more coconut flavor, consider using coconut extract instead of vanilla extract as called for in the recipe.
Dried Fruit
It seems that the classic recipe for this coconut loaf uses quite a bit of dried fruit. In all my recipe and looking at different recipes, there always seems to be glace cherries and more.
Here's the thing – those bright red candied cherries are full of ingredients I just simply don't like and the flavor isn't great in my opinion so I skipped it in my version. That's why I'm saying this is inspired by the Caribbean islands- not authentic.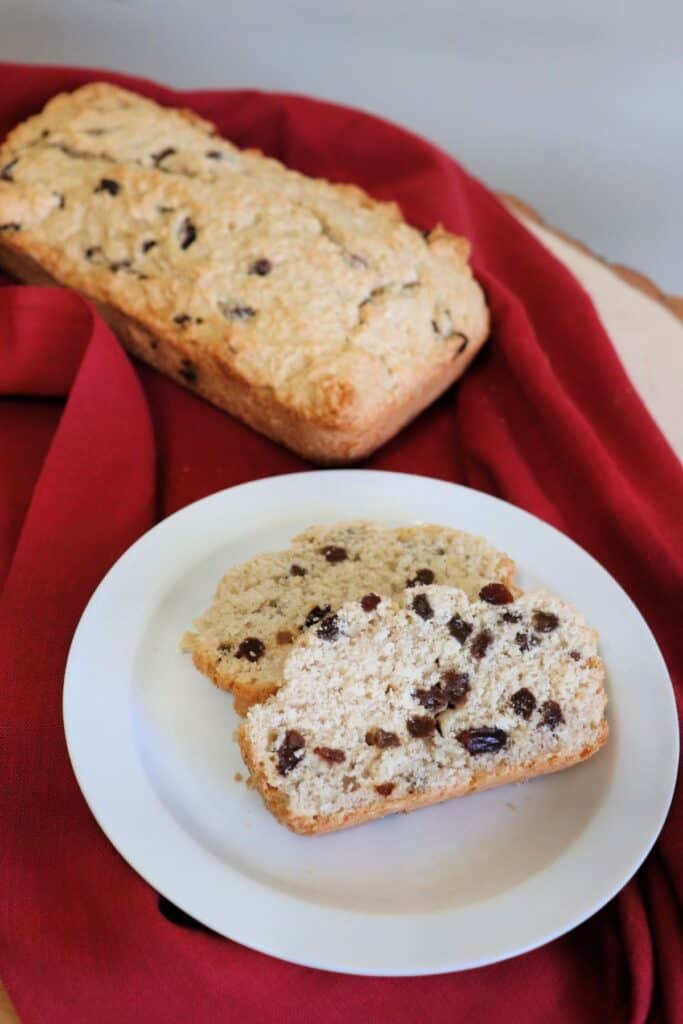 I used raisins because I always have those hand. I do think mixed fruit like dates and raisins or more natural dried cherries would be incredible. One could also skip the fruit all together, if desired.
Options Abound
This excellent bread lends itself to tons of customization, if desired.
Use coconut milk to up the coconut flavor even more. Low-fat milk will also work if that's what you have in the fridge.
I used white sugar in this recipe but next time might switch it for brown sugar because that too would be an incredible flavor.
Some whole wheat flour could be substituted for the all purpose, but do know it might make the bread a bit on the dry side – not necessarily bad just different.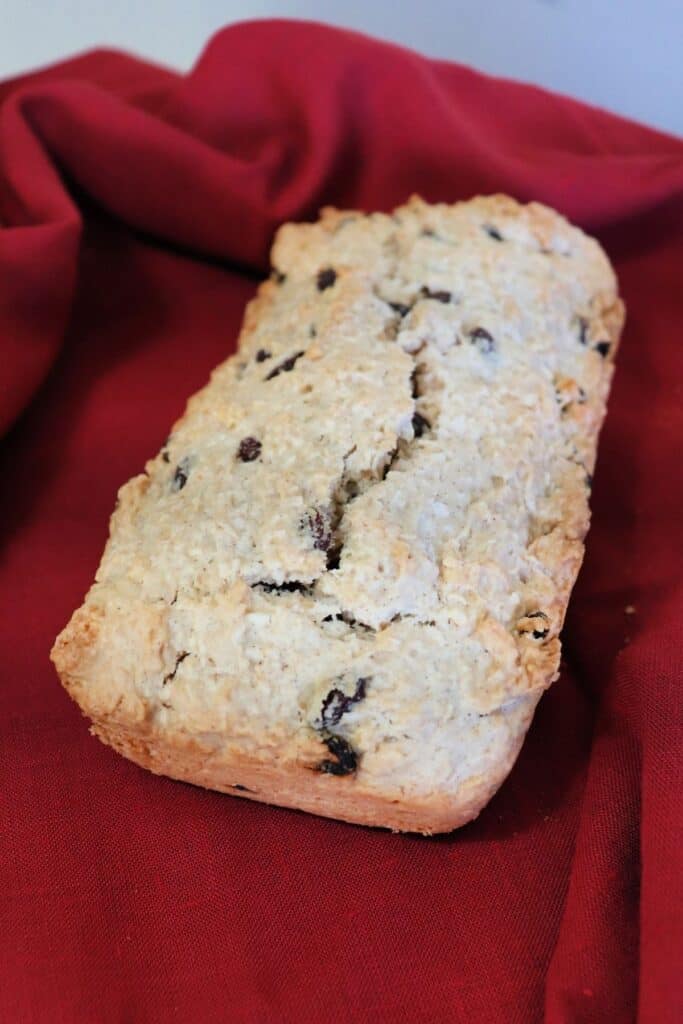 Because the bread is a bit on the crumbly side because of all that coconut, do use a smaller loaf pan. The mini loaf pans would be ideal here, just check for doneness a bit sooner than called for in the original recipe.
A cup of pistachios or other chopped nuts would be a great addition.
A drizzle of melted chocolate over the top of cooled loaves would be pretty for serving at special occasions.
Some chocolate chips in the batter would also be quite lovely thought not at all traditional but I encourage you to make it your own great recipe by tossing in your favorite things.
Freeze Leftovers
You can freeze leftover bread by wrapping in plastic wrap or storing in an airtight container.
Use the frozen bread up within 3 months for best flavor and texture.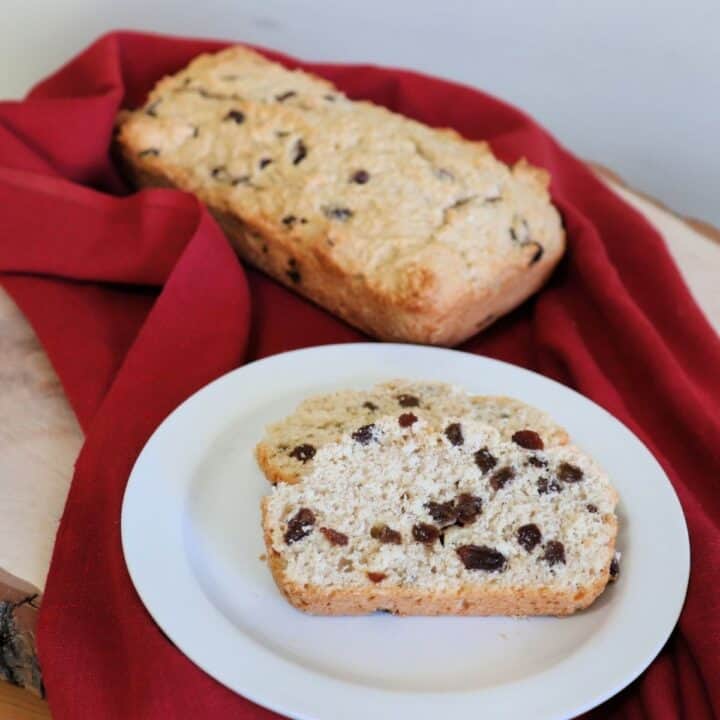 Caribbean Coconut Bread
Total Time:
1 hour
5 minutes
Lightly sweet and full of crunch, this coconut bread is sure to bring the feel of the topics home.
Ingredients
3 Cups Unbleached, All Purpose Flour
1 Tablespoon Baking Powder
1/2 teaspoon Ground Cinnamon
1/2 teaspoon Ground Nutmeg
1/2 teaspoon Ground Ginger
1/2 Cup Salted Butter, softened
2/3 Cup Sugar
1 Cup Milk
2 Eggs
2 teaspoons Vanilla Extract
2 Cups Unsweetened, Shredded Coconut
1 Cup Raisins
Instructions
Preheat the oven to 325 degrees Fahrenheit.
Grease two 8X4 inch loaf pans or line with parchment paper.
In a medium bowl, combine flour, baking powder, and spices. Set aside.
In a large mixing bowl, cream together the butter and sugar until light and fluffy.
Add the eggs and vanilla and mix completely.
Stir in the milk.
Slowly add the dry ingredients, mixing until everything almost completely incorporated.
Fold in the coconut and raisins with a rubber spatula until completely combined.
Divide the batter in equal portions between the two prepared bread pans, spreading evenly.
Bake in the preheated oven for 45 minutes or until an inserted tester comes out clean. The edges should be a golden brown.
Let the bread cool in the pans for 10 minutes.
Run a knife around the edges of the bread and turn out to cool completely on a wire rack.
Nutrition Information:
Yield:

24
Serving Size:

1 slice
Amount Per Serving:
Calories:

191
Total Fat:

9g
Saturated Fat:

7g
Trans Fat:

0g
Unsaturated Fat:

2g
Cholesterol:

26mg
Sodium:

106mg
Carbohydrates:

25g
Fiber:

2g
Sugar:

11g
Protein:

3g
I try but cannot guarantee this nutritional information is 100% accurate.