Make this Guyanese bread recipe for a quick and delicious loaf that is also gorgeous.
This is the kind of bread that just screams comfort. It's perfect for toast, dipping in soup, eating as sandwich bread and more.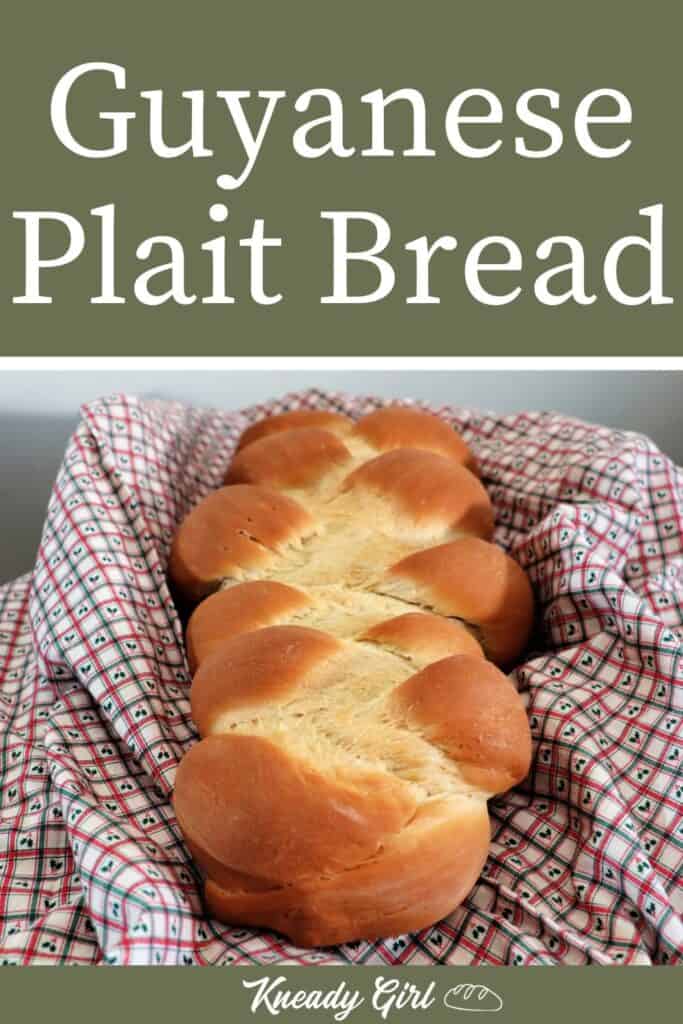 A Plait Bread Recipe
To plait simply means to braid.
The bread dough is shaped to a braid that makes it beautiful and tasty. The top of the bread gets a lovely golden brown with just a hint of crunch while the inside stays soft and fluffy.
The original recipe below does make one rather large loaf. You could split it up into two smaller braided loaves, if desired.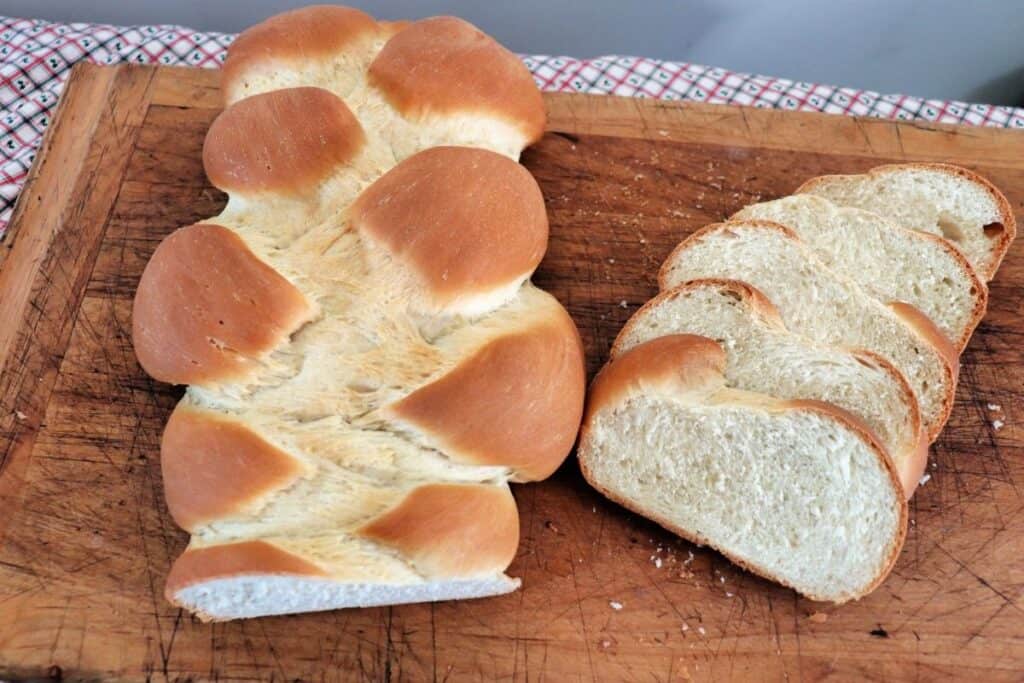 Want to skip the braid in your bread making? Divide the dough in half and cook in loaf pans instead.
Vegan Alternative
This bread will easily remind you of Challah. It's braided and lightly sweet, soft and fluffy, just like a good Challah.
However, unlike challah it has no eggs. Use olive oil instead of butter and this is a perfect vegan homemade bread to serve alongside soups and salads.
Substitution Ideas
Add some whole wheat flour in place of some of the bread flour for a whole grain option. Whole wheat flour will likely absorb water more quickly so add bread flour slowly and knead until it forms a soft dough.
Use all purpose flour instead of bread flour, the end result will be almost identical.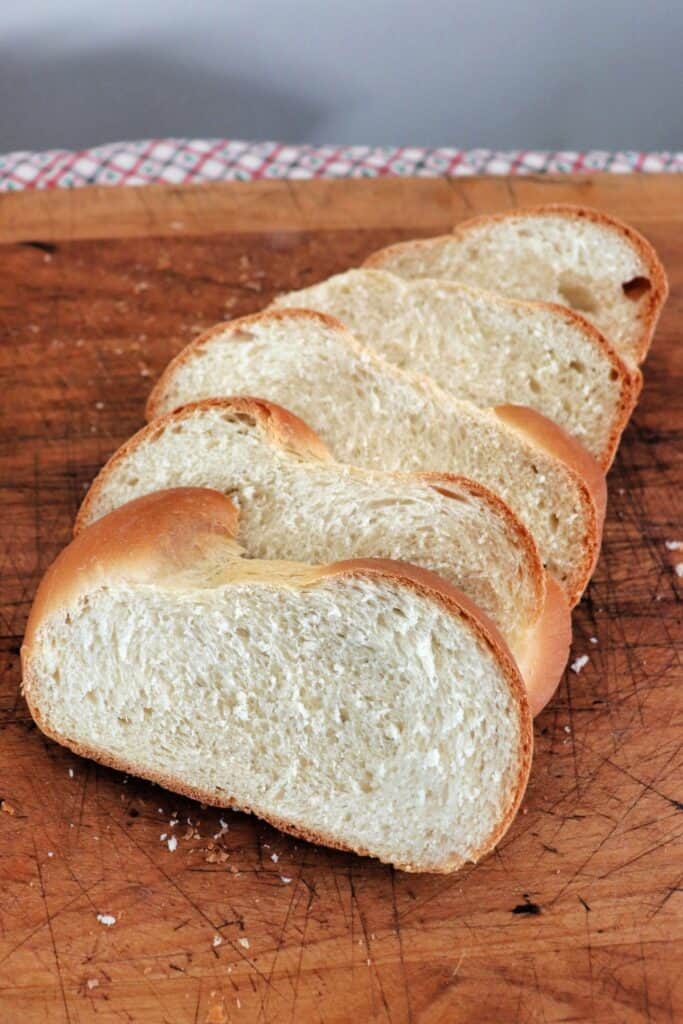 You could substitute white sugar for the brown. The flavor will be slightly different but likely not enough to fret over.
Want an even more golden loaf? Brush the risen braid with an egg wash before baking for deep brown color.
How to Serve
There isn't a wrong way to serve this bread. Honestly, the hot bread slathered in butter is pretty great all by itself.
As the recipe does have its roots in Guyanese cuisine, consider making it and pepper pot for a lovely meal.
Toast it and slather various spreads on it for breakfast.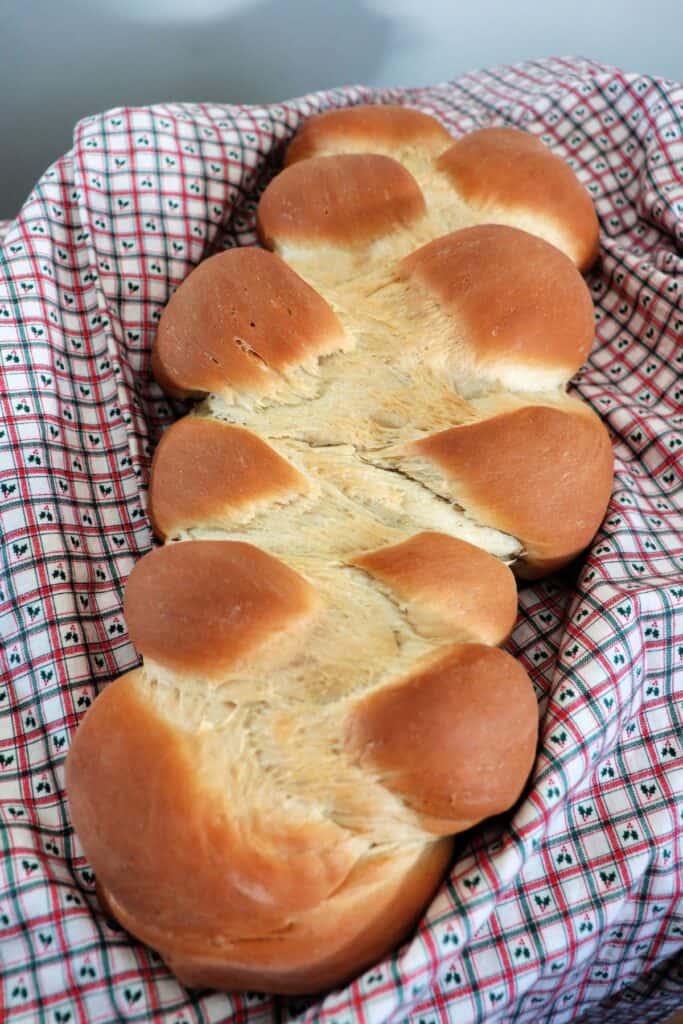 Use it as a base for crostini.
Make it a sandwich bread by slicing the loaf a bit on the thin side.
Serve it alongside soup or salad or any kind of meal for that matter.
How to Freeze
Wrap the whole loaf in plastic wrap or place in an entire bag to place in the freezer.
Alternatively, slice the bread and freeze the slices in an airtight container. Use slices as needed.
Use up the frozen bread within 6 months to prevent freezer burn and for optimal flavor.
Looking for other simple white bread recipes?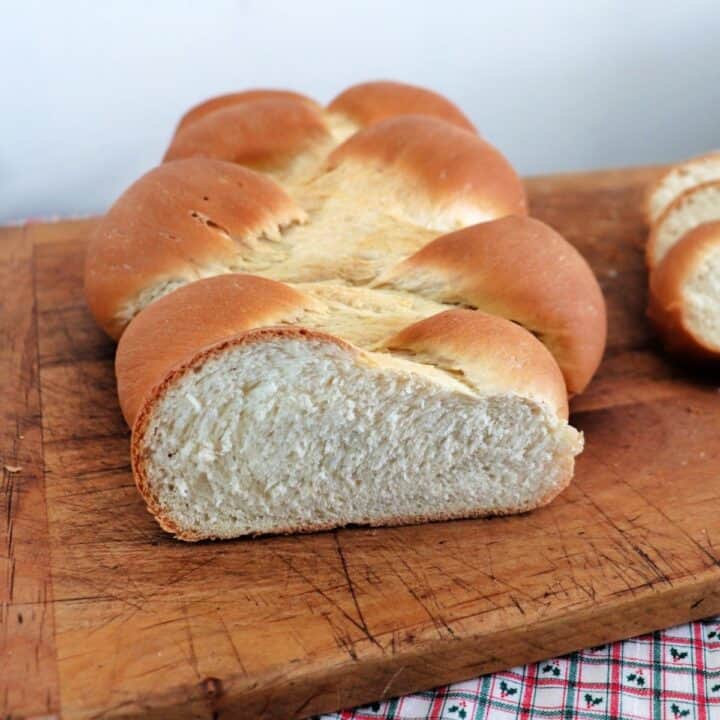 Guyanese Bread Recipe
Rising Time:
1 hour
30 minutes
Total Time:
2 hours
20 minutes
Make Guyanese Plait Bread as a lightly sweet and fluffy bread perfect the dinner table.
Ingredients
1 Tablespoon Active, Dry Yeast
1 1/3 Cups Warm Water
1 Tablespoon White Sugar
1/4 Cup Salted Butter, melted or Olive Oil
1/2 teaspoon Salt
1/4 Cup Brown Sugar, Packed
3 1/2 Cups Bread Flour
Instructions
In a large bowl, combine the white sugar, yeast, and warm water. Let sit until foamy, about 5-10 minutes.
Add 1 Cup of bread flour to the yeast mixture and mix well.
Add the melted butter / olive oil, salt, and brown sugar. Stir until combined.
Add the remaining bread flour and mix, with a dough hook attachment or a wooden spoon, until the dough begins to form.
Turn out to a floured board and knead until an elastic and smooth ball of dough is formed.
Grease a bowl and put the dough ball inside, turning to coat.
Cover the bowl with a tea towel and set aside to rise in a warm place until doubled, about 45 minutes.
Line a baking sheet with parchment paper or a silicone baking sheet. Alternatively, grease a cookie sheet.
Punch down the dough and turn out to a floured surface. Knead slightly.
Divide the dough into 3 equal portions
With the palms of your hands, roll each portion into equal logs approximately 16 inches long.
Braid the three strands. Tuck the ends together tightly.
Place the dough braid on the prepared baking sheet. Cover with a towel and let rise until doubled, about 45 minutes.
Meanwhile preheat the oven to 375 degrees Fahrenheit.
Bake the risen bread in the preheated oven for about 30 minutes. The bread will be golden brown and sound hollow when tapped with a knuckle.
Remove from the baking sheet to cool on a wire rack.
Nutrition Information:
Yield:

18
Serving Size:

1 slice
Amount Per Serving:
Calories:

140
Total Fat:

4g
Saturated Fat:

2g
Trans Fat:

0g
Unsaturated Fat:

2g
Cholesterol:

7mg
Sodium:

81mg
Carbohydrates:

23g
Fiber:

1g
Sugar:

3g
Protein:

3g
I try but cannot guarantee this nutritional information is 100% accurate.