Soboro bread is this amazing combination of soft peanut butter cookie on top of a homemade fluffy roll.
I understand this original idea came from Korean bakeries and my goodness what an idea it is!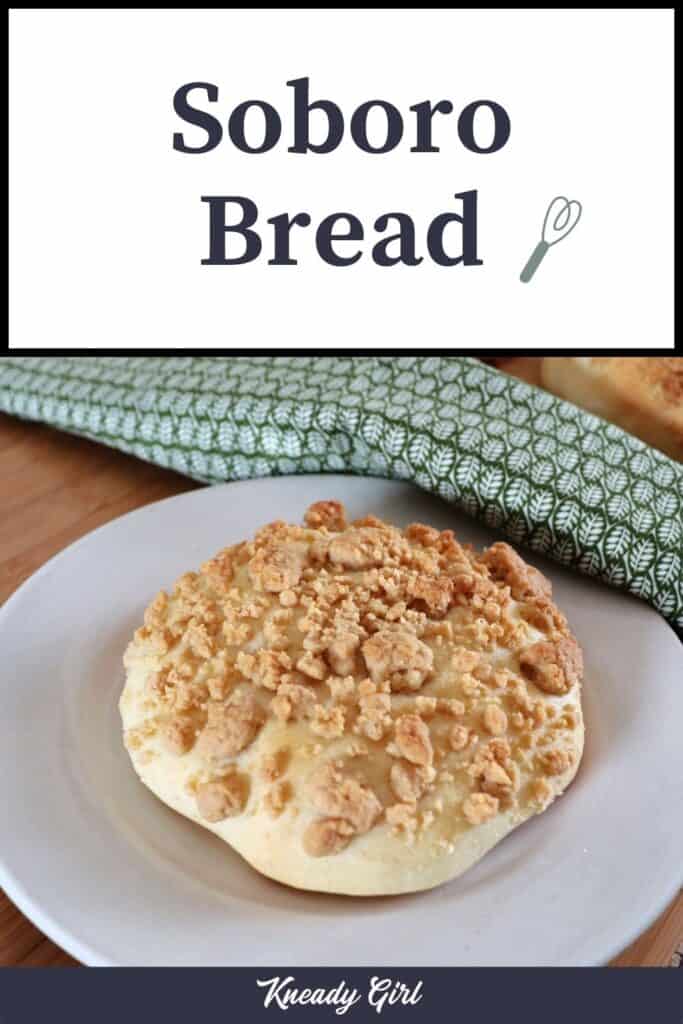 I don't want to claim that I made it in any kind of traditional way. I definitely looked at a variety of recipes and made it my own. It's definitely a peanut streusel topped sweet bun but I'm sure my method would not be anything like those of Korean bakery.
Multiple, Easy Steps
This is an easy recipe. Each of the steps are very doable for anyone who has had some baking experience.
If you've made cookies, you can make the topping. If you've made a basic bread dough, you can make the sweet bun base.
However, because there are multiple steps, this recipe takes some time and planning. Be sure to read it over and plan ahead before diving in.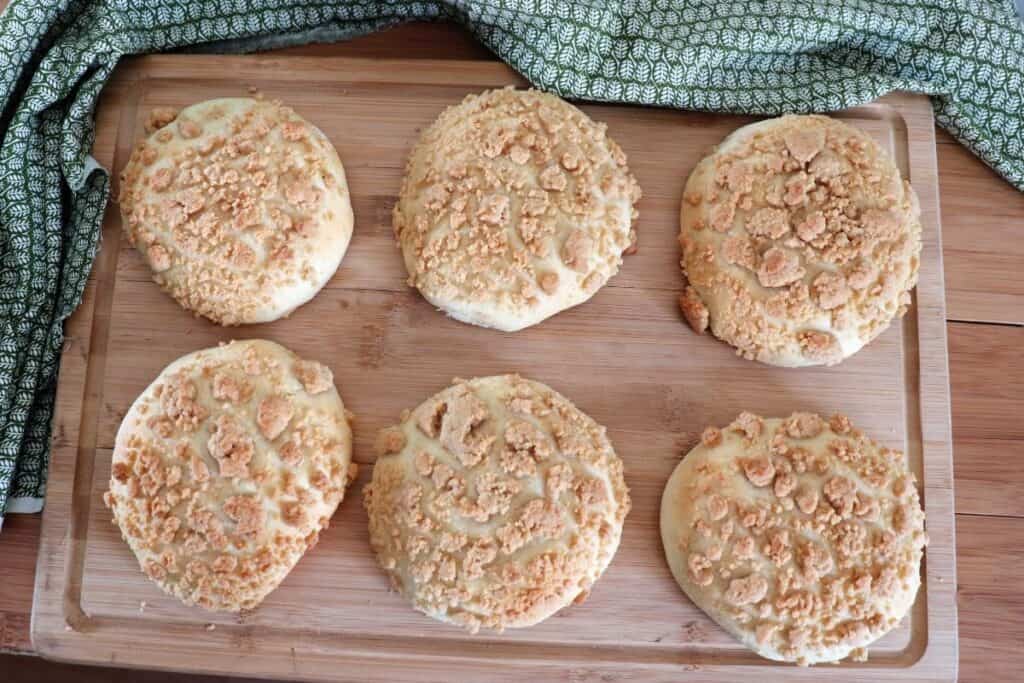 The Soboro Topping
Honestly, this is the thing that makes these rolls so very special.
It truly is like a peanut butter cookie on top of bread. It hits all the right comforting food notes in one easy to hold package.
I used creamy peanut butter in my recipe but I do think chunky peanut butter could work if you're so inclined. It will obviously change the texture a bit, make it a bit crunchy but I don't think that would at all be a bad thing.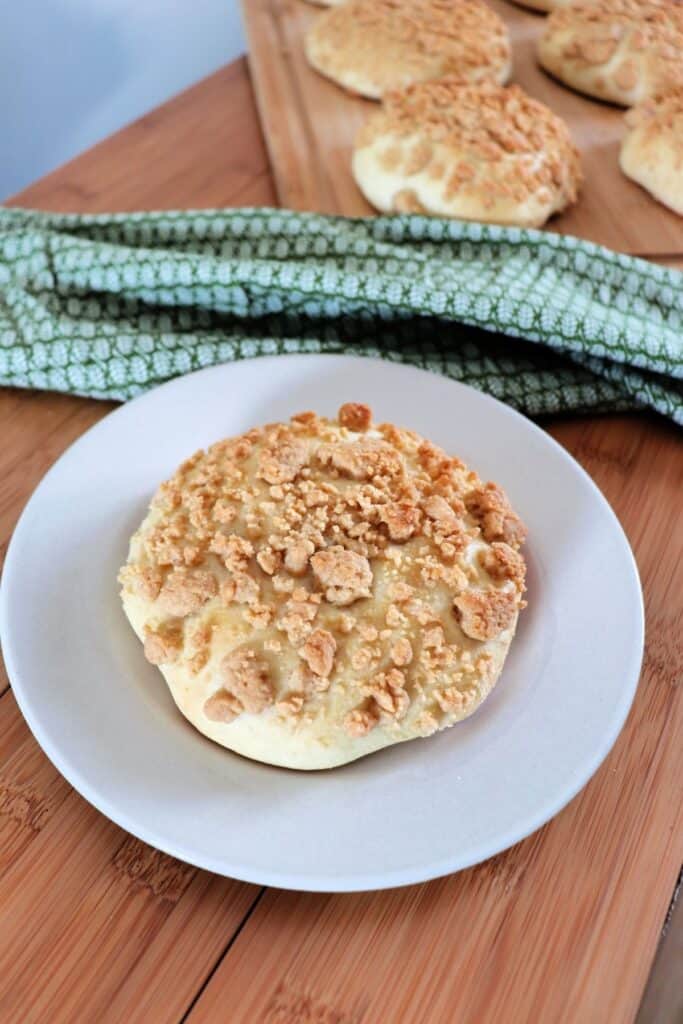 How to Serve
Use this as a part of a breakfast or brunch spread with fruit and eggs.
Serve it as an afternoon snack with tea or coffee.
Definitely tuck into lunch boxes or care packages.
Freeze Leftovers
Store leftover soboro bread in the freezer. Simply put the rolls into freezer bags and freeze.
Use up within 6 months for best flavor.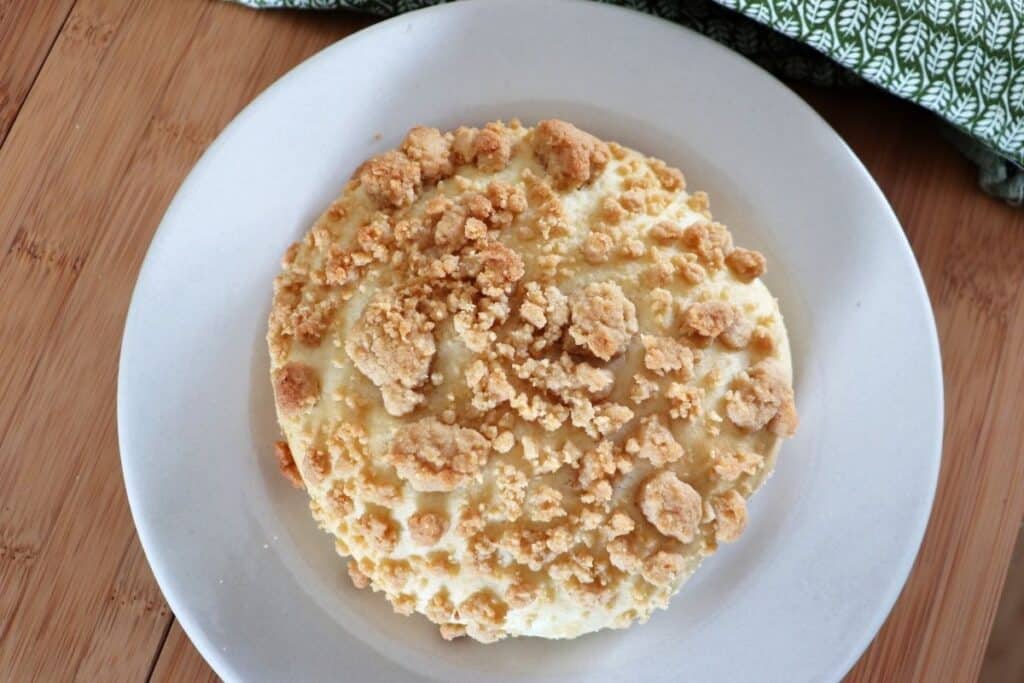 Looking for other peanut butter recipes? Try my peanut butter bread loaf for amazing toast and PB&J sandwiches.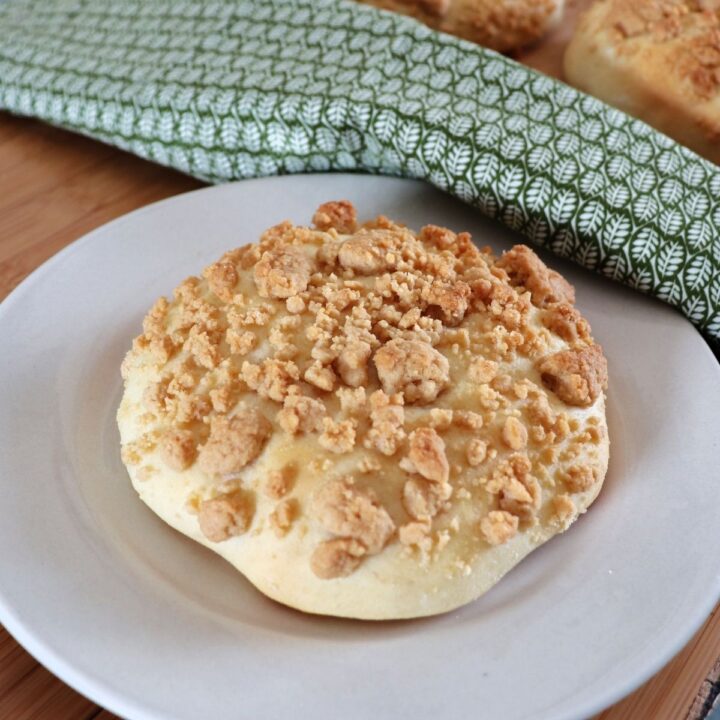 Soboro Bread Recipe
Total Time:
2 hours
58 minutes
Korean streusel bread is a peanut butter topped bread roll sure to delight at breakfast or snack time!
Ingredients
Peanut Butter Streusel
1/3 Cup Salted Butter, softened
3 Tablespoons Peanut Butter
1/3 Cup Brown Sugar, packed
1 Egg Yolk (reserve egg white)
1 teaspoon Vanilla Extract
1 Cup Unbleached, All-Purpose Flour
1/2 teaspoons Baking Powder
1 Tablespoon Cornstarch
Flour Paste
1/3 Cup Water
2 Tablespoons Bread Flour
1/3 Cup Milk
1 Tablespoon Salted Butter
3 Tablespoons White Sugar
Bread Dough
1/2 Cup Warm Water
1 Tablespoon Dry, Active Yeast
1/2 teaspoon Salt
1 Egg
1 Egg White 
3 Cups Bread Flour
Topping
1/2 Cup Water
1/2 teaspoon Cornstarch
Instructions
Make the Peanut Butter Streusel
Cream together the peanut butter, butter, and brown sugar until light and fluffy.
Add the egg yolk and vanilla extract, beating well.
Stir in the flour, baking powder, and cornstarch. Mix until it all comes together in a ball, much like peanut butter cookie dough.
Break the dough apart into small crumbles. It is easiest to do this over a large plate, breaking it all up into small pieces. Keep the crumb mixture at room temperature.
Make the Flour Paste
In a small saucepan, combine the water and flour. Heat over low heat until thickened.
Slowly whisk in the milk, being sure to avoid any clumps. Continue to heat until thickened.
Remove from heat, add the butter and sugar. Mix well. Let sit until the butter melts and the mixture is about 115 degrees Fahrenheit.
Make the Bread Dough
In a large mixing bowl, combine the yeast and water. Let sit until foamy, about 5-10 minutes.
Add the flour paste mixture to the yeast mixture and stir to combine.
Add 1 cup of the bread flour and salt. Mix well.
Add the remaining flour and with a dough hook or a wooden spoon, mix until a dough begins to form.
Turn the dough out onto a floured board and knead until soft and elastic. It will be slightly sticky.
Grease a large bowl and put the dough inside, turning to coat.
Cover with a tea towel and let rise until doubled about an hour.
Make the topping by whisking together the water and cornstarch in a small bowl. Keep it close by with a pastry brush
Grease a baking sheet or line it with parchment paper / silicone baking sheet.
Punch down the dough and turn out to a floured surface. Knead slightly.
Divide the dough into 12 equal pieces. The individual balls will weight about 2.5 ounces.
Flatten each the dough balls with the palm of your hand.
Brush the dough with the cornstarch water topping.
Press the dough with cornstarch-water topping side down into the peanut butter streusel. The dough will likely flatten out more, become bigger. That's just fine and even desired some. Press with some force so that the crumb topping will become embedded into the dough.
Place each dough round onto the sheet pan a few inches apart. You could use 2 baking sheets, placing 6 rounds onto each if it seems too crowded.
Cover the sheet with a towel and let rise until doubled about 45 minutes to an hour.
Meanwhile, preheat the oven to 375 degrees Fahrenheit.
Bake the dough for 15 to 18 minutes. If you're using 2 sheets, rotate halfway through the baking time.
The rolls are done when golden brown and sound hollow when tapped on the bottom.
Remove from the baking sheet to cool completely on wire racks.
Nutrition Information:
Yield:

12
Serving Size:

1
Amount Per Serving:
Calories:

297
Total Fat:

10g
Saturated Fat:

5g
Trans Fat:

0g
Unsaturated Fat:

4g
Cholesterol:

47mg
Sodium:

194mg
Carbohydrates:

44g
Fiber:

2g
Sugar:

9g
Protein:

8g
I try but cannot guarantee this nutritional information is 100% accurate.