Homemade yeast rolls are ideal for impressing at big feasts. However, these soft dinner rolls are easy enough to make as part of a regular cooking routine.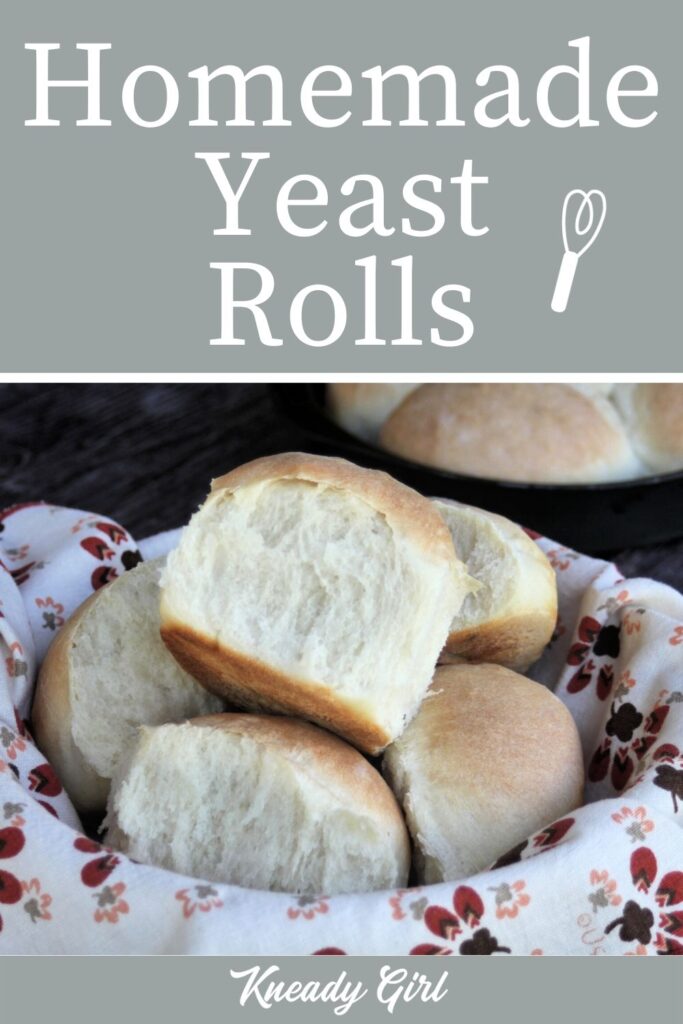 Learning how to bake rolls from scratch is not at all as daunting as it might seem and this recipe is almost foolproof.
Simple Ingredients
There's nothing fancy going on here. Like most bread recipes, it is the simplicity that makes it so very comforting and delicious.
These are made with 100% unbleached all-purpose flour which keeps them soft and fluffy. There's nothing grainy or dense here making them easy for a crowd.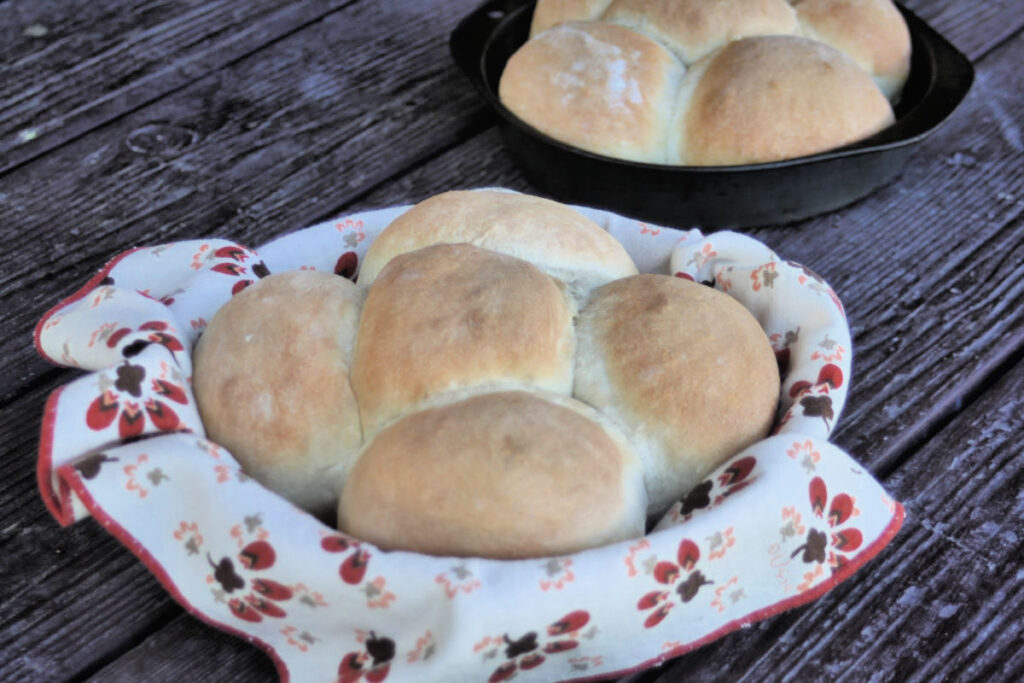 They're also a naturally vegan bread recipe meaning you don't have to worry about serving them to a variety of folks.
Difficulty Level: Beginner
These are the perfect easy yeast rolls for beginners to bake. The kneading and shaping is quite forgiving because they are baked in a round cake pan, letting them be rather free form.
Size of Rolls
The recipe is written to give 10 rather large rolls. However, smaller rolls can easily be made.
Start by weighing your ball of dough – it will likely be in the 2 1/2 pound range. Divide that weight by the number of rolls you want.
For example: 2 1/2 pounds is 40 ounces – 10 rolls would be 4 ounces each. Divide by an even larger number for bigger rolls, smaller numbers will give you more rolls that are smaller, which might be better for a big feast meal.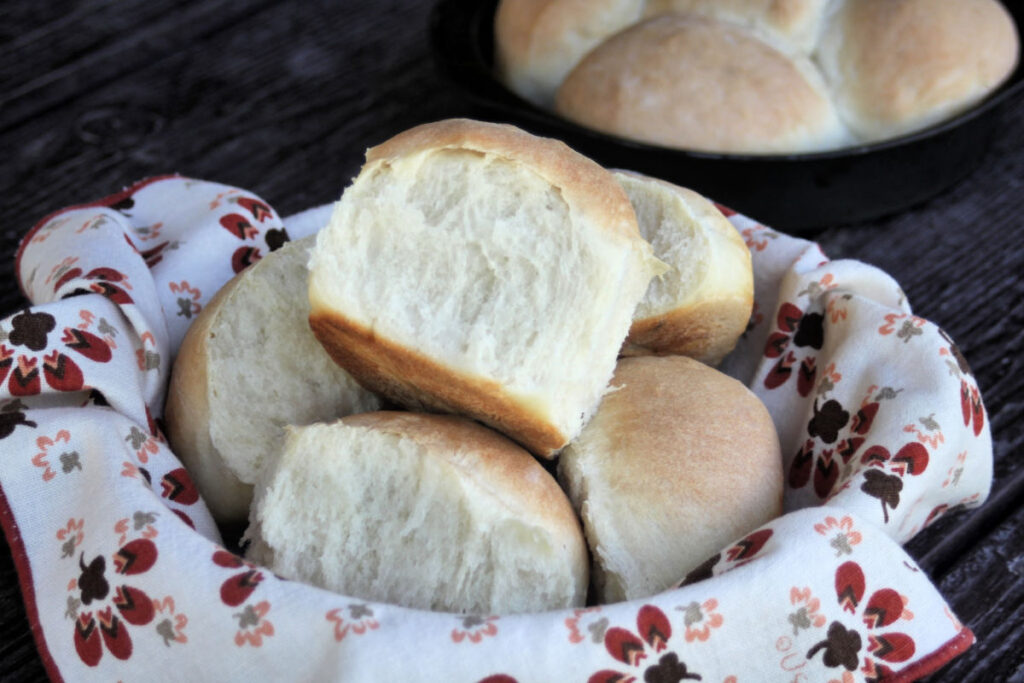 Smaller rolls can easily be cooked on a cookie sheet instead of in round cake pans. Check the time earlier than the recipe indicates for smaller rolls.
How to Serve
Simply break the rolls apart by hand after they've cooled. Put the rolls in linen lined baskets to bring to the table for dinner.
Freeze Extras
Put extra rolls in airtight bags and freeze until solid. Eat frozen rolls within 6 months for best flavor.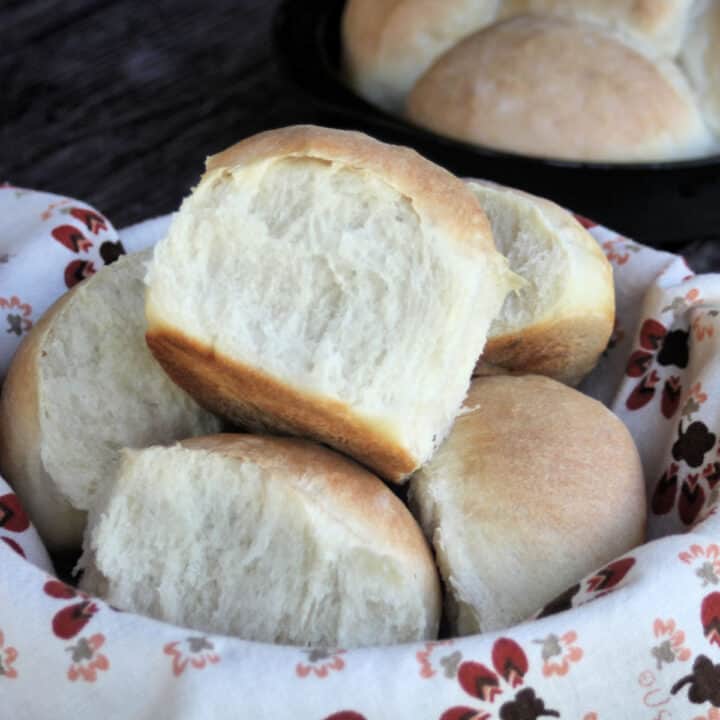 Homemade Yeast Rolls
Additional Time:
1 hour
45 minutes
Total Time:
2 hours
30 minutes
Super soft dinner rolls perfect for feasts and simple weeknight dinners alike.
Ingredients
1 Tablespoon Active, Dry Yeast
2 Cups Warm Water
1 teaspoon Sugar
2 teaspoons Salt
5 1/2 Cups Unbleached All-Purpose Flour
Instructions
Whisk together the water, yeast, and sugar. Let sit until foamy - about 10 minutes.
Add the salt and 4 cups of flour. Mix well.
Continue adding flour until a dough begins to form.
Turn out onto a floured board and knead until the dough is smooth, elastic, and slightly glossy.
Grease a large bowl. Turn the dough around inside the bowl to coat with the oil.
Cover the bowl with a towel and let sit until doubled. About an hour.
Punch down the dough and knead slightly.
Grease two 8" round cake pans.
Weigh the ball of dough and divide it into 10 even pieces.
Roll the pieces between your hands and the board to form round balls of dough.
Place 5 rolls into each of the prepared cake pans. Place one ball in the center of each pan and place 4 dough balls around it.
Cover the pans with a towel and let rise until doubled about 30-45 minutes.
Meanwhile, preheat oven to 400 degrees Fahrenheit.
Bake the risen dough in the preheated oven for 20-25 minutes or until golden. The rolls will sound hollow when tapped with a knuckle.
Remove from the pan immediately to cool on wire racks.
Recommended Products
As an Amazon Associate and member of other affiliate programs, I earn from qualifying purchases.
Nutrition Information:
Yield:

10
Serving Size:

1 Roll
Amount Per Serving:
Calories:

256
Total Fat:

1g
Saturated Fat:

0g
Trans Fat:

0g
Unsaturated Fat:

0g
Cholesterol:

0mg
Sodium:

427mg
Carbohydrates:

53g
Fiber:

2g
Sugar:

1g
Protein:

8g
I try but cannot guarantee this nutritional information is 100% accurate.