There's just something special about homemade bread loaded with cheese and when you can make it easily using a bread maker well then so much the better.
This bread machine cheese bread recipe comes together quickly and easily with your favorite cheese for something that can easily be served alongside most any savory meal.
Made from simple and flavorful ingredients this is a recipe you'll turn to again and again for interesting sandwiches and a great side to homemade soups.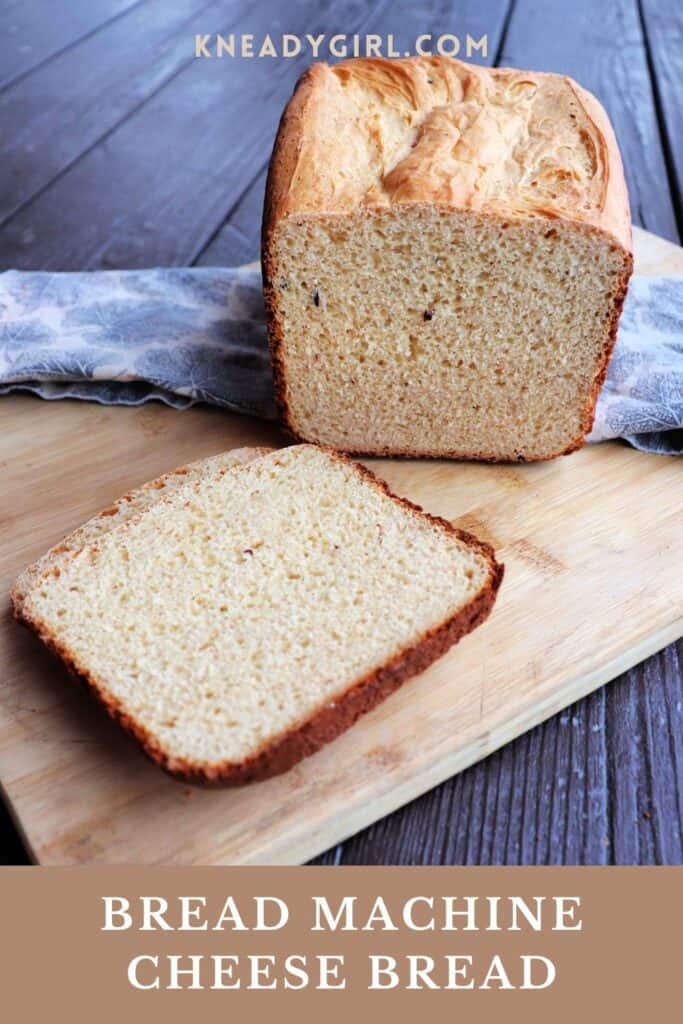 Cheese Choices
I've made this recipe a number of times with different cheeses and all have turned out amazingly well.
I made a loaf with a ghost pepper cheddar cheese that was incredible. Spicy and cheesy and just wonderful. The cheese was a bit too hot for my taste buds plain but the bread dough seemed to cool the heat level some.
Sharp cheddar cheese provides a ton of flavor and is likely already on hand for many. There's no reason you couldn't use a mild cheddar cheese if that's what you prefer.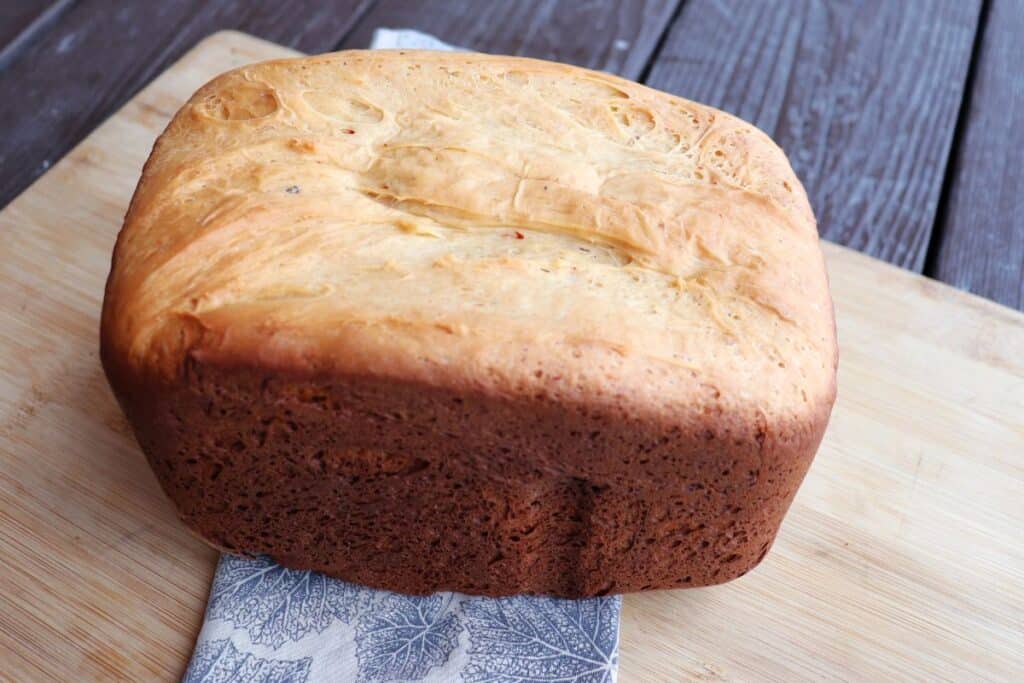 Parmesan cheese would be great to serve alongside pasta dishes.
I only tested this recipe with hard shredded cheese, I can't promise that it would work with a soft cheese, like brie.
Flour Choices
The recipe uses bread flour but you could likely substitute all-purpose flour and have similar results.
Substitute up to half of the bread flour with whole wheat flour, if you'd like some whole grain. If you wanted to do 100% whole wheat, you might need more water. I didn't test it but in general whole wheat absorbs more water and so the results can't be guaranteed.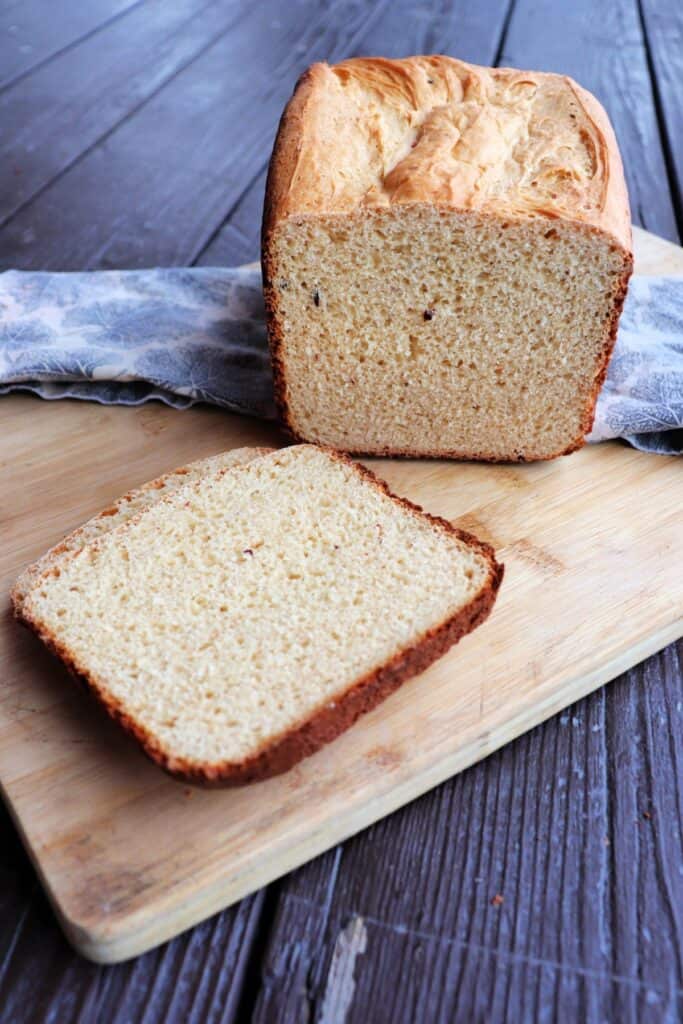 Yeast Choices
I use instant yeast for ease in every bread machine recipe I test. If you wanted to use active dry yeast or bread machine yeast, simply follow your manufacturer's instructions but I can't say for certainty in what amount.
A Quick Note about Salt
The recipe only includes an addition 1/2 teaspoon salt – this is because cheese tends to be quite salty on its own and additional salt might be too much.
Add more or less based on the saltiness of your own cheese choice.
About My Bread Machine
My bread machine recipes are tested on a Welbilt Bread Machine. I bought it at a thrift store for $6.50. It makes great bread but every machine is different. Please follow any specific instructions provided by your bread machine manufacturer if they differ from how this recipe is written.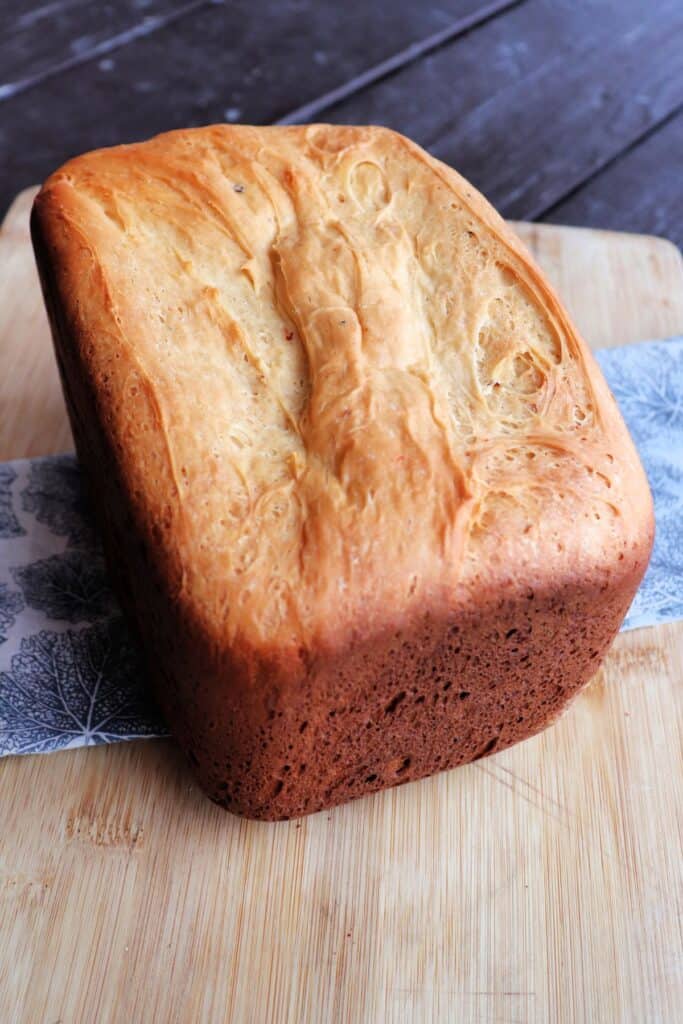 To Prevent Sticking
I had multiple loaves become hopelessly stuck to my bread pan and had to learn a trick or two to prevent it. Here's what I do, if you'd like to try it:
After the final kneading cycle (for my machine there's a 2 second third cycle of punching down), I remove the dough quickly from the machine, remove the kneading paddle and then spray the pan with some non-stick spray. Then I put the dough back in, close the lid and let the machine finish its rising and baking.
I use needle nose plier to remove the paddle.
This very simple step has stopped bread from sticking to the paddle hopelessly and coming out of the pan a broken mess.
How to Serve
Serve this like you would any delicious bread. Use slices for your favorite sandwich fillings. Make grilled cheese on it for an even cheesier flavor.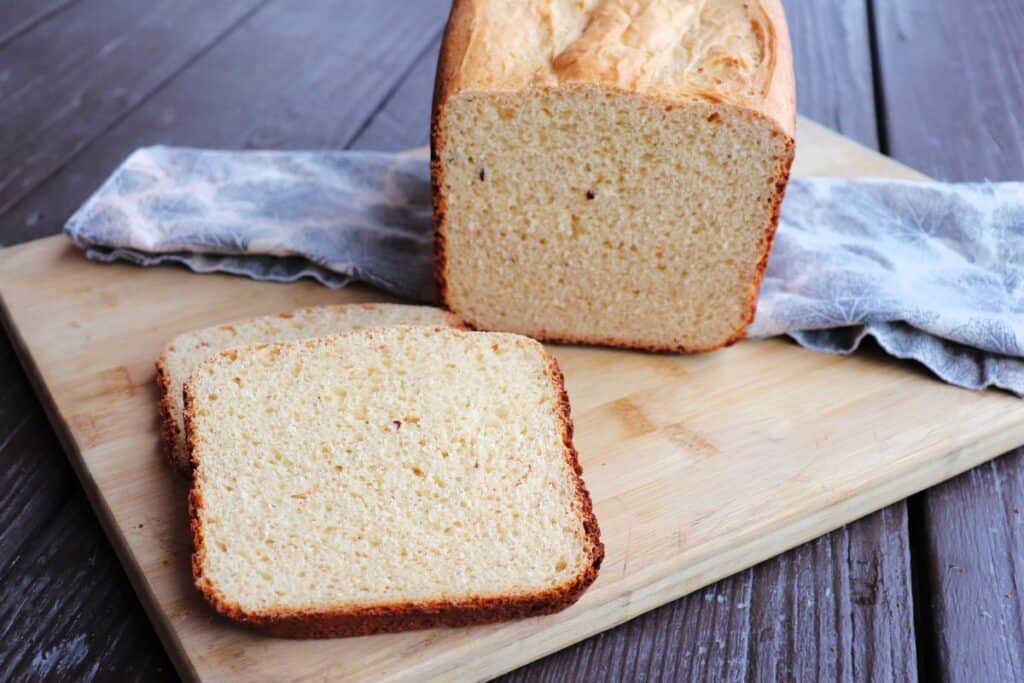 Definitely serve alongside your favorite soup for a filling and tasty meal.
It's great alongside pasta and perfect for dipping into marinara sauce.
How to Store
Store any leftover bread or slices in an airtight container where it should stay fresh for about 5 days.
For longer term storage, wrap bread in plastic wrap or place into freezer bags and freeze.
Let frozen bread thaw at room temperature prior to storing. Use up frozen bread within 6 months for best flavor and to prevent freezer burn.
Looking for more great recipes featuring cheese?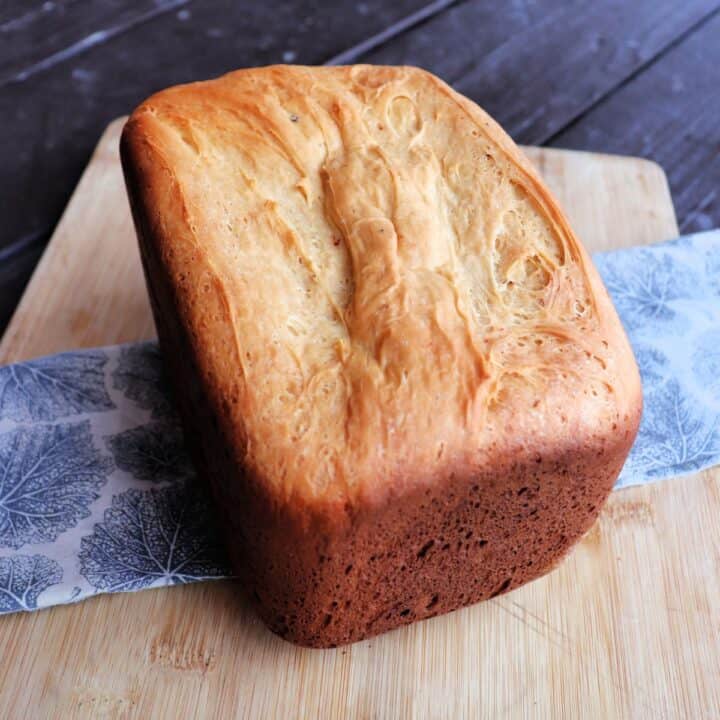 Cheese Bread Recipe for Bread Machine
Total Time:
3 hours
15 minutes
Make yourself an easy & delicious homemade cheese bread in the bread machine with this simple recipe.
Ingredients
1 Cup & 2 Tablespoons Water
2 Tablespoons Dry Milk
1/2 teaspoon Salt
2 Tablespoons Sugar
4 Cups Bread Flour
1 Tablespoon Instant Yeast
2 Cups Grated / Shredded Cheese
Instructions
Place everything but the cheese in the machine bread pan in the order written (or as directed by your machine's instructions). Usually liquid ingredients are followed by salt and the dry ingredients with the yeast being last, but again follow your bread machine manual for best results.
Put the bread machine pan in the bread maker and close the lid.
Select the Basic bread setting / White bread cycle for dark crust (or desired crust color) for a 2 pound loaf.
Press Start.
Just before the end of the second kneading cycle, or when prompted by your machine, add the cheese to the pan.
When done, remove the pan from the machine, run a butter knife around the sides of the loaf pan. Using oven mitts, turn pan upside down and gently shake to remove bread from pan and let bread cool to room temperature on a wire rack before slicing.
Nutrition Information:
Yield:

20
Serving Size:

1 Slice
Amount Per Serving:
Calories:

153
Total Fat:

4g
Saturated Fat:

2g
Trans Fat:

0g
Unsaturated Fat:

1g
Cholesterol:

11mg
Sodium:

130mg
Carbohydrates:

22g
Fiber:

1g
Sugar:

2g
Protein:

6g
I try but cannot guarantee this nutritional information is 100% accurate.