Get a flavorful, homemade cheese bread full of whole grain with this super easy bread perfect for healthy sandwiches.
This cheddar bread is a dense and delicious loaf that toasts well and is sturdy enough to stand up to hearty fillings.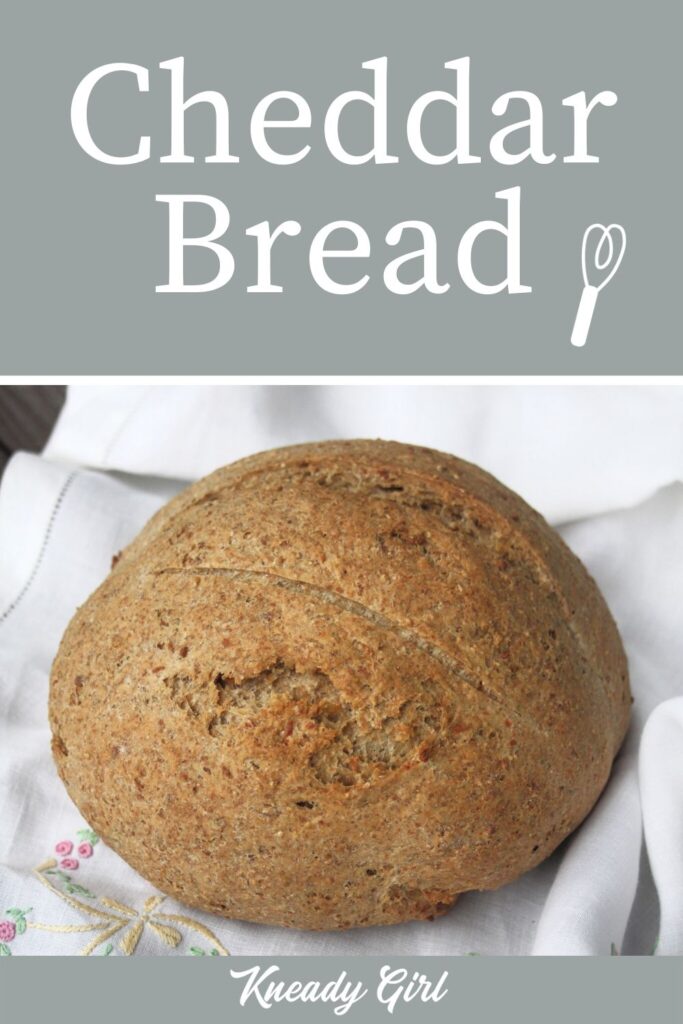 Sharp Cheddar
Because the whole grains are flavorful and strong on their own, use a sharp, flavorful cheddar cheese. A mild cheddar simply won't stand up or come through the final bread.
The recipe calls for grating the cheese but if you'd like to have bigger pockets of cheese dice it into small pieces instead.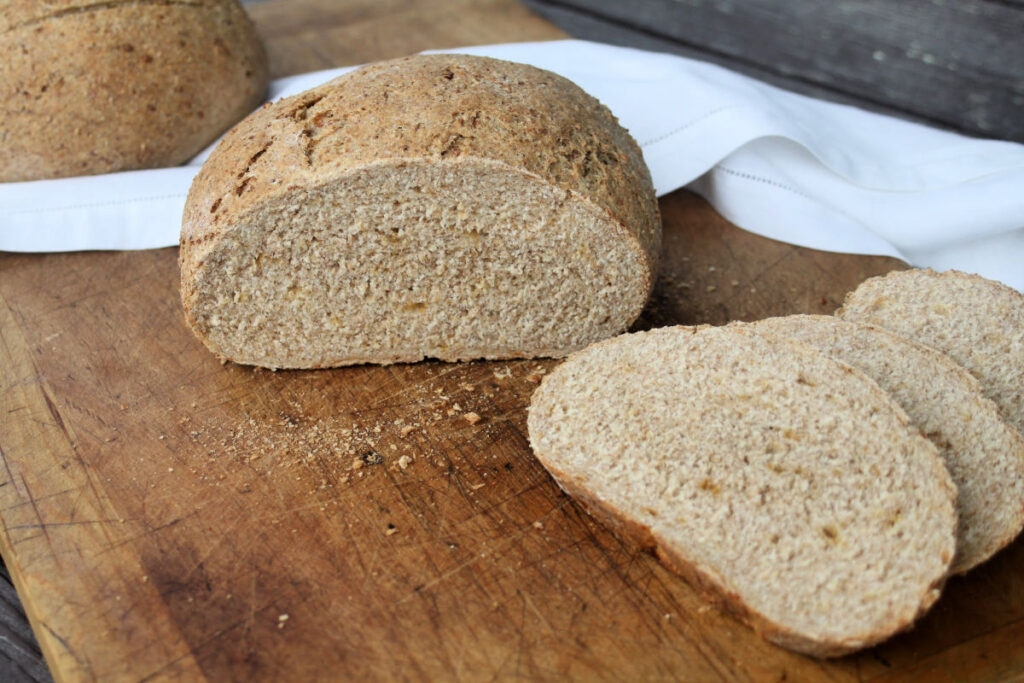 Difficulty Level: Intermediate
The basic technique in this bread recipe is the same as most simple bread recipes – it just uses quite a bit of whole grain flour. Because it is so basic, this would be an ideal whole grain loaf for a beginner to improve upon their skills and as an introduction to whole grain bread baking.
Flour Choices
The recipe calls for pumpernickel flour. It's not always the easiest flour to find in the grocery store. Substitute rye flour or use more whole wheat flour if desired.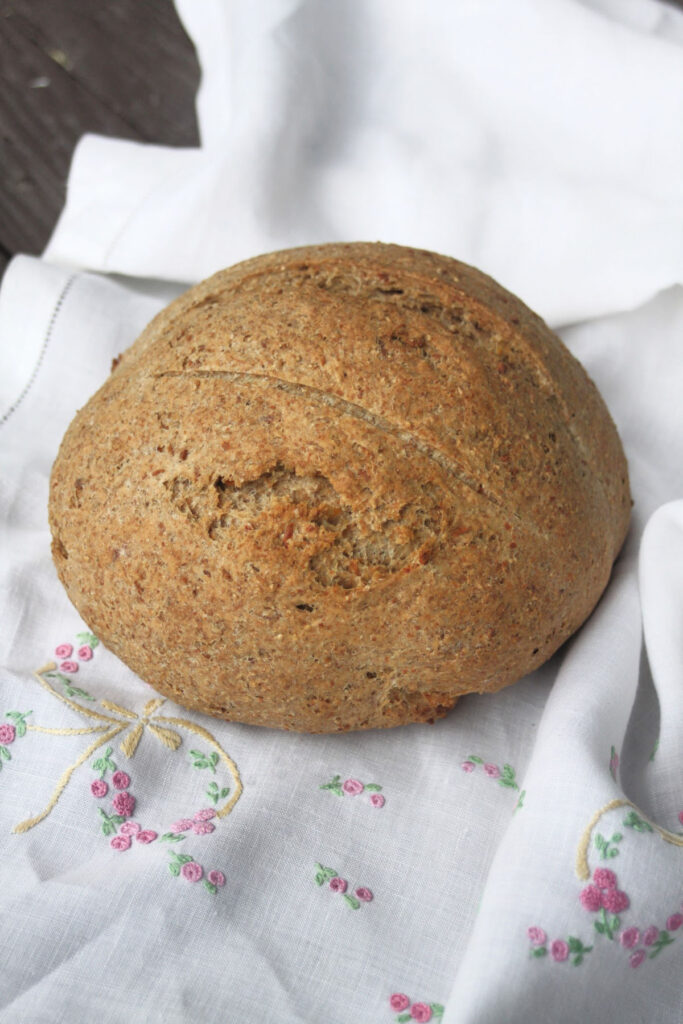 How to Serve
This is a savory and sturdy bread built to stand up to other strong flavors and heavy use.
Toast it and serve alongside eggs for breakfast.
Dip chunks of it into soups and stews.
Fill it with thick and heavily flavored sandwich fillings – salami, more cheese, etc.
Top it with a strong and flavorful filling and place it under the boiler – think tuna melts.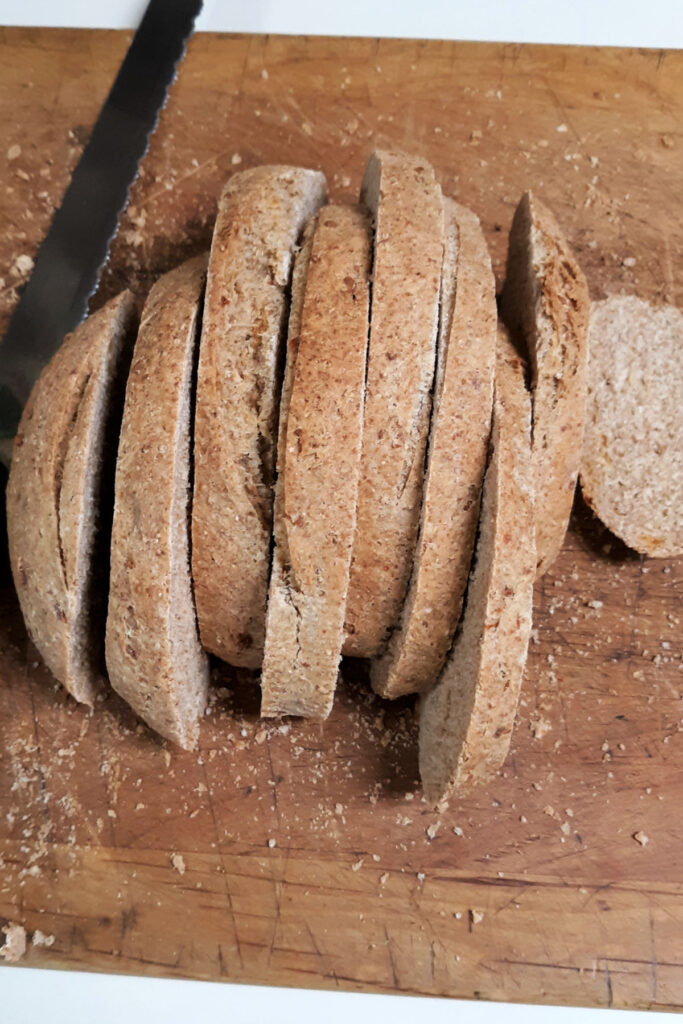 Freeze Extras
These loaves freeze delightfully well. Simply place baked and cooled loaves into freezer bags or other airtight containers and freeze.
Alternatively, slice the bread and put the slices into containers to freeze.
To use, simply let thaw at room temperature and enjoy.
Use up within 6 months for best flavor and to avoid freezer burn.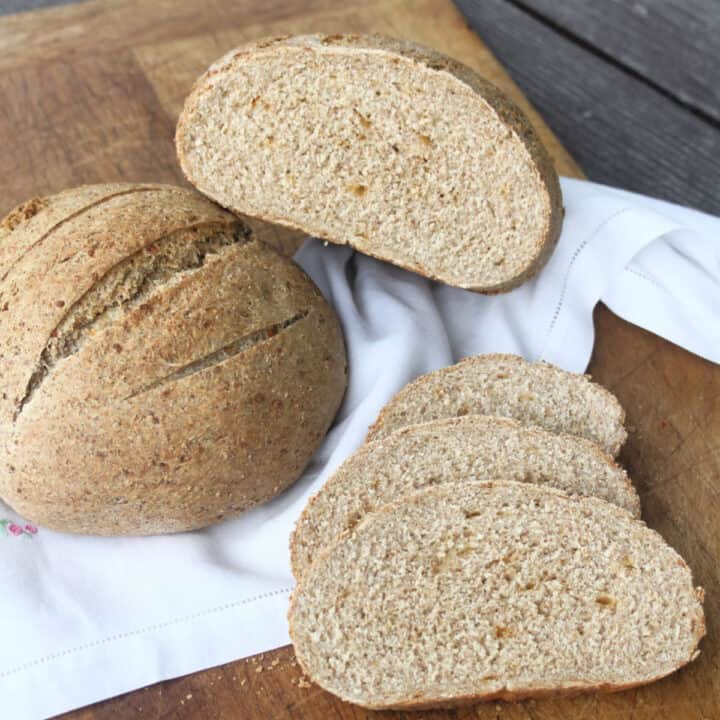 Whole Grain Cheddar Bread
Rising Time:
1 hour
30 minutes
Total Time:
2 hours
25 minutes
Perfect for savory sandwiches as a healthy, homemade alternative to store bought loaves whole grain cheddar bread is easy to make.
Ingredients
2 Cups Warm Milk (110 to 115 degrees Fahrenheit)
 1 Tablespoon Dry, Active Yeast
1 Cup Whole Wheat Flour
2 Cups Pumpernickel Flour
1 1/2 Cups Bread Flour
1 1/2 teaspoons Salt
1 Cup Grated Cheddar Cheese
Instructions
Mix together the yeast and warm milk. Allow to proof until foamy, about 5 minutes.
Add the wheat and pumpernickel flours, mixing well.
Add 1 cup of bread flour, salt, and cheddar cheese. Mix well. Add additional flour as necessary to form a dough.
Turn the dough out onto a floured board and knead until a soft, elastic dough is formed.
Lightly grease a bowl. Turn the dough around inside the bowl to coat. Cover the bowl with a tea towel and allow to rise until doubled 45 minutes to an hour.
Punch down the dough and divide in half. Form loaves on a lightly floured board.
For round loaves, allow the loaves to rise in a floured, towel lined basket, or on a lightly greased cookie sheet. Or place into greased loaf pans.
Allow to rise until doubled, about 30-45 minutes.
Meanwhile, preheat oven to 400 degrees Fahrenheit. Place a baking stone on the middle rack in the oven if necessary, while oven preheats.
Score loaves if desired.
Place loaf pans or baking sheet on middle rack, (place loaves from baskets on baking stone).
Bake in preheated oven for 30-35 minutes. Cooked loaves will be golden brown and sound hollow when tapped with a knuckle.
Remove from oven and pans immediately to cool on wire racks.
Recommended Products
As an Amazon Associate and member of other affiliate programs, I earn from qualifying purchases.
Nutrition Information:
Yield:

18 slices
Serving Size:

1 slice
Amount Per Serving:
Calories:

194
Total Fat:

4g
Saturated Fat:

2g
Trans Fat:

0g
Unsaturated Fat:

2g
Cholesterol:

8mg
Sodium:

382mg
Carbohydrates:

32g
Fiber:

3g
Sugar:

0g
Protein:

8g
I try but cannot guarantee this nutritional information is 100% accurate.