Old-fashioned and comforting buttermilk banana bread is an ideal brunch treat or lunch box snack.
There's nothing overly complicated or fancy about this easy banana bread recipe, it's simply a way to use up bananas just before they go bad and turn them into something quite delicious.
This recipe has been passed down through the generations of my husband's family and is truly the best banana bread recipe – and I've tried bunches over the years. This is the only one I turn to now.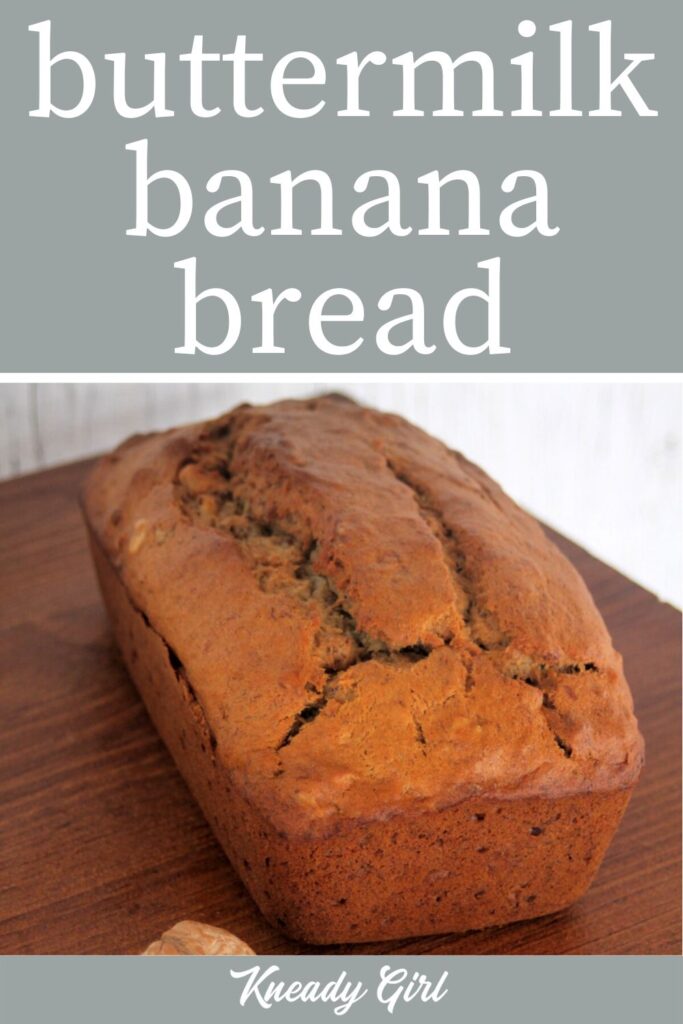 Soft Bananas
Ideally, this recipe works best with overripe bananas. The ones that are starting to go black and are quite soft.
I generally freeze extra bananas if they start to go bad, or get too many brown spots, and then use those later for making banana bread. I simply peel and toss them into a freezer bag to use as needed. Just make sure to use completely thawed bananas before proceeding.
Three large bananas are ideal – think bananas that are around 7 inches long. A little more or a little less isn't going to make or break this recipe.
Buttermilk
The buttermilk is what gives the loaf a bit of old-fashioned flavor. If you have some in a carton in the fridge use it here.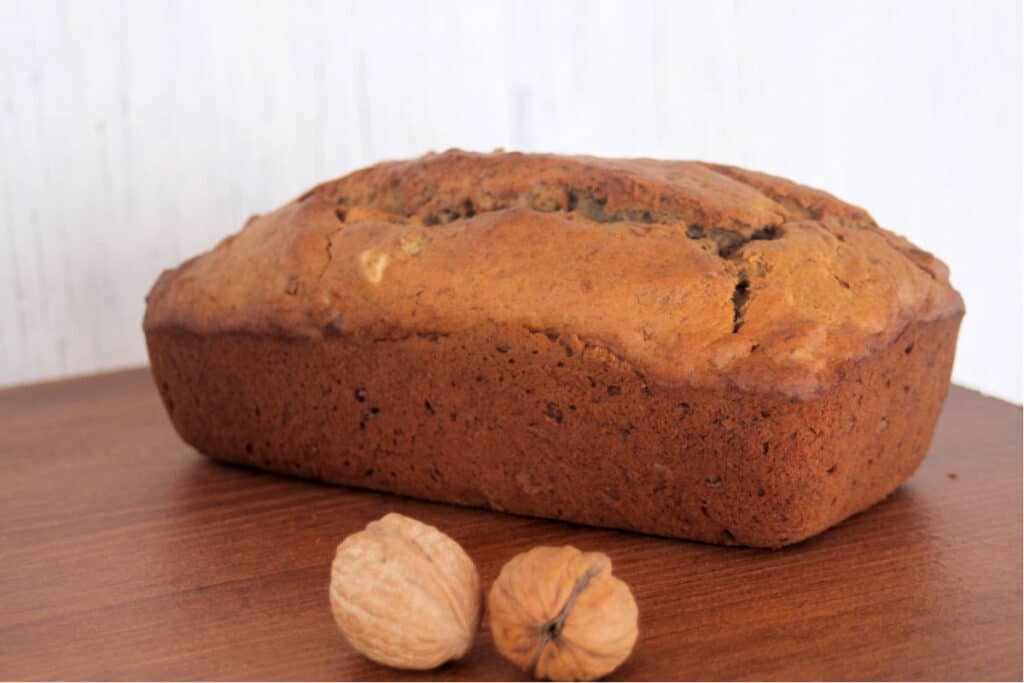 There are other options if buttermilk isn't on hand. Sour regular milk by adding 3/4 teaspoons white vinegar or lemon juice to 4 Tablespoons milk and letting it sit for 10 minutes. Then measure out the 3 Tablespoons of sour milk for the recipe.
The powdered, dry buttermilk works extremely well. Find this in the baking aisle of the grocery store. It's a snap to have on hand and use. Simply follow the instructions on the canister to use in the original recipe below.
Optional Additions
Add 1/2 cup chopped nuts for an easy banana nut bread recipe. This is a tasty quick bread recipe without the nuts, I personally would never run to the store just to get nuts for this recipe but if you have them on hand, the nuts add extra flavor and crunch.
Walnuts seem to be the classic combination but honestly pecans, almonds, hazelnuts, truly any nut could easily be substituted.
Add 1/2 cup chocolate chips or even peanut butter chips for extra flavor and sweetness.
You could add some spice, if desired. A half teaspoon ground cinnamon or ginger would be quite nice.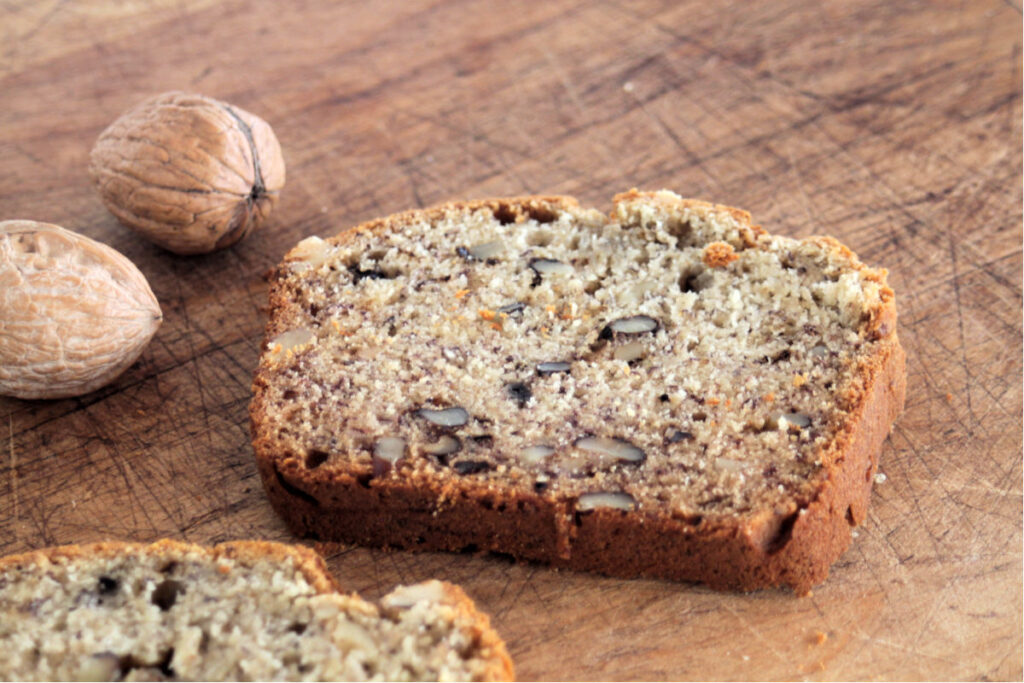 Whole Grain Option
I have used a mixture of 1 Cup whole wheat flour and 1 cup all purpose flour for a slightly whole grain twist on this classic banana bread recipe.
You could likely use entirely whole wheat or other favorite whole grain flour if desired but know that the bread will be much more dense.
Less Sweet Option
This is grandma's old-fashioned banana bread and she used a lot of sugar. Dessert was meant to be sweet and in those days, they didn't eat sugar quite like we do – nor did they pay so much attention to it.
I will often make this bread with just 1/2 cup of white sugar and I still think it's plenty sweet. Bananas are, after all, quite sweet on their own.
Feel free to adjust the sugar to your personal taste and know that the recipe will still likely turn out quite well.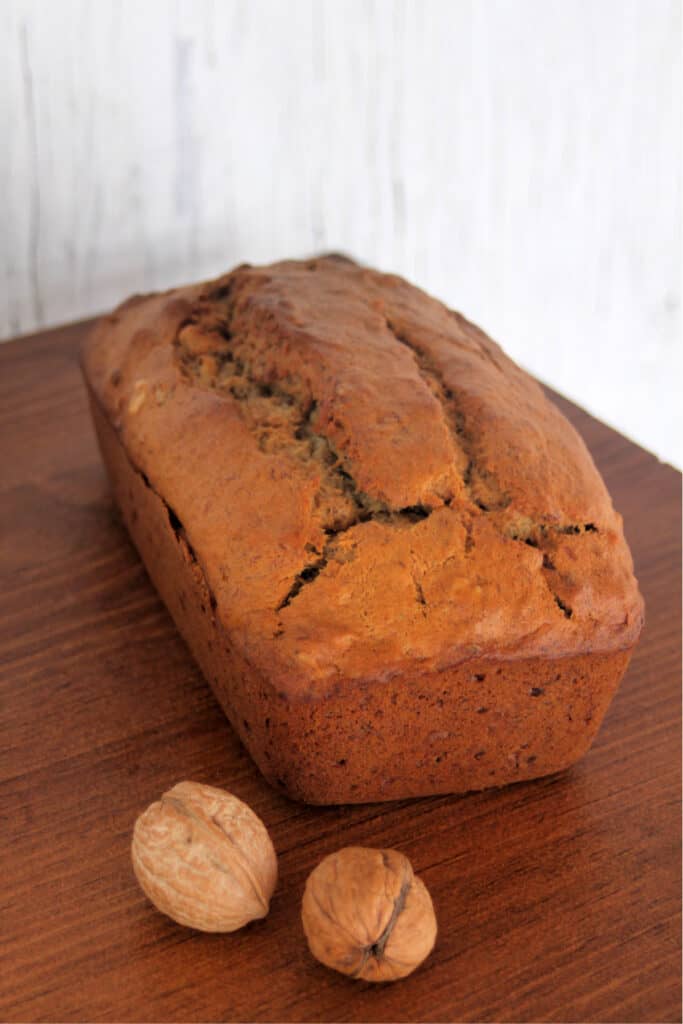 How to Serve
Obviously, homemade banana bread doesn't need much extra – slice & eat. There's no reason to feel extra fancy. Have a warm slice for breakfast with some fresh fruit on the side.
I do like to eat it with an over easy egg for breakfast. The savory and sweet combination is always a favorite.
Do consider slicing it and toasting just slightly and then slathering in a bit of your favorite nut butter for a hearty and filling snack.
Make it a Gift
This old fashioned recipe makes for a great food gift.
Make small loaves and wrap them in layers of plastic wrap to tuck into care packages full of tea bags and other items.
It's a perfect way to welcome new people to the neighborhood. Tuck a loaf in a welcome gift basket with coffee.
Make & Freeze Extras
Because this is such a tasty and easy recipe, it is a good idea to make extras.
Double or even triple the recipe if you have enough bananas on hand. Freeze the extras.
Simply place baked and cooled loaves into freezer bags and freeze. Thaw completely at room temperature to slice and serve.
Alternatively, bake and cool completely. Then slice the loaves and put the individual slices into an airtight container and freeze.
A slice pulled out of the freezer in the morning and tucked into a lunch box is likely to be thaw when lunch time arrives.
Do eat up the frozen loaves within about 6 months to prevent freezer burn and preserve best flavor.
Want to make Banana Muffins instead? Try my Banana Bran Muffins.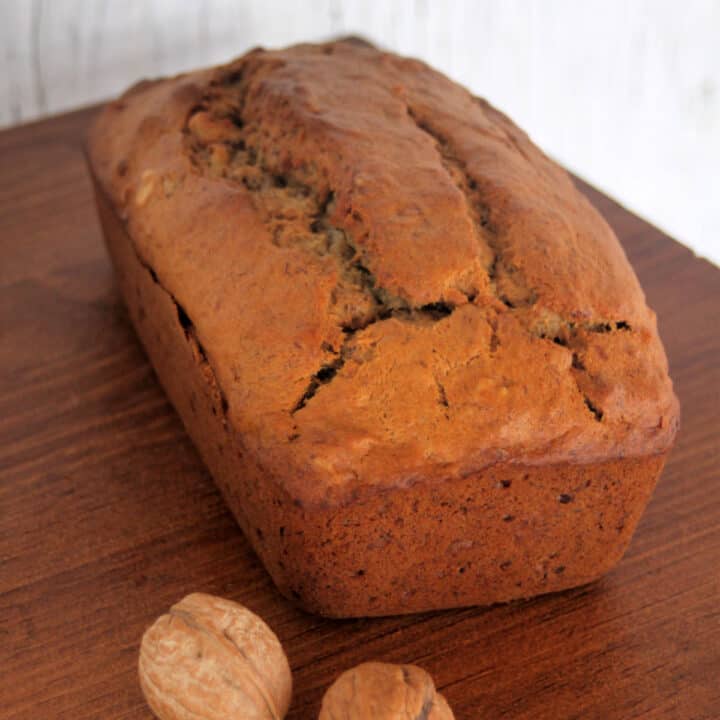 Old Fashioned Banana Bread Recipe
Cook Time:
1 hour
15 minutes
Total Time:
1 hour
30 minutes
Bake up grandma's old-fashioned banana bread with this rich and delicious easy quick bread that everyone will love.
Ingredients
1 Cup Sugar
1/2 Cup Salted Butter, softened
1 Egg
3 Mashed Bananas
3 Tablespoons Buttermilk
1 teaspoon Baking Soda
2 Cups Unbleached, All-Purpose Flour
1/2 Cup Chopped Nuts, optional
Instructions
Preheat oven to 350. Grease a loaf pan.
Sift the flour and baking soda, set aside.
In a large mixing bowl, Cream butter and sugar until light and fluffy.
Add the egg and mix well.
Alternate adding a little of the sifted dry ingredients with a bit of the buttermilk until all of it is added and completely incorporated.
Mix in the mashed bananas and chopped nuts – the batter will be thick.
Pour into the prepared pan and bake for 1 hour to 1 hour and 15 minutes, an inserted toothpick should come out clean.
Let cool in pan for 10 minutes before removing to cool completely on a wire rack.

Nutrition Information:
Yield:

12
Serving Size:

1
Amount Per Serving:
Calories:

300
Total Fat:

12g
Saturated Fat:

6g
Trans Fat:

0g
Unsaturated Fat:

5g
Cholesterol:

36mg
Sodium:

195mg
Carbohydrates:

47g
Fiber:

2g
Sugar:

24g
Protein:

5g
I try but cannot guarantee this nutritional information is 100% accurate.