Zopf is probably the most famous Swiss bread and for very good reason – it's lovely soft texture and rich flavor make for something no one can forget.
This easy recipe comes together without much fuss and the most common of ingredients so that you can whip up delicious bread at home whenever the urge hits.
Whether you're looking for something for brunch on Sunday mornings or to eat with soup this Swiss egg bread is an ideal choice!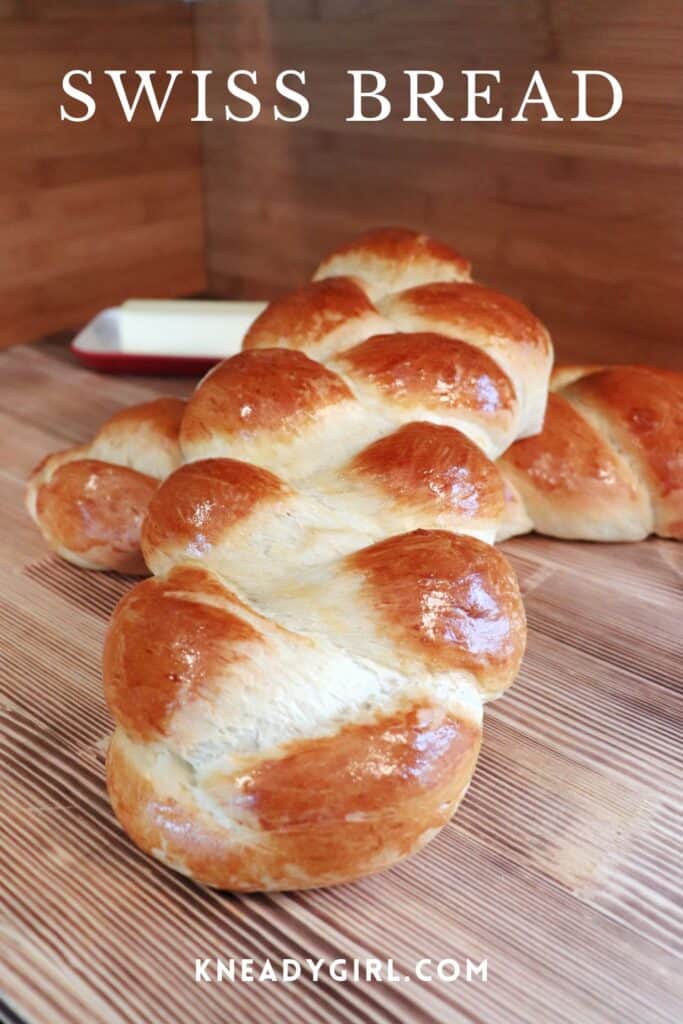 Similar to Challah
Experienced bread bakers and eaters, for that matter, might see that Zopf is similar to Challah. Both are braided and contain egg but there are a few other differences.
Challah bread is often made with oil instead of butter. Challah also tends to be a very sweet bread. Zopf is barely sweetened at all – just a Tablespoon sugar mostly to give the yeast something to feed on – not to make the bread itself sweet.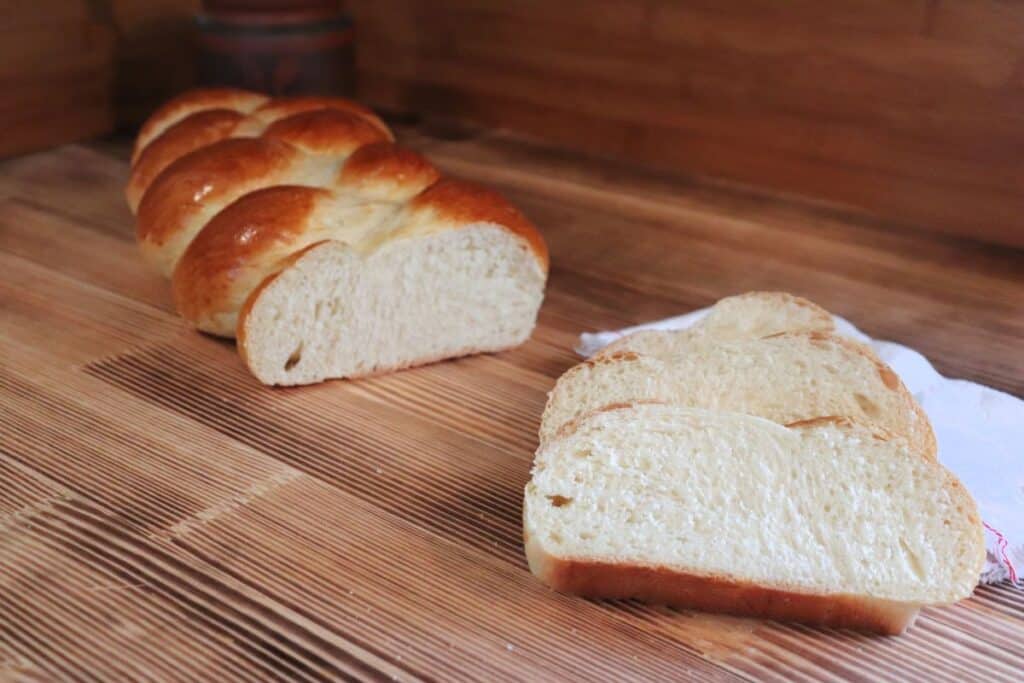 Flour Choices
The recipe was tested with bread flour but an unbleached all-purpose flour would work just as well.
If you wanted to substitute some whole grain for the white flour, you could but the texture will be different. Also know that whole grain flours absorb water differently, so add slowly and mix to see exactly how much is necessary.
Difficulty Level – Intermediate
This is a fairly basic bread recipe making it a great recipe to step up from after one has mastered a simple white bread recipe.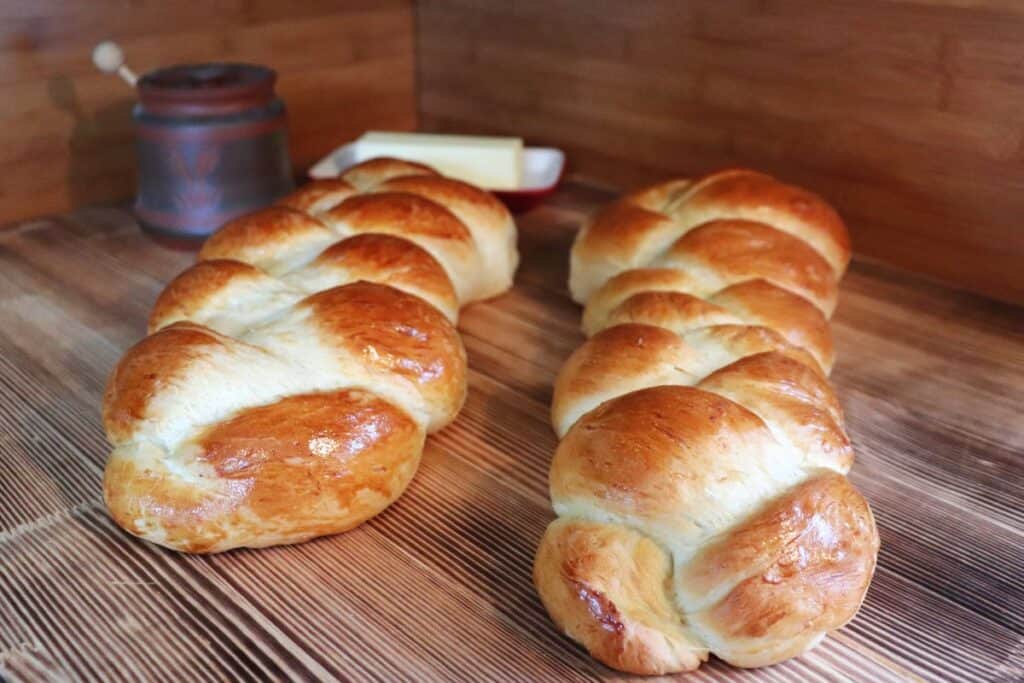 The most difficult thing about the recipe is the braiding, which could be skipped, but some practice makes perfect and braiding can be quite fun and intricate once you get the hang of it.
Bread Shape
Zopf is traditionally a braided bread. I opt for a 3-strand braid most of the time but you can braid it anyway that feels most comfortable.
However, there is no reason for you to feel locked into that shape.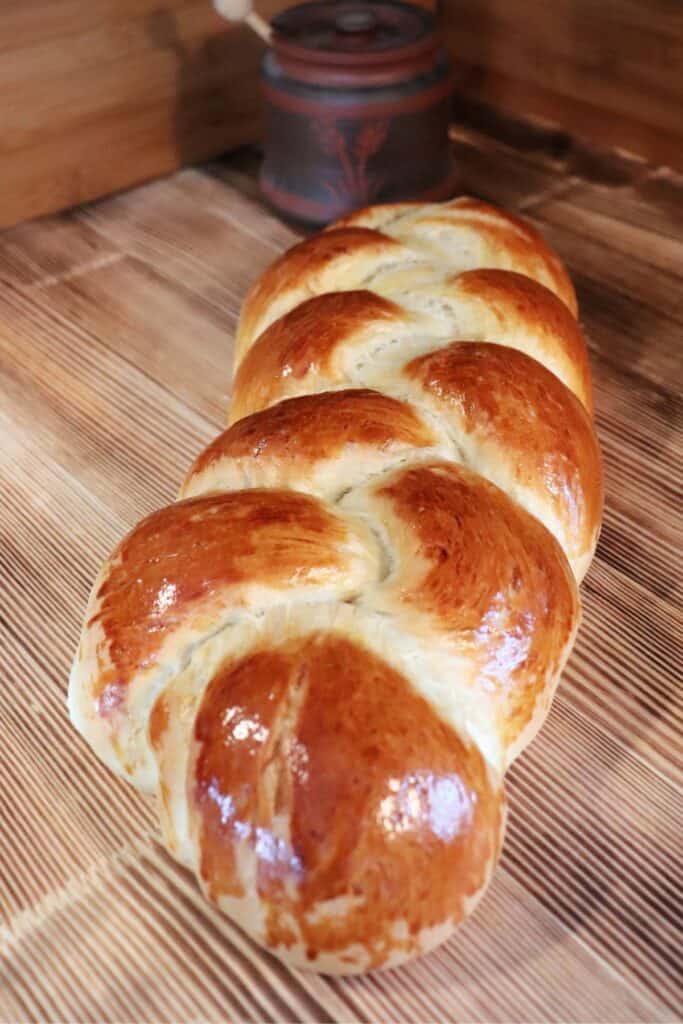 You could form them into knots like my challah rolls. You could do basic bread rolls for ease and speed. Check for doneness earlier than the recipe suggests if you go with rolls.
Bake the dough into simple rounds or oblong shapes on baking sheets, if desired.
The bread could also be formed into regular loaves and baked into bread pans.
How to Serve
No reason to overthink this, serve like you would any good bread. It's great sliced and served with butter or jam alongside coffee or tea for breakfast.
It can easily be sliced and used for sandwiches or dipped into soups.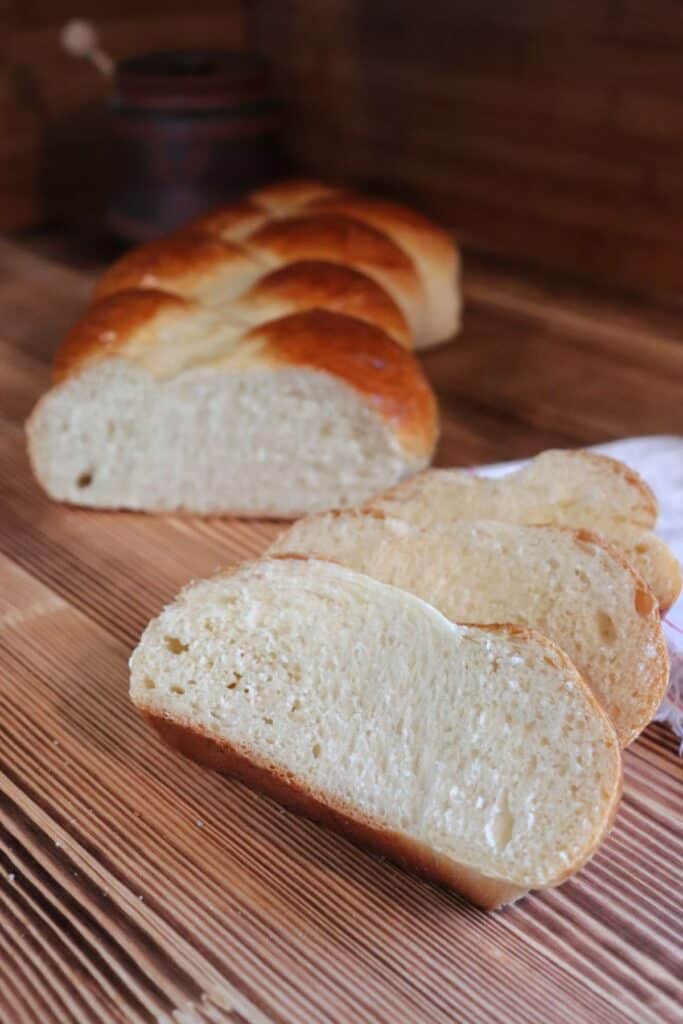 How to Store
Put any leftover bread in an airtight container, where it should stay fresh for up to 5 days at room temperature.
For longer term storage, wrap loaves or slices in plastic wrap or place into freezer bags and freeze.
Let frozen bread thaw on the counter prior to serving. Use up frozen bread within 6 months for best flavor.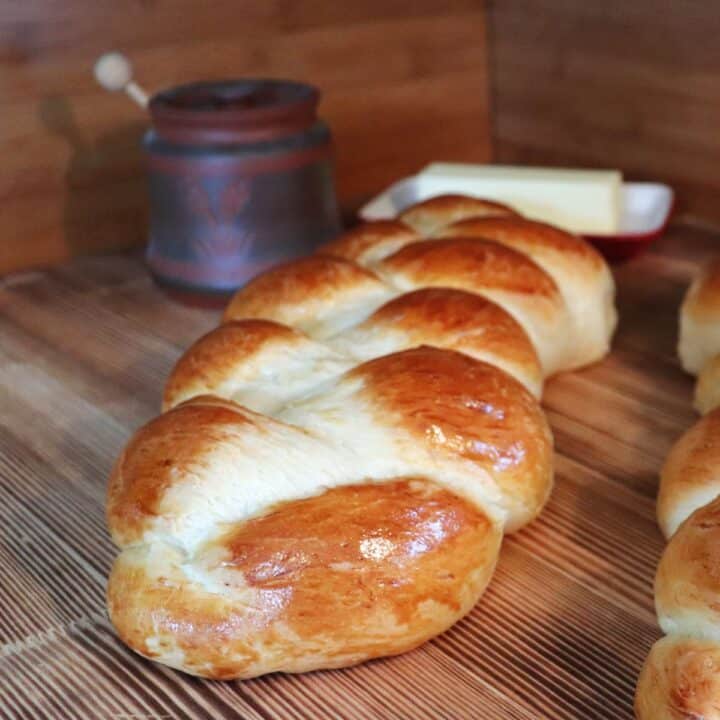 Zopf - Swiss Egg Bread Recipe
Rising Time:
1 hour
30 minutes
Total Time:
2 hours
30 minutes
Make one of the most delicious Swiss breads with this gorgeous and easy bread recipe.
Ingredients
1 Tablespoon Dry, Active Yeast
1/2 Cup Warm Water
1 Tablespoons Sugar
2 Cups Warm Milk
1 Egg
1/2 Cup Salted Butter, room temperature
2 teaspoons Salt
5 1/2 Cups Bread Flour
Egg Wash
1 Egg Yolk
2 teaspoons Water
Instructions
In a large bowl, or the bowl of a stand mixer, add the yeast and sugar. Pour the warm water over and let sit until foamy, 5-10 minutes.
Pour in warm milk and egg. Beat everything together.
Stir in 3 cups of the flour, mixing well.
Add the salt and another 2 cups of flour. Stir everything until a soft dough begins to form.
Alternatively use a dough hook and mix until the dough begins to clean the sides of the bowl.
If the dough feels too wet, add more flour a tablespoon at a time.
Turn the dough out onto a floured board and knead until smooth and elastic. Taking care to only add flour as necessary to prevent sticking.
Grease a bowl and place the dough inside, turning to coat.
Cover the bowl with a clean tea towel and put in a warm place. Let rise until doubled, about 1 hour.
Meanwhile grease a baking sheet or line with parchment paper.
Punch down the risen dough and turn out onto a lightly floured surface.
Divide dough in half. Divide each half into 3 equal portions.
Roll each portion of dough into a long strand between between your palms and the floured work surface. Try to keep each rope of dough about the same length.
Place 3 strands of dough next to each other and braid. Pinch the ends together and place on prepared cookie sheet.
Repeat this braiding process with the other half of the bread dough.
Cover the baking tray with a clean towel and let rise about 30 to 40 minutes.
Meanwhile, preheat the oven to 375 degrees Fahrenheit.
Make the egg wash by beating together the egg yolk and water.
Gently brush the tops of the braids with the egg wash.
Bake the bread in the preheated oven for 30 to 35 minutes or until the crust is a golden brown and the bread sounds hollow when tapped with a knuckle.
Remove the loaves from the baking sheet to cool on a wire rack.
Nutrition Information:
Yield:

36
Serving Size:

1
Amount Per Serving:
Calories:

111
Total Fat:

3g
Saturated Fat:

2g
Trans Fat:

0g
Unsaturated Fat:

1g
Cholesterol:

18mg
Sodium:

147mg
Carbohydrates:

16g
Fiber:

1g
Sugar:

1g
Protein:

3g
I try but cannot guarantee this nutritional information is 100% accurate.