Make golden-brown challah rolls at home for an incredibly delicious accompaniment to any meal.
Like all the best breads, challah buns are just basic ingredients combined well for something that is quite wonderful in its simplicity and comforting nature.
Whether you're looking to serve challah dinner rolls at a large holiday feast or simply round out a simple weeknight meal, this is a recipe you'll return to many items for its flavor and versatility.
Simple Ingredients
This is a fairly basic challah recipe. Nothing too fancy, a simple but rich egg bread that is easy for home cooks to pull together.
Use the best ingredients you can find for and incredibly delicious treat.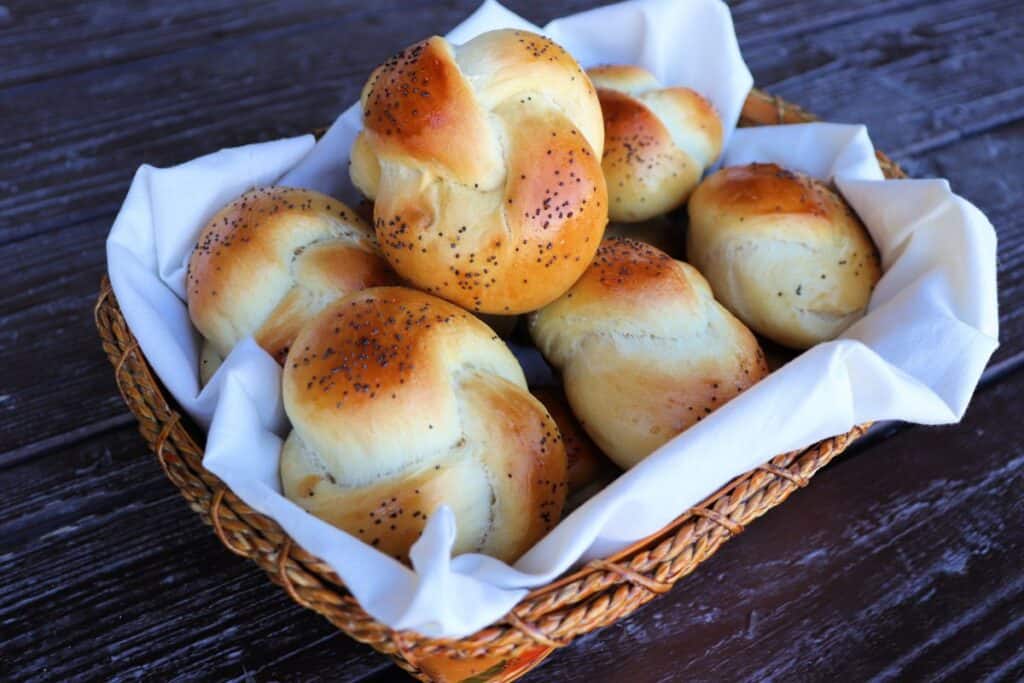 The recipe below does use bread flour, however you could easily substitute all-purpose flour instead if that's all you have on hand.
Some whole grain flour could also be used but know that it will definitely texture of the final rolls. It's not bad, just different.
Roll Shapes
There are a number of different ways to shape these rolls. Honestly make it as individual as you are and whatever you feel like on any given day.
My favorite shape for these are challah knot rolls. These are so simple and yet elegant.
Simply take each portion of dough and use your hands to shape a long rope, approximately 12 inches long.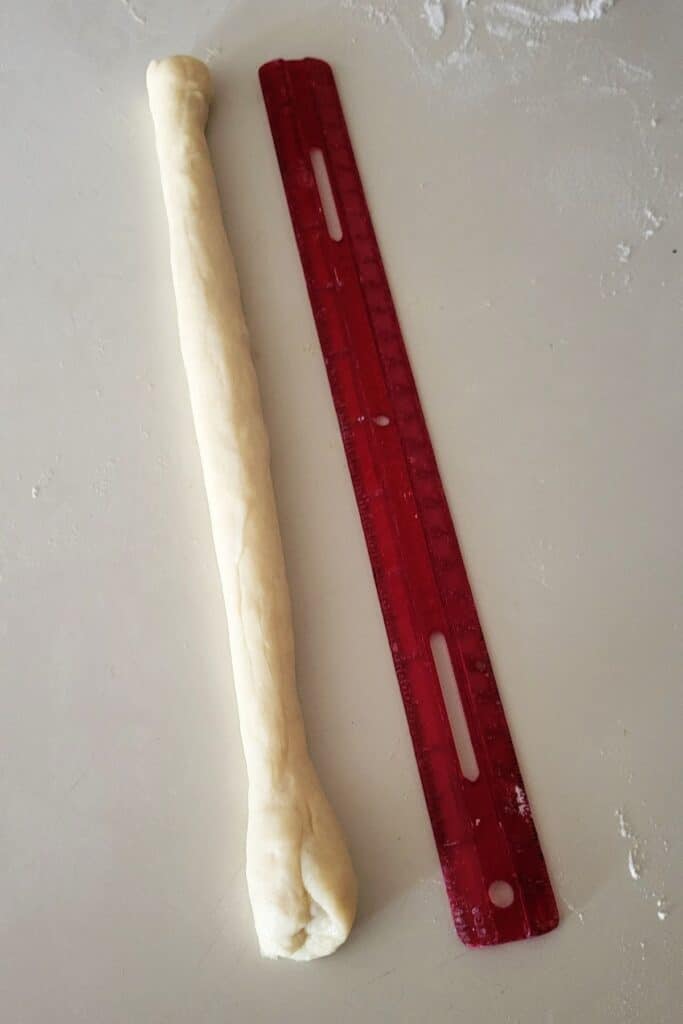 Fold the rope into a u-shape, take one leg and cross it over the other.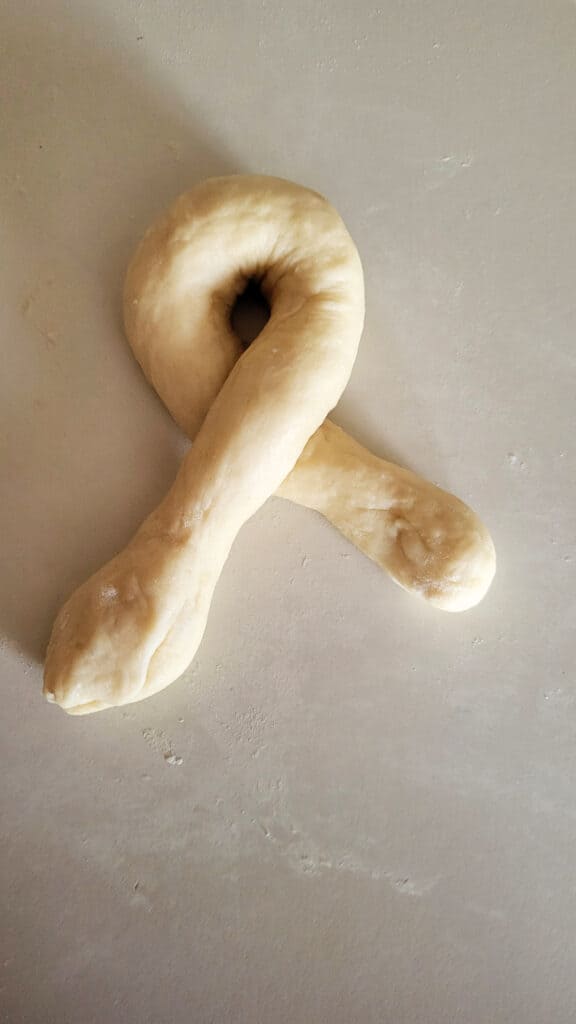 Take the piece that is underneath and tuck into the hole in the center.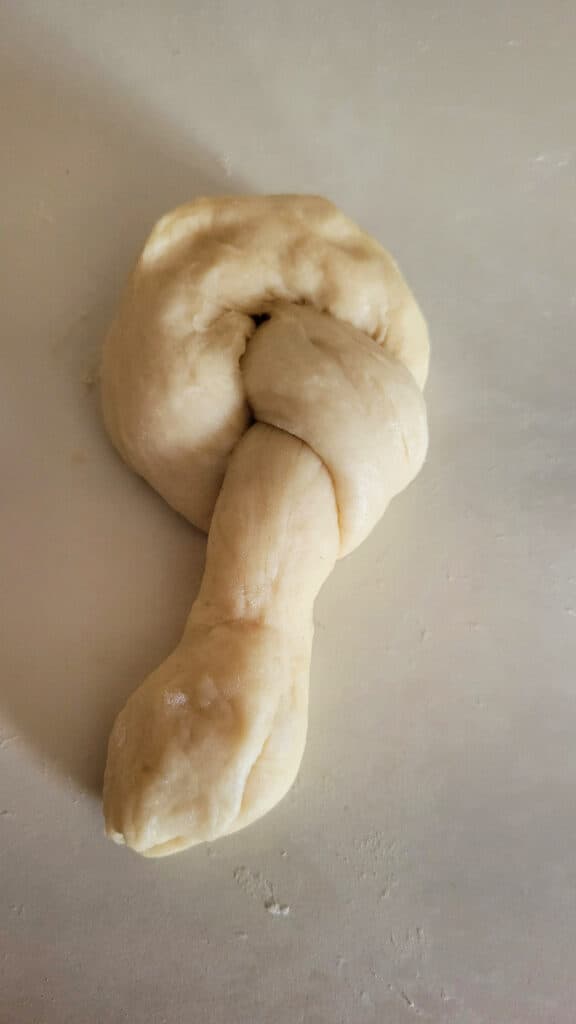 Then take the remaining piece and tuck underneath the bottom. pinch both pieces together.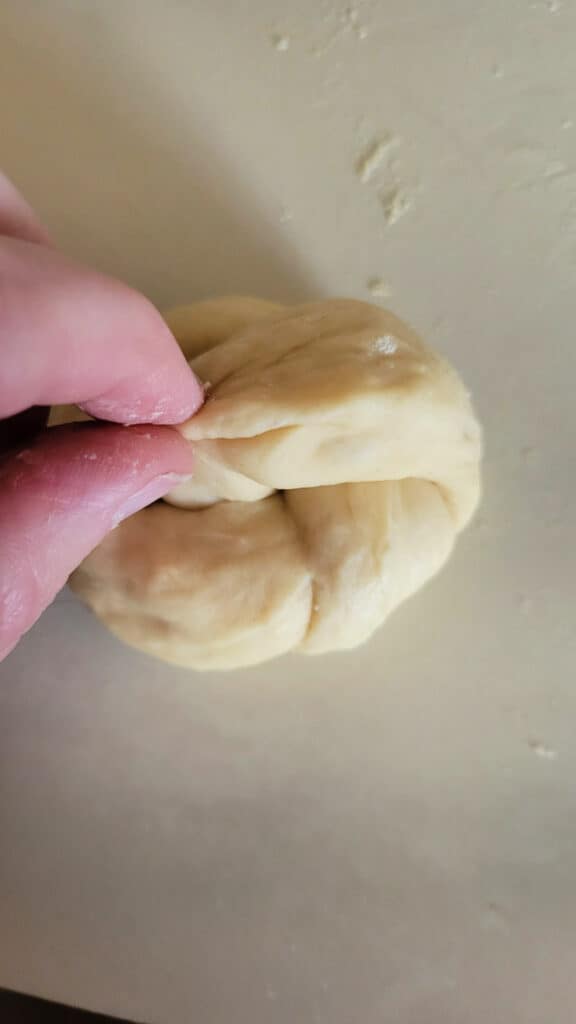 Then place the individual rolls onto the prepared baking sheet, with the pinched ends down.
You could easy just make them into round regular bread rolls or buns and avoid the knot if desired.
Roll Size
The recipe below makes 16 medium rolls. However, you could easily make more or less from the same amount of challah dough.
​Simply divide the dough into equal parts – whether you want 12 or 20 rolls. Just divide weigh piece to keep each roll approximately the same size. Doing it this way ensures everything will bake in the same amount of time.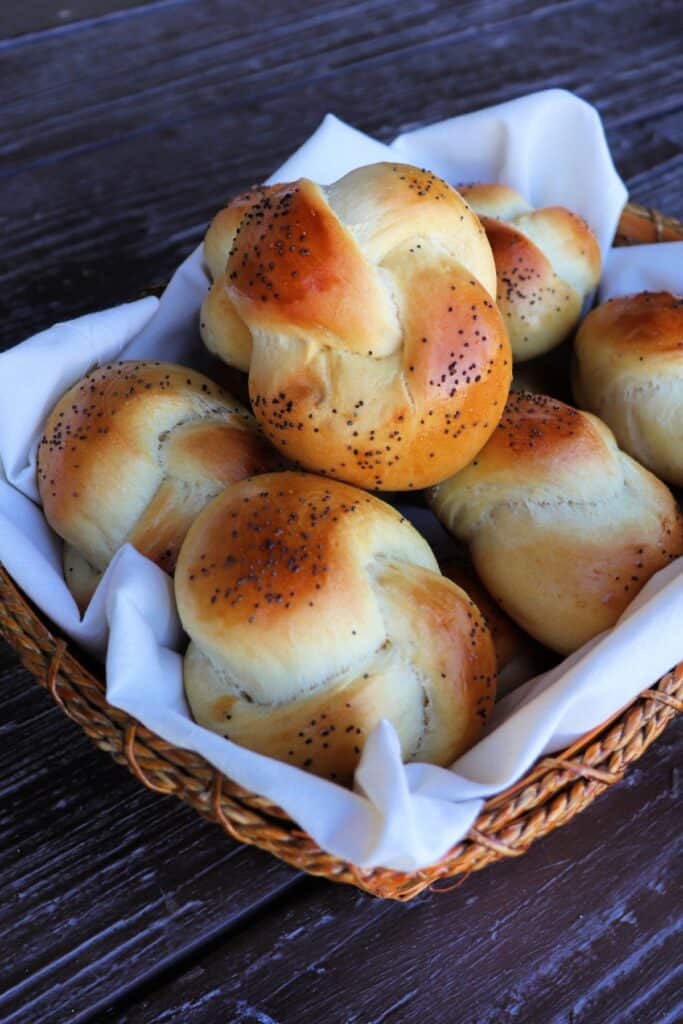 Make large rolls and use them for family barbecues. Make smaller rolls to serve with soup meals or large gathering and have more to go around, especially if there are plenty of other dishes on the table for eating. Small and medium rolls are super nice tucked into lunch boxes for a more filling meal on-the-go.
​Be sure to watch the baking time when adjusting the roll size. Check smaller rolls sooner than the 25 minutes suggested in the recipe. Larger rolls will likely need an addition 10 or more minutes to be completely done.
Experience Level : Intermediate
While this is not a particularly difficult recipe, egg breads are slightly different in how they rise and bake. If you're fairly comfortable making basic bread recipes this is a great next step. The shaping of challah knots does take some practice but even if the shape doesn't turn out perfectly at first, they'll still taste amazing!
Seed Topping
Traditionally, challah rolls have some kind of seed topping. The options are truly up to your personal preference.
We prefer poppy seeds in our house but sesame seeds work just as well. Simply sprinkle them on top of the egg wash in the same way as you would the poppy seeds.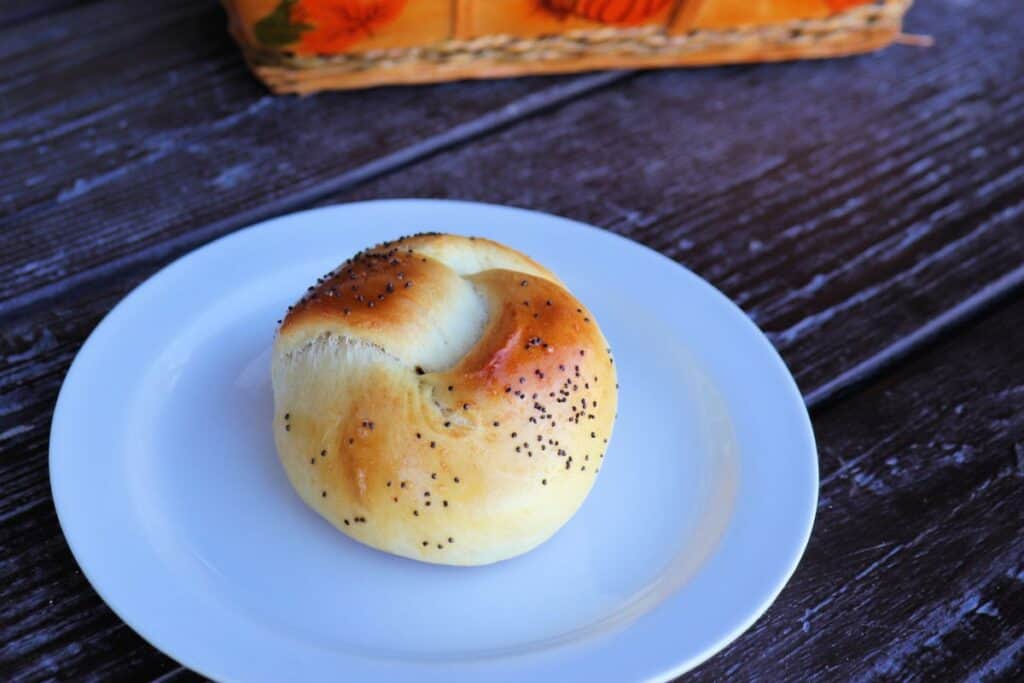 You could also do a mix of sesame and poppy, if desired.
Do sprinkle them a bit on the heavy side because as they rise a bit more in the oven, there will be more space than you envision when raw.
​Skip the seeds entirely, if desired, they are not by any means required for a tasty result.
How to Serve
These are amazing dinner rolls and can be used at any gathering whether its a big feast or simply Wednesday. Serve alongside any meal for something filling and comforting at the same time.
They can easily be sliced in half and used as buns for sandwiches, even small burgers.
Do serve with soup or salad for a simple and yet impressive meal.
Put them on the breakfast table with some bacon, scrambled eggs, and fresh fruit for an easy start to the morning.
​How to Store
Keep any baked and cooled rolls in an airtight container. At room temperature they should stay fresh for about 4 days.
For longer term storage, simply place into freezer bags and freeze. These do freeze delightfully so feel free to bake a double batch and keep some easily on hand. Simply thaw the rolls at room temperature prior to serving.
Use up any frozen rolls within 6 months for best flavor.
Looking for more recipes to make fluffy rolls? Try my: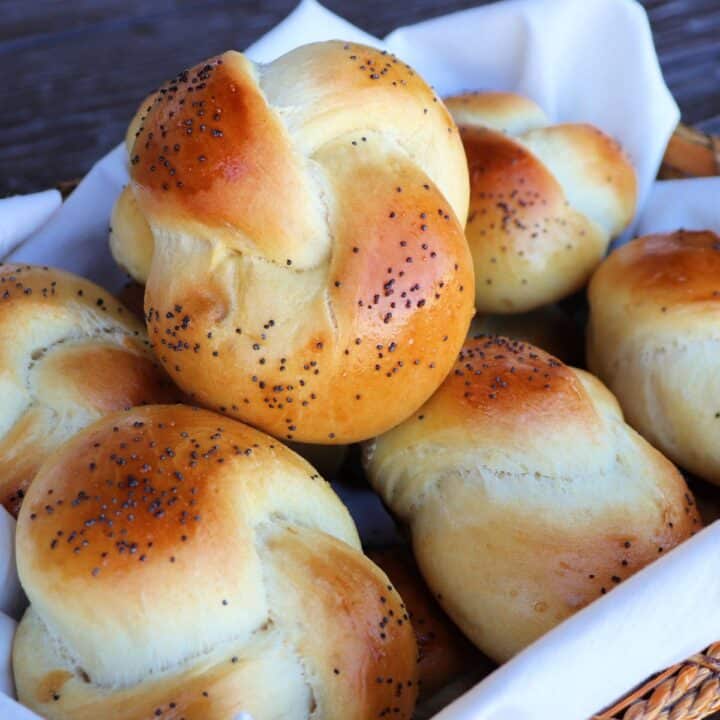 Challah Roll Recipe
Total Time:
2 hours
55 minutes
Create stunning challah knots that will impress your guests and fill your home with the warm aroma of freshly baked bread with this easy to follow recipe.
Ingredients
1 Tablespoon Dry, Active Yeast
1/2 Cup Sugar
2 Cups Warm Water
1 1/2 teaspoons Salt
1/2 Cup Melted Butter or Olive Oil
4 Eggs
7 Cups Bread Flour
Egg Wash Topping
1 teaspoon Water
1 Egg Yolk
1/4 Cup Poppy Seeds, optional
Instructions
In a large mixing bowl, combine the yeast, sugar, and warm water. Let sit until foamy, about 10 minutes.
Add the 4 cups of bread flour, melted butter, salt, and eggs. Mix until everything is well incorporated.
Add the remaining bread flour a cup at a time, mixing well until a soft dough begins to form. If using a dough hook attachment on a stand mixer, the dough will clean the sides of the bowl.
Turn the dough out to a floured board and knead until soft and elastic.
Grease the bowl and place the dough inside and turn to coat. Cover the bowl with tea towel and let sit in a warm place. Allow the dough rise until about doubled, approximately 60 to 90 minutes.
Grease a baking sheet after this first rise.
Punch dough down to deflate. Turn out to a floured surface and knead just slightly.
Divide the dough into 16 equal pieces. Weigh the dough on a kitchen scale to ensure uniform size.
On your floured working surface, form each piece into desired shape and place on prepared baking sheet.
Cover the baking tray with a kitchen towel and let rise someplace warm for 30 minutes.
Meanwhile make the egg wash. In a small bowl, whisk together the egg yolk and water.
Preheat the oven to 350 degrees Fahrenheit.
Using a pastry brush, gently coat the top of each roll with the egg wash.
Sprinkle the poppy seeds over the tops of the rolls.
Bake in the preheated oven for 25-30 minutes. The rolls will be golden brown and sound hollow when tapped with a knuckle when done.
6Remove the rolls from the baking sheet to cool on a wire rack.
Nutrition Information:
Yield:

16
Serving Size:

1 roll
Amount Per Serving:
Calories:

334
Total Fat:

10g
Saturated Fat:

5g
Trans Fat:

0g
Unsaturated Fat:

5g
Cholesterol:

73mg
Sodium:

266mg
Carbohydrates:

51g
Fiber:

2g
Sugar:

7g
Protein:

10g
I try but cannot guarantee this nutritional information is 100% accurate.