Pumpernickel raisin bread is full of hearty whole grain and sweetness that makes it a delightful breakfast toast.
This is a flavorful bread that feels indulgent and a bit healthy at the same time.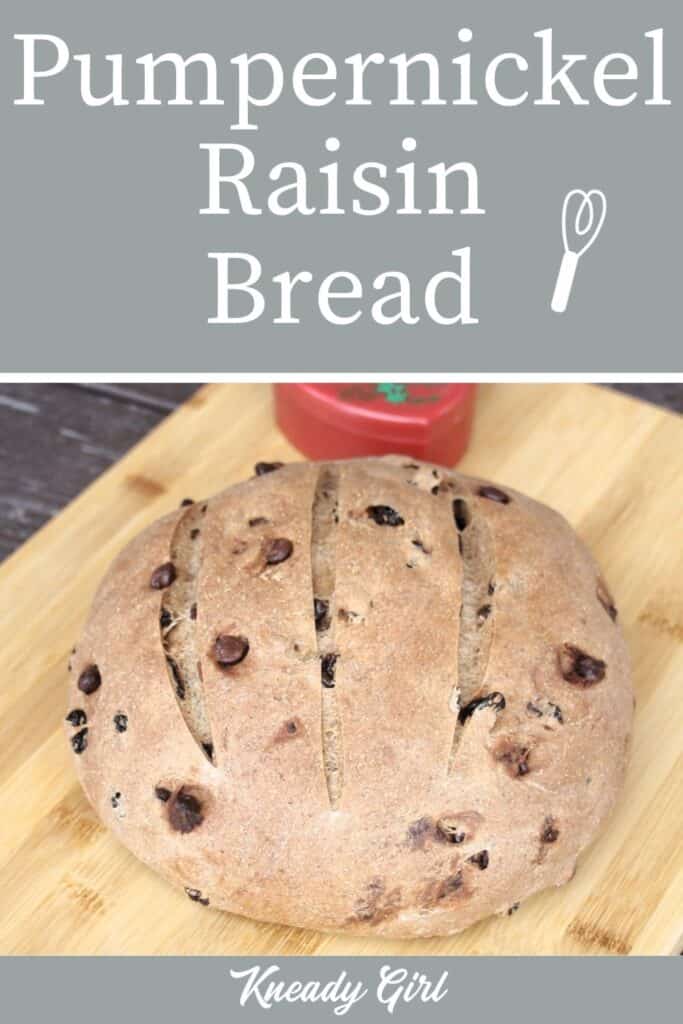 Dark Rye Raisin Bread
Don't have pumpernickel flour? Use dark rye flour instead. The texture will be slightly different but no less wonderful.
Dark rye flour is usually a grind of rye berries that includes the entire berry (bran, germ, and endosperm) but often has some of the bran sifted out. There is no industry standard so it is likely to vary brand to brand.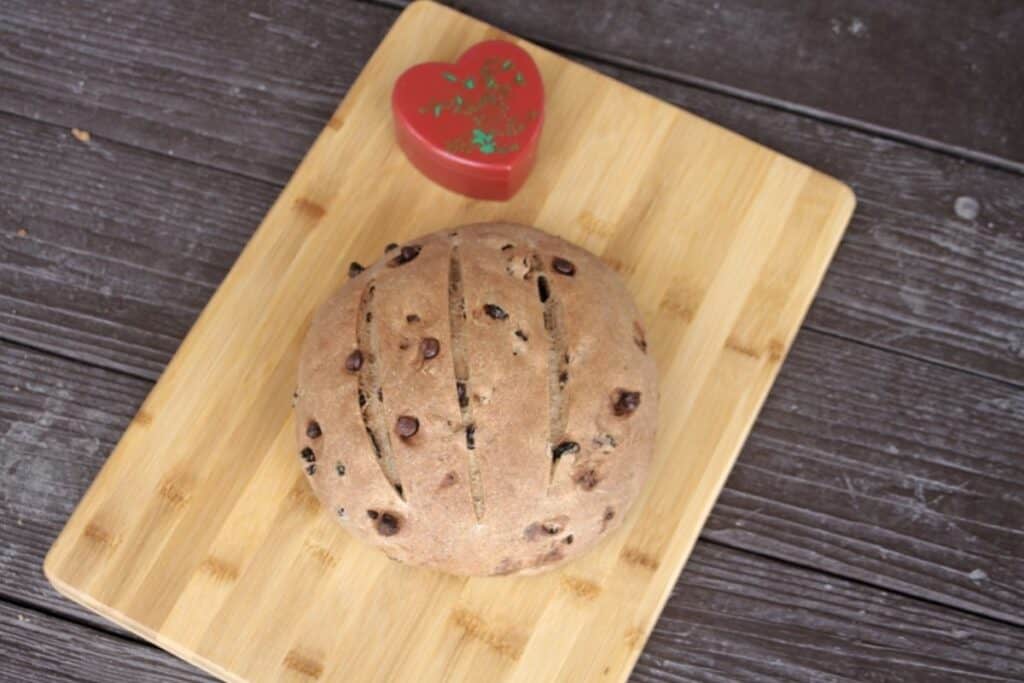 Pumpernickel flour is again a ground from the entire rye berry but nothing is sifted out. It can sometimes be labeled 'whole rye flour.' It has a coarser grind than rye flour.
Difficulty Level: Intermediate
This is not especially difficult recipe, however there are a number of ingredients and pumpernickel flour is a bit different to work with which can be intimidating to beginner bread bakers.
Flavorful & Colorful
This loaf of homemade has flavor for days thanks to mix of wonderful ingredients that also add to the dark color.
Brown sugar adds a depth of sweetness and flavor that isn't overpowering but is again darker than white sugar to color the dough.
Molasses adds color and a bittersweet flavor to the final loaf.
Cocoa powder adds color and while some of the bitterness may remain no one will actually notice it here.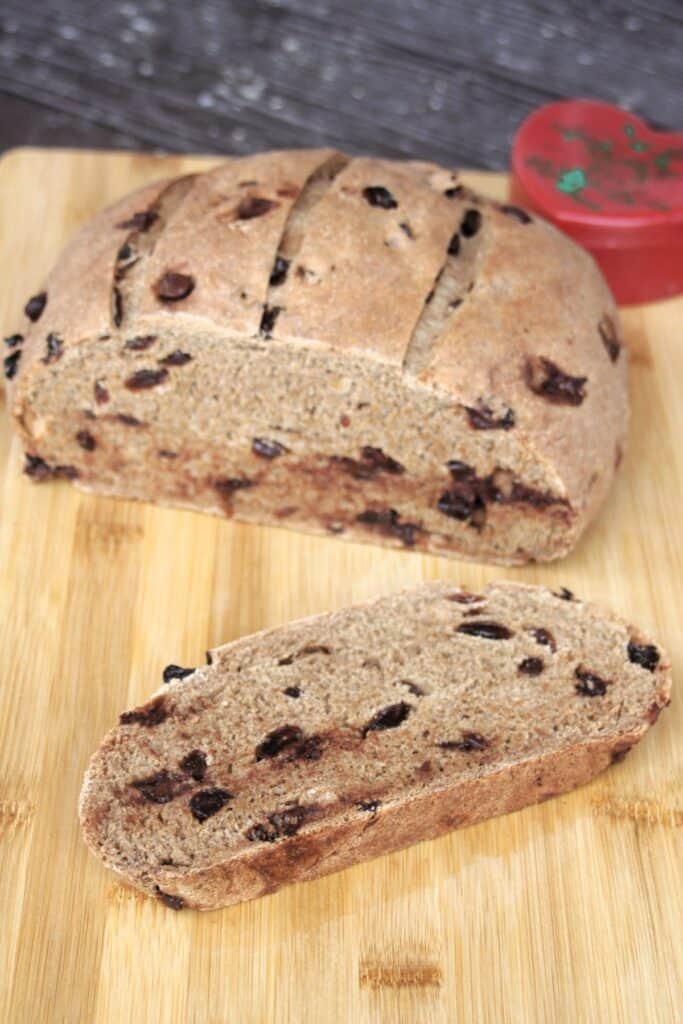 Espresso powder again adds color and a hint of bitterness that is lovely but no one eating it is going to actually note a coffee flavor. Skip it you don't have it.
Chocolate Chips
The addition of chocolate chips to this bread recipe was inspired by the book Dairy Hollow House Soup & Bread Cookbook.
The original recipe includes a pre-ferment and more and the day I first wanted to make this I was in a bit more of a rush and so I share the quicker version with you.
This is not loaded with chocolate chips but there is just enough of a mix of chocolate and raisins to make it feel quite indulgent.
Feel free to skip them if it just isn't your thing.
How to Toast Chocolate Chip Bread
Don't put these slices in your toaster if you've added the chocolate chips. The melted chocolate is likely to make a huge mess inside there.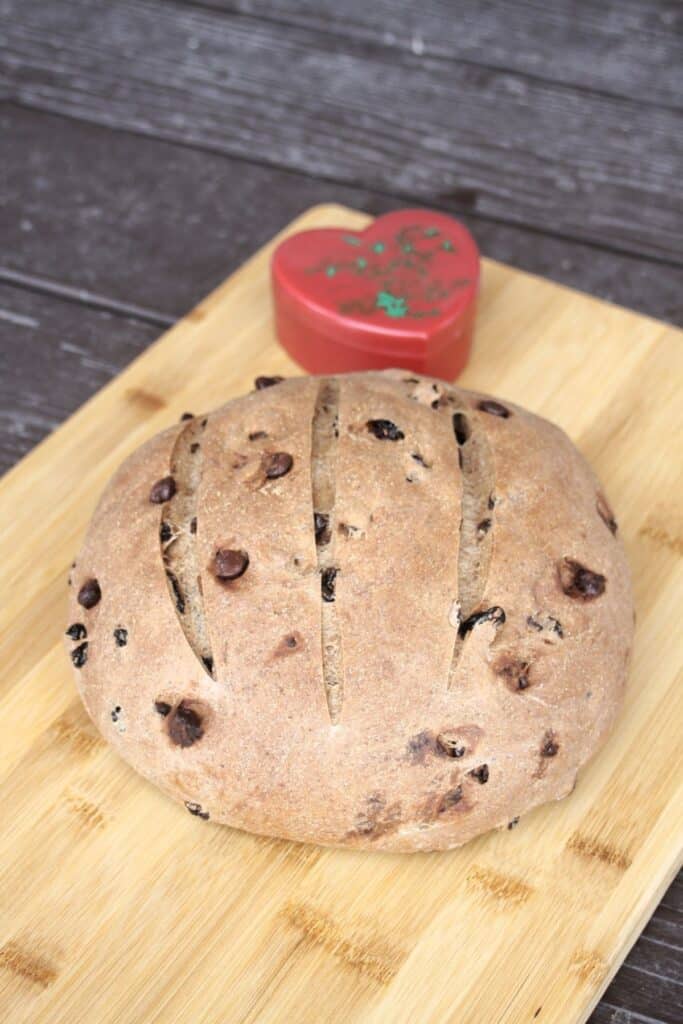 Instead place slices on a parchment lined baking sheet and broil a few minutes on each side. Likely about 5 minutes, but check for your preferred level of darkness.
Alternatively, toast on a pan in a toaster oven.
Freeze Extras
Double this recipe if you're so inclined and save some for later.
Simply place cooked and cooled loaves into airtight bags and freeze.
Alternatively, slice the bread and freeze slices in airtight bags. Freezing slices allows you to just grab what you need instead of an entire loaf at one time.
Use up within 6 months for best flavor and to prevent freezer burn
Other Raisin Breads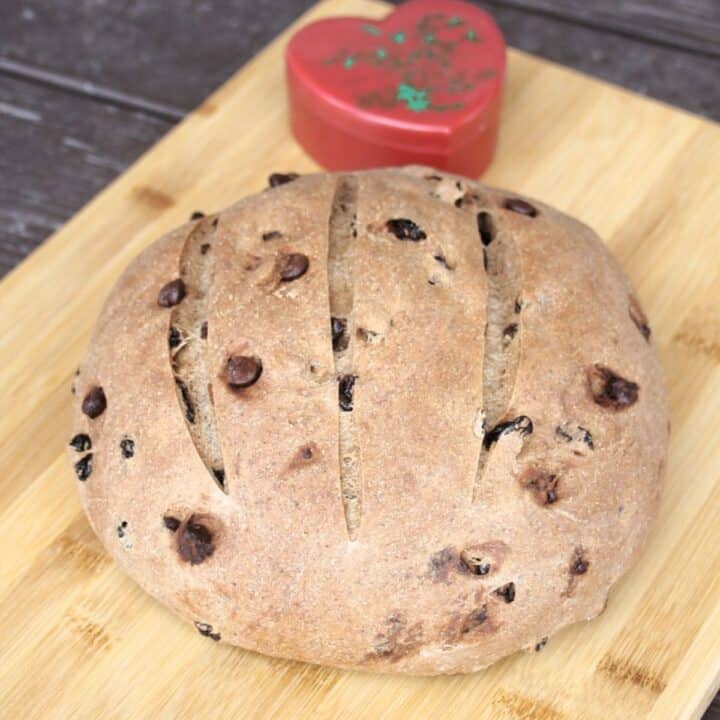 Pumpernickel Raisin Bread
Rising Time:
1 hour
30 minutes
Total Time:
2 hours
40 minutes
Pumpernickel raisin bread is a sweet whole-grain loaf studded with chocolate chips for a decadent, hearty slice.
Ingredients
1 1/2 Cups Warm Water
1 1/2 teaspoons Dry, Active Yeast
2 Tablespoons Brown Sugar
2 teaspoons Instant Coffee
1 1/2 Tablespoons Cocoa Powder
1 1/2 teaspoons Salt
2 Tablespoons Molasses
3/4 Cup Raisins
1/4 Cup Chocolate Chips
1 1/2 Cups Pumpernickel Flour
2 1/2 Cups Bread Flour
Instructions
In a small bowl, combine the brown sugar, instant coffee, salt, and cocoa powder. Set aside.
In a large bowl, combine the water and yeast. Let sit until foamy, about 10 minutes.
Add the molasses and pumpernickel flour. Mix well.
Add the brown sugar mixture and 1 cup of bread flour. Stir well.
Stir in the raisins and chocolate chips.
Continue adding bread flour until a soft dough begins to form.
Turn out to a floured board and knead until soft, elastic, and a bit shiny.
Place into an oiled bowl and turn to coat. Cover the bowl with a tea towel.
Let rise until not quite doubled, about 1 hour.
Grease a baking sheet.
Punch down the down and form into a round or oblong loaf shape.
Place the dough onto the baking sheet. Cover with a towel.
Let rise about 30 minutes.
Meanwhile preheat oven to 350 degrees Fahrenheit.
Slash the top of the loaf with a lame or sharp razor blade.
Bake in the preheated oven for 35-45 minutes or until golden and sounds hollow when tapped with a knuckle.
Remove from baking sheet to cool on wire rack.
Recommended Products
As an Amazon Associate and member of other affiliate programs, I earn from qualifying purchases.
Nutrition Information:
Yield:

15
Serving Size:

1 slice
Amount Per Serving:
Calories:

224
Total Fat:

2g
Saturated Fat:

1g
Trans Fat:

0g
Unsaturated Fat:

1g
Cholesterol:

0mg
Sodium:

351mg
Carbohydrates:

46g
Fiber:

3g
Sugar:

10g
Protein:

6g
I try but cannot guarantee this nutritional information is 100% accurate.