Somewhere between a scone and a quick bread sits this amazing Finnish Rye Bread recipe.
Full of whole grains, this dense bread is ideal for serving as a side dish to most any savory meal.
This Finnish Bread is a quick and easy bake that helps you get a filling meal on the table in no time at all.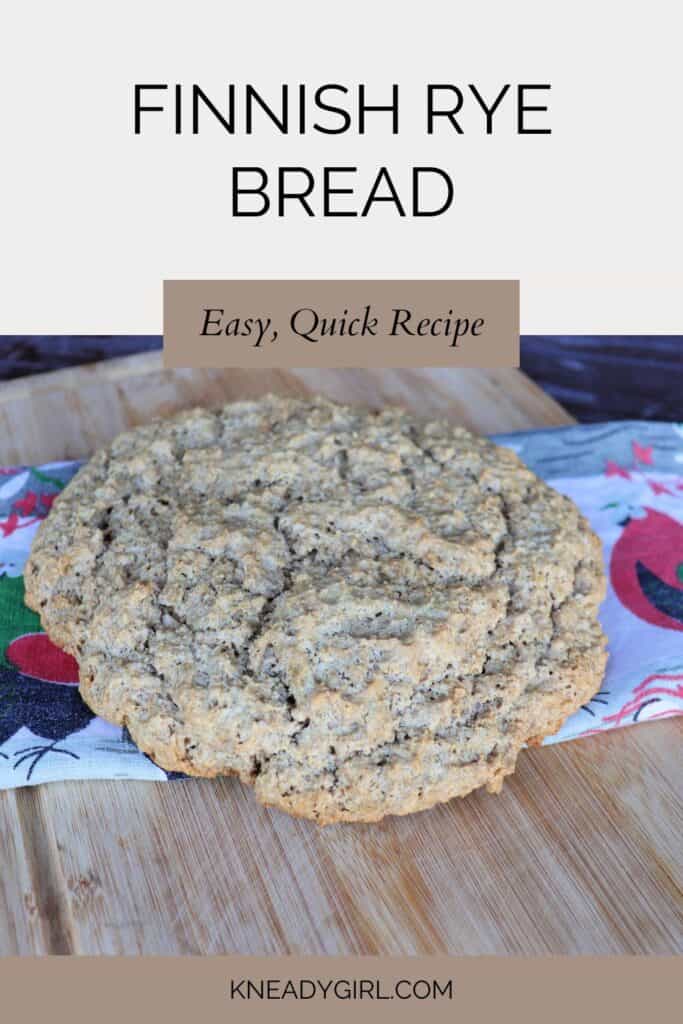 Savory Quick Bread
Much like Irish Soda Bread, this is a savory quick bread that doesn't require any rise time. It's the kind of traditional bread that you can see someone making after a long day of work to round out a basic meal. Nothing fancy but flavorful and filling at the same time.
There's no yeast, rather baking powder provides the leavening because of that you don't need much time to pull it all together. The baking time is the part that takes the longest but it can easily be done while you're making the rest of dinner.
Loaf Shape
While there is some lift, this is commonly a rather flat loaf that is perfect for eating simply. The main thing to remember is to pat the dough into a large circle before baking to get the best shape.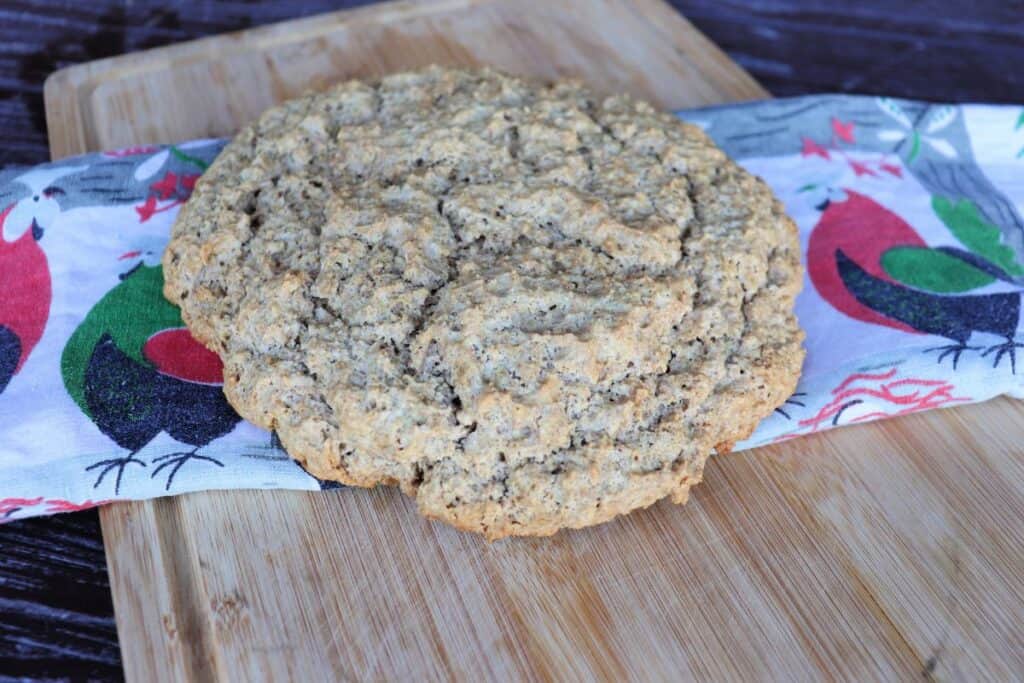 The rye flour makes it heavy and so it won't rise as much as something made with only all purpose or bread flour.
It is generally made in a round, so you don't need any kind of loaf tin or bread pan.
Flour Choices
Obviously, rye flour is the traditional choice and there are a wide variety of rye flours. I went with a medium rye because I generally have that on hand, however; feel free to try dark rye flour even light rye instead. If all you can find is something labeled rye on the grocery store shelves – use that and it will be tasty.
To keep it a little lighter, I used some all-purpose flour in the basic recipe below. You could, certainly use 100% rye flour or substitute some bread flour or even some whole wheat flour instead.
Optional Additions
This is a very plain but delicious bread that gets all of its flavor from the rye flour. There are ways to switch it up however.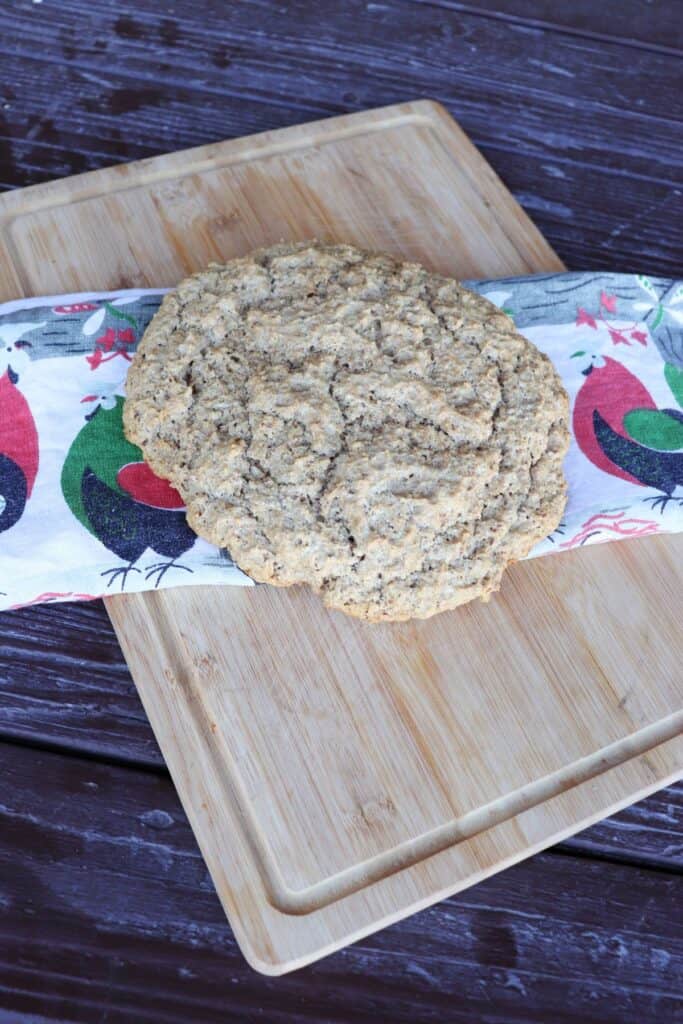 Add up to 1 teaspoon of caraway seeds for a lovely rounded rye flavor. Truly any seeds you enjoy could be added – dill, poppy, or sesame, for example.
Add a tablespoon or two of brown sugar or white sugar to make it sweeter.
How to Serve
Finnish rye is the kind of bread that is perfect for serving with simple meals like soups or salads, it's great as part of a brunch with eggs, meat, and fruit.
It is slightly crumbly in texture, which means it isn't great for sandwiches in my opinion. Definitely serve it in thick slices slathered in butter as a side dish.
From all of the research, I did, it seems that this bread is through the middle into two large, thin round slices. I tried this the first time I baked it and for the photos, personally, I didn't enjoy it that way as much.
The next time I made it, I sliced it like a regular loaf of fresh bread and found that better for us, but I understand that isn't 'traditional' and likely blasphemous to the Finnish people but how we do it in our home.
Need a last-minute gift, the kind for someone needing a hot meal say after having a baby? Take this to them with some soup and a dessert and it'll be perfect.
How to Store
These flat loaves will not last a long time. Store any leftovers in a plastic bag and keep at room temperature for up to 3 days.
Honestly, use it up as quickly as you can, it doesn't age well.
I don't recommend making a bigger batch and freezing this bread – it simply gets to crumbly and dry for long term storage.
Looking for more recipes that show off the rye grain's adaptability for making your own breads?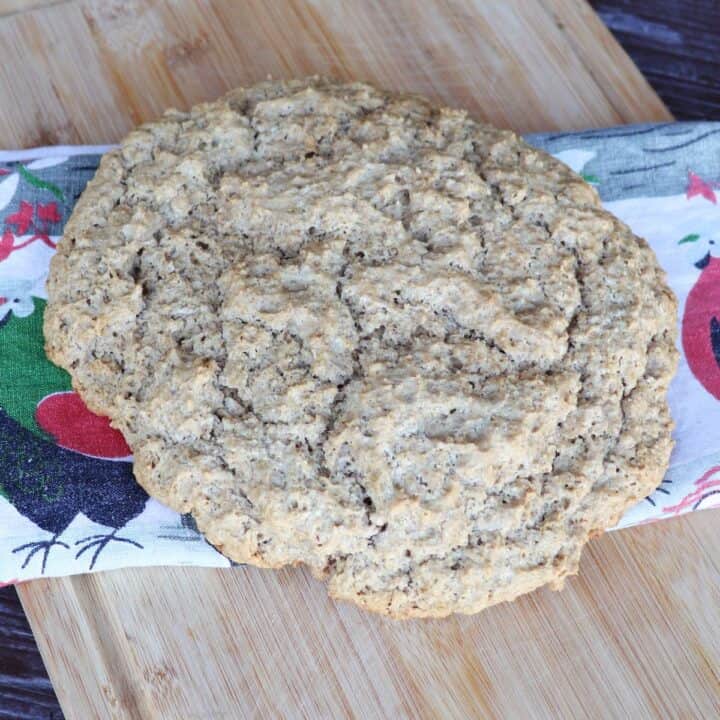 Finnish Rye Bread Recipe
Finnish rye bread is a savory quick bread perfect for serving as a side dish to simple meals.
Ingredients
1 Cup Medium Rye Flour
1 Cup Unbleached, All-Purpose Flour
2 Tablespoons Baking Powder
4 Tablespoons Salted Butter, cold, cut into cubes
1 Cup Milk
Instructions
Preheat oven 400 degrees Fahrenheit.
Grease a baking sheet.
In a large bowl, whisk together the rye flour, all-purpose flour, and baking powder.
Add the cold butter and cut in the butter until it resembles coarse crumbs.
Alternatively, use a food processor to combine.
Add the milk and mix with a wooden spoon until it all comes together.
Knead the dough in the bowl, until it forms a sticky but together ball.
Place dough onto prepared baking sheet.
Pat the dough into an 8" circle. Use slightly wet hands to keep it from sticking to the skin.
Bake bread in preheated oven for 30-35 minutes or until golden brown.
Remove from baking tray to cool on wire rack.
Nutrition Information:
Yield:

8
Serving Size:

1
Amount Per Serving:
Calories:

177
Total Fat:

7g
Saturated Fat:

4g
Trans Fat:

0g
Unsaturated Fat:

2g
Cholesterol:

20mg
Sodium:

471mg
Carbohydrates:

24g
Fiber:

2g
Sugar:

2g
Protein:

5g
I try but cannot guarantee this nutritional information is 100% accurate.