Semolina bread is a crusty, hearty loaf perfect for serving at dinner and beyond.
Full of simple, nutty flavor and incredible texture this is the type of bread that is perfect for rounding out easy, homemade meals.
The golden crust from the semolina makes for beautiful loaves of bread as well, making it extra impressive.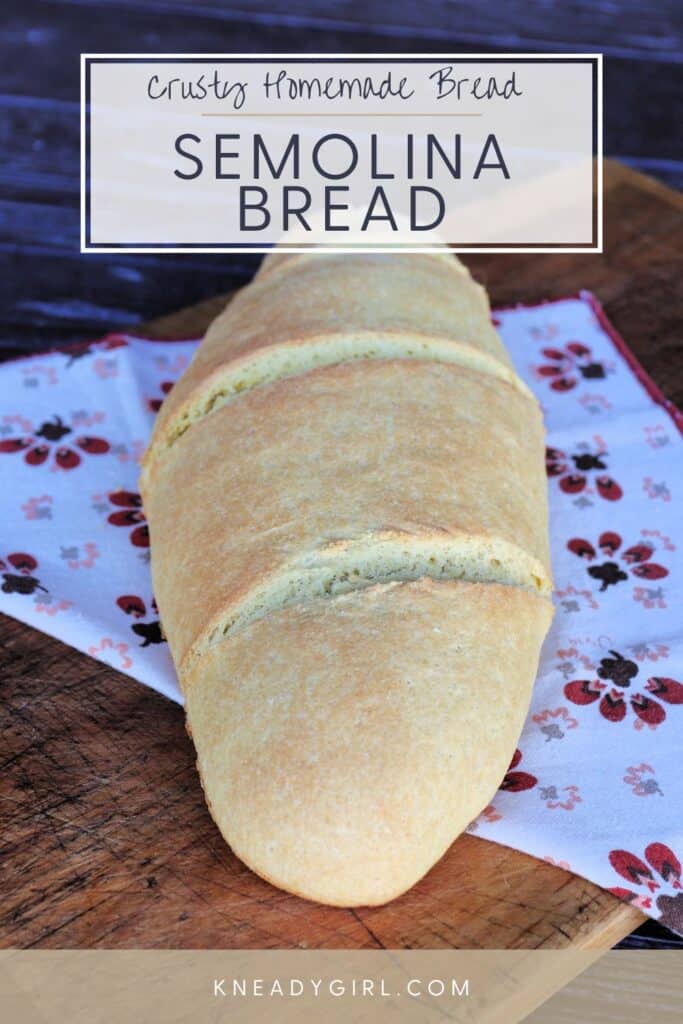 Semolina Flour
Semolina bread starts with semolina flour which is made of durum wheat. It is a coarsely ground grain which gives this bread it's tell-tale texture. It will feel like a fine sand when straight from the bag.
The flour does provide a crunch that is very different than a bread made with all purpose flour or other finely ground grains. It is lovely but different than most breads featured here at Kneady Girl.
You can likely find this flour in the baking aisle of most grocery stores. It's often used making noodles as well so not an uncommon or unusual ingredient in most stores of any size.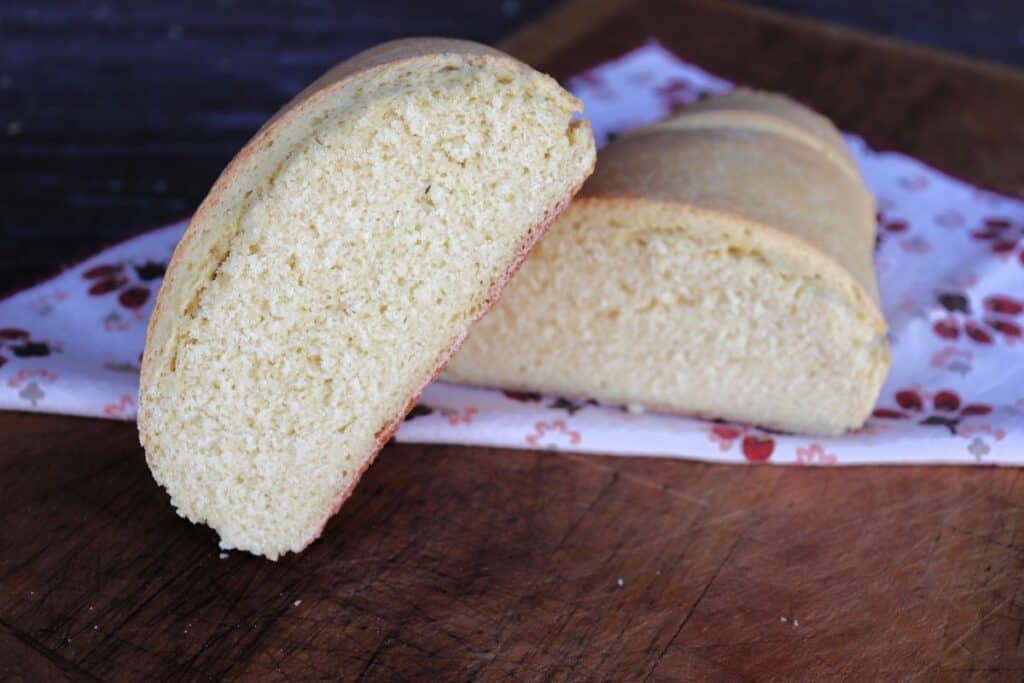 Beyond the flour, the rest of the bread dough comes together with very basic ingredients that you likely already have on hand.
You must use semolina flour in order for it turn out well, any other type of flour will simply not be semolina bread, don't try to substitute.
Loaf Shape
It seems that most often semolina bread is shaped into oblong loaves. However, you can feel free to shape dough in different ways.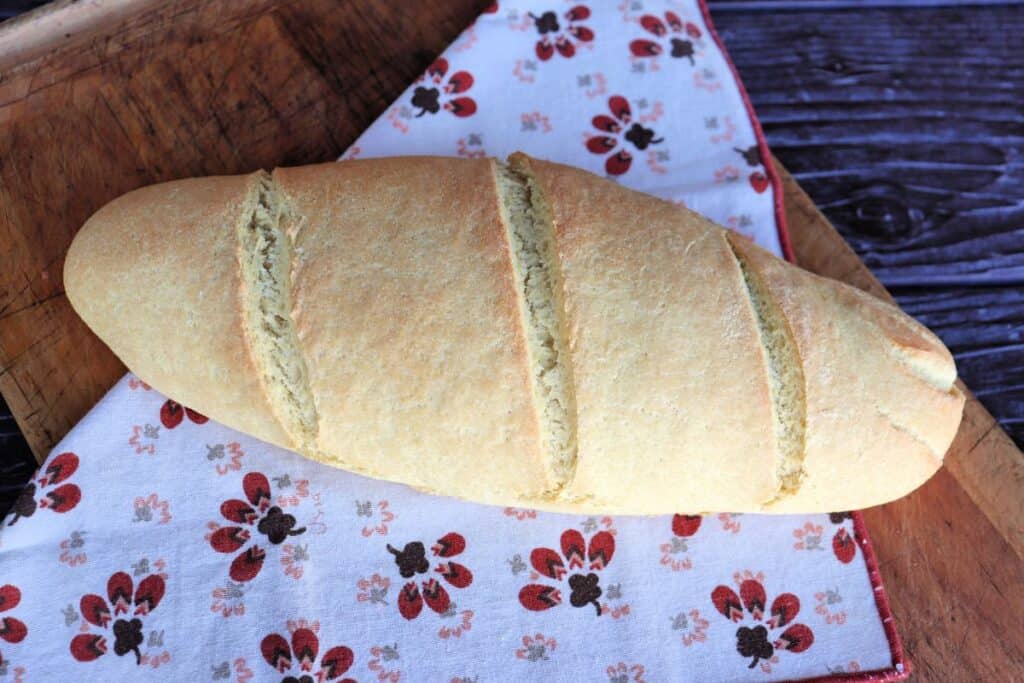 This could certainly be baked in a loaf pan or shaped into a round loaf and baked on a pizza stone.
Simply watch the baking time when changing the shape, it make bake up faster or slower.
Optional Toppings
Want to change up your bread some?
Feel free to brush the risen loaf with an egg wash and sprinkle it with sesame seeds or poppy seeds for more crunch and flavor.
Crispy Crust
The flour provides an inherently crisp crust to the finished loaf. You can make it even crustier if you desire by adding some moisture to the oven.
Simply spray the oven walls with water after putting the tray inside and close the door quickly. This steam will help crisp up the crust even more.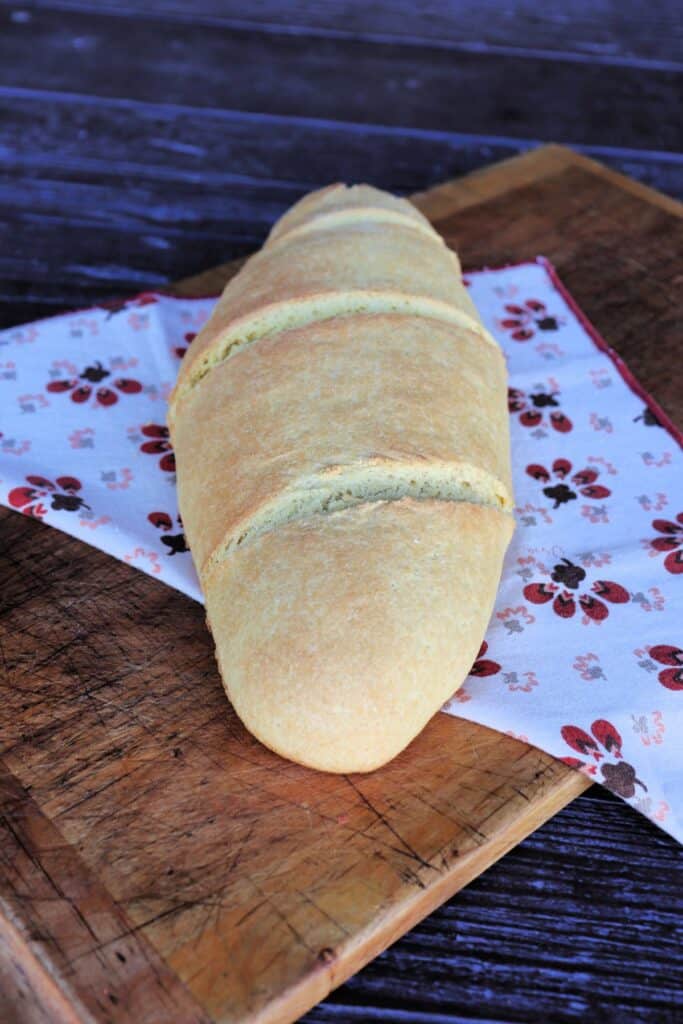 I included these instructions in the recipe, you can feel free to skip it for a slightly softer crust.
Experience Level: Intermediate
If you have some bread baking experience under your belt, you can tackle this recipe with confidence. I don't recommend it for novice bakers, simply because it's a bit fussier than something made with bread flour. Once you have you some experience kneading and shaping your own breads, this is an easier recipe to undertake.
How to Serve
No reason to overthink this or get fancy. Serve the loaf sliced on a board with any of your favorite main courses.
It goes great alongside simple meals like soup or salad and yet holds up perfectly well for bigger holiday feasts.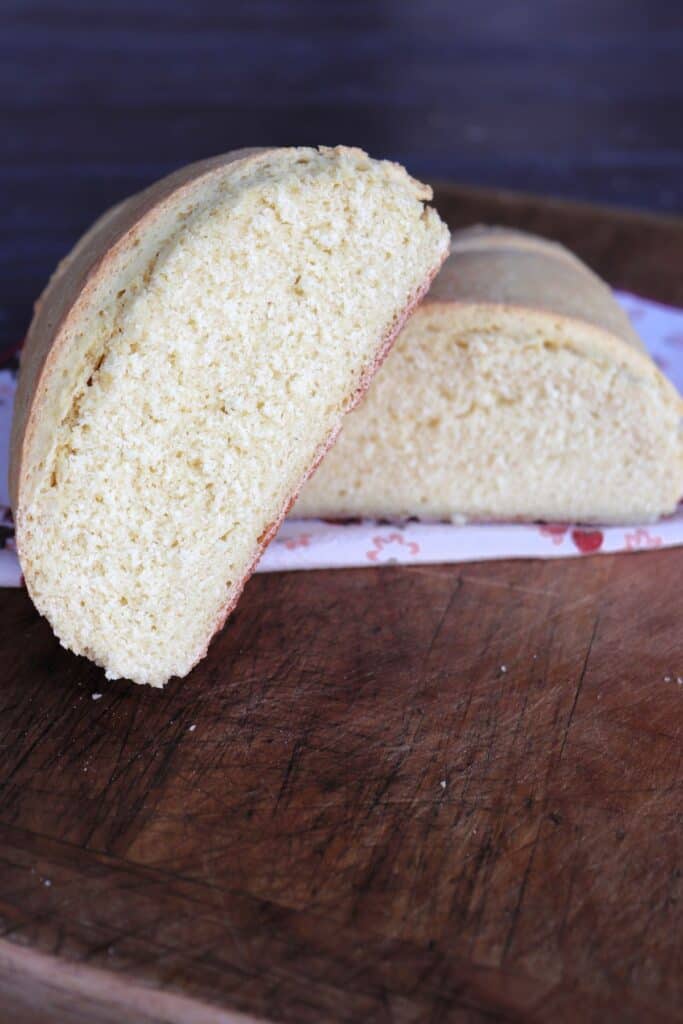 Serve warm or at room temperature.
The slices do toast up wonderfully and brown delightfully. Spread the toast with butter and jam for a very fine and different kind of breakfast than most other breads.
How to Store
Wrap any leftovers in plastic wrap or store in an airtight container for up to 3 days.
For longer term, storage it can be frozen but admittedly is best eaten fresh.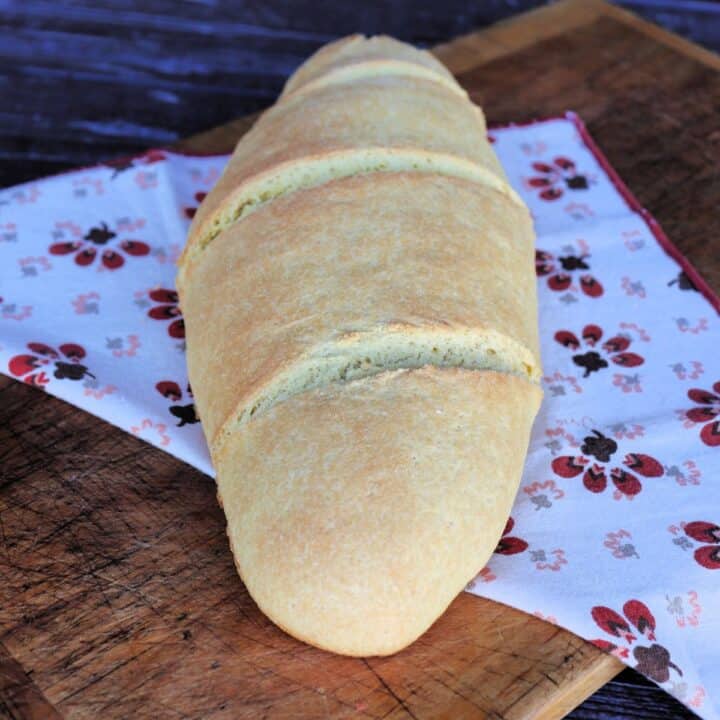 Semolina Bread Recipe
Rising Time:
1 hour
30 minutes
Total Time:
2 hours
30 minutes
Golden and crusty, this easy semolina bread recipe is great for serving as part of any dinner.
Ingredients
1 1/2 Cups Warm Water
1 1/2 teaspoons Dry Active Yeast
1 teaspoon Sugar
1 Tablespoon Olive Oil
1 1/2 teaspoons Salt
2 1/2 Cups Semolina Flour
Instructions
In a large mixing bowl, combine water, yeast, and sugar. Let sit until foamy, 5-10 minutes.
Add the olive oil and 1 cup semolina flour, mix well with a wooden spoon.
Add the salt and remaining flour. Mix until the dough begins to come together.
Alternatively, mix in the bowl of your stand mixer and use a dough hook attachment. The dough will begin to clean the sides of the bowl.
Turn the dough out onto a floured board and knead until the dough is smooth and elastic.
Place dough into a greased bowl and turn to coat.
Cover the bowl with a towel and let dough rise in a warm area until doubled about 1 hour.
Grease a baking sheet.
Punch down and dough and turn out to a floured work surface.
Knead the dough slightly and shape into a long oblong shaped loaf.
Place dough onto baking sheet.
Cover sheet with a towel and put in a warm place, let rise a second time until doubled, about 30 minutes.
Meanwhile preheat the oven to 400 degrees Fahrenheit.
If you desire a crusty bread, spray the oven walls with some water, closing the door quickly.
Score the top of the dough with a sharp knife or razor as desired.
Put the baking sheet in the preheated oven, spray the oven walls again and close the oven door quickly.
Bake for 30-35 minutes or until the crust is golden brown and the bread sounds hollow when tapped.
Remove from the baking sheet to cool on a wire rack.
Nutrition Information:
Yield:

16
Serving Size:

1
Amount Per Serving:
Calories:

104
Total Fat:

1g
Saturated Fat:

0g
Trans Fat:

0g
Unsaturated Fat:

1g
Cholesterol:

0mg
Sodium:

200mg
Carbohydrates:

19g
Fiber:

1g
Sugar:

0g
Protein:

3g
I try but cannot guarantee this nutritional information is 100% accurate.