Make this parmesan bread bites recipe for the perfect appetizer at game day and beyond!
Soft and flavorful these delightful bite-sized bits make for delicious finger foods at the holidays or lazy days at home.
These wonderful parmesan cheese bread bites are easy to bake for beginners and experienced bakers alike.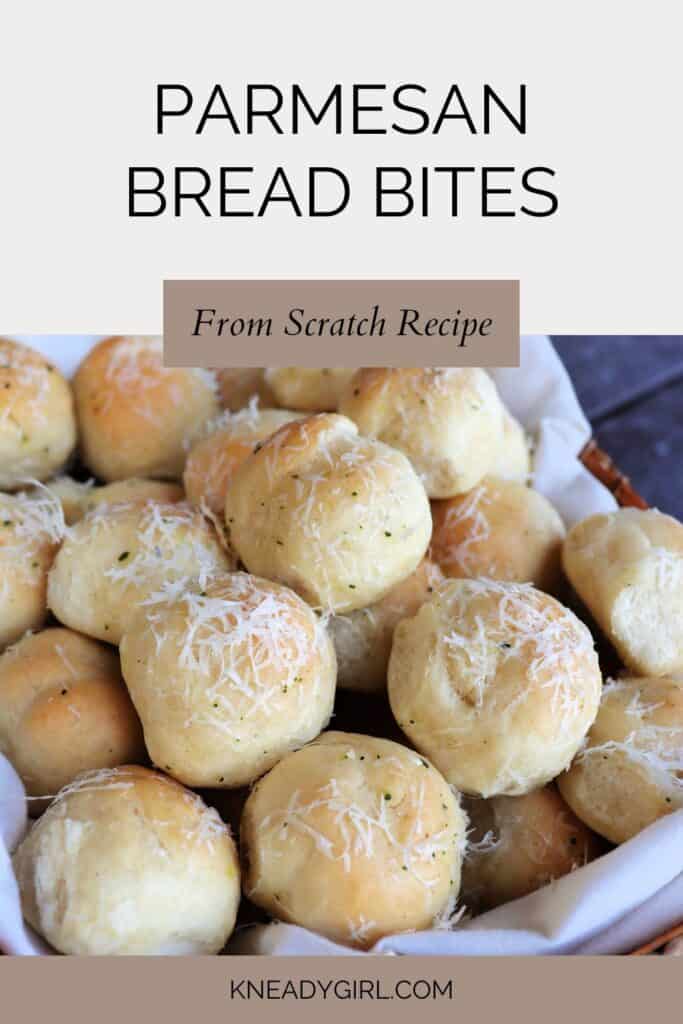 Start with Pizza Dough
Sure a person can buy dough to make these but that is never my style. I started with my homemade pizza dough and found it to be the perfect no fuss way to get an amazing end result.
I do use '00' flour in my pizza dough but you can easily substitute with all-purpose flour for equally tasty parmesan bites.
Experience Level: Beginner
This homemade dough is super easy recipe to make. The basic ingredients are likely on hand in most everyone's kitchen making it simple to pull together as well. It's a great project for beginners in that it's not at all fancy. The topping, too, is easy to pull together for even the most novice cook.
The Garlic Topping
The garlic-herb butter is a very simple combination of fresh garlic, dried herbs, and melted salted butter. I purposely kept it simple so that it would appeal to most people.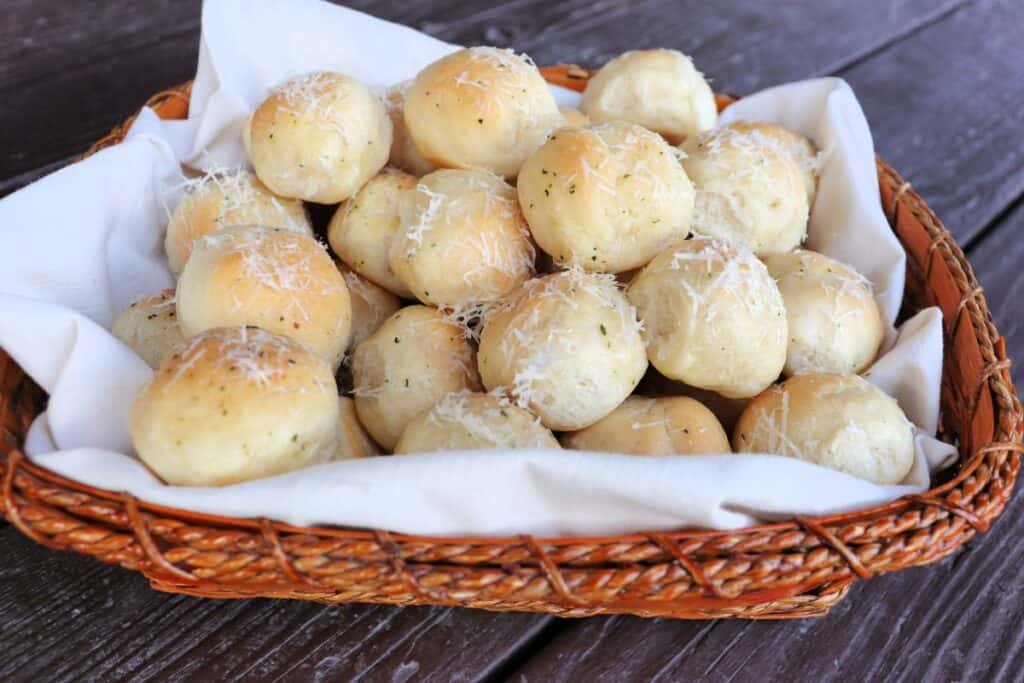 However, you are not locked into this recipe, options abound.
Add a pinch of red pepper flakes for some heat if you desire.
A pinch of cracked black pepper is also quite nice.
The Cheese
You'll want a generous shower of parmesan cheese on these bites.
I prefer to use a wedge of cheese grated finely on a microplane zester, but there's no right or wrong way to do the grating. A finer grate will melt and adhere better to the final bites.
Feel free to use a blend of parmesan, with something like asiago cheese, or anything you desire truly.
How to Serve
Use this as an easy appetizer for parties of all kinds, serve with your favorite marinara sauce or pizza sauce for dipping.
For game day or other parties serve them as part of a buffet alongside Fried Ravioli.
Serve a few with a small plate of pepperoni for a perfect snack after school or work.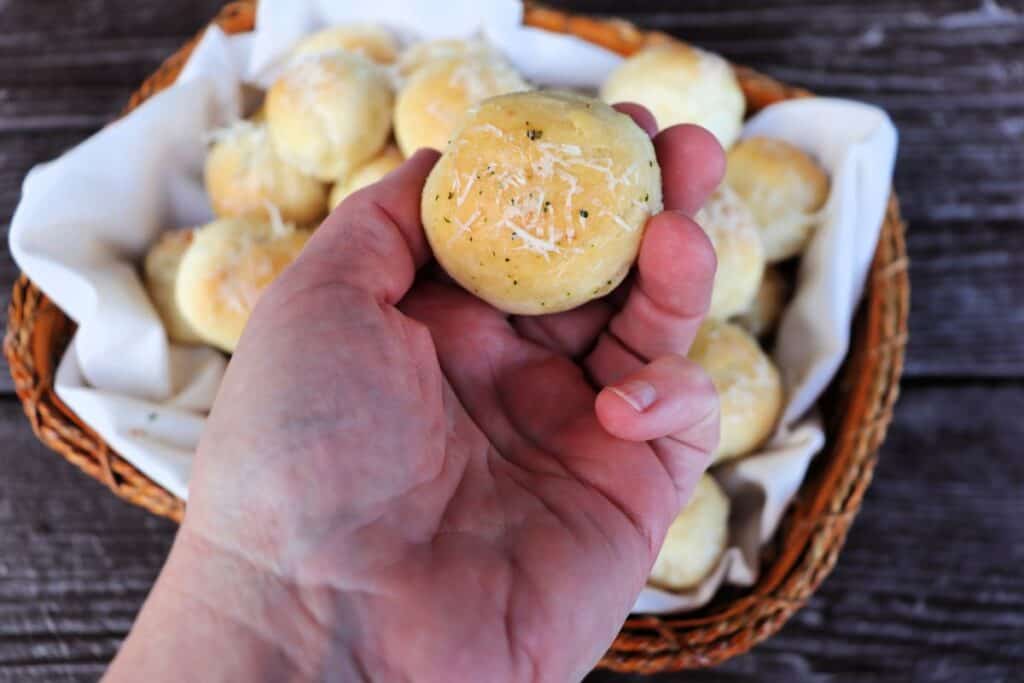 Simply, break apart the bites when they're still warm and put them into a basket or bowl for serving. They truly are best served warm.
You could definitely serve these addictive garlic bites as part of homemade pizza night with a salad.
Use them as a perfect side dish for soup – they're great for dipping in flavorful broth.
It's a perfect compliment to dishes like chicken parmesan or eggplant parmesan at the dinner table. They'd be great alongside most any pasta dish as well.
How to Store
Put any left overs in an airtight container and keep at room temperature. They should last a couple of days but are definitely best when they are first fresh from the oven.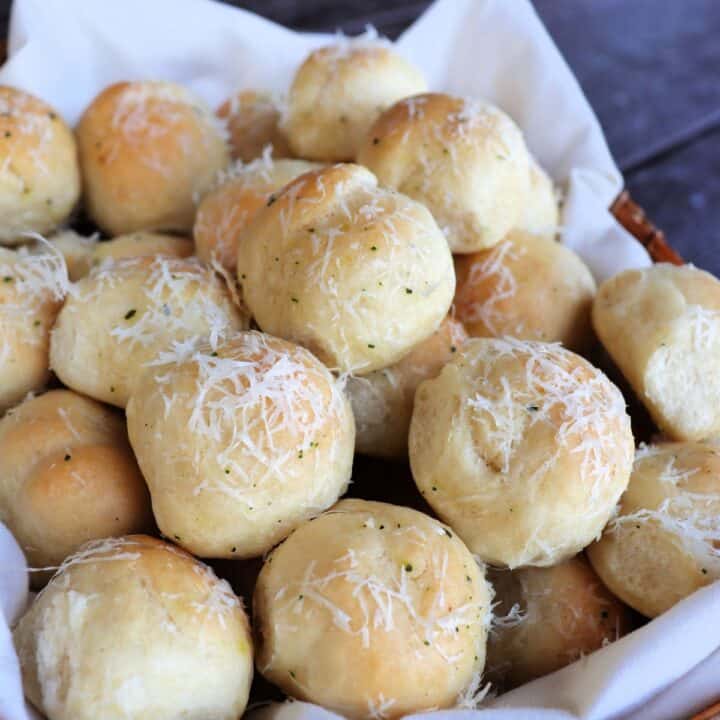 Parmesan Bread Bites
Total Time:
1 hour
40 minutes
Make these simple parmesan bread bites as an easy party dish or side dish for easy weeknight meals that are sure to be a hit!
Ingredients
Pizza Dough
1 Tablespoon Dry, Active Yeast
1 Cup Warm Water
2 Tablespoons Olive Oil
2 Cups '00' Pizza Flour
1/2 teaspoon Salt
Garlic Butter Topping
6 Tablespoons Salted Butter, melted
1 Tablespoon Fresh Garlic, finely minced
2 teaspoons Dried Italian Seasoning
Parmesan Topping
6 Tablespoons Grated Parmesan
Instructions
In a large mixing bowl, combine the yeast and water. Let sit until foamy, 5-10 minutes.
Add the olive oil and flour, stirring to combine. Add the salt.
Mix everything until it comes together into a soft ball.
Alternatively, use a dough hook on a stand mixer. The dough will begin to clean the sides of the bowl when it's ready.
Turn out onto a floured board and knead until smooth and elastic.
Place dough into greased bowl, turning to coat.
Cover the bowl with a towel and let rise for 40 minutes.
Meanwhile grease a large baking sheet, or line with parchment paper.
Punch down the dough and turn out to floured board and knead slightly.
Break off 1-inch pieces of dough or cut with a sharp knife, and roll into smooth balls.
Place the dough balls onto the cookie sheet.
Cover the sheet with towel and let rise for 20 minutes.
Meanwhile make the garlic butter topping by combining the melted butter, garlic and dried italian seasoning in a small bowl. Mix well and set aside.
Preheat the oven to 400 degrees Fahrenheit.
Using a pastry brush, gently brush the tops of each dough ball with the garlic butter. Reserve the extra.
Bake in the preheated oven for 20 minutes or until golden brown. The bites will sound hollow when tapped with a knuckle.
Nutrition Information:
Yield:

48
Serving Size:

1
Amount Per Serving:
Calories:

22
Total Fat:

2g
Saturated Fat:

1g
Trans Fat:

0g
Unsaturated Fat:

1g
Cholesterol:

4mg
Sodium:

47mg
Carbohydrates:

0g
Fiber:

0g
Sugar:

0g
Protein:

0g
I try but cannot guarantee this nutritional information is 100% accurate.