When you want or need a hearty, dark, and grainy loaf, this dilly rye bread will serve more than nicely.
This flavorful rustic rye bread is perfect for savory and strongly flavored sandwich fillings.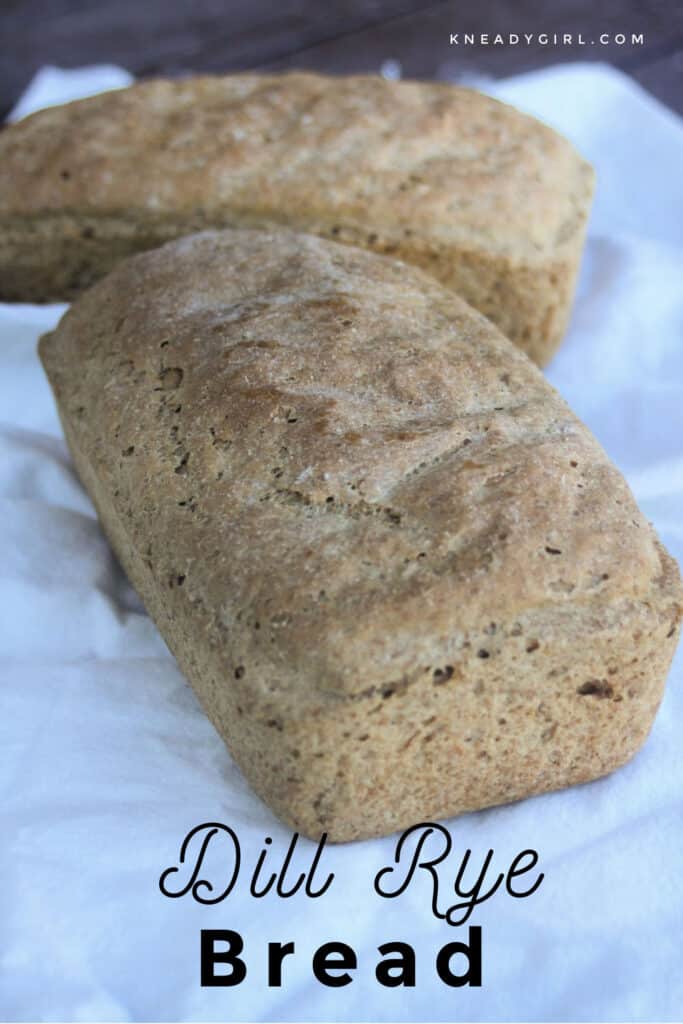 Flavor without Overpowering
The caraway and dill seeds add a ton of flavor to these loaves. They do not however overpower the bread so that it is all a person tastes. The flavor will merely compliment whatever is put between slices.
However, if a person truly dislikes dill or caraway, this is not the bread to serve them.
Substitutions
Dark rye flour works extremely well in this recipe, but a person could also use light rye flour if that is more preferable.
For an even darker flavor and grainier texture use pumpernickel flour.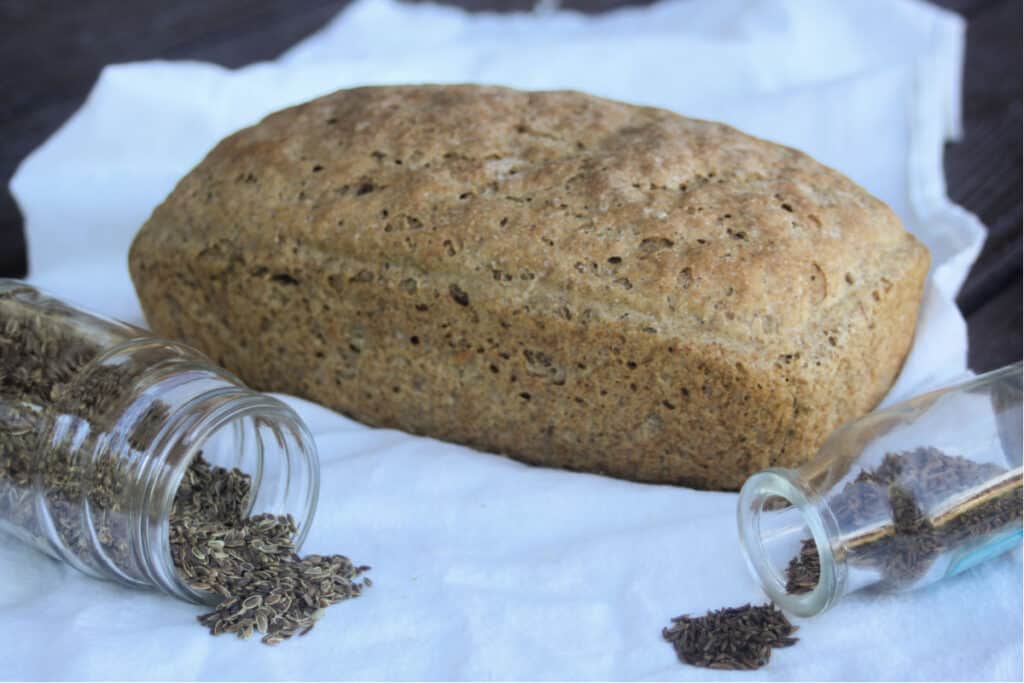 How to Serve
While a person could definitely toast and eat this with peanut butter, I'm going to suggest going in a different direction here.
This is the kind of bread that a Reuben should be served on for example.
Use it as a base for smoked meats and sharp cheeses. It is great with pickles and sauerkraut.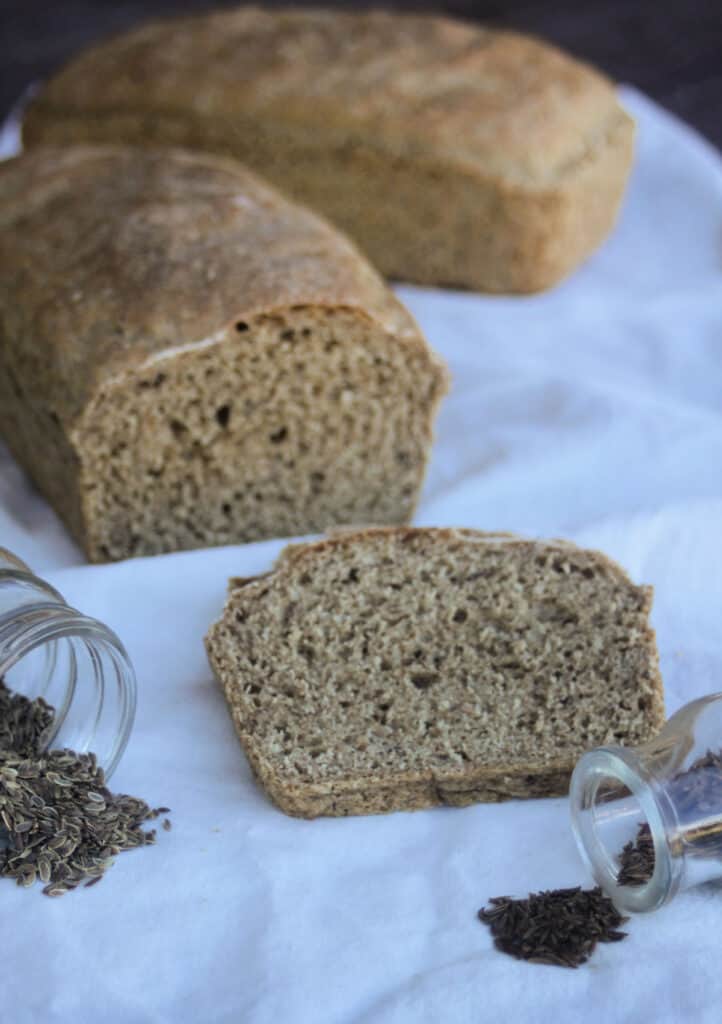 Freeze for Later
For longer term storage, wrapped the cooled loaf in plastic wrap and freeze. Or slice and place the slices into a freezer bag and freeze.
Use up frozen bread within 6 months for best flavor. Let frozen bread thaw on the counter prior to serving.
Other Rye Bread Recipes to Enjoy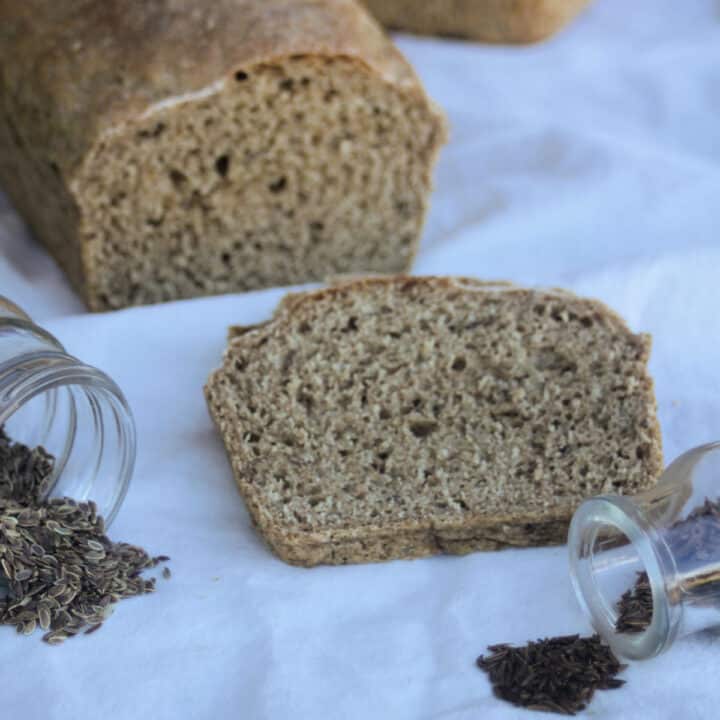 Dill Rye Bread
Rising Time:
1 hour
45 minutes
Total Time:
2 hours
45 minutes
Hearty and full of flavor dill rye bread is the perfect base for savory and rich sandwich fillings.
Ingredients
1 Tablespoon Dry, Active Yeast
2 Cups Warm Water
1 Tablespoon Molasses
1 Tablespoon Salt
1 Egg
2 teaspoons Caraway Seeds
2 teaspoons Dill Seeds
2 Cups Dark Rye Flour
3 Cups Unbleached All-Purpose Flour
Instructions
In a large bowl, combine the warm water, molasses, and yeast. Let sit until foamy, about 10 minutes.
Add the salt, eggs, seeds, and rye flour. Stirring until combined.
Begin adding the bread flour one cup at a time and mixing until a soft dough begins to form.
Turn out onto a floured board and knead until the dough is soft and elastic.
Oil a bowl and turn the dough around inside to coat. Cover the bowl with a towel and let rise until doubled about an hour.
Grease 2 bread pans or a baking sheet.
Punch down the dough and turn out onto a floured board.
Knead slightly and divide the dough in half.
Form the dough into 2 loaves - either in a bread pan or rounds/logs on the baking sheet.
Cover the pan with a towel and let rise until doubled, about 45 minutes.
Meanwhile preheat the oven to 375 degrees Fahrenheit.
Bake the bread in the preheated oven for 35 to 40 minutes or until golden and sounds hollow when tapped with a knuckle.
Remove from the pans immediately to cool completely on wire racks before slicing.
Recommended Products
As an Amazon Associate and member of other affiliate programs, I earn from qualifying purchases.
Nutrition Information:
Yield:

32
Serving Size:

1 slice
Amount Per Serving:
Calories:

74
Total Fat:

0g
Saturated Fat:

0g
Trans Fat:

0g
Unsaturated Fat:

0g
Cholesterol:

6mg
Sodium:

202mg
Carbohydrates:

15g
Fiber:

2g
Sugar:

1g
Protein:

3g
I try but cannot guarantee this nutritional information is 100% accurate.