As impressive as it is delicious this apple cream cheese braid is the perfect fall brunch treat.
Not quite an apple danish or a strudel – this apple braid uses a rich yeasted sweet dough instead of puff pastry or phyllo dough for something it is simultaneously light and rich.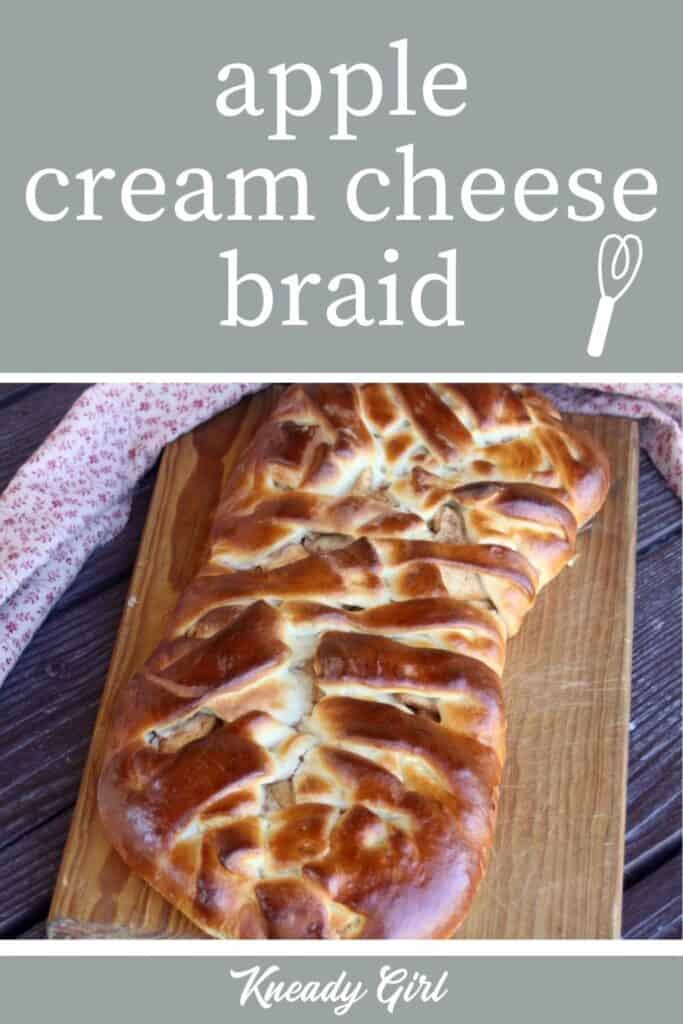 Simple but Elegant
The ingredients for this apple bread are simple. There's nothing really fancy or complicated about them but the way they layer together is what makes it all so very tasty.
Do use the best ingredients for best flavor.
Difficulty Level: Advanced
Because over kneading will absolutely kill the lightness of this bread, it shouldn't be a beginner level bread. The rolling and braiding is relatively easy but one should have some experience with kneading bread dough before attempting.
The Braid
Truly the braiding is just laying the strips of dough over the filling. It looks complicated but isn't and don't stress about perfection it will bake up and look just fine as long as you get those strips crossed and touching in the middle.
Some Optional Touches
The recipe as written is perfect in my opinion but if you want to switch it up a little, try these ideas:
After applying the egg wash, sprinkle the dough with some coarse sugar
Drizzle the baked & cooled braid with some vanilla glaze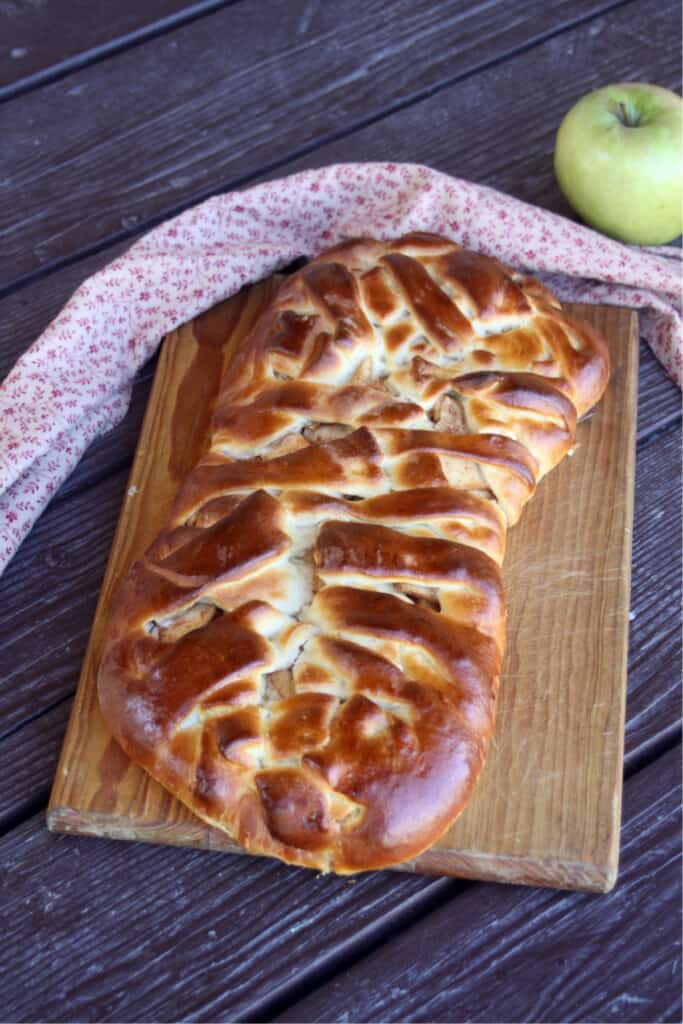 Switch the Fruit
I used apples but believe pears would work just fine. I also think you could use 1 apple and 1 cup of raisins instead of all apples for something really lovely.
Spice Choices
I went with simple cinnamon here but that isn't the only option. Use apple pie spice, nutmeg, chai spice or any combination you prefer.
Egg Wash
The egg wash is optional but it is what gives the braid that gorgeous color. Only skip if you simply don't have the extra egg.
Other Apple Recipes
Want to try something else with your apples?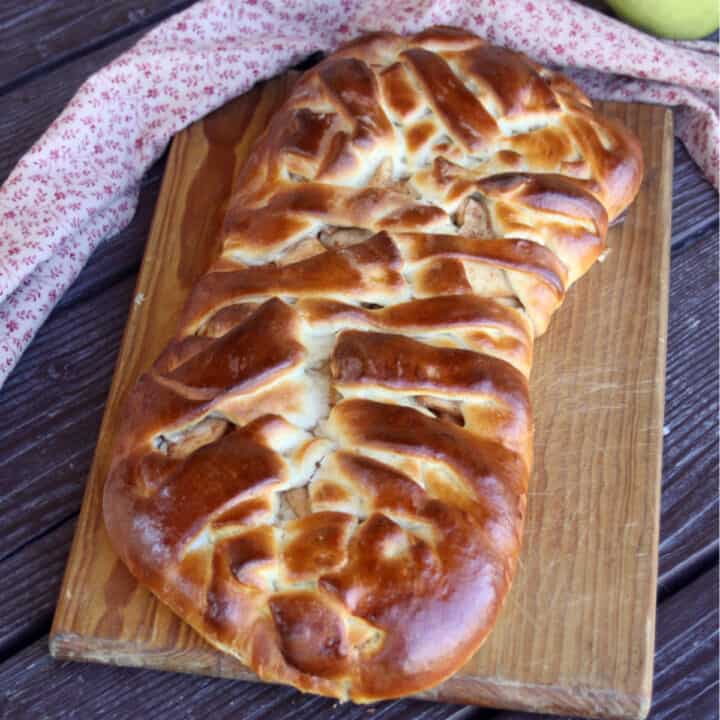 Cream Cheese Apple Braid Recipe
Rising Time:
1 hour
30 minutes
Total Time:
2 hours
25 minutes
Sweet, rich but light and creamy too, this apple cream cheese braid is perfect for brunch or dessert.
Ingredients
Braid Dough
1/4 Cup Salted Butter
1/2 Cup Milk
1 Tablespoon Dry, Active Yeast
1/4 Cup White Sugar
1 Egg
1 teaspoon Salt
2 1/2 Cups Unbleached, All-Purpose Flour
Apple Filling
2 Large Apples, peeled & thinly sliced (approximately 1 pound)
1/2 Cup Brown Sugar, packed
2 teaspoons Ground Cinnamon
Cream Cheese Filling
8 ounces Cream Cheese, softened
1/4 Cup White Sugar
Egg Wash
Instructions
Make the Dough
In a small saucepan, melt butter and milk together just until simmering
Remove from heat and cool to 110-115 degrees Fahrenheit.
In a mixing bowl, combine the milk mixture with the sugar and yeast.
Whisk slightly and let proof until foamy - about 10 minutes.
Add the egg and salt to the yeast mixture.
Stir in 2 cups of flour and mix until a soft dough begins to form. If necessary, add a bit more flour but go lightly.
Turn the dough out onto a floured board, let rest 10 minutes. Knead the dough and add just a little bit more as necessary to form a soft dough.Oil a bowl and turn the dough around inside to coat. Cover with a tea towel and let rise until doubled, about an hour.
Make the Apple Filling
In a large bowl, whisk together the brown sugar and cinnamon until completely combined.
Toss the apple slices into the bowl and mix to coat with the sugar mixture. Set aside.
Make the Cream Cheese Filling
Cream together the cream cheese and sugar until light and fluffy. Scrape down the bowl as necessary. Set aside.
Assemble the Braid
Grease a large baking sheet.
Punch down the dough and knead slightly on a floured board.
Roll dough out to a 12 X 15 sheet.
Place the sheet of dough in the center of your greased baking sheet.
Spread the cream cheese mixture into the center of the dough. Leave 2-3 inches on all sides of the dough. Just spread the cream cheese into the center.
Spoon the apples on top of the cream cheese mixture. If there is a lot of juice, in the bottom of the bowl, don't add that it will be too much moisture. Just layer the spiced and sliced apples evenly across the cream cheese filling.
Using a pizza cutter or shop knife, cut inch wide strips in the dough edges. Start at the edge and cut into the dough leaving about 1/4 inch before the filling.
Fold the dough strips on top of the filling - make a criss-cross pattern for a lovely effect, repeating until all the dough edges are folded on top of the filling.
Cover the dough with a towel and let rest 30 minutes.
Meanwhile, preheat the oven to 400 degrees Fahrenheit.
In a small bowl combine the egg and water to make the optional egg wash.
Whisk together until foamy..
With a pastry brush, brush the egg wash over the top of the dough gently.
Notes
Store leftovers in the refrigerator.
Recommended Products
As an Amazon Associate and member of other affiliate programs, I earn from qualifying purchases.
Nutrition Information:
Yield:

16
Serving Size:

1 slice
Amount Per Serving:
Calories:

223
Total Fat:

9g
Saturated Fat:

5g
Trans Fat:

0g
Unsaturated Fat:

3g
Cholesterol:

46mg
Sodium:

215mg
Carbohydrates:

32g
Fiber:

2g
Sugar:

15g
Protein:

4g
I try but cannot guarantee this nutritional information is 100% accurate.