If you've been wondering what to do with some leftover apple butter, look no further than these easy and delicious apple butter muffins!
Made with common pantry ingredients, this apple butter muffins recipe comes together in a snap for easy morning breakfasts or afternoon snacks.
They're also lightly sweet and easy to bulk up and make your own so that everyone in the family will find something to love in this delicious treat.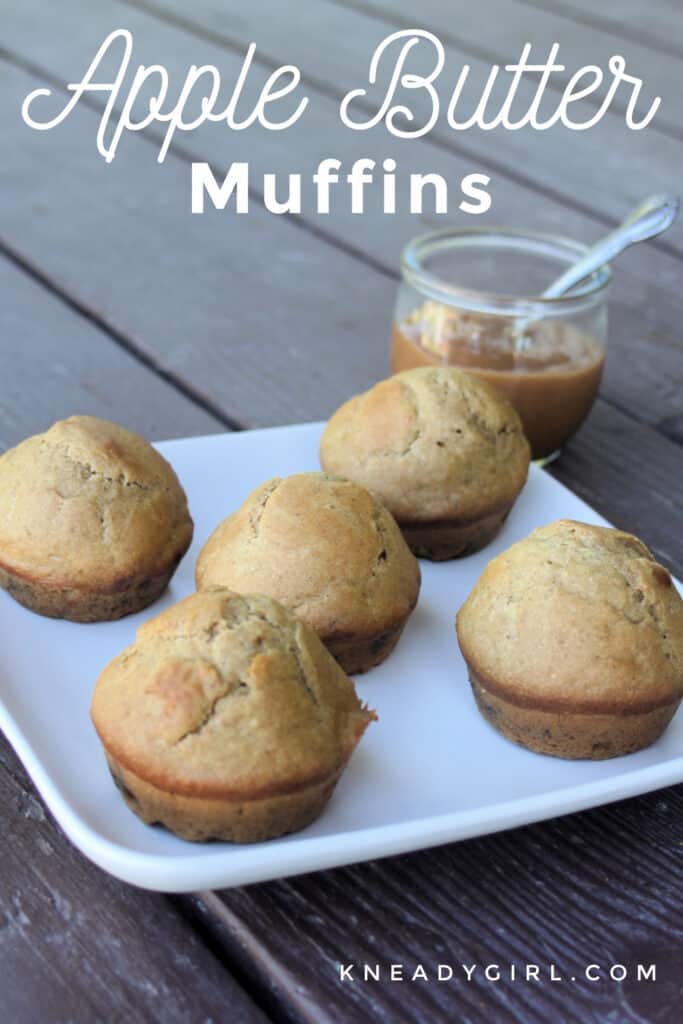 Built In Flavor
Using apple butter as the star ingredient means these muffins already have built in flavor. Apple butter is usually already heavily spiced and sweet meaning there's not a whole lot more to do to make them into flavorful muffins.
Absolutely feel free to use your own homemade slow cooker apple butter if you have it. Store-bought apple butter will also work, just be sure to use something with good flavor and all-natural ingredients for best results.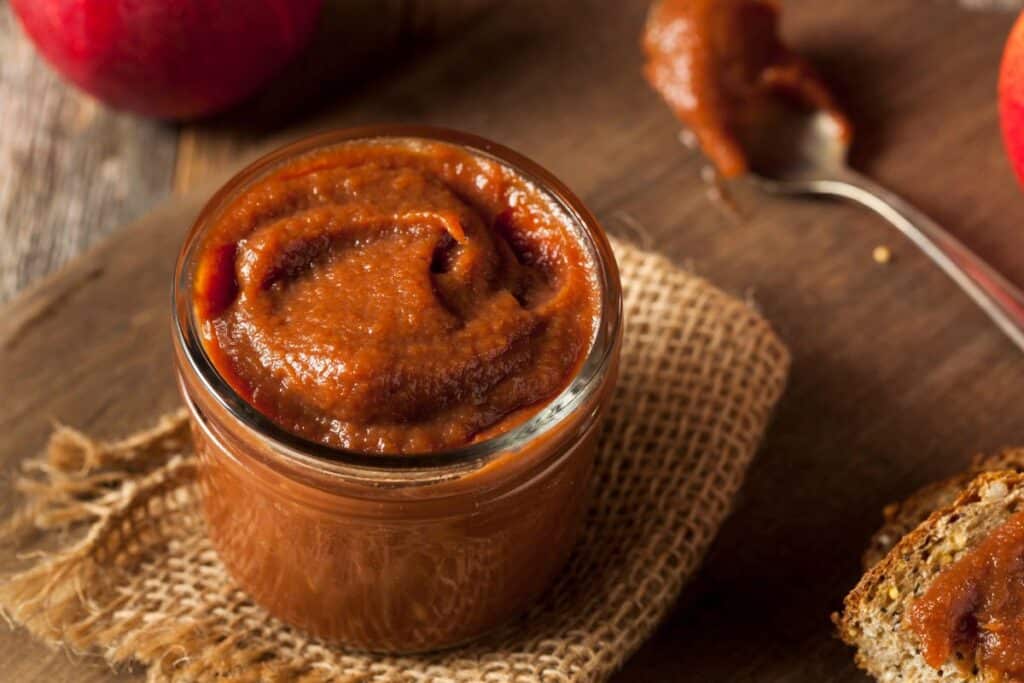 You could add extra spices if your apple butter isn't spicy enough for your taste.
Low in Additional Sugar
I used maple syrup in these muffins to increase that fall apple, maple combination that is always so tasty. It's a small amount as much for flavor as it is for sweetening. Honey could also be used for sweetening here.
Generally speaking, apple butter is quite sweet on its own meaning that more sugar feels unnecessary in the recipe, however feel free to adjust as necessary for the right amount of sweetness for your taste.
Fat Choices
I went with basic vegetable oil but you could use any liquid fat here – melted butter or coconut oil would also work.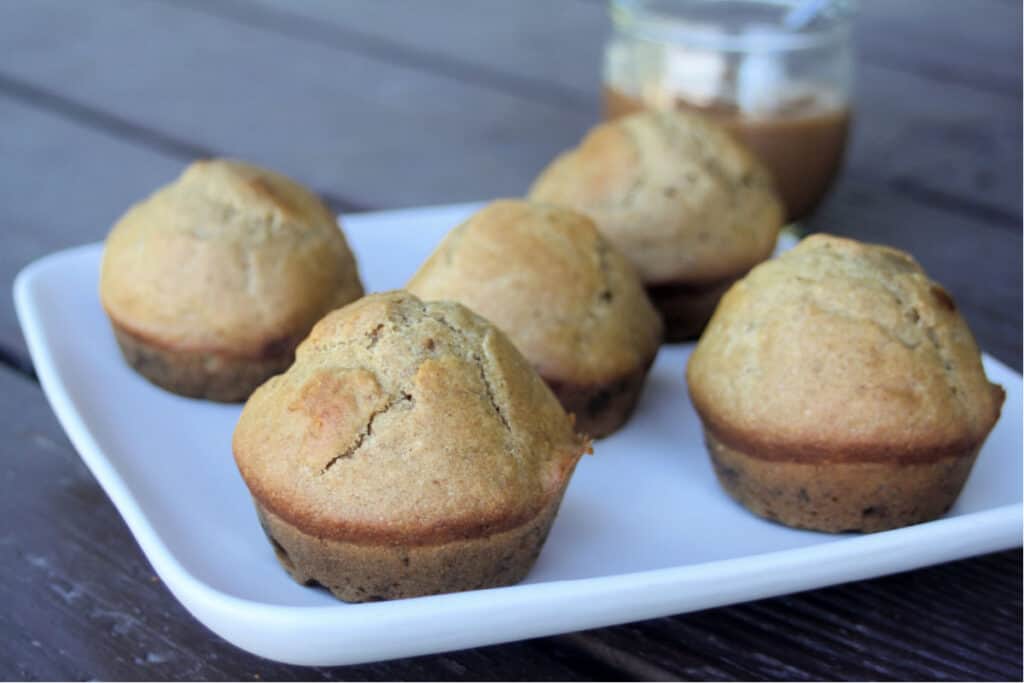 Up the apple flavor and lower the fat content in these muffins by substituting unsweetened, pureed applesauce for the vegetable oil.
Flour Substitutions
To keep this easy, the recipe is made with all purpose flour but you could substitute based on your own preferences.
A gluten-free blend would likely work (but has not been tested).
Substitute half of the all purpose flour with whole-wheat flour for some whole grain crunch.
Optional Additions
Want to bulk up the muffins or change the texture slightly? Try adding some of the following:
Mix in up to 1 cup of chopped nuts or seeds
Stir in up to 1 cup of dried fruit, like raisins
Make apple muffins by adding a cup of chopped fresh apples
Add a Topping
I think the muffins are perfect just as is, but there options to make it a bit different.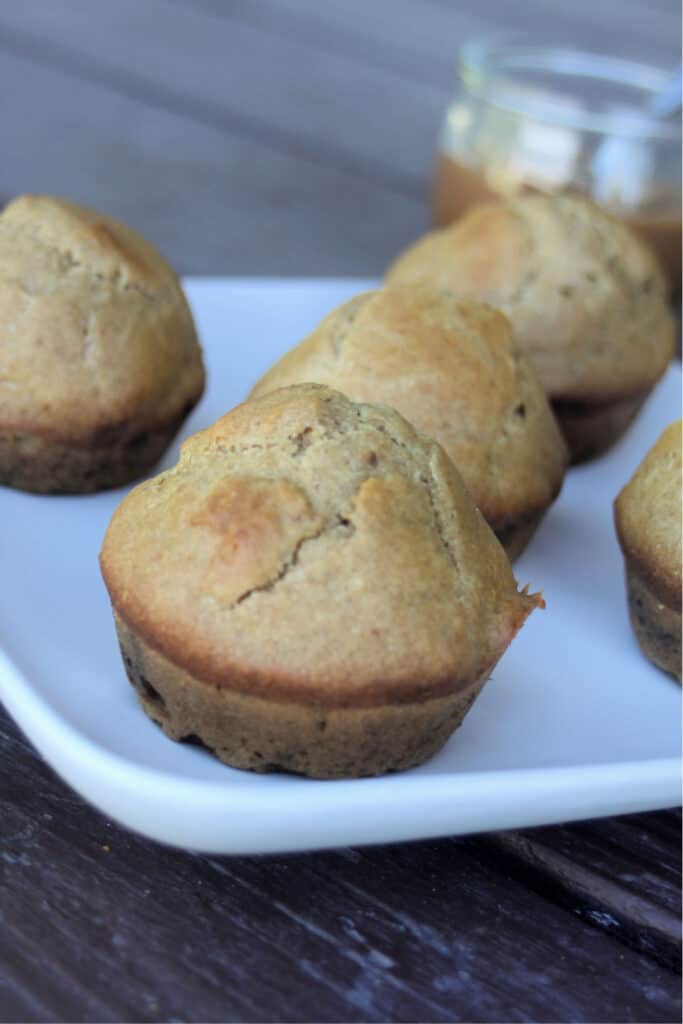 Add a streusel to the muffin tops before baking for crunch and sweetness.
Sprinkle a little cinnamon sugar on top of the muffins prior to putting in the oven.
Drizzle a little caramel or apple cider glaze on top of cooled muffins
Add a dollop of cream cheese frosting for something truly over-the-top
How to Serve
The great thing about fluffy muffins is that they don't need much else to be a light meal or basic snack. Serve muffins with a hot or cold beverage of choice and no one is likely to complain.
They are quite delicious slathered with a bit of peanut butter for a more filling snack.
Make it a more substantial breakfast by serving the muffins alongside some scrambled eggs and bacon.
Tuck them into lunch boxes or serve as a snack alongside some fresh fruit.
How to Store
Keep the muffins in an airtight container where they will stay fresh for up to 5 days at room temperature.
The baked muffins freeze beautifully. Make a double batch if you have a lot of apple butter on hand.
Simply place the baked muffins into a plastic bag or other freezer container. Thaw as needed, use up within 6 months for best flavor (and before freezer burn).
Check out some of our other favorite apple inspired muffins recipes: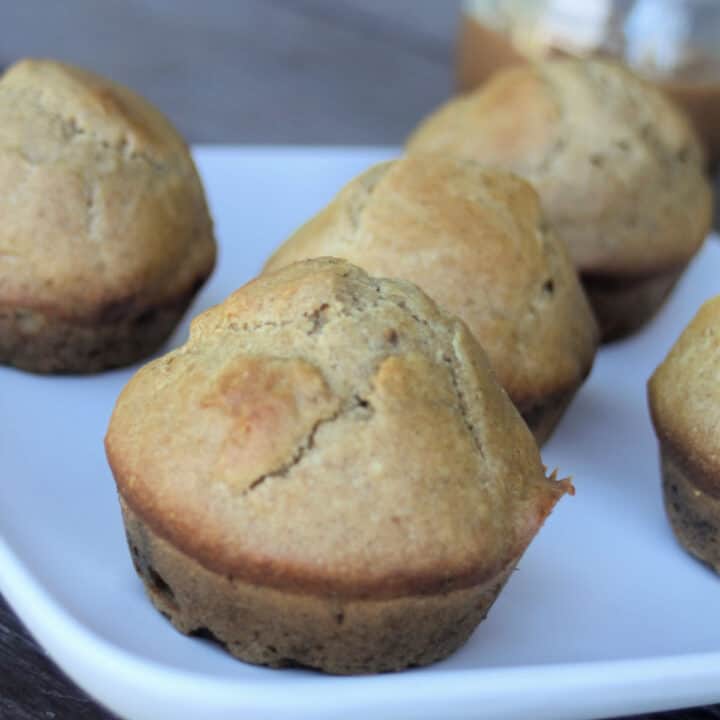 Apple Butter Muffins
Sweet, spicy, and full of amazing fall flavor apple butter muffins are a great breakfast treat!
Ingredients
2 Cups Unbleached, All-Purpose Flour
1/2 teaspoon Salt
1 teaspoon Baking Powder
1 teaspoon Baking Soda
1 Cup Apple Butter
1/4 Cup Vegetable Oil
1 Egg
1/3 Cup Maple Syrup
1/4 Cup Milk
Instructions
Preheat the oven 400 degrees Fahrenheit.
Grease a muffin tin or use paper cupcake liners.
In a large mixing bowl, whisk together the flour, salt, baking powder, and baking soda. Set aside.
In a separate bowl, whisk together the oil, apple butter, maple syrup, milk, and egg until thoroughly combined.
Add the wet ingredients to the dry ingredients and mix just until combined.
Divide the muffin batter among 12 muffin cups, filling them about 2/3 full.
Bake in the preheated oven for 15 minutes or until inserted cake tester comes out clean.
Allow the muffins to cool in pan for 5 minutes.
Run a knife around each muffin cup to loosen from muffin pan.
Remove from pan to cool completely on a wire rack.
Nutrition Information:
Yield:

12
Serving Size:

1 muffin
Amount Per Serving:
Calories:

188
Total Fat:

5g
Saturated Fat:

1g
Trans Fat:

0g
Unsaturated Fat:

4g
Cholesterol:

16mg
Sodium:

247mg
Carbohydrates:

32g
Fiber:

1g
Sugar:

14g
Protein:

3g
I try but cannot guarantee this nutritional information is 100% accurate.