Make apple spice muffins for delicious breakfasts full of fall flavors that are sure to delight!
This simple recipe features bits of fresh apple alongside warm spices for homemade muffins that are sweet and filling.
Use these apple cinnamon muffins for a quick breakfast or snack any time of day.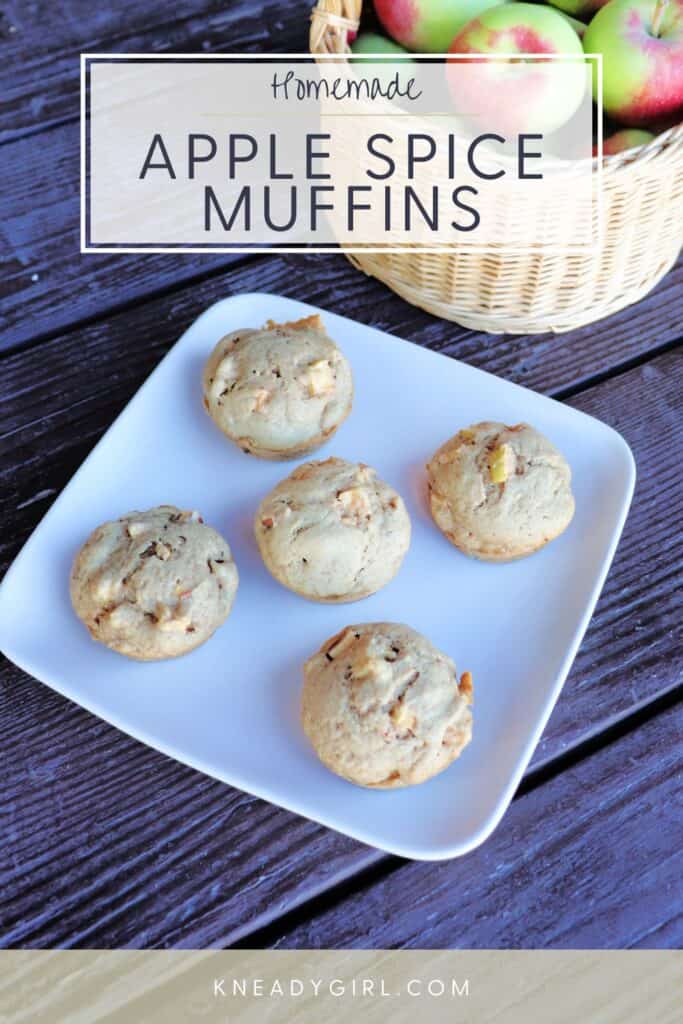 Apples
There are apple types touted to be better for baking. I'm not questioning that but I generally just use whatever I have on hand. We have a large apple tree and I simply use those, they are similar to McIntosh.
Granny smith apples would, of course, provide a nice bit of tartness to the muffins.
Honestly, just use what you have on had for flavorful apple muffins.
Do chop them finely so little bits get throughout the muffins.
Apple Cider
I used a freshly pressed, local apple cider in this recipe. I think the apple cider increases the apple flavor and sweetness of the final muffin.
Regular apple juice would also work if you have that on hand.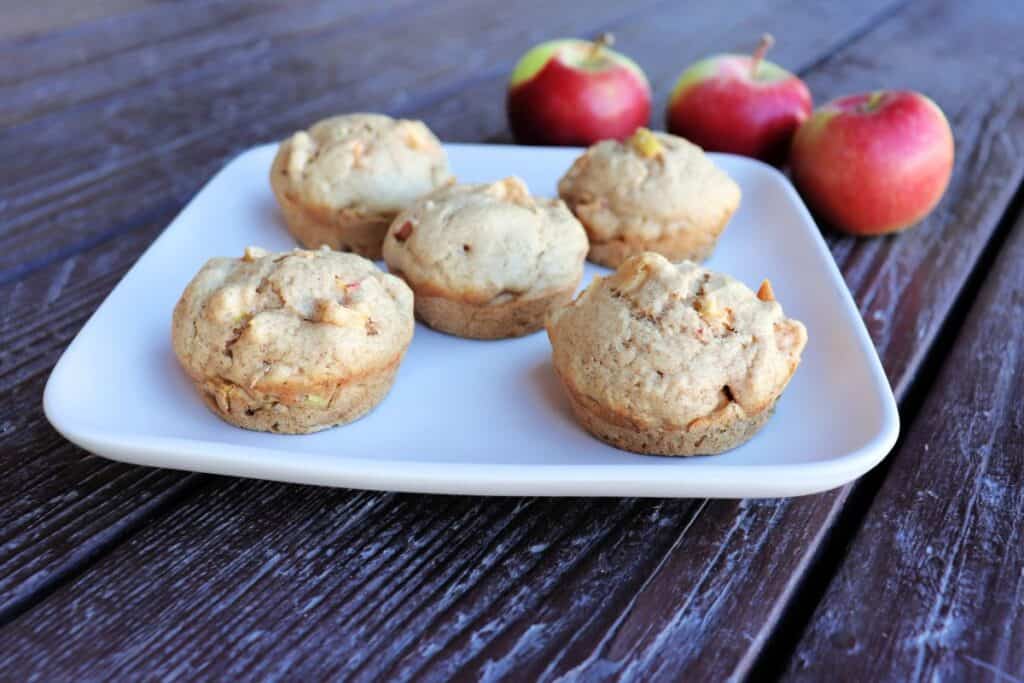 However, if you don't have any on hand use more milk instead, the results will still be amazing.
Spice Choices
I stuck with the basics of cinnamon and ginger here, those are always so perfect with apples in my opinion.
However, feel free to switch up and use whatever spices or combinations you like best. Apple pie spice would work perfectly for ease.
Flour Options
For simplicity sake, I went with basic all-purpose flour. Most of us have that in our pantry and we know that most everyone will like and enjoy that texture and flavor.
However, some whole wheat flour or even spelt would provide a wonderful whole grain flavor and crunch. Substitute up to half of the all-purpose for your favorite whole grain flour and proceed with the recipe as written.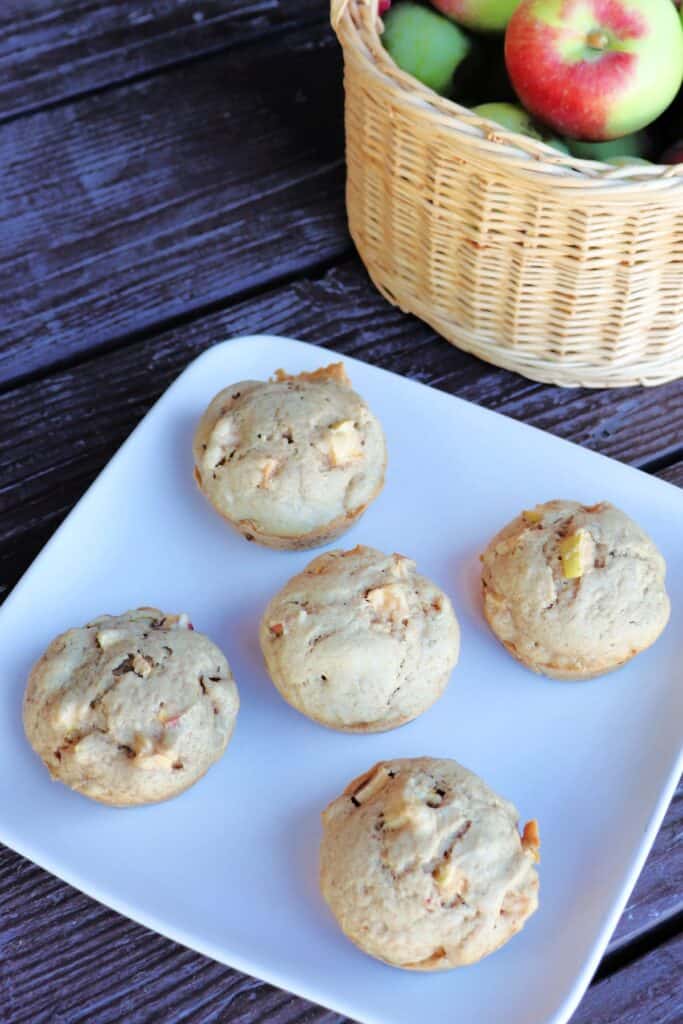 Watch the baking time a bit more closely to prevent the muffins from drying out as whole grain flours absorb liquid differently.
Gluten-free flour would also likely work, the type that is a 1-to-1 substitute but I did not test it.
Fat Choices
Melted salted butter tends to be my favorite when making these kind of muffins in general. It's flavorful and I always have it on hand.
Substitute unsalted butter if you'd like but add 1/2 teaspoon salt to the dry ingredients.
Vegetable oil or melted coconut oil would also work, if desired.
Want to skip the fat? Use unsweetened applesauce instead.
Optional Additions
I think the muffins are quite perfect just as the recipe is written, however there are plenty of options to switch it up if desired.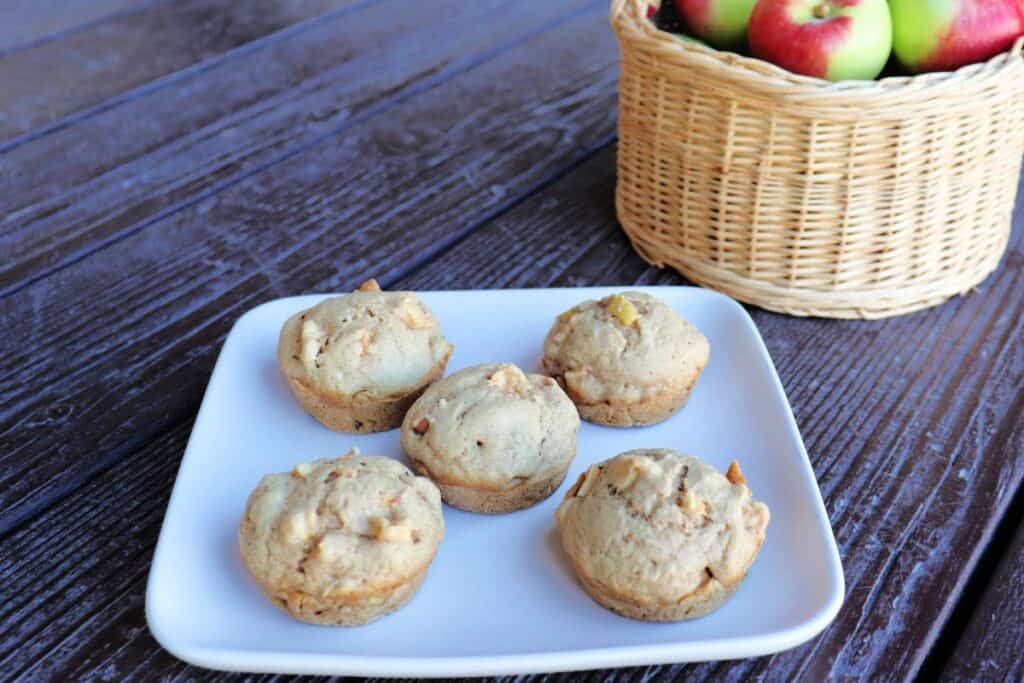 Add some crunch by adding up to 1 cup of chopped nuts.
A cup of raisins or dried cranberries can add some chewiness and more texture to the final muffins.
Top the batter with a sprinkle of turbinado sugar or cinnamon sugar before baking for added crunch.
A streusel topping could certainly be added before baking.
After the muffins have baked and cooled, drizzle with a simple vanilla glaze.
How to Serve
There's no reason to get fancy here. Serve these as you would any baked muffins.
They're a great breakfast with some eggs or a perfect afternoon snack with your favorite beverage.
Definitely tuck them into lunch boxes with some fruit and greek yogurt for a filling mid-day treat.
How to Store
Place baked and cooled muffins into an airtight container and they will stay fresh for up to 4 days at room temperature.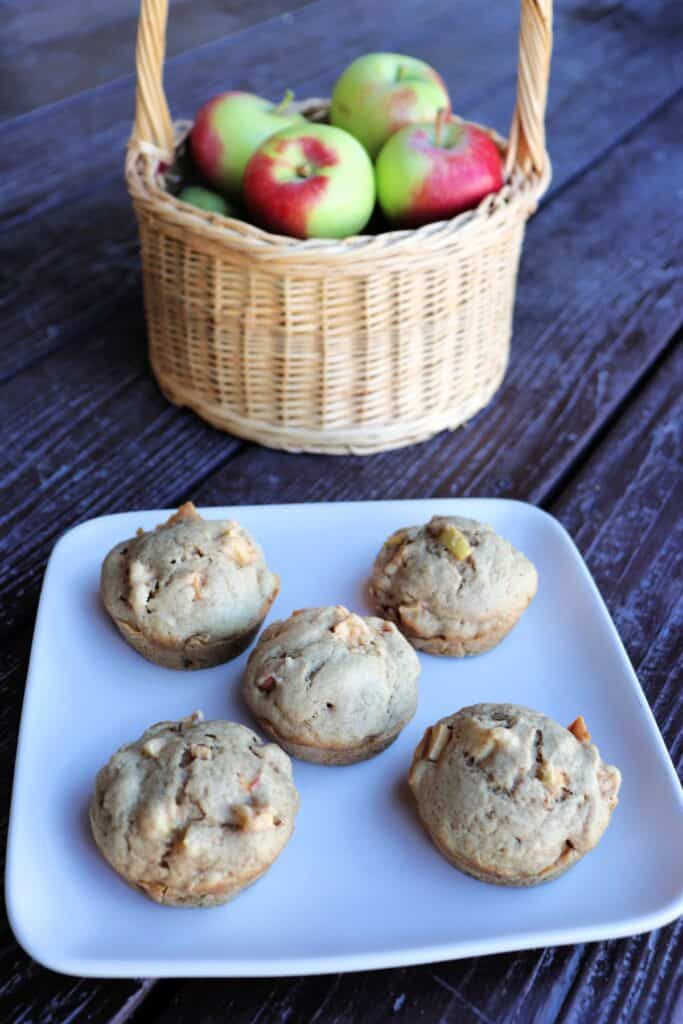 For longer store, wrap muffins in plastic wrap or place into freezer bags or other freezer-safe container and freeze.
Use up frozen muffins within 6 months for best flavor and to prevent freezer burn.
Thaw muffins on the counter. Place frozen muffins into lunch bags in the morning and they'll likely be thaw and ready to eat by Noon.
Looking for more easy muffin recipes inspired by Autumn?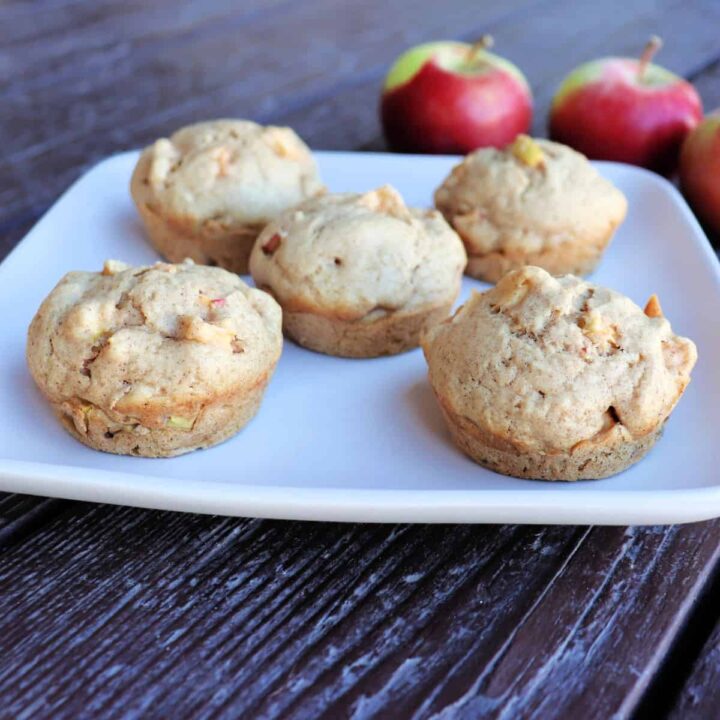 Apple Spice Muffins Recipe
Bake up fall flavor in this easy homemade apple spice muffin recipe!
Ingredients
1 1/2 Cups Unbleached, All-Purpose Flour
1/2 teaspoon Baking Soda
1 teaspoon Baking Powder
1/4 Cup White Sugar
1 teaspoon Ground Cinnamon
1/2 teaspoon Ground Ginger
1/4 Cup Salted Butter, melted
1/2 Cup Apple Cider
1/4 Cup Milk
1 Egg
1 Tablespoon Vanilla Extract
1 1/2 Cups Peeled & Diced Apples
Instructions
Preheat oven to 350 degrees Fahrenheit. Grease a muffin tin.
In a large bowl, whisk together the flour, baking soda, baking powder, sugar, and spices. Set aside.
In a medium bowl, whisk together the melted butter, apple cider, milk, egg, and vanilla extract until completely combined.
Pour the wet ingredients into the dry ingredients and mix until almost combined.
Fold in the apple pieces and mix completely.
Divide the muffin batter amongst the prepared muffin cups, filling each about 2/3 full.
Bake muffins in the preheated oven for 20 minutes or until an inserted tester comes out clean.
Cool in pan on a wire rack for 5 minutes. Remove muffins from the pan and allow to cool completely.
Nutrition Information:
Yield:

12
Serving Size:

1
Amount Per Serving:
Calories:

129
Total Fat:

5g
Saturated Fat:

3g
Trans Fat:

0g
Unsaturated Fat:

1g
Cholesterol:

26mg
Sodium:

133mg
Carbohydrates:

19g
Fiber:

1g
Sugar:

7g
Protein:

2g
I try but cannot guarantee this nutritional information is 100% accurate.