Easy hearth bread is a simple and rustic loaf perfect for serving alongside most any meal.
This basic bread recipe is great for beginners to get the hang of making bread from scratch but its versatility makes it ideal for advanced bakers to return to again and again.
If you have a hankering for homemade bread but don't loaf pans and don't want to mess around with fancy shapes this hearth bread recipe is for you!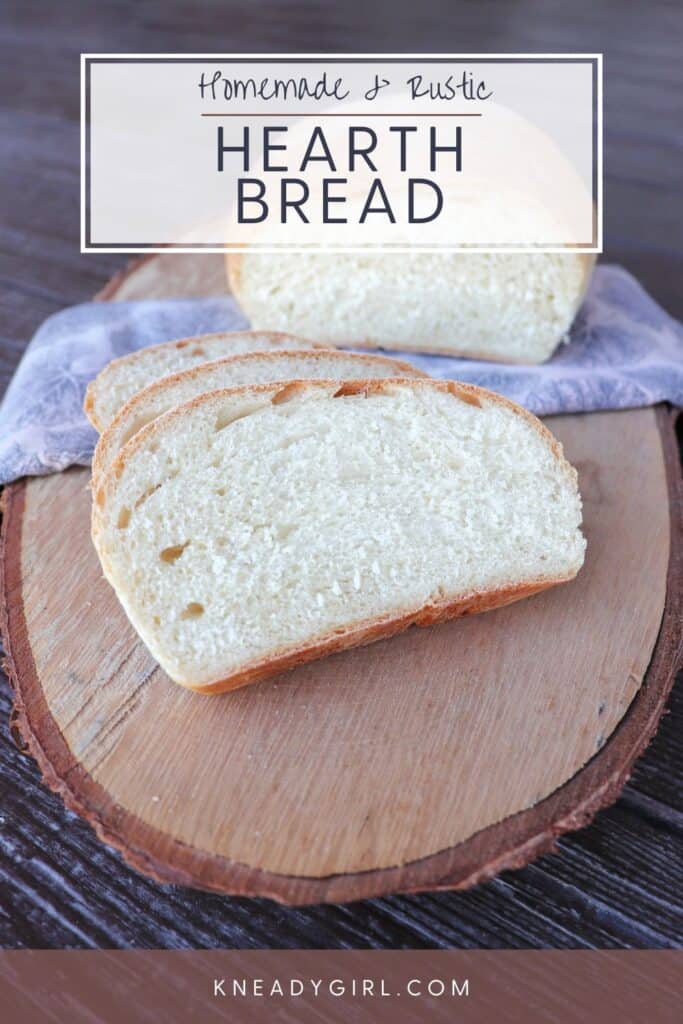 What Exactly is Hearth Bread?
It's the easiest loaf of bread, you'll ever make, but also it's just rustic and old-fashioned. The kind of bread that is free-formed and for which no special pan is required.
As the name of the bread suggests, it was baked on the hearth of stove and fireplaces. This is the kind of bread you can imagine our great-grandmothers baking – simple and tossed onto a brick in the oven.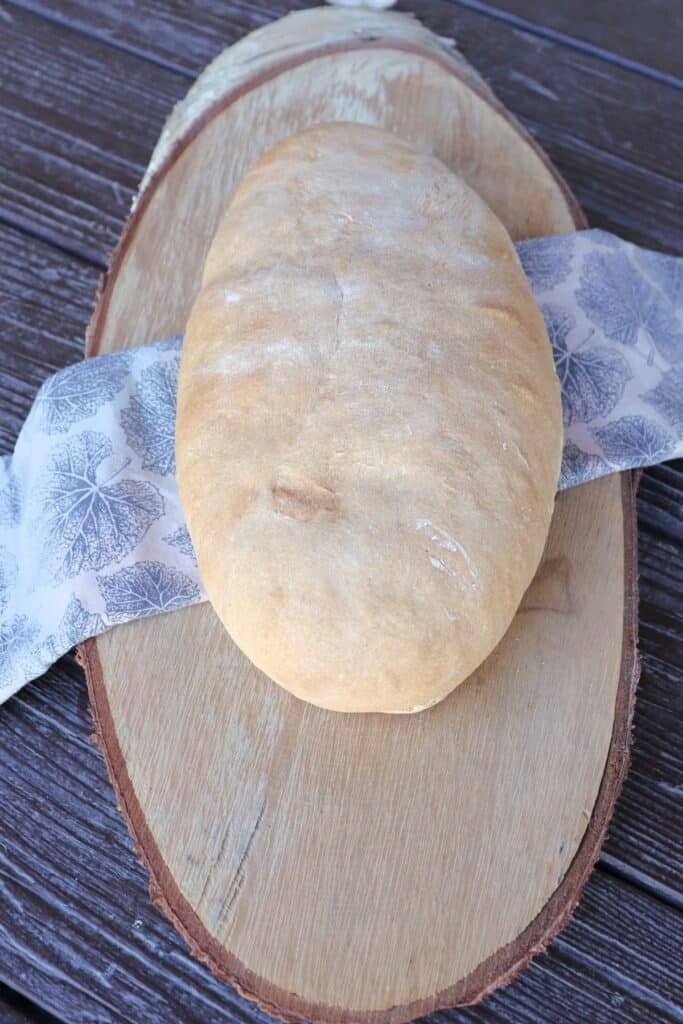 We can recreate that same kind of simplicity and experience in our modern kitchens by using a pizza stone or hot baking stone in the oven. Don't have any kind of baking stone? A cookie sheet works just fine.
Experience Level : Beginner
If you've never baked a loaf of bread before this is the ideal recipe with which to start. It's basic and easy with no fussy forming or ingredients.
This is a great recipe to try again and again to just get the feel of what a bread dough should feel like when kneading and to gain practice with almost flawless and tasty results each time.
It also lends itself well to further experimentation with shapes and even different additions as confidence grows.
How to Knead Dough
If you've never made bread before, kneading dough is fairly simple but important.
Simply dust your counter with a little flour, then just keep pushing the dough in one direction with the heels of your hands and folding it over itself over. Repeat this motion adding enough flour as necessary to keep it from sticking to the counter or hands. Eventually you will feel that dough has become soft and elastic – this can take 10 minutes or more by hand, much less if you use the dough hook on a stand mixer.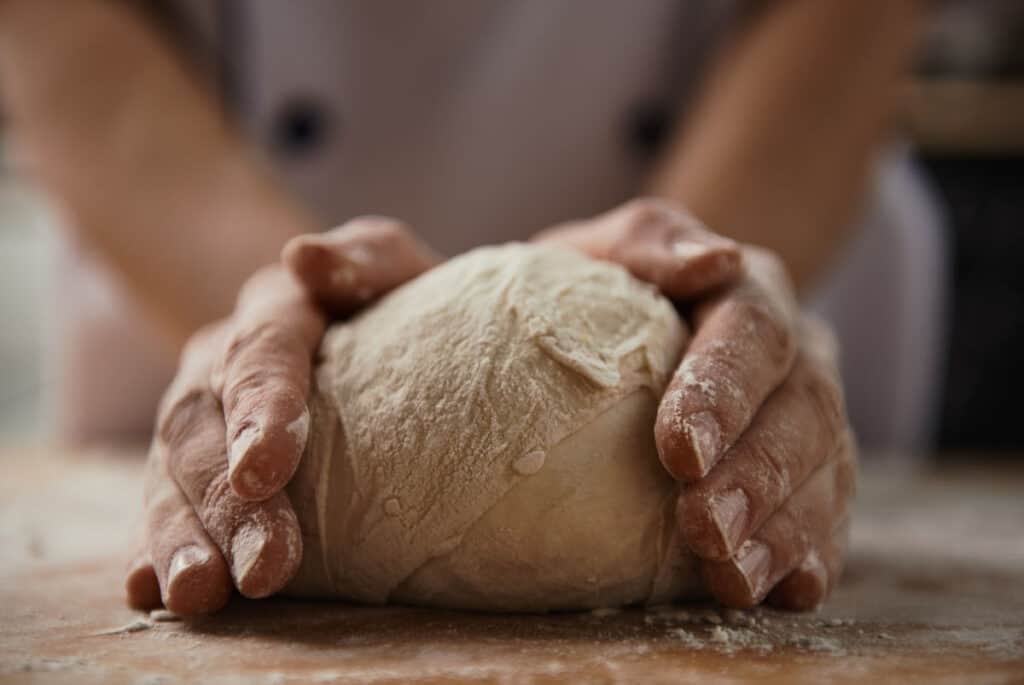 Whole Grain Options
If you'd like to switch this up from a basic white bread, feel free to substitute up to half of the all-purpose flour with whole wheat flour.
You could also use rye flour, if desired.
Do know that whole grain flours absorb water different so add slowly and mix with a wooden spoon until the dough forms and then knead into a smooth ball.
For a Crustier Bread
Want a crispy crust with a soft interior? Simply add some water to the oven.
An easy way to do this is to spray the walls of the oven with some cold water. Place the baking sheet inside and spray again, closing the oven door quickly.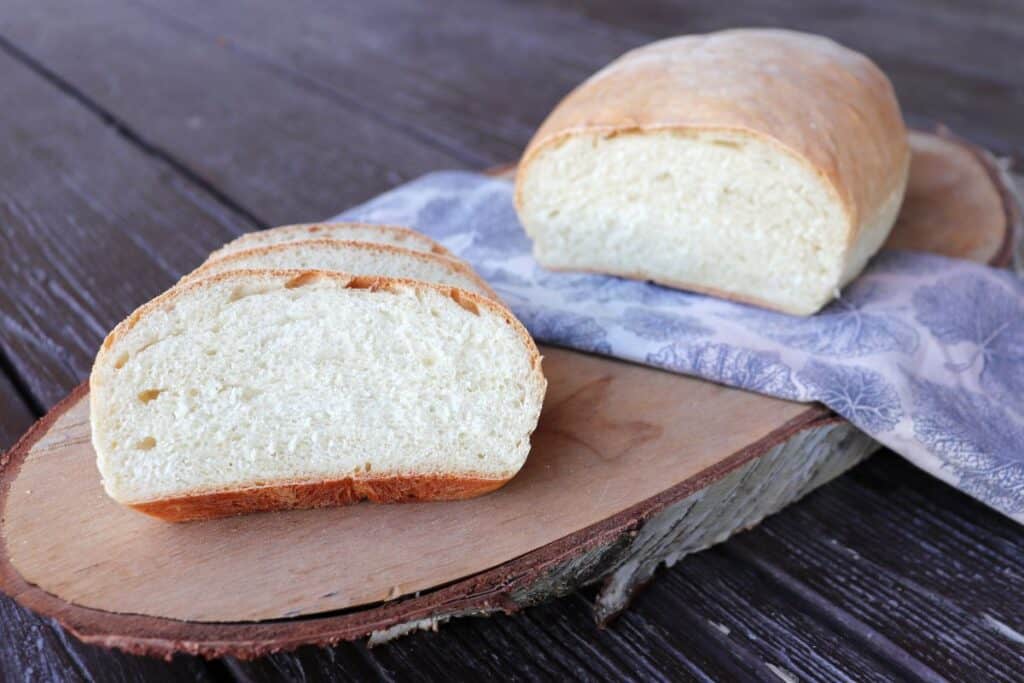 You can also put a shallow pan of water in the oven with the bread as it bakes, but I've often found that just spritzing the walls of the hot oven with water provides enough steam for a crunchy crust.
Different Shapes
It's easy to shape this bread into most anything. A wide oblong loaf works well and is generally easy to fit 2 on a large baking sheet.
However, the options are truly endless.
You could shape them into round loaves or longer, thinner french-style loaves.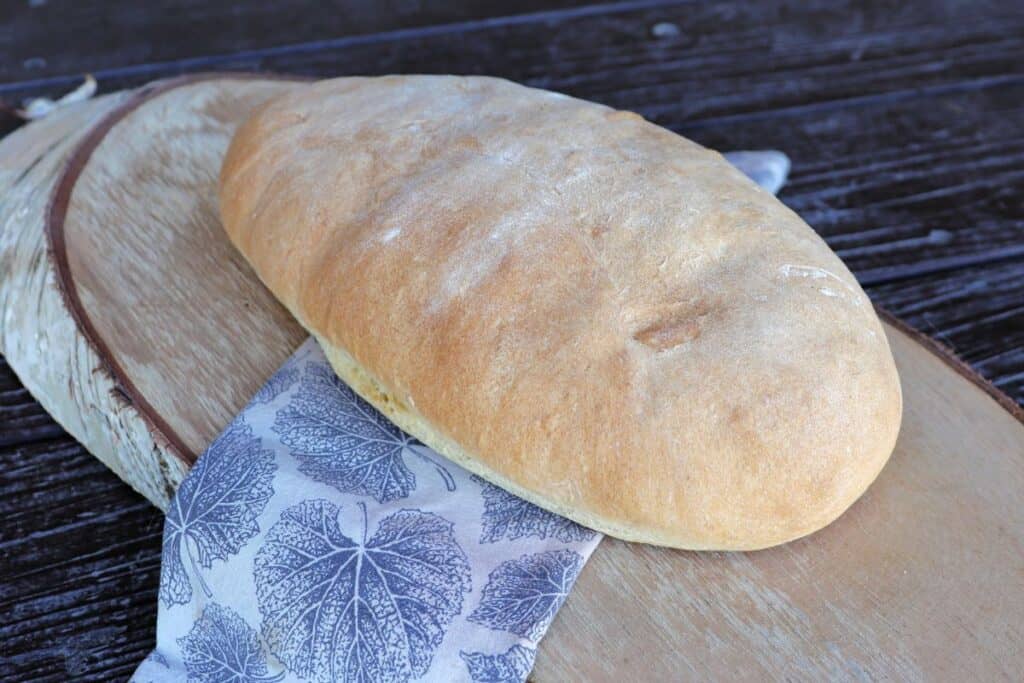 The recipe is written to produce two loaves of bread, but one could easily divide the dough into 3 or 4 smaller loaves, just be sure to check for doneness a bit earlier.
You could even shape it into rolls but again watch the baking time.
How to Serve
This is an incredibly easy bread to serve with most any meal. Simply put slices into a basket and keep it on the table for folks to enjoy with their soups, salads, main courses.
It's an ideal fresh bread for dipping into a flavorful olive oil as part of an appetizer tray.
Definitely use it for breakfast toast, including french toast.
Because this is just a basic white bread, it will work for all your sandwich needs as well – peanut butter & jelly, grilled cheese, tuna salad, etc.
How to Store
Wrap the baked and cooled loaves in some plastic wrap or store in an airtight container, they should stay fresh for up to 4 days that way.
For longer term storage, place the baked and cooled loaves into freezer bags and toss into the freezer.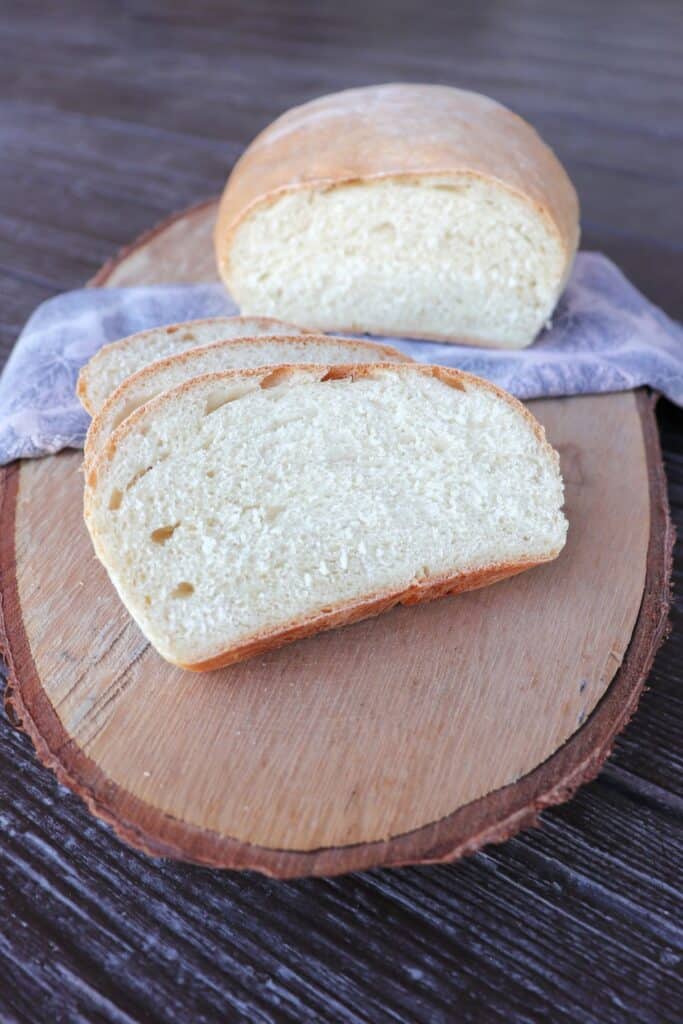 Alternatively, slice the loaves and place the slices into freezer bags and freeze. This slice method allows you to pull out just a few slices at a time as needed.
Simply let frozen bread thaw at room temperature prior to use.
Use up any frozen bread within 6 months for best flavor.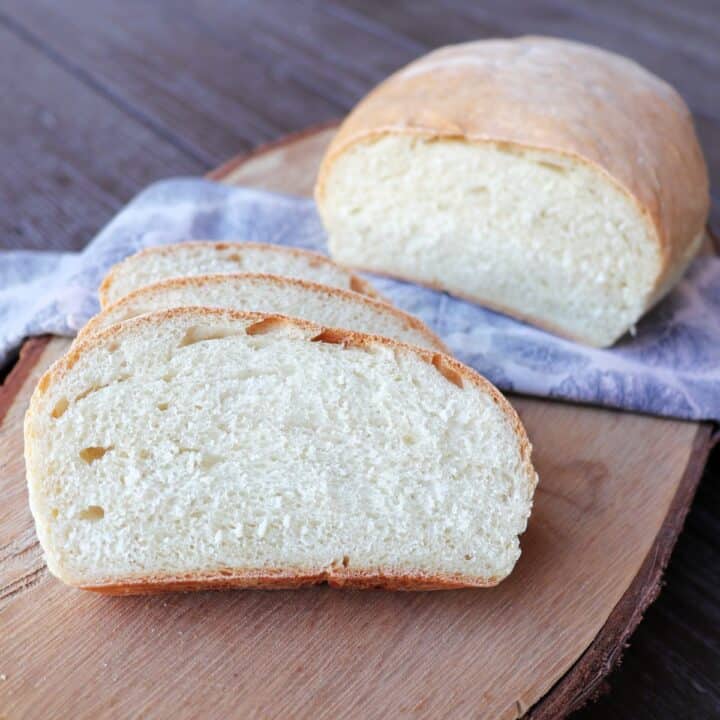 Hearth Bread
Rising Time:
1 hour
30 minutes
Total Time:
2 hours
30 minutes
Hearth Bread is a basic but wonderful loaf of bread perfect for any occasion and it's perfect for first time bakers.
Ingredients
1 Tablespoon Active Dry Yeast
1 Tablespoon Sugar
2 Cups Warm Water
1 Tablespoon Salt
5 1/2 Cups Unbleached All-Purpose Flour
Instructions
In a large mixing bowl, combine yeast, sugar, and water. Let sit until foamy, about 5-10 minutes.
Add 3 cups of bread flour and mix well. Stir in the salt.
Add the remaining bread flour a bit at a time until a soft dough begins to form.
If using a mixer with a dough hook, the dough will clean the sides of the bowl.
Turn out onto a floured surface and knead until soft and elastic.
Grease a bowl and place the bread dough inside, turning to coat.
Cover bowl with a tea towel and let dough rise until doubled in a warm place, about an hour.
Punch dough down and turn out to a floured board.
Knead slightly and divide the dough into two equal pieces (use a kitchen scale to weigh the dough and make each piece the same).
Grease a large baking sheet or line with parchment paper.
Form each dough half into a round or oblong shape and place on baking sheet.
Cover the loaves with a clean towel and place somewhere warm to rise.
Let loaves rise until doubled in a warm area, approximately 30 to 45 minutes.
Meanwhile preheat oven to 375 degrees Fahrenheit.
If desired, score the tops of the loaves with a sharp knife or razor.
Bake in preheated oven for 30-35 minutes. The loaves will be golden and sound hollow when tapped with a knuckle when done.
Remove from baking sheet to cool on a wire rack.
Nutrition Information:
Yield:

32
Serving Size:

1
Amount Per Serving:
Calories:

81
Total Fat:

0g
Saturated Fat:

0g
Trans Fat:

0g
Unsaturated Fat:

0g
Cholesterol:

0mg
Sodium:

199mg
Carbohydrates:

17g
Fiber:

1g
Sugar:

0g
Protein:

2g
I try but cannot guarantee this nutritional information is 100% accurate.