Use this apple oatmeal muffins recipe to feature your homegrown apples or those gathered from a local orchard for a true Autumn delight.
With plenty of texture and fiber from the oats and chopped apple, these tneder muffins are sure to fuel your busy mornings.
Whether you're looking for a quick breakfast, afternoon snack, or something to take to a pot luck these apple cinnamon oatmeal muffins are sure to do the trick.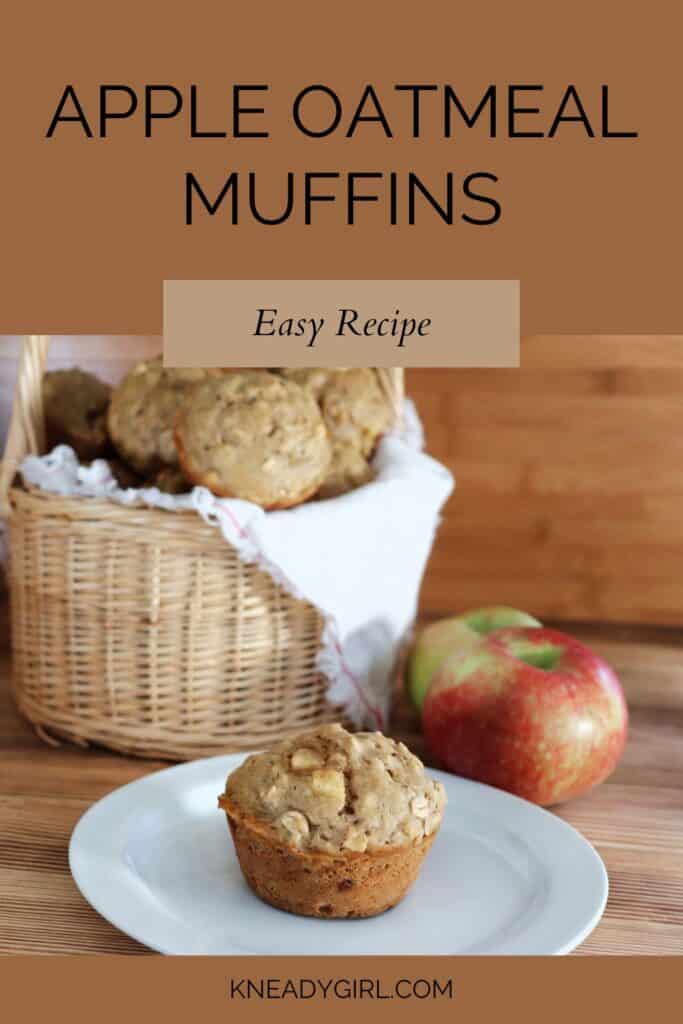 Simple Ingredients
There's nothing fancy or special here at all. Most everything is likely already in your pantry as long as you have some fresh apples. There are, however; a few ways and things you can do differently if desired.
Flour Choices
For ease, this muffin recipe uses basic all-purpose flour. If you want some whole grain, consider subsituting half of the white flour with whole wheat flour.
A cup-for-cup gluten free blend would also work delightfully.
Fat Choices
I went with melted butter for ease and flavor. You could use a avocado oil or truly any liquid vegetable oil instead, if desired.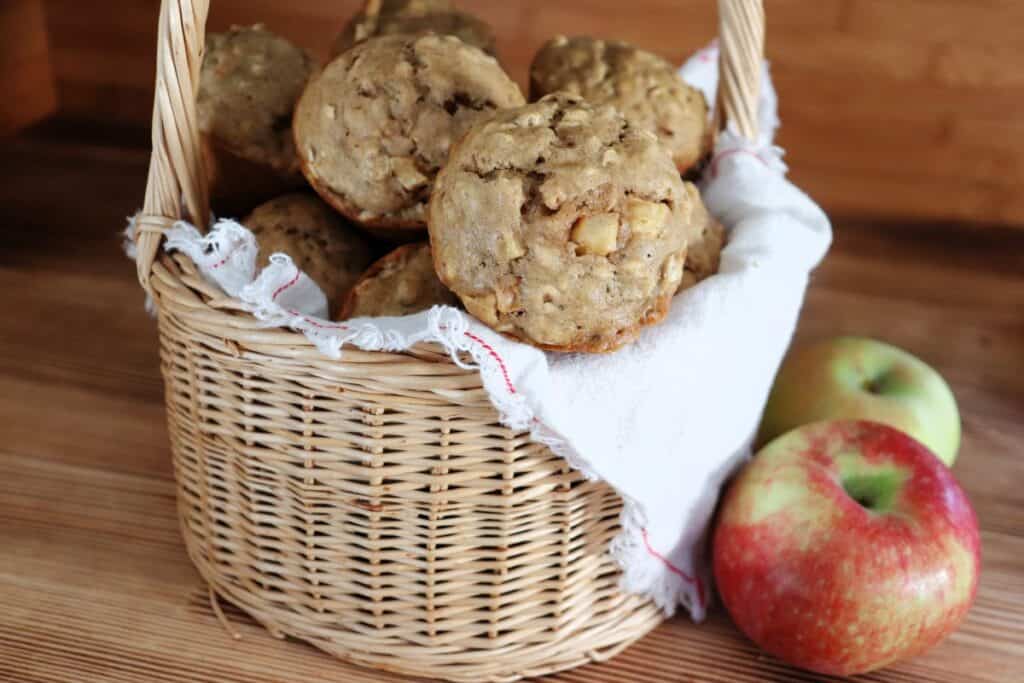 Unsweetened, pureed apple sauce could also be substituted for the fat and works delightfully to add moistness, more sweetness and apple flavor, too!
Liquid Choices
Milk works easily enough and is likely on hand in some form in most households – almond milk, coconut milk will all work as well.
Apple cider or juice will also work in adding more flavor – do note, however; that this will add more sweetness to the recipe which may or may not be a good thing.
Spices
Regular old cinnamon works great and is likely on hand in the kitchen of most bakers but no one is locked into that choice.
Use apple pie spice, nutmeg, cardamom, ginger, etc. whatever you prefer.
Don't like spice? Feel free to skip it entirely and just have apple muffins.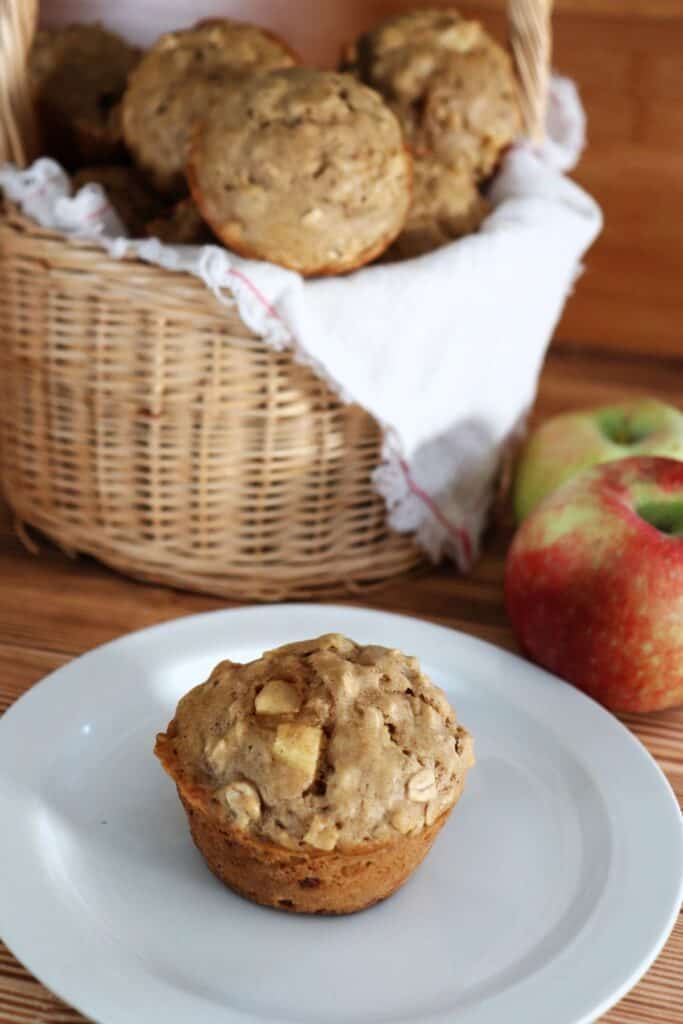 The Apples
There are all kinds of guides to tell you the kind of apples to use for baking, canning, etc. I worry less about that and more about whatever I have on hand. I'm a big fan of just choosing something local and delicious first and foremost. Use what's flavorful and you'll have a delicious final result.
How to Serve
Like all homemade muffins, there's no reason to overcomplicate the serving of these. Use them as a basic breakfast alongside a cup of coffee or glass of milk.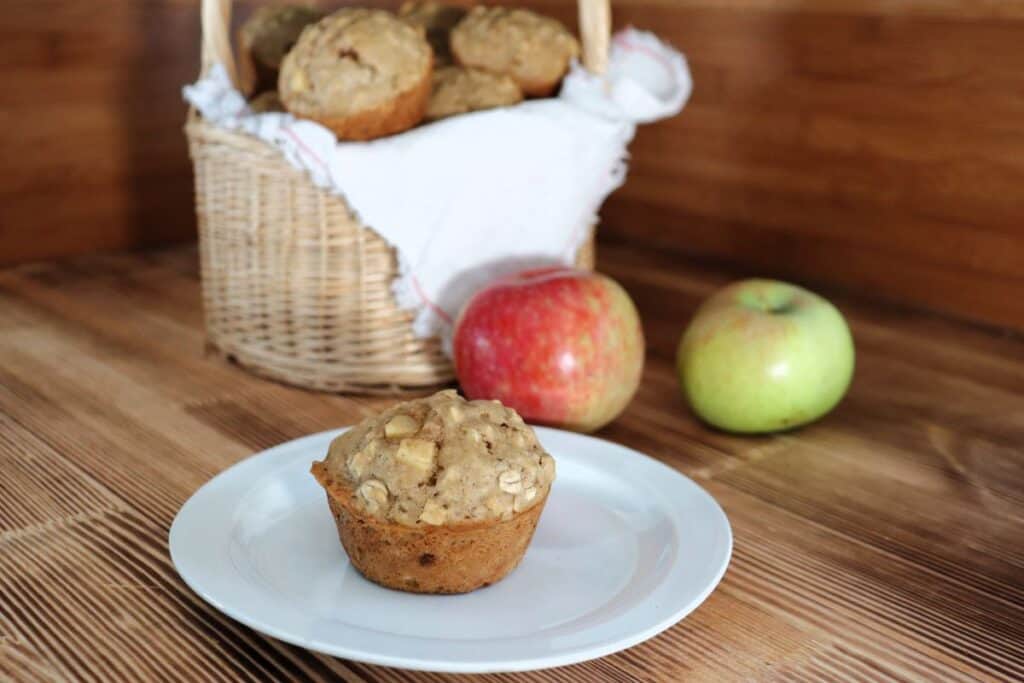 Slather muffins with apple butter and/or peanut butter an even more delicious breakfast the whole family will devour.
Tuck them into lunch boxes for and easy grab and go afternoon snack alongside more fresh fruit or a salad.
How to Store
Place any leftover baked and cooled muffins into an airtight container where they should stay fresh up to 5 days at room temperature.
For longer term storage, put the cooled muffins into freezer bags or other freezer safe containers and freeze for up to 6 months.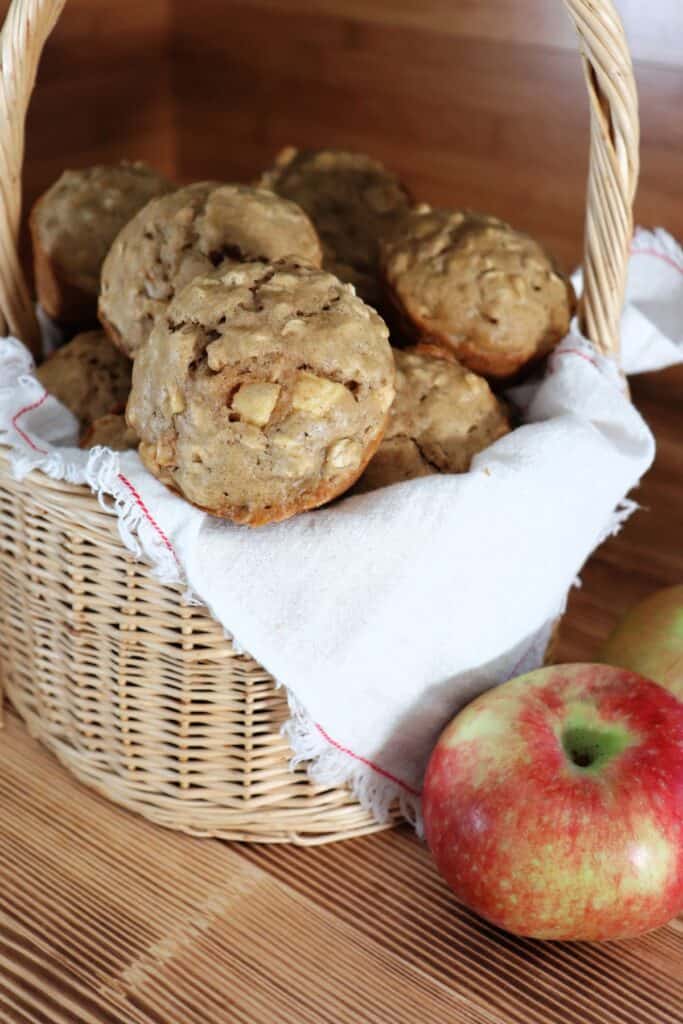 Let frozen muffins thaw on the counter prior to serving. Pop a frozen muffin into a lunch box in the morning and it is likely to be ready to eat by lunch.
They do freeze delightfully, so feel free to make a double batch as part of your meal prep plans and be ready for a busy week in the future.
Looking for more sweet apple recipes? Try these favorites from our archives: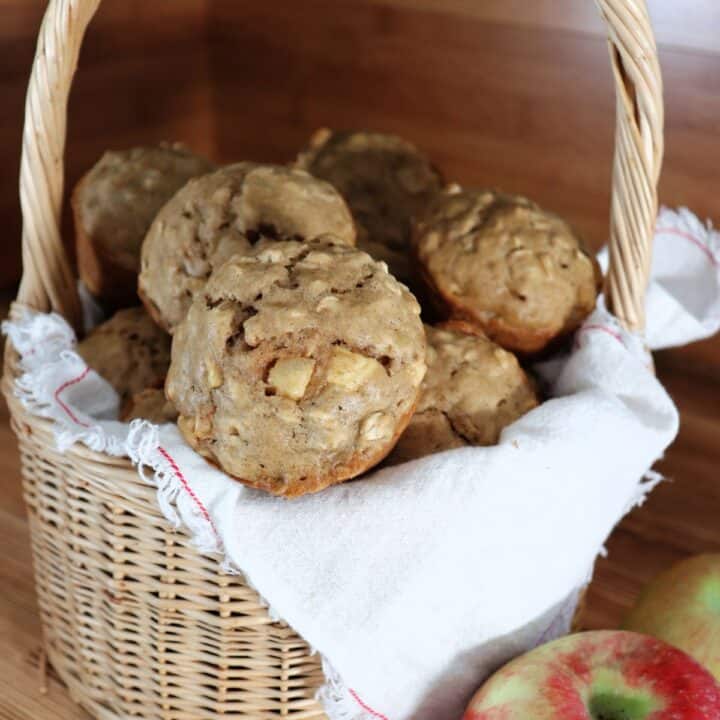 Apple Oatmeal Muffins
These moist and delicious apple cinnamon muffins are hearty and perfect for celebrating fall and fresh apple season!
Ingredients
1 Cup Rolled Oats
1 1/2 Cups Unbleached All-Purpose Flour
1/2 teaspoon Baking Soda
1 1/2 teaspoons Baking Powder
1 teaspoon Ground Cinnamon
1 Cup Milk
1 Egg
1/4 Cup Butter, melted
1/3 Cup Brown Sugar Lightly Packed
1 Cup Diced Apple, peeled & cored
Instructions
Preheat oven to 350 degrees Fahrenheit.
Grease muffin tin.
In a large bowl, whisk together the flour, baking soda, baking powder, oats, and cinnamon. Set aside
In a medium bowl, whisk together the melted butter, egg, milk, and brown sugar until emulsified.
Pour the wet ingredients into the dry ingredients and mix almost combined.
Fold in the apple chunks and mix completely.
Divide the batter among 12 muffin cups, filling each about 3/4 full.
Bake in the preheated oven for 20 to 25 minutes or until an inserted toothpick comes out clean.
Cool in pan 5 minutes before turning out to cool on wire rack completely.
Nutrition Information:
Yield:

12
Serving Size:

1
Amount Per Serving:
Calories:

158
Total Fat:

5g
Saturated Fat:

3g
Trans Fat:

0g
Unsaturated Fat:

2g
Cholesterol:

27mg
Sodium:

162mg
Carbohydrates:

24g
Fiber:

1g
Sugar:

7g
Protein:

4g
I try but cannot guarantee this nutritional information is 100% accurate.