Use up your fresh zucchini harvest in this zucchini cornbread full of savory flavor thanks to the addition of hot peppers and cheese.
This easy cornbread recipe is perfect for the time of year when the garden is abundant and a comforting dish is needed to fill out an entire meal.
It's the perfect way to use a lot of zucchini in late summer when you might get be getting tired of zucchini fritters and lasagna and yet is a delight to serve to at dinner and potlucks.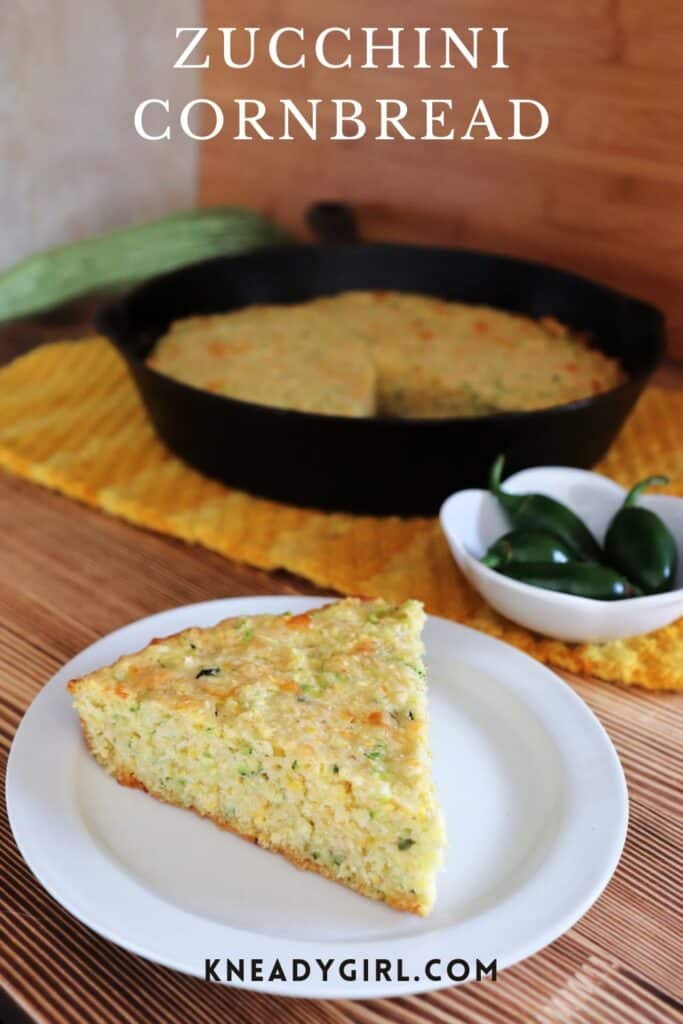 Savory Instead of Sweet
Every gardener faces an abundance of zucchini at some point. Sure, we share it with neighbors and the food bank and look for zucchini recipes galore.
Traditional zucchini bread is often a sweet, quick bread that is more like a cake than anything else. Is it good? Absolutely. But there are times when we might want something a little more healthy and something that we can serve alongside a meal.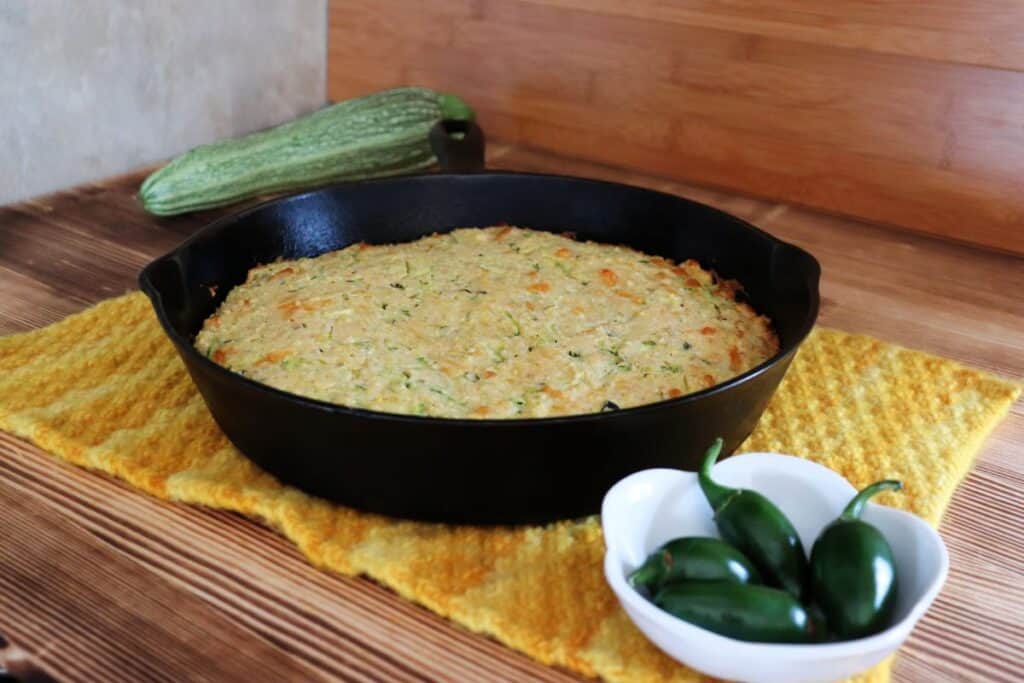 This moist cornbread is just such a dish and will quickly become one of your favorite recipes for using up too much zucchini.
Simple Ingredients
There's nothing fancy here, simple pantry ingredients combine with fresh garden veggies for a truly great recipe.
Dry Ingredients:
Cornmeal – I've tested the recipe with both fine and coarse ground cornmeals and both turned out a fluffy zucchini cornbread. Use what you have on hand.
Flour Choices – For ease, I went with basic all-purpose flour. A whole wheat pastry flour could likely be substituted. I would be careful with a coarse whole grain flour because it might get a bit too dry.
Baking Powder makes sure the cornbread does indeed get fluffy.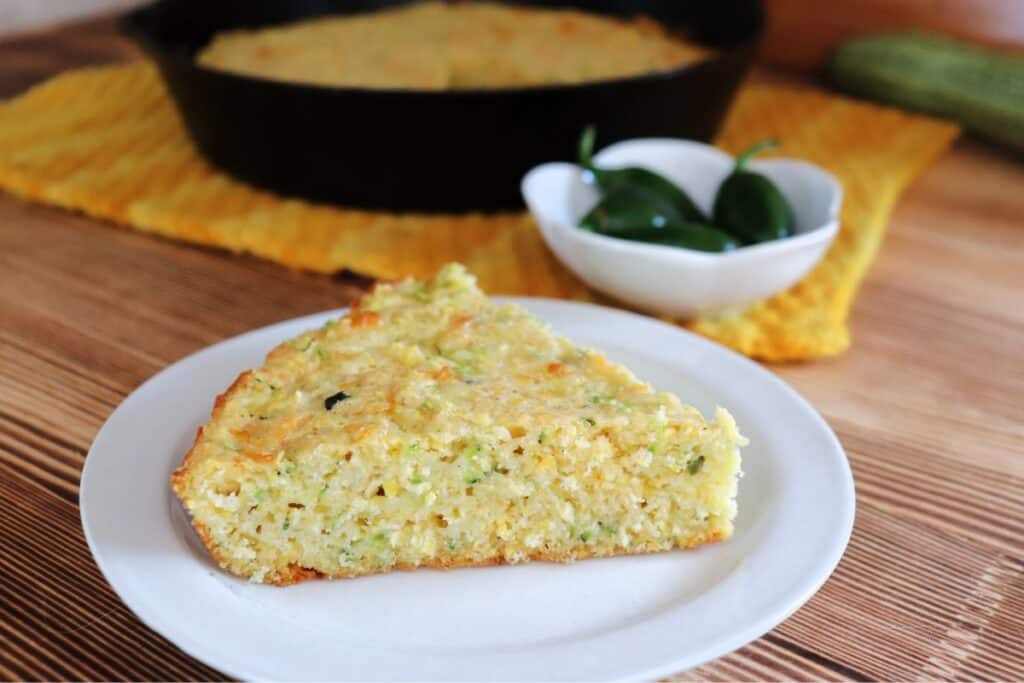 Wet Ingredients:
Fat Choices – I went with melted butter for ease, you could likely substitute any liquid oil or even melted lard if desired.
Milk – Regular milk works great, feel free to use buttermilk if you have it. Plant milks will also work.
Eggs – 1 Egg is all you need for a single batch. I imagine a flax egg would work to keep it vegan, but I haven't tested it myself.
The Zucchini
You'll need to start with 2 cups of zucchini. That's about 2 small to medium squashes. If you're using one of those super large zucchini that get lost in the plant, I'd cut it in half and scrape out the seeds before grating.
You could substitute yellow squash for the zucchini, if that's what you have on hand.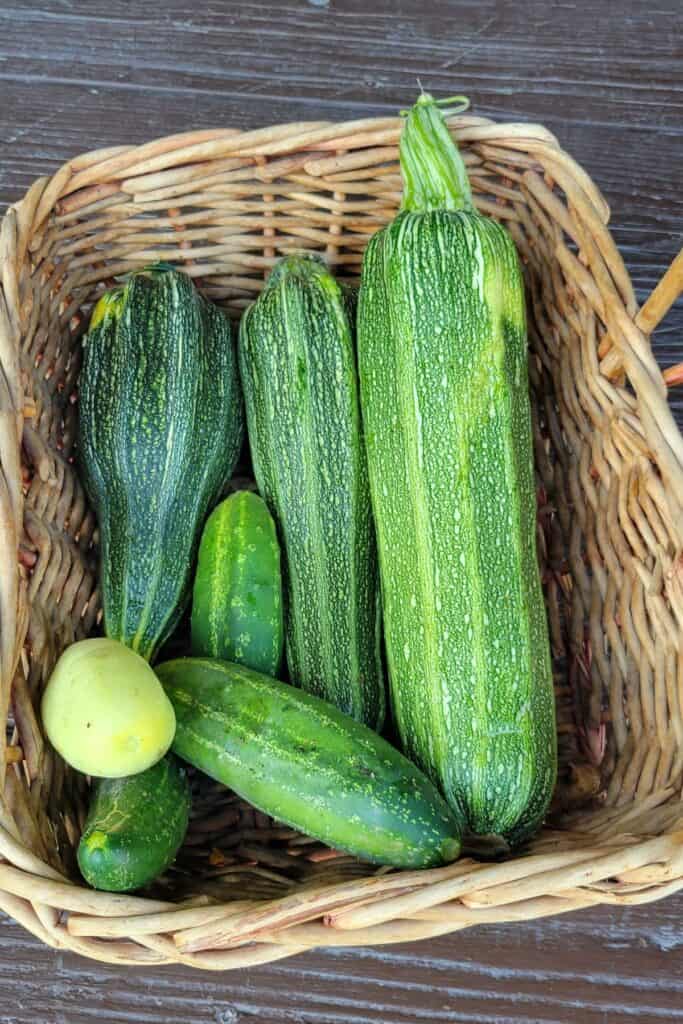 I use a box grater to grate my zucchini but a food processor with a grating blade would also work.
You will need to remove a bit of the excess moisture by salting and letting the zucchini sweat for a bit first. Don't skip this step for best results.
I have not tested this with frozen zucchini yet, but I do believe if you let it thaw and squeezed out extra water it would work just fine.
The Peppers
Any hot peppers you have on hand could work here. Jalapenos work great but you aren't locked into that. Hotter peppers will turn out a hotter finished bread, that's the thing to remember.
You can vary the level of heat by choosing peppers you prefer, adding more or less, and either leaving the seeds and veins in for more heat, or removing them prior to chopping for less heat.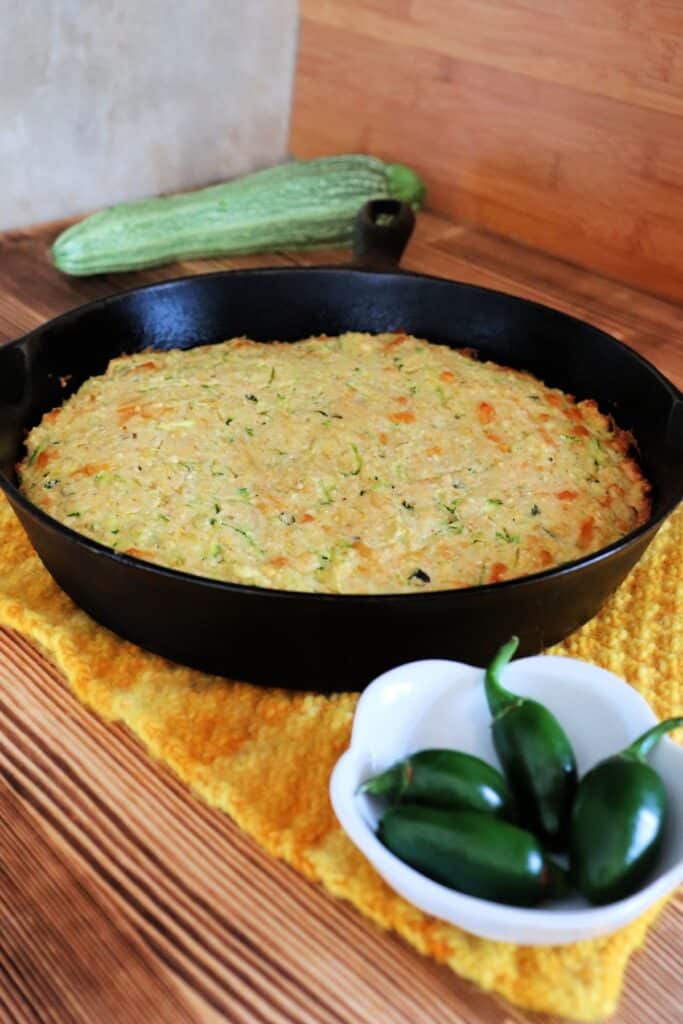 Substitute sweet bell peppers instead if you don't want any heat – red bell peppers would add some lovely color! Feel free skip the peppers all together.
Cheese Choices
The recipe as written is a jalapeño cheddar cornbread so a good, sharp cheddar cheese is perfect. However, it is not the only choice.
Mozzarella or provolone will work equally well. Use a good pepper jack for even more peppery flavor. In the end, just use what your family likes best and what you have on hand.
Baking Pan
Classic cornbread almost always seems to be made in a cast iron skillet – but there is no reason why you should feel locked into that.
I've baked the corn bread in both a round cake pan and an iron skillet. Both worked well, it tends to bake faster in the cast iron in my experience. Always test for doneness with a tester or tooth pick.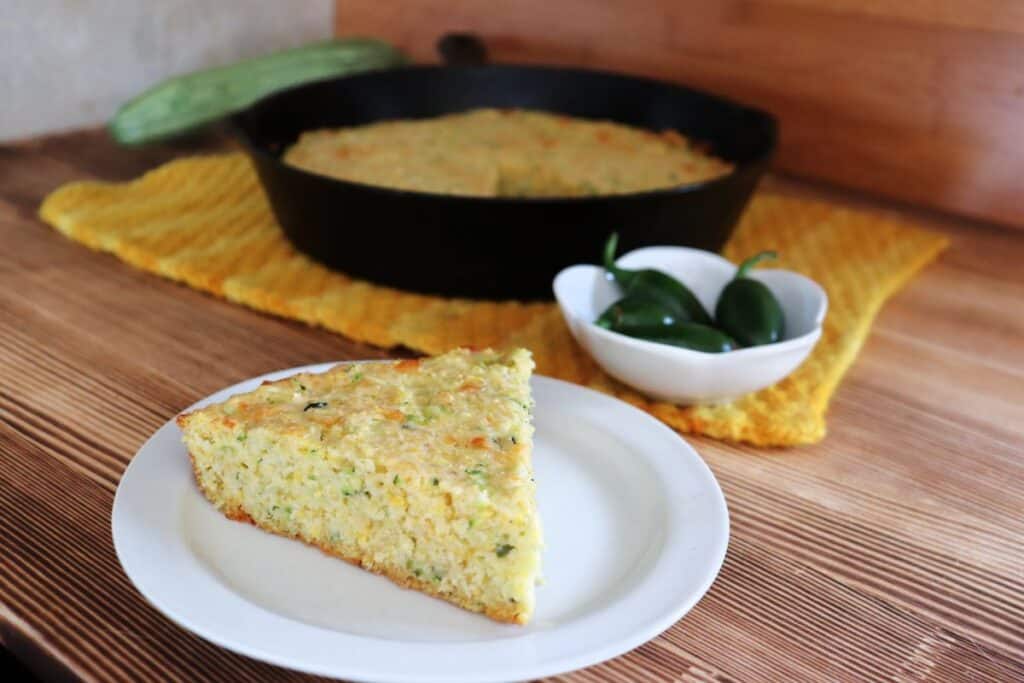 One could likely use a 9″ square baking dish instead of a round one if desired.
I haven't tested it but I believe you could turn these into zucchini cornbread muffins by dividing the cornbread batter amongst 6 muffin cups and baking. Check for doneness at about 20 minutes.
Serving Ideas
Serve this any way you'd serve another favorite cornbread recipe, like along side your best homemade chili.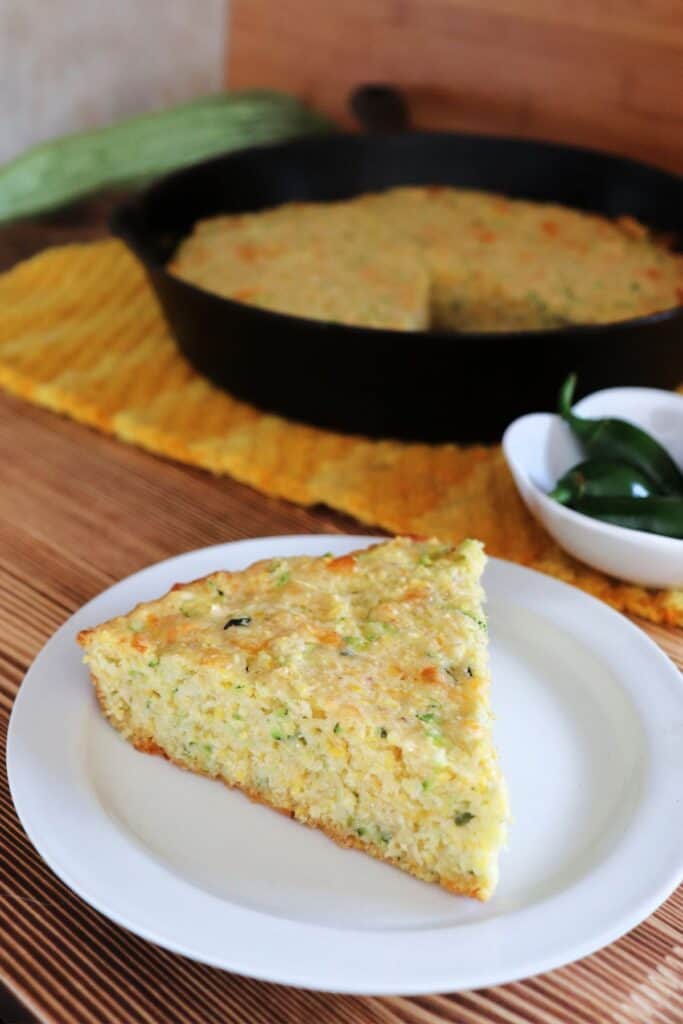 Use it at any meal and serve it hot or at room temperature with a little extra butter, if desired.
It goes perfectly well alongside soup or salad. Tuck inside a lunch box to fill out a packed lunch. I quite like it as a quick breakfast with eggs over easy on top.
How to Store
Keep any leftover cornbread in an airtight container where it should stay fresh for up to 3 days.
I don't recommend freezing this bread as the results have been lackluster for me.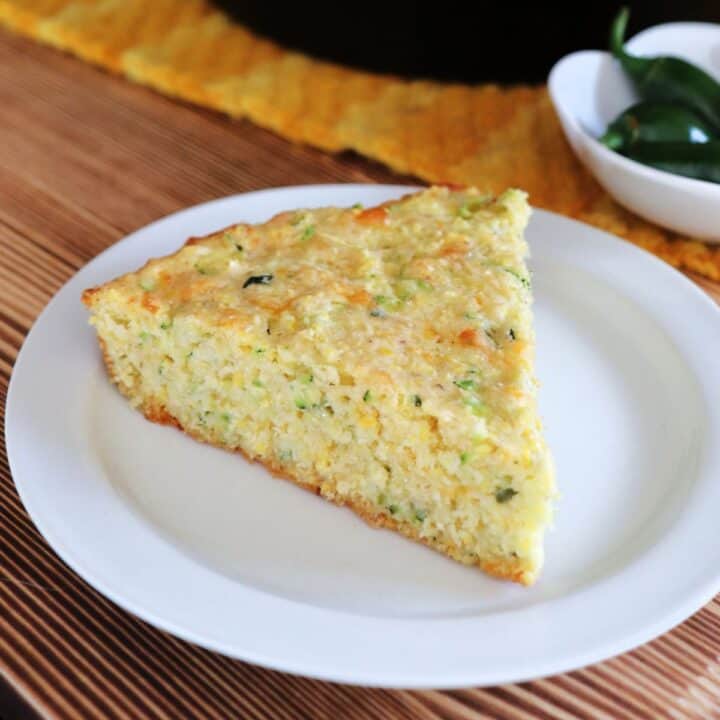 Zucchini Cornbread with Hot Peppers & Cheese
Additional Time:
1 minute
Total Time:
1 hour
11 minutes
Use up bits of your garden harvest for a savory cornbread full of savory flavor perfect to serve as a side dish to any summer meal.
Ingredients
2 Cups Grated Zucchini, packed
1/4 teaspoon Salt
1/4 Cup Butter, melted
1 Egg
1 Cup Milk
1 Cup Unbleached, All-Purpose Flour
1 Cup Cornmeal
1 1/2 teaspoons Baking Powder
2 Tablespoons Finely Minced Hot Peppers
1 Cup Grated Cheddar
Instructions
Put the grated zucchini in a fine mesh strainer and mix in salt. Let sit, over a bowl or in the sink, and drain for about 10 minutes.
Squeeze out water with the back of a spoon.
Preheat oven to 400 degrees.
Grease a 9 inch cast iron skillet or a round cake pan.
Whisk together the flour, cornmeal, and baking powder in a large bowl. Set aside.
In a medium bowl, whisk together the milk, egg, and melted butter until thoroughly combined.
Pour the wet ingredients into the dry ingredients and mix until almost incorporated.
Fold in the squeezed zucchini, hot peppers, and grated cheese. Stir until thoroughly combined.
Pour into prepared pan and spread evenly.
Bake in preheated oven for 35 - 45 minutes until an inserted toothpick comes out clean and the top is golden brown.
Cool on wire rack. Serve hot or at room temperature.
Nutrition Information:
Yield:

10
Serving Size:

1
Amount Per Serving:
Calories:

203
Total Fat:

10g
Saturated Fat:

6g
Trans Fat:

0g
Unsaturated Fat:

3g
Cholesterol:

44mg
Sodium:

262mg
Carbohydrates:

22g
Fiber:

2g
Sugar:

1g
Protein:

7g
I try but cannot guarantee this nutritional information is 100% accurate.