Homemade sweet potato buns are perfect for slicing and filling with hamburgers or other meats.
These flavorful breads also work delightfully well as sweet potato dinner rolls for the feast dinner table.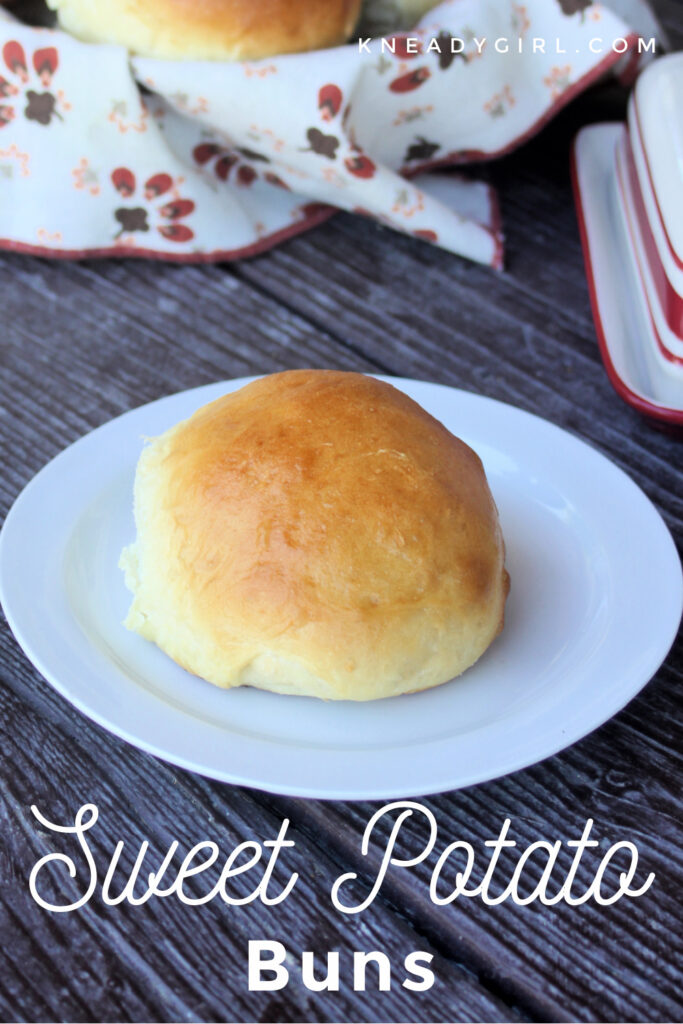 Sweet Potato or Yam?
I know some people are very passionate about this but truly use a sweet potato or a yam, it won't matter that much in flavor for these buns.
The color will differ slightly based on the color of the vegetable you use but that's it.
Make Ahead
Cook and mash the sweet potatoes today. Refrigerate for a day or two and then proceed with the rest of the recipe.
I peeled, cubed, and boiled the potato, then mashed. But one could bake in the oven or even use the microwave for ease.
You simply need pureed sweet potato, how you get there is up to you.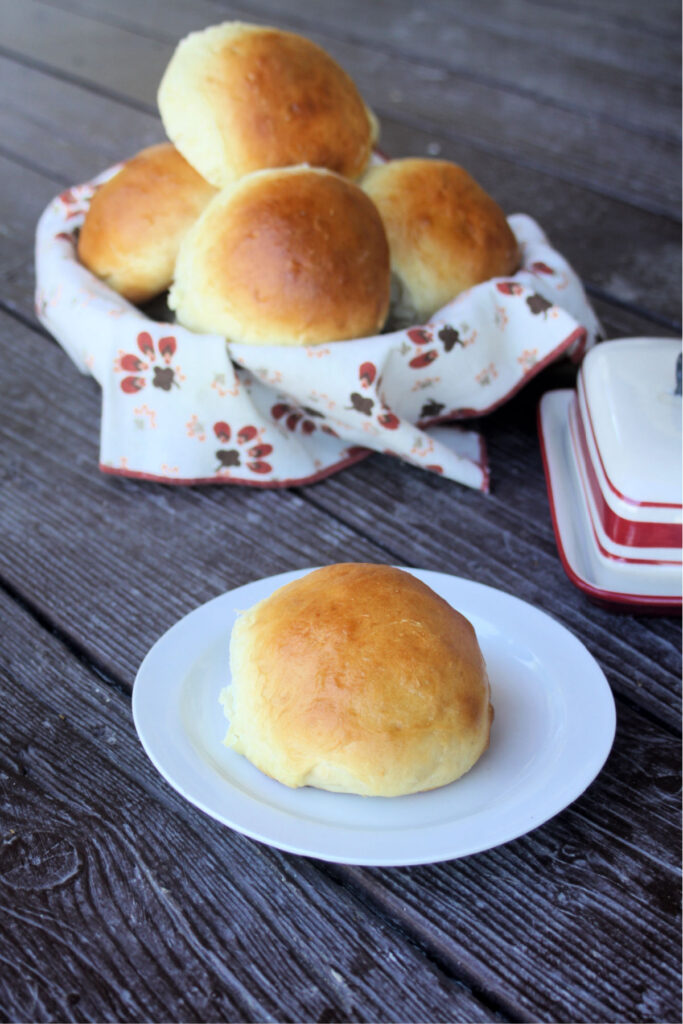 Liquid Substitutions
I used milk in the recipe for a richer flavored bread. To keep it vegan or dairy free simply use warm water instead. Likely a plant milk could also work but wasn't tested.
I didn't test it but you could also likely use water and buttermilk powder instead with great results.
Flour Choices
I used all-purpose flour to keep it simple and easy. However, bread flour could be used instead – you would likely need less because of how bread flour absorbs water, just test and add as you go.
Feel free to substitute some whole wheat flour for the all purpose flour if desired. Again, it absorbs water differently so add a little at a time to until the dough forms.
Egg Wash Finish
The egg wash finish helps give these buns a beautiful golden color and keeps the crust softer.
Skip if you want too. The rolls might get crustier and lack a little golden color but neither is a bad thing.
Large or Small
Make the buns as large or small as you'd like. Simply weigh the dough and divide by how many you'd like to have to serve.
Watch the cooking time, you'll likely need to decrease by a few minutes for smaller rolls, increase for larger one.
This means you make slider size buns or large burger buns as desired. It also means you can shape them more for dinner rolls.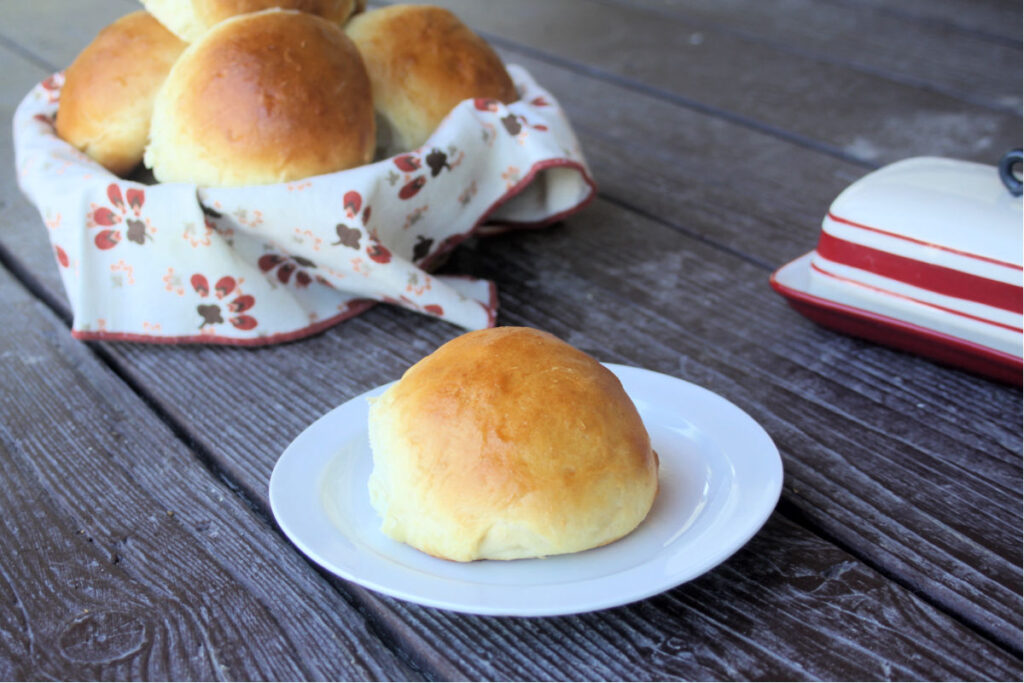 How to Serve
This simple recipe does result in a lightly sweet flavor. It's not so sweet that it is dessert but the sweet potato flavors do permeate the bread recipe.
That sweet and savory combination does make it a wonderful choice for serving as hamburger buns or using for breakfast sandwiches.
Do use them as simple sweet potato rolls to serve as aside dish alongside soups and salads.
They are the perfect addition to holiday meals.
Use them for leftover turkey, tuna sandwiches, truly most any thing you can think.
Freeze Extras
The buns are great keepers and will stay fresh for several days in an airtight container at room temperature.
They will also freeze exceedingly well. Simply put cooked and cooled buns into freezer bags and freeze. Pull some out as needed and thaw at room temperature.
Looking for other fluffy bun recipes? Try one of these favorites: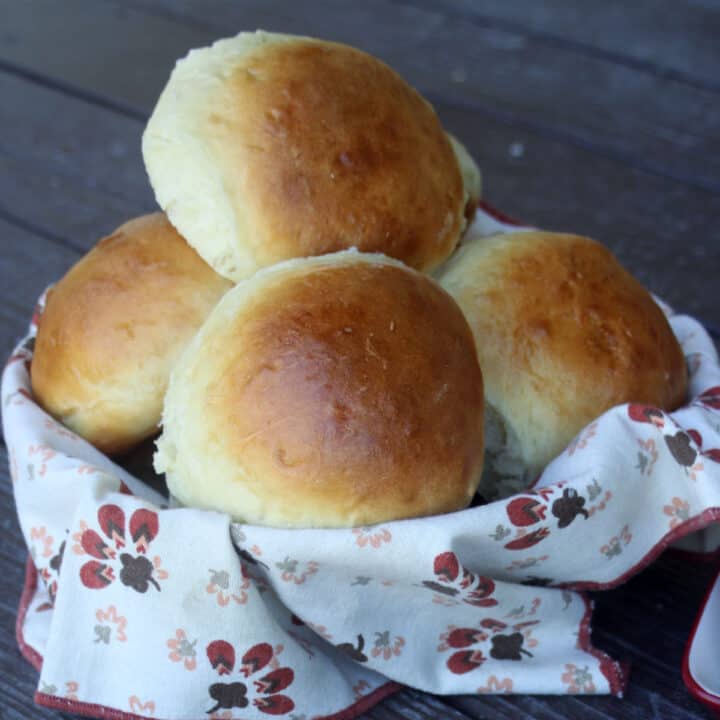 Sweet Potato Buns
Rising Time:
1 hour
45 minutes
Total Time:
2 hours
35 minutes
Make this easy recipe for fluffy buns perfect for sandwiches or serving as dinner rolls.
Ingredients
1 Tablespoon Dry, Active Yeast
1/4 Cup Sugar
2 Cups Warm Milk (110 to 115 degrees Fahrenheit)
2 Cups Cooked & Mashed Sweet Potato
1 Tablespoon Salt
7 Cups Unbleached, All-Purpose Flour
Egg Wash, Optional
Instructions
Mix together the warm milk, sugar, and yeast in a mixer bowl. Let sit until foamy about 5 minutes.
Add the sweet potato puree and salt to the yeast mixture. Stir well.
Fold in 4 cups of flour and mix well using a dough hook attachment or wooden spoon.
Begin adding more flour a little at a time until a dough begins to form.
Turn out onto a floured board and knead until the dough is soft and elastic.
Grease a large mixing bowl lightly and transfer dough inside, turning to coat with the oil.
Cover the bowl with a towel and allow to rise until doubled.
Grease a large rimmed baking sheet or line with parchment paper.
Punch down the dough and turn out to a floured work surface.
Weigh the dough and divide it into 15 equal portions (approximately 4.3 ounces each).
Form each section into round rolls.
Place the rolls onto the prepared cookie sheet, leaving about an inch between each.
Cover the rolls with a towel and allow to rise until doubled.
Meanwhile preheat the oven to 375 degrees Fahrenheit.
Prepare the optional egg wash by whisking together the water and egg.
Gently brush the tops of the buns with egg wash.
Bake in the preheated oven for 25 minutes or until golden brown and sound hollow when tapped with a knuckle.
Remove from baking sheet immediately to cool on wire racks.
Nutrition Information:
Yield:

15
Serving Size:

1
Amount Per Serving:
Calories:

298
Total Fat:

4g
Saturated Fat:

2g
Trans Fat:

0g
Unsaturated Fat:

1g
Cholesterol:

21mg
Sodium:

471mg
Carbohydrates:

57g
Fiber:

2g
Sugar:

8g
Protein:

8g
I try but cannot guarantee this nutritional information is 100% accurate.